Jeff "Herschy" Schwerdt and Rob "Roberto" Stanley are the vendors of Digital Surge Machine.
Herschy says that if you're looking to close deals or have a stable income improvement so that you can use to generate leads for yourself and your clients in the next seven days then you are in the right place.
He claims that he's been around the local marketing space for a little over a decade now, and Hershy claims to have partnered up with one of his good friends Robert Stanley.
Apparently, they both have local agencies that go out there and do a solid five figures a month selling to small business owners through lead generation services.
Then Herschy says that if you're like, okay, lead generation services, "what is it?", he says that this isn't the next big thing that's out there.
Herschy claims that this is:
building a stable,
reliable, income source that you and your family can rely on and live on, and know that you have a relatively flat curve that you have to worry about each month,
going out there and hunting and killing the same type of business every single month and
generate that revenue that you need having to come in.
He goes on to say that what they do is that they build up monthly recurring revenue through little $200 to $600 a month type of clients that they offer a very specific type of service to.
Herschy says that if you know anything about him, he's a straight-shooter and that he's been around for a long time, and that he has done different products, and trainings, and coaching programs, and even white label set of software.
Apparently, what they are bringing you today is something that even the most complete, green newbie can follow with a paint by number system.
My review of Digital Surge Machine will cover the following:
If You Don't Want to Waste Anymore of Your Time on Scams,
See My #1 Recommended Way of Making Money Online:


What is Digital Surge Machine ?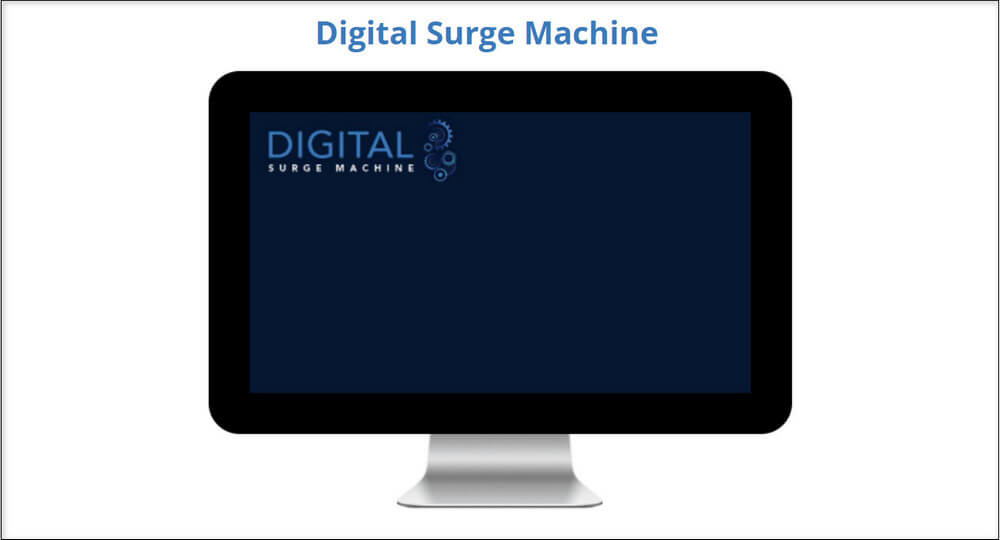 Program Name: Digital Surge Machine
Website: https://digitalsurgemachine.com/
Price: $37 US funds PLUS 2 Upsell and 1 Downsell
Recommended? NO
Rating:
---
Jeff "Herschy" Schwerdt clearly states that they are offering training, and he claims that what they've done is actually taking the experiences from their agencies and brought it into starting from the ground up so that if you have:
zero clients,
zero revenue, and
zero experience in the local marketing space as a digital agency,
they're going to show you:
how to get that first lead,
how to get that first client,
what you're going to offer them,
how much you're going to charge them, and then
how you are going to go out there and fulfill that service,
because they do it on a day-to-day basis.
As a matter of fact, Herschy says, between the two of them, they have nearly 100+ local agency clients that they service. He goes on to say that at max, between the two of them, that is somewhere between 125 and 150 businesses that they service at one time.
Herschy then adds that they are down a little bit this year (2021) because of COVID, but what you're going to see on his landing page are screen prints of monthly recurring income that he claims they can depend on.
He goes on claiming every single month now, they don't have to go out there and generate new revenue.
"Now, how do they do that?", Herschy asks.
According to him, they have three pillars to success here, for them.
1.) They know they have high quality outreach – when they go out there, they want to make sure that they have the right people that they are targeting.
They know how to find them.
And, if you're wondering if you have to spend money to go out there and actually find those leads and contact them, no.
Apparently, they have a way that if you're just starting from scratch that you can go out and you can actually find those leads and all those services without having to spend a dime to even bring them in the door.
2.) How to have a high-quality service that shows them results, and shows them what their potential is going to be in advance so that they are interested in that offer and that they want to say yes, and how to position that for your business.
3.) Apparently, this pillar is the important one. Show them a return on their investment quickly.
Herschy claims that what they've done is actually built the system that they do it on a month-by-month basis.
He says that you can basically rinse and repeat exactly what they do in their agency and their businesses to generate that monthly recurring revenue.
And, go out there and copy that for your clients and yourself because they are giving you everything you need in this process to go out and find, close and fulfill those clients.
Herschy states that all that they ask is that you raise your hand, and say, "yes, I am interested, I want to learn a little bit more about what you guys are doing. I'm done chasing the next big, shiny thing.
That I want something stable and has that holy grail, that monthly recurring revenue coming in for your agency, and I want it for my agency and I want to be able to be successful with that."
He says do that and make one simple low payment to get into the course, go through the training and you'll see:
exactly the step-by-step if you're starting from absolute scratch,
how to get yourself up and built, generating leads,
closing deals, and
fulfilling those deals within the next 7 days.
To do that, Herschy continues with:
check out the testimonies from some of their students,
see what some of their training and courses are about,
some of the successes they have had in their business and then
click on their buy button and activate your account.
Herschy claims that he and Robert look forward to seeing you inside their course and seeing you inside the digital surge machine.
---

How Digital Surge Machine Actually Works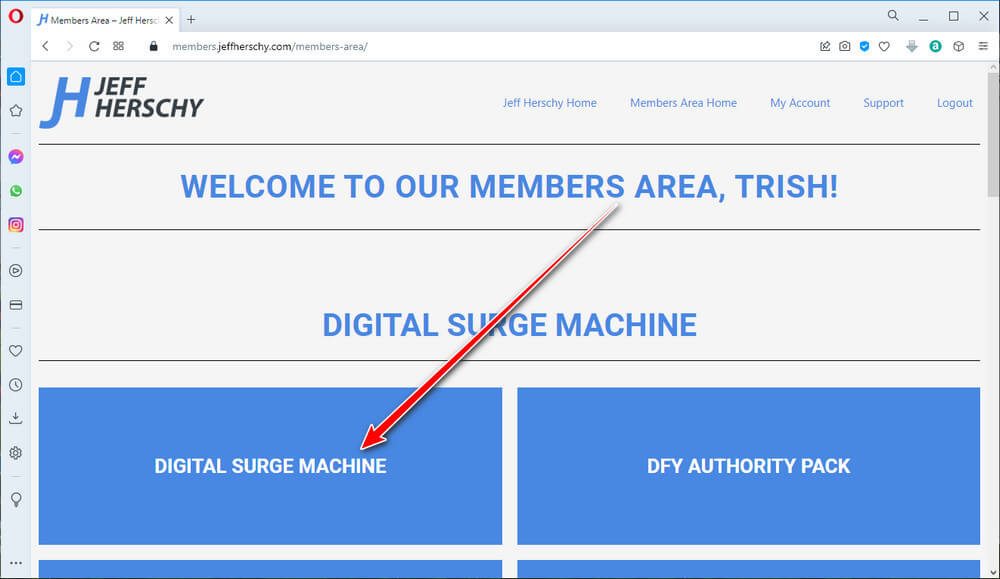 Once you are inside the members area, you will see the link to the training: Digital Surge Machine that once clicked, will take your browser to another page with 18 videos, of which 11 are training, and the others 7 appear to be webinar replays.
1.) Welcome To The Training video (07:43 minutes)
Beside this video is a button link titled: Join The Members Facebook Group Here
2.) CASE STUDY: $0-100K Student Interview video (20:48 minutes)
Beside this video is a button link that is titled: Confirm Your Seat On Live Q/A Call With Ally / Herschy
3.) Bonus Video – How To Get A Client Fast – Getting Your First Client video (15:31 minutes)
4.) Marketing Planning Template video (13:42 minutes)
Beside this video is a button link that is titled: Click Here For File Access Via Google Drive
5.) Overview Summary – Introduction to Digital Surge Machine video (19:44 minutes)
6.) eBook PDF Creation video (02:00 minutes)
Beside this video are 2 button links which are titled as follows:
Click Here To Download The Example PDF
Click Here To Grab The PDF Software
7.) Facebook Page Creation video (08:21 minutes)
8.) Ad Creation video (07:48 minutes)
9.) Lead Ads Results video (01:13 minutes)
10.) Facebook Lead Follow Up Sendgrid video (02:27 minutes)
11.) Client Ad Creation Tutorial video (09:55 minutes)
Live Training Recordings
12.) Training Session One video (1:23:37)
Beside this video is a button link titled: Get Your Copy Of My Lead Magnet Here
13.) Bonus Training Session video (1:20:42)
Beside this video is a button link that is titled: Activate Your Trial Here – Bonuses Included
14.) Training Session Two video (1:04:02)
Beside this video, 3 separate links are provided to the tools mentioned in the video.
15.) Training Session Three video (1:04:27)
Beside this video is a button link that is titled: Grab Your Copy of The Ad Swipes Used On The Call
16.) Training Session Four video (59:36 minutes)
Beside this video you are provided with a link to the tool mentioned in the video.
17.) Training Session Five video (53:58 minutes)
Beside and below this video you are provided with 3 separate button links as follows:
Confidence To Close Training Videos Link
Done For You Follow Up Scripts SMS/Email
Follow Up Qualification Scripts For Leads
18.) Training Session Six video (1:21:19)
Below this video is a button link that is titled as: Click Here To Learn More About Ally's Personal Story which appears to be the same link as the first video linked above. This may be a boo-boo.
At the very bottom of the page is a button link titled: Enter To Win $100 Here – One Winner Chosen Per Course Via Survey Completion.
Back at the members area page, the other links there are to their 2 upsells and downsell, and are as follows:
DFY Authority Pack
DFY Lead/Fulfillment Packs for 5 High Value Niches
DFY Lead/Fulfillment Packs for 3 Niches
Plus, links to the upsell training, which is listed below these.
PROS
I admire Jeff "Herschy" Schwerdt's honesty when in the 2nd video inside the training, he clearly states this is not "a set it and forget it system" but rather "a set it and monitor it".
Too many vendors abuse the "set it and forget it" promise whether doing internet marketing or cooking, which for obvious reasons is an untruth.
CONS
Rob and Ally are quick to share with you as to what works for them and their clients, though they tend to fast forward and skip over a lot or relevant details that should have been included in this training.
Some training was offered so vaguely as to confuse me and I am not a newbie. Example: Marketing Planning Template.
You'll need to turn up your volume on the Facebook Lead Follow Up Sendgrid training video, so be SURE to turn your volume BACK DOWN before starting the next video.
Not knowing I would need to do that, I hurt my ear drums.
Ally needs to use background noise cancelling software to make her video sound less distracting for her viewers. Example: Client Ad Creation Tutorial.
Though the start of this video isn't really relevant if you did not purchase their upsell.
Most of the training was far to sparse (a grand total of 1 hour 20 minutes 41 seconds of actual instructions from 9 videos) with instructions for newbies to be able to learn from, so obviously, this is NOT very newbie friendly.
---

My Take on Digital Surge Machine

Due to the lack of detailed training offered on setting up Facebook ads for your potential client's, I do not recommend their training for learning to do Facebook Ads, therefore I do NOT recommend Digital Surge Machine.
In my opinion, the minimal training for $37 US funds makes this training a waste of money.
Especially, when you can easily learn more from other online platforms on this topic for a lot less.
Below you will find my video review on Digital Surge Machine by Jeff "Herschy" Schwerdt and Rob "Roberto" Stanley.


Summary
If you are serious about starting your own digital agency and you are a newbie, then you need to start with the basics, like how to create a website that ranks well in search engines.
For you, I would like to introduce you to a platform that I have been a member of since 2016, in which you can start for FREE!
That's right!
You can start your membership to learning FREE of charge, and you won't even be asked for a credit card.
If this interests you then you will want to get my free guide to learn more about this learning platform.
If you already have a digital agency started for helping local businesses, then I have several suggestions for you to offer to your clients that I am certain will make your clients very happy with your services, so keep reading.

How to Offer Livestream or Become a Producer
A Freebie You Could Offer Your Clients
How to Use Bing Ads for the Benefit of Your Business and Your Client's

Should you have any question(s) regarding is Digital Surge Machine a system so simple and easy to understand even for newbies, please do leave them in a comment below for further discussion.
I value my visitors and I enjoy answering relevant questions.
Helping Local Businesses is Vital,