In his landing page video, John O'Reilly, claims that he will show you his secret three-part formula that is helping local businesses keep their business open during this pandemic, so you are to be ready to take notes.
Then O'Reilly says for you to imagine this…
"What if you were suddenly recognized as a world-expert and authority in your field? What if you quickly became in great demand… without any hesitation on your price; a true celebrity in your niche?"
He says he thought this sounded far fetched too, until one day it happened to him.
He goes on to say that in the beginning he too was sold all of this "stuff", he had to build a blog, start a podcast, make videos, and apparently, he even published a digital magazine, and he wrote a book.
O'Reilly claims that he had to be all over social media to build his credibility, and he says that what he realized after the last 11 months was that it is just not true.
He goes on to explain that you only need to show the right offer to the right audience, put them together and take out the money.
Because of the unpredictable COVID-19 restrictions, O'Reilly goes on to say that this audience is desperate for your help right now.
My review here will cover the following:
See My #1 Recommended Way of Making Money Online:


What is Go Live Sales Stream?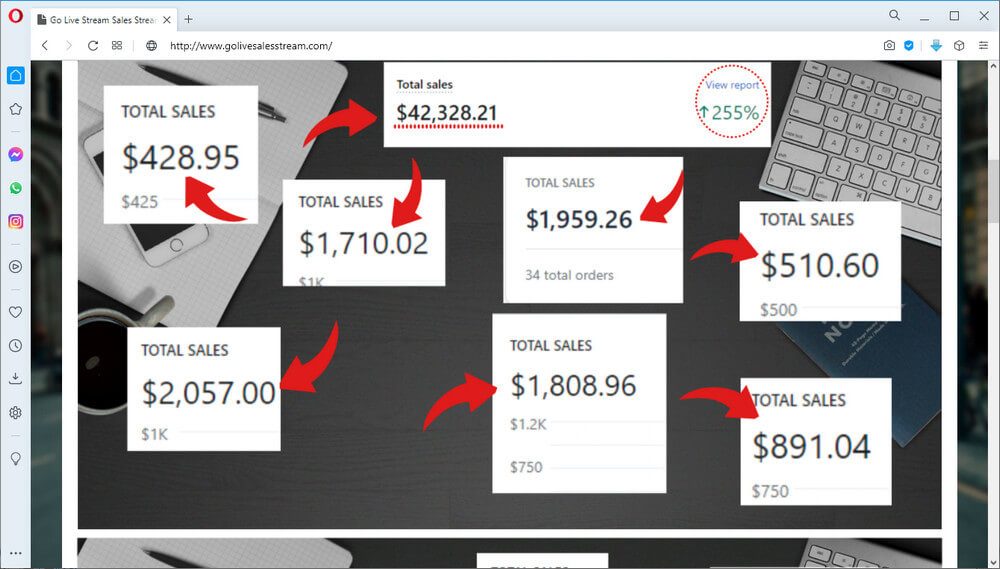 Program Name: Go Live Sales Stream
Website: http://www.golivesalesstream.com/
Price: $17 US funds + 3 Upsells & 3 Downsells
Recommended? YES
Rating:
---
John O'Reilly then introduces Go Live Sales StreamTM which apparently helps to reimagine online retail by using a different mechanism.
He goes on to say that we are in an unpredictable event that is beyond what is normally expected of a situation and has potentially severe consequences.
He asks, "How can business survive in this shifting economy?" and he responses with "Pivot!"
O'Reilly says that "pivot quickly" became the marketing buzz work during this pandemic. To survive, he explains, businesses worldwide are being told to pivot their offers.
Then he goes on to say that the problem is that many business owners are now overwhelmed when it comes to this, and they absolutely have no idea how to do it… and apparently, this is where you come in.
O'Reilly says that you would do this by showing these owners how you can pivot their presentation, by pivoting their business with Livestream Sales.
And, he claims this is the solution you bring to the table.
The turning point for their business… the birth of a new industry… with YOU as the authority as a Livestream Event Producer.
He then says this is a service that business owners desperately need that you can provide from the comfort and safety of your own home.
He goes on to say that right now the world is obsessed with Livestream, with very few knowing how to monetize it.
But O'Reilly warns you that this is NOT a Get Rich easy offer.
He says that this is an honest service that you can provide and get compensated for in return.
He says that you need to understand that there is no easy button to push and make money online.
Because, O'Reilly goes on to say, if that were the case then we would all be gazillionaires and go back to our prospective LearJets, have a little lunch and then go take a nap.
O'Reilly goes on to say that he knows that you have probably been through the ringer countless times.
You've probably even received emails coming in every single day with offers with pictures of rented Lambo's, mansions with bikini models lounging in hot tubes filled with Bitcoin… and, he says that he understands that noise.
You're not going to be making millions of dollars by next weekend, O'Reilly explains. But you could be profitable relatively quickly. You're just not going to make a million dollars.
There is no such thing as a mouse-click millionaire.
However, right now… at this very minute, O'Reilly says, there is a real way to profit ethically.
The internet + social media + eCommerce will enable survival of the most efficient.
All because the once mega expensive tools and technology exists today at a fraction of the cost, so now, any business can remain visible and viable in this NEW marketplace.
O'Reilly says that he would love to take all of the credit, to be the one who produced this crazy underground thing, but the bottom line is that he has taken this from the biggest companies on the planet.
He says that this is what he is doing just a little bit different.
He then asks you if you have ever heard of QVC® or how about HSN®?
Apparently, they are responsible for blowing up brands overnight. He claims these are brands like:
OxiClean®
Flex Seal®
Scrub Daddy®
…bringing these products from ZERO to MILLIONS of dollars in sales within weeks.
And, O'Reilly says… what we do is blow up sales for our average everyday small business online, so that they won't have to compete with the Infomercial Network Giants of the world.
And you will show them the way to do this.

This, O'Reilly goes on to say, is a remote virtual sales event that you are providing for their business, as a Livestream Event Producer.
Here is exactly what you will be getting:
5 over-the-shoulder video modules
The script he uses when contacting business owners
1 live training call
Private Facebook priority support group
7 days of email support
In this new business paradigm, O'Reilly says that the next three to five years of your life will be determined by the decisions you make right now… period.
He says that in the middle of all this chaos this is the time to make that decision.
Apparently, we are witnessing the biggest re-distribution of customers in history.

Q: What is the Go Live Sales Stream priority?
A: It is a unique service for tapping into social media with the client's eCommerce site.
Through this service, results can be incredibly fast and easy to achieve for the business owner.
O'Reilly asks you to remember that secret three-part formula that he talked about at the beginning.
Priority Streaming Software + Social Media + eCommerce Platform = $$$ revenue
Apparently, this is 100% newbie-friendly.
Q: Really John, is this the birth of a new industry?
A: Yes, and O'Reilly says to let him tell you a little story…
When New York City went into lockdown on public gatherings, the cast of Saturday Night Live began remote livestreaming their individual performances for the show, and their audience really loved it.
O'Reilly says that what he saw was Saturday Night Live unwittingly indoctrinating 9.1 million plus viewers into accepting livestream as a new and legitimate form of consuming media… overnight.
That is how fast a pivot can happen, he explains.
Do you want to be ahead of the curve on this… or behind it?
He says, this is the starting line and that he is here to help you.
Q: How much time does it take to set up?
A: Setting it up is quick and easy. Just watch and follow along inside the course, and you will be contacting and helping business owners in no time.
However, this will vary depending on YOUR goals and motivation. O'Reilly says that he cannot promise you will make any money with this program whatsoever, and he wants you to be clear about this fact.
Q: Won't they cancel when the lockdown ends?
A: No, the clients he's working with see this as a must-have addition for their business.
Q: You mentioned Priority Software. Do I need to buy anything else to make this work?
A: Nope, you can use free versions to start, just like he did. As a matter of fact, he recommends that you use the free versions at first.
Q: Is there a money back guarantee?
A: The boldest guarantee in the world, absolute 30 days. Apparently, his policy is refund now, no questions later.
If you are not thrilled with Go Live Sales Stream, he says that you will get a full refund pronto, and you can keep the course. This makes his offer completely risk-free.
Here is a repeat of what all is included:
Module One: The breakthrough of The Rainmaker Model.
Module Two: Finding and identifying the perfect client.
He says that he is going to show you where they are and what criteria they must meet in order to become a client for you.
Module Three: Deconstructing successful livestreams.
The Dos and Don'ts of a livestream, and by successful, he says that he means making money for your clients. It's not about slick graphics, it's about the offer being presented.
Module Four: The livestream platform you will be using, and why you will be using it.
Module Five: The type of equipment we will be using to go live with.
Don't worry, he says that you probably have this already. Your clients will be the ones on screen, not you. You are the producer.
The script he uses when contacting business owners, and the psychology behind it.
One live training call where he will answer every question you have about the course, and that he will stay all the way to the end to make sure that everyone gets their questions answered.
A private Facebook priority support group.
And, 7 days of email support from him personally.
O'Reilly says, now you have a choice to make.
You can go back to the big pool party with paid actors, rented jets and fancy cars, and keep buying those push-button shiny objects… OR…
You can finally accept that the whole get rich easy thing is just a sales method, a very effective and a very flashy one that you've probably bought into a thousand times already.
And yet, here you are… still looking to buy more stuff.
Obviously, he says… it's not working, so let's go in a new direction and start building something that will last a lifetime, a true long-term play.
---

How Go Live Sales Stream Actually Works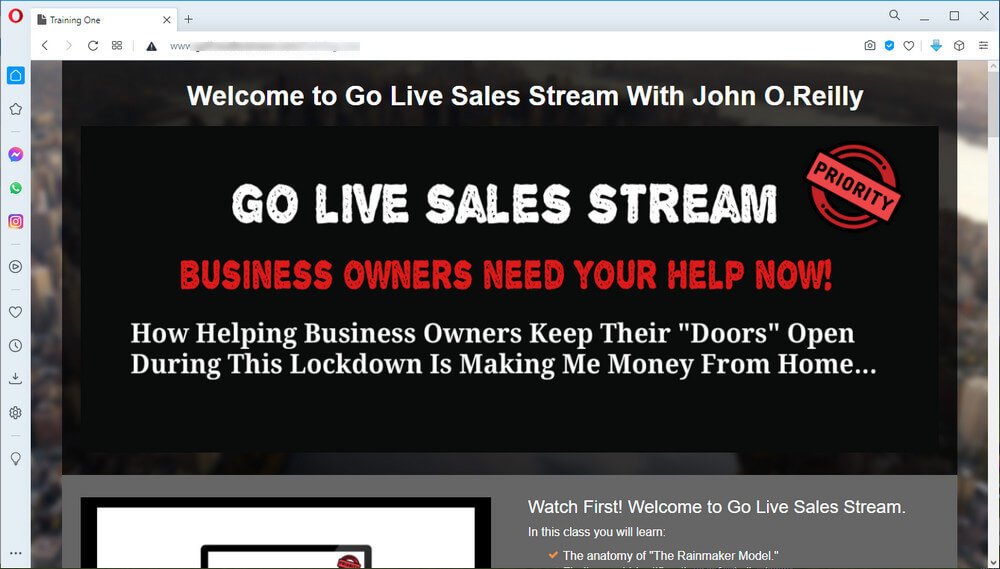 Introduction video (00:05:07 minutes) – John O'Reilly promises you that this course will give you a new prospective on running your online business, or running a business that is designed to help other people.
Below the introduction video, you will find a link to:
register for O'Reilly's Live Q & A Call
join the private Facebook group
3 links to his upsells.
Module One: both free and paid versions of the Priority Software you will be using, along with a link to that software's site.
Video 1 – Free Version (00:16:11 minutes)
Video 2 – Paid Version (00:06:16 minutes)
Module Two: (00:04:40) Setting up a free graphic account to use, along with a link to that site.
Module Three: (00:06:38) Learning who you can and cannot help.
Module Four: The script O'Reilly uses in contacting businesses (a 137 KB PDF file), plus two videos
Video 1: The hook is discussed (00:02:05 minute)
Video 2: What we need from our clients (00:01:05)
Module Five: Practice, practice, practice (00:04:20)
---

My Take on Go Live Sales Stream

In response to my opening question for this review, Go Live Sales Stream is NOT a scam.
In fact, this course is so jam-packed with pertinent information that should you feel confident enough you may only need to purchase his first offer.
Personally, I think it a wise idea to purchase all of his upsells. But you don't have to do that all at once either.
There are 3 links on his product download page that you can use once you have completed the first level of training.
Or better still… you can $AVE money by buying all of the downsales right at the start.
I truly believe this course to be a gem stone find!
Please watch my review video below.


Summary
What a great way for you to be able to either start an online digital business… or add to your present digital business if you already have started a business. John O'Reilly truly does offer his customers everything imaginable.
He can even handle your clients for you should you prefer to have him be the producer, though you would need to find your own clients.
Should you decide to purchase Go Live Sales Stream due to what I have shared with you here, I would appreciate your supporting my reviews by purchasing this course through my affiliate link here: https://useyourpassion.com/livestream-event-producer and, thank YOU in advance.
Should you have any questions regarding is Go Live Sales Stream a scam, then please leave them in a comment below and I will respond in a timely manner.
Helping Others Feels Right,