Timothy Black says thanks for stopping by and checking them out, that you get a lot of offers and a lot of things coming into your inbox, and he appreciates you taking a few minutes to come and check out what he has.
He says that he gets a lot of offers too so he knows what it's like.
You can pick and choose and see what works for you, and hopefully this will work for you. He says he's going to tell you a bit about what he has, he thinks it's cool.
If not, Black says, no big deal, you don't have to check it out, and that's cool, we'll still be friends.
But he says he does want to tell you about what he has, what he has come up with. He says it's actually super cool, it's called Your First Client.
Black says this is aimed at just like it sounds like, somebody who's trying to make their first few bucks online; maybe starting their own agency.
Maybe you've played around with affiliate marketing for awhile and it's not working for you.
Or maybe, you want an actual real business so that you can grow and you know, service clients, people who actually need help.
He says that this really does go after small businesses, people in your local area in small niches.
Black says, especially now pandemic times it's been so weird.
What a weird year. People are hanging on by a mere thread… a lot of these small, especially a lot of Mom-and-Pop businesses, and that's who he claims that they focus on.
You know, places like restaurants, places like dentists, salons, gyms, nail and hair salons, places like that and he says what they do is go after people with broken websites.
Black says he knows you've heard of this before, but this is super cool because of the tool he has for you.
My review here will entail the following:
If You Don't Want to Waste Anymore of Your Time on Scams,
See My #1 Recommended Way of Making Money Online:


What is Your First Client?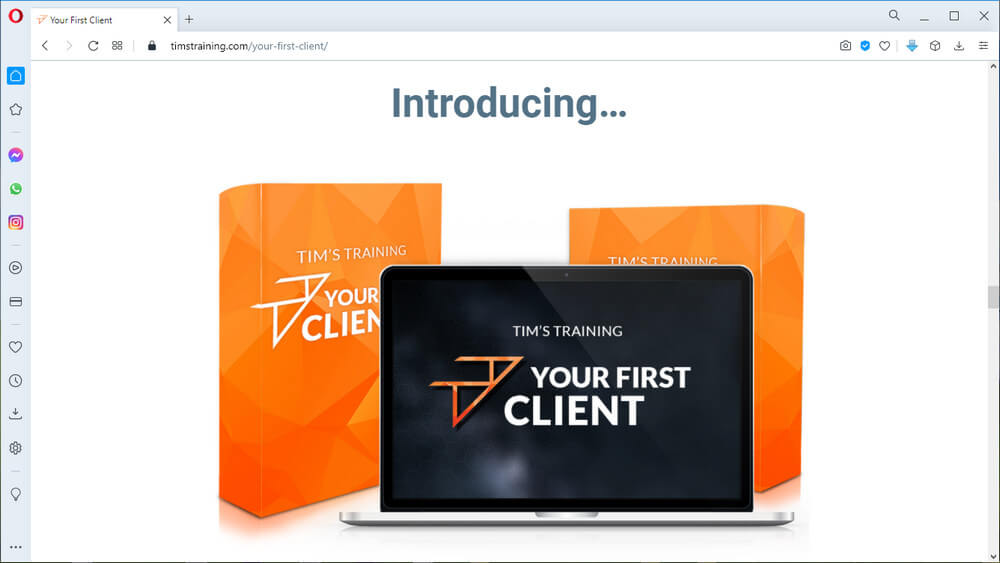 Program Name: Your First Client
Website: https://timstraining.com/your-first-client/
Price: $9.08 US funds (with pop-up form offering a $2.00 discount) + 3 Upsells with 3 different discounts offered on pop-up forms
Recommended? YES
Rating:
---
Timothy Black goes on to say that what they are doing is helping out these little guys, who are, like he said, hanging on by a thread, they're just trying to make the day work, trying to get through the day, they probably don't realize half the time that their sites are broken yet.
He says that some had it built back in 2013, it's a piece of junk, it's not ranking well, it's not showing well on phones, it's goofy, it's flash, there's all kinds of problems with websites out there.
And, he says that there are literally hundreds of thousands or millions of these sites out there, and that's where they will go to help.
So, what's called Your First Client, Black says he came up with this idea because he's been doing this since 2009.
He says he has had his own business helping local clients since 2009, and that he's learned a lot from guys on Warrior Plus, maybe even someone who sent you this email [with a link to Black's landing page] he says that he probably learned from them. He says there's some good stuff on there.
Black says he come up with this for like the most foot-in-the-door, easiest, simplest little thing to really get your first win.
That this is what they are trying to do, to get you $500, $1,000… at the end of five or ten days you can realistically make at little chunk of money, and at the same time help somebody out, like a little business.
He says that's what this is about. If you actually follow and do what he does, if you just follow along it's like six videos, and it's like step one. In step one he claims that he will show you this tool that no one has ever talked about before.
Black claims that he's known about this tool for about a year now and that he has used it for quite awhile and he's had this idea for over a year now and it's like he needs to show people this cool tool and maybe go with a course, so that's what he did.
He goes on to say that it's this free tool that does what other things do, that there's other software out there but those things usually cost $30 to $50 a month or sometimes there are annual fees.
They go out and find broken sites and then you get the information in email and that's how it works.
Black then says that then you say your site is broken and here's a little picture of it and it messes up on my phone.
And then you email the people and then you know, 20 to 30 times, they respond.
And then you collect money and say you can get this fixed for $500 or $1,000… usually a $1000… $750, if you want to come down a little bit. You know, start high and then come down a little bit, so you're still making money.
And then, he goes on to say that you simply outsource it to somebody else, and he says he will show you how to do that too.
A lot of times most of those people will get those sites done for you, like $250 to $300, and you pocket the extra $450 to $600 to $700… Black says that's super cool.
And this is like a real thing, a real business, Black claims that this isn't like a 3-click software that you know.
"How many times have we seen 3-clicks software where you can automatically put in your affiliate link and then you'll want to make a lot of money by being an affiliate for another 3-click software that we'll show you how to do that and put another affiliate link out there, and another affiliate link is for the offer that shows you how to do that using software that's 3-clicks..?," he retorts sarcastically.
Black says, it's like a circle of the same thing, over and over, like… you know what he's talking about, right, the 3-click magic software. If it worked, you'd only have to buy it once. There's a new one every week… whatever.
This is not some hype, Black says, like he's not standing with the bikini models in front of a mansion that the owner is out of town and where he rented a Faerie and put it out front.
He says that he is in a Bat Man room as you can see his collection behind him because that's his hobby.
Black goes on to say that this is his office, that his wife puts him in there and that he cannot put his collection anywhere else, but that's a different story.
He says he is a real guy with a real business and that this is the thing that can get you off the ground and on to super cool software, within a week you could see results.
Black says he thinks that you will see results if you just follow what he does.
Black says that you send out 20 emails a day and you get a couple responses, close it out and you get paid. Within two or three weeks you will definitely be making money, he says that he is trying to get you your first $500.
He says you do that once a week, two-grand inside of a month, right and that's actually more money and that'll pay rent, that'll pay for car and groceries and this is what he claims that they are trying to do.
Black says that it doesn't matter where you are coming from, and that he knows that you tried stuff and failed.
He says, God knows he has too… but this is a way to build a real business and so some of the things you might be thinking are like: I've never even done anything like this before.
He says that's fine and it doesn't matter… that he's going to show you how to do it. Black says he's going to give you:
The tool
The email to send to people
Show you how to get paid and collect the money
And show you how to get the work done and
That's it… boom.
This is the way it's going to work. So that's what you're going to get.
He says he is going to send you
a set of videos,
a few bonuses,
an invoice in what to send people,
an intake form with the information you're going to need from people,
a proposal, aka a contract that he spent a bunch of money on lawyers
Black says that you won't have to worry about that stuff as he's going to give that to you that it's all professional so you don't need a website and that you could just use your gmail account.
He says that you don't even have to know how to build website, you just need to know how to go find someone who knows how to do it and then you sell it.
He says it's what Amazon does, what Walmart does, this is the wholesale and the retail.
So, what they are doing is they're kind of a middle man or like Amazon, so to speak.
Black explains that you find a person who builds websites wholesale then you sell them for retail to people that need it, and you're going to charge them $750.
So that's nothing and you're going to give this guy [the wholesaler] $250, and make $500 in the middle… both sides happy.
He claims this is how business is done. He says this is the Walmarts of the world, the Amazons of the world.
And, he goes on to say, you know when you go to buy peanut butter or a pair of shoes or whatever, from Amazon, they're not making shoes, they're not making the peanut butter.
Then Black says that they buy it from the wholesaler and then sell it to you for retail and they make that money in the middle.
This he says is the way of the world and it works properly so, again, what you're going to get is 6 step-by-step videos, 4 main ones and then a couple of little things at the top and bottom like how to get started, how to end it and here's some bonuses.
Black then repeats that you do NOT need:
a website,
experience,
to know how to write a good email because he's going to give that to you.
And that the tool provides you with all the cool stuff like the screen shot you will use. Black says that they are really eye-grabbing, that people will be like… "oh my website looks terrible on a phone."
What is it, Black says, it's like what $15 or $20, whatever that it will probably be when you see it, it'll probably be at the lowest and then it's going to go up in price, that's the way people do it.
But it's not that much, it's only going to be $15, $20 tops, he says.
Black says that doesn't matter because your first client is going to get you going to net $500 easy.
He says if you mess it all up you might only make $250. And, he says that's not going to happen… and that you are to just follow along with what he's got, click his buy button and you don't need to know anything.
He goes on to say that you don't need to know anything that he will be there to help you.
The following week you'll have a phone call training where you will deep dive into it with Q&A, so be there because when you buy the course that's included so that you're paying for it anyway.
---

How Your First Client Actually Works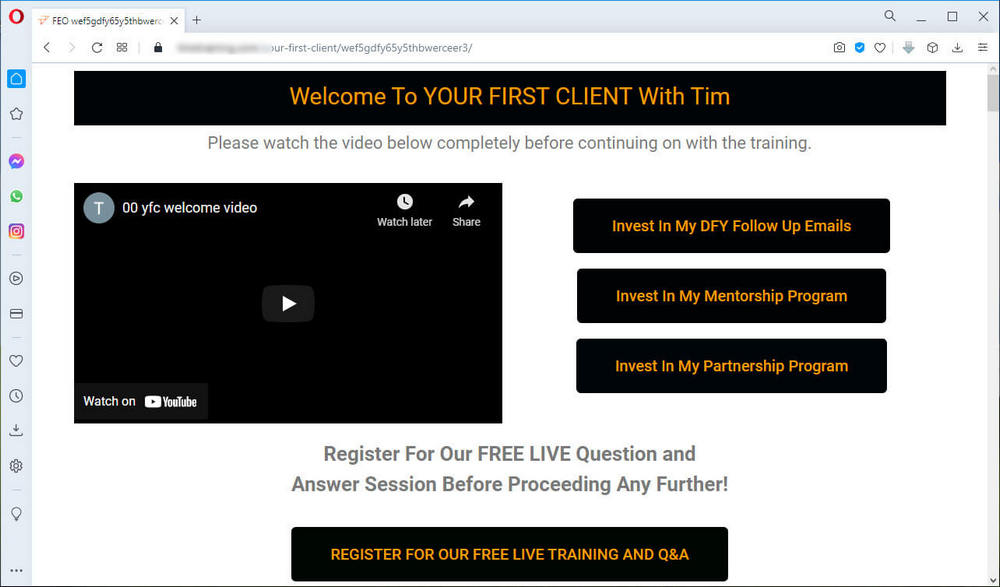 Introduction Video (00:07:36 minutes) – Timothy Black welcomes you to his training and reviews what to expect.
Beside the introduction video you will find 3 links, one to each of Black's different upsells.
A button is provided with a link to Register for his Free Live Training and Q&A webinar.
The Main Training
Video 1 – Your First Client Overview (00:05:56 minutes)
Video 2 – The Secret Tool (00:19:05 minutes)
Video 3 – How to Email the Targets (00:10:49 minutes) – below is a Word doc with your email templates that you can download.
Video 4 – Getting Paid (00:04:26 minutes)
Video 5 – Getting the Work Done (00:13:02 minutes) – below you will find a PDF file with a list of 4 website designers (these appear to be affiliate links)
Video 6 – GO!! (00:02:05 minutes)
The Bonuses
Bonus Video 1 – How to Use the Proposal (00:06:02 minutes) – below is a Word doc with The Proposal template for you to use.
Bonus Video 2 – How to Use the Invoice (00:02:27 minutes) – below you will find another Word doc, this time for The Invoice template.
Bonus Video 3 – How to Use the Intake Form (00:02:31 minutes) – below which is a Word doc template for The Intake Form.
Then finally, three upsell links and another FREE BONUS webinar that you will need to sign up for.
This webinar belongs to another vendor, and you really do get offered free training once you have provided your email address.
---

My Take on Your First Client

Personally, I found Timothy Black's training well done, so yes, Your First Client really is a super simple method.
In fact, his training walks circles around his landing page videos, so don't let those scare you away.
The information Black shares with his students is impressive to say the least.
Should you decide to purchase this training, I do hope that you will consider using my affiliate link here: https://useyourpassion.com/your-first-client, and by your doing so, I may receive a commission from the vendor, and most importantly… the training will NOT cost you any more or less.
Below is my review video on Your First Client


Summary
I do hope my review of Your First Client by Timothy Black has helped you make your decision to buy or not to buy his training.
Training courses like this one are only meant for the serious at heart, so don't simply buy this course.
Be sure to follow the training and do the work as he shows you how to so that you can make your purchase of this training pay for itself.
Should you have any questions regarding is Your First Client really a simple method, please leave me a comment below and I will respond.
Learning Can be Fun,