Tim Black in collaboration with Courtney K., introduces LocAlexa, saying that he's pretty excited about this one.
Apparently, Courtney K., released this method to his private group over two months ago now, on how to use an Alexa in local marketing.
Black goes on to say that he can sell this new service to his clients. Your competition isn't doing this, and Black says he's never seen this before.
According to Black, Courtney K. told his private circle or group who paid $97 for this, and he claims they were thrilled with this, because it is such a new and fresh idea.
Black says to just remember, you don't have to have an Alexa yourself.
This is not about having your clients having an Alexa or trying to sell Alexa; What you're doing is selling them a service on how to use Alexa in their local marketing.
He claims that this works good for:
Doctors
Restaurants
Bars
Nail Salons
That's why Black says that they call this LocAlexa, you know, putting Local and Alexa together.
He goes on to say that they are selling this service; brand new, fresh, he's never seen anything like it before.
My review of LocAlexa will cover the following:
If You Don't Want to Waste Anymore of Your Time on Scams,
See My #1 Recommended Way of Making Money Online:


What is LocAlexa?
Program Name: LocAlexa
Website: https://timstraining.com/localexa/
Price: $27.03 US funds + 3 Upsells and 4 Downsells
Recommended? NO
Rating:
---
Tim Black claims that LocAlexa is about a 10-part series where they will show you how to setup what are call skills or what they call Alexa apps.
He claims that he sets these up for clients and that he charges anywhere from $97 to $197 a month, and you could charge them a couple hundred dollars a month setup fee, it's kind of up to you.
Black says that they are going to show you how to market it, show you how to set all this stuff up really fast, you know like 10-15 minutes… and once it's up, it's kind of up and going and you can get recurring fees for it.
But Black says that he can't guarantee you're going to get recurring fees, but what he's saying is that if you follow along and do what they are telling you, and put in the effort, this will be a really cool service to sell to new clients, because it's kind of eye-catching because no one has ever heard of this service before.
Or, you could certainly go to your existing clients, adds Black, as that is what he's starting to do, to tell them about and they think it's cool.
Black confesses that this is not his original idea.
Apparently, he saw this during a webinar presentation, and he says that he thought, "holy cow, you got to put this out to the broader public."
He claims that because Courtney K.'s circle is kind of small, and those that saw this idea were blown away.
Seemingly, that's when Black decided to approach Courtney K. regarding their collaborating to get the training out there before someone steals Courtney K.s' idea.
Black says that he decided to do all of the front-line work of creating the landing pages, etc. and Courtney K. could then focus on the training.
Black claims that Courtney K. agreed to create this course.
He goes on to say that he has nothing to sell you and that this isn't that much money, if you can sell this for $97 to $197 monthly, it's an easy sell, so the price is like negligible; once you get one client, you're good to go and you will get results super fast.
Black says that you can start telling people about it, posting about it, sending your current clients about it, you know just talking to people… general marketing. He says that he hopes you know how to do local marketing.
He claims that people are blown away as they've never heard of this before.
Black goes on to say that you don't need your own list, or your own website, that you don't need to do software that this is all super easy… that this is just a cool service that they will show you how to set up, and market it.
Black says to grab this offer before their price goes up because their price WILL to up, because this is like one of those not evergreen things, because Courtney K. and he mean this and no BS.
He goes on to say that some of his stuff that he put out, you know, he's had introductory prices and he's kept it up and people kind of bought it here and there.
But he absolutely wants to shut this down when the launch is over, so you are to bear this in mind, that it will go away; that this is not going to be an evergreen thing at all, that it's only going to be available for a few days, while they have it out.
Black says there's no need to fear selling this one, this one is easy, it's inexpensive, it's a cool new service like he said, none of your competition is doing this.
And, he says that people are blown away by this training, who paid a hundred bucks for it, and now you can get it for like $25 or $27 whatever you have, and that he will see you on the inside.
Black hopes you like this one, it's super cool and he's excited about this one so LocAlexa with Courtney K. (because his last name is like long, and Black says he always messes it up).
---

How LocAlexa Actually Works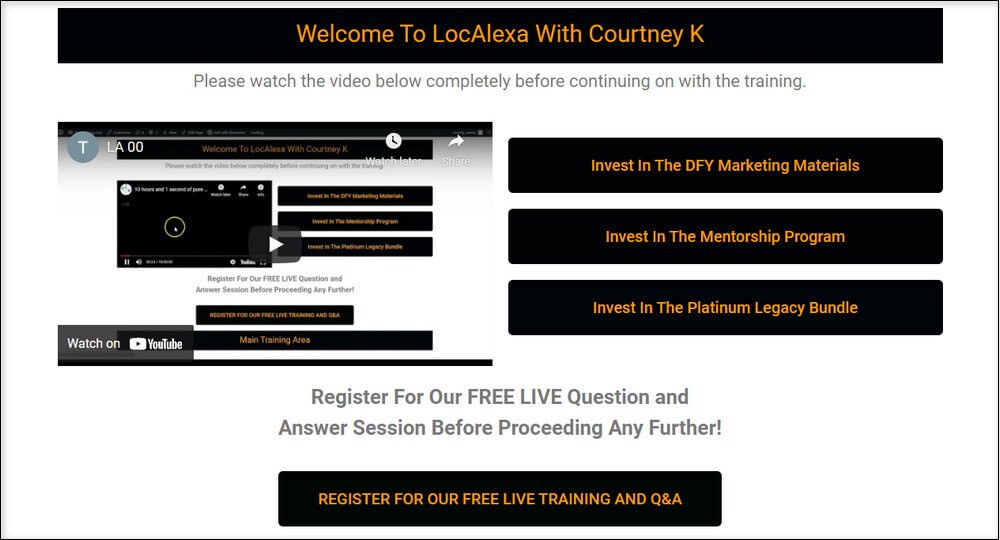 From the members area, you will find an overview introductory video (00:05:25 minutes), in which Tim Black provides you with an overview of their member's area, as well as mentioning the 3 links to the right of this video, which are their upsells.
Registration to a FREE LIVE TRAINING that is now, no longer available. No replay offered.
Main Training Area
Video 1 – LocAlexa Intro & Overview (00:07:31 minutes), Courtney Kostelecky is your instructor, and briefs you as to what to expect in his course.
Video 2 – Intro To Flash Briefings (00:12:16 minutes), Kostelecky explains these are like mini-podcasts, and he talks about what the problem that you're going to solve with your flash briefing.
Video 3 – Ideas For Your Flash Briefing (00:12:29 minutes), Kostelecky goes in depth regarding marketing ideas.
Video 4 – Naming Your Flash Briefing (00:08:24 minutes), Kostelecky shares some tips, tricks, strategies and tools to make sure your Flash Briefing is found and gets noticed.
Video 5 – Make Your Logo (00:04:59 minutes), Kostelecky shows you how to create your logo using a template.
Video 6 – Build Your Skill (00:14:54 minutes), Kostelecky shows you how to begin to build an Amazon skill.
Video 7 – Dev Console Analytics (00:05:17 minutes), Kostelecky provides a bit of a confusing method for being able to analyze the flash briefings.
Below this video is a link to Download Your LocAlexa Resource Guide, which is a 5-page PDF document.
Video 8 – Marketing Your Flash Briefing (00:11:02 minutes), Kostelecky talks about some different calls to action that you could use.
Video 8a (00:14:34 minutes), Tim Black explains the best way to reach out to local businesses in order to offer them this service.
Below these videos is a link to Download Your Outreach Email Here, which is a Word document of an email you could use when reaching out to Lawyers, Restaurants, Chiropractors, Dentists, and Nail Salons.
Bonuses
Bonus 1 – How To Use The Proposal (00:06:24 minutes), Tim discusses the value of using a proposal as opposed to a contract, and how to fill in his template.
Below this video is a link to Download The Proposal, which is a Word document of an Agreement template that you can use.
Bonus 2 – How To Use The Invoice (00:01:12), Tim shows you how to use his invoice template
Below this video are four links:
1.) Download The Invoice – a Word document Invoice template
…and then 3 links to their upsells:
2.) Invest In The DFY Marketing Materials
3.) Invest In The Mentorship Program
4.) Invest In The Legacy Bundle
A second chance to Register for the Free Live Training which is no longer available.
Below this button is an UNANNOUNCED FREE BONUS, which is an affiliate link to another vendor's product.
Below this offer is a link to Access Local Marketing Street Cred, which is a 3-page PDF document.
Below this button are three more buttons titled "Grab My Other Courses", which are Tim Black's previously released classes.
Your First Upsell
PROS
This could be a valuable service for offering local businesses.
You're shown a simply way to create an Alexa logo free, and one that stands out from others.
You are provided with a URL where you can begin creating your Flash Briefings that apparently is not offered anywhere else.
CONS
Courtney Kostelecky really needs to actually create a few different types of Flash Briefings on camera, in order to make it a LOT easier to understand the REAL value in creating these.
Plus, it would make it a lot easier for students to follow along with the actual steps in creating a REAL Flash Briefing.
Would like to understand better who actually gains access to these Flash Briefs and how they would even be found by potential customers.
The real benefit and the cost for creating Flash Briefings was never mentioned.
In Video 8, Kostelecky talks about a company that sounded like dabble apps, and promises to put a link below this video, but failed to do so.
There is no means of contacting either the vendor or the instructor should you have any question regarding the training.
---

My Take on LocAlexa

Though I'm sure that both Tim Black and Courtney Kostelecky thought they provided helpful information with LocAlexa, I did not find that was the case with this training.
Due to the training sadly lacking in some very basic and important information, I do NOT believe the training inside LocAlexa shows how to leverage buyer traffic to grow your clients; therefore, I do NOT recommend LocAlexa.
Below you will find my video review of LocAlexa by Tim Black and Courtney K.


Summary
As I was going through the training inside LocAlexa, I sometimes found myself pausing the videos to go searching the internet in order to answer questions I had that the training did NOT provide.
And, I found a lot more helpful, focused information that you too may find helpful in better understanding the value of Flash Briefings, as well as how to create your own.
Here goes…
Why Every Company Needs An Amazon Alexa Skill Strategy
Alexa for Business: What it does, how to use it by Computerworld
Does Alexa and voice search have a role in your small business? by Alex Wheal
How to Create Your Own Amazon Alexa Flash Briefing by Daniel Hill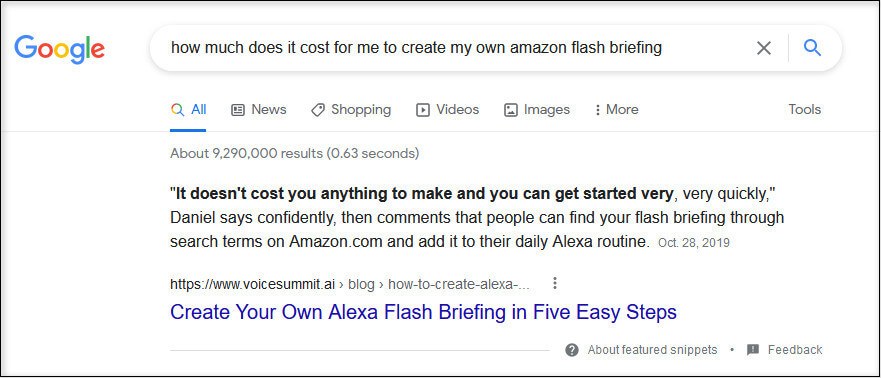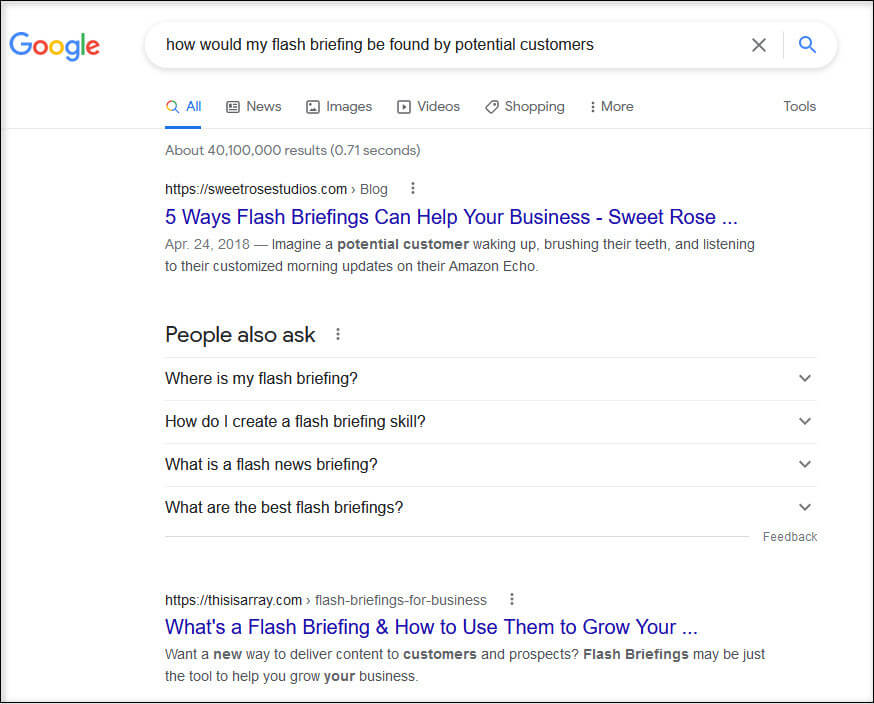 5 Ways to Grow Your Business with Alexa's Flash Briefings by Katherine Brandel
Marketing in the Age of Alexa, AI assistants will transform how companies and customers connect by Niraj Dawar
Is Alexa a Content Marketing Channel?
As you can see for yourself, with a bit of searching the internet, you can EASILY find helpful tips on the benefits, costs, and even how to create your own Flash Briefings.
Should you have any question(s) regarding: "does LocAlexa really show how to leverage buyer traffic to grow your clients?", please leave them in a comment below so that we may discuss this further.
Stop Wasting Your Money,