In his landing page video, Will Allen asks you: "How would you like to get unlimited free buyer traffic plus daily sales and commissions with just one click in only 45 seconds?"
If that sounds good to you, you are told to listen closely to what else Allen has to say.
He goes on to say that his team and he have just released a brand-new revolutionary application that he claims is a complete traffic and sales solution in one.
Apparently, it provides you with everything you need to succeed online in one place.
Allen says that Flood gets you unlimited free buyer traffic from a 500 million visitor daily traffic source, and the lets you direct that traffic to hundreds of converting offers for daily results like never before.
He goes on to say, not to mention it is incredibly simple, fast and easy to use.
Allen claims that there is nothing difficult or complicated, and that you don't need any special skills or previous experience to make it work.
Allen claims that this is the ultimate traffic and sales solution you need to finally achieve success online.
Apparently, you can get started today in just 3 easy steps.
Step #1 – Click the Add to Cart button to secure your copy
Step #2 – Activate the Flood and choose your offers
Step #3 – Sit back and watch the traffic and sales roll in
He says that you may be wondering what Flood costs, as it must be expensive, right? After all, Allen does say that this is a one-stop solution for success online.
My review of this product covers the following:
If You Don't Want to Waste Anymore of Your Time on Scams,
See My #1 Recommended Way of Making Money Online:


What is Flood?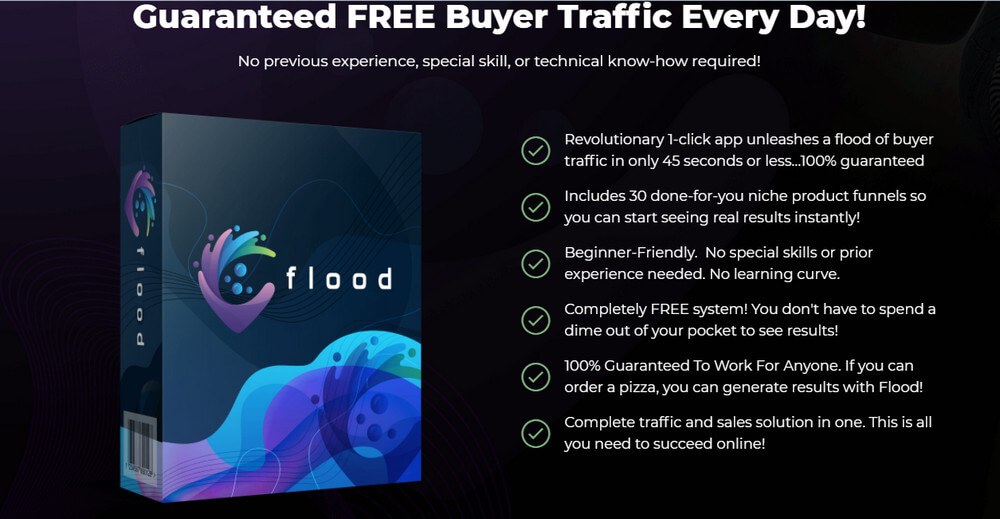 Program Name: Flood
Website: https://grabflood.com/livejv/
Price: $19.77 US funds + 5 Upsells & 5 Downsells
Recommended? NO
Rating:
---
Will Allen goes on to say that this software app is being sold so low because this is a special launch period and they want everyone to succeed with Flood, so they are not going to ask for $197 a month.
He says that they are not going to ask for $67 a month… not even $47 a month.
Allen goes on to say that they are not going to ask for a monthly payment at all, and if you access Flood right now you can access this software and all the done-for-you product funnels for a special low, one-time price; Less than you'd pay for a night at the movies.
Apparently, that's not all. He goes on to say that when you act right now, you also get 5 super-gifts that he says is worth thousands of dollars, absolutely free.
Allen says that these bonuses were created to ensure Flood customers get amazing results as fast as possible.
Bonus #1 – A 20% Discount, for reading down the landing page, you get a promo code to use when purchasing Flood, and save.
Bonus #2 – The Unlimited Clickbank Website Builder plugin – using this brand new, state of the art plugin, they claim that you can instantly turn ANY WordPress blog into a daily Clickbank Commission generating machine.
Bonus #3 – Automated, Auto-Pilot List Building plugin – another supposedly brand new, state of the art plugin, they claim that you can build targeted email lists for you on complete autopilot.
Bonus #4 – The Goldmine Detecting System – Will Allen apparently reveals his 2 super-secret methods for easily finding weird, little-know niches that he claims to tap into and quickly dominates to begin making sales and commissions hand over fist, almost instantly.
Bonus #5 – 100% Done for you $2,110.02 Affiliate Campaign – Will Allen says that you get one of his profitable affiliate campaigns that he has already put to the test and made money with.
Plus, Allen says, to make sure that his is the absolute best offer they could make for you, they are removing all of the risk with their outrageous 365-day, no questions asked, money back guarantee.
But before that claim on his landing page is his 30-day guarantee.
So, if for some strange reason that you don't get results with Flood, Allen says to simply let them know and they will promptly and courteously send your money back, no questions asked.
But because of how well it's worked for them and many other people just like you, Allen claims that they don't think you're going to ask for your money back.
He says that they honestly believe that the day you activate Flood will be one of the most productive and happiest days of your life.
And, he goes on to say that almost immediately you can begin to start generating real, life changing results from the comfort of your own home faster than you thought possible.
Allen says that all you have to do is click the Add to Cart button and get your copy of Flood now.
He claims that you literally have nothing to lose and so much to gain. But that you will need to hurry, he says that the price of Flood is going up every 60 minutes.
So, to lock in the best possible deal, Allen says that you must act now… that if you come back later you will have to pay more.
So, he says, why not get started now? Then he adds, "Why put off success for another day?"
Allen says to click that Add to Cart button and get started generating unlimited free buyer traffic, sales and commissions with Flood today.
---

How Flood Actually Works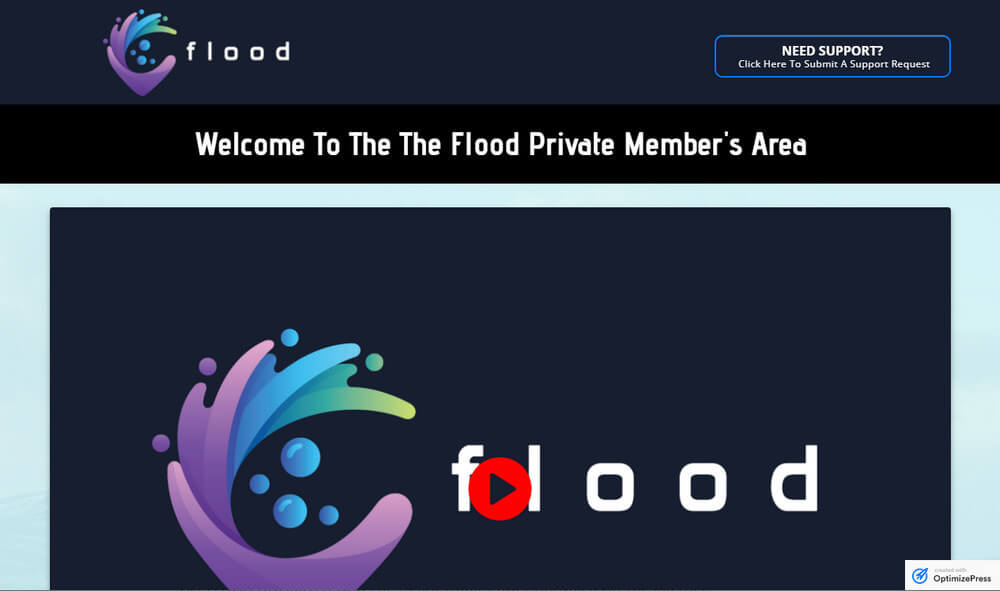 When you first enter the member's area, you are greeted by a video (00:01:24 minutes) welcoming members into Flood's private member's area. Below which there is a button you can click to Access The Flood Traffic App, to get signed up for access to the APP.
BUT…
Don't leave the member's area page yet, because the second last button at the bottom of this web page is for the bonuses.
When clicking on this button, your browser is taken to another web page titled Welcome To The Flood Super Gifts Page.
A video (00:11:38 minutes) titled CBonmatic Clickbank Affiliate Post Generator Plugin for WordPress is provided to show you how to use the plugin.
Below this video are links to get:
the plugin (525 KB zip file)
installation instructions and a web-based user guide, and
for the purchase code to enact automatic updates, which is provided inside linked rich-text formatted Word document.
Next is another video (00:07:20 minutes) titled Access The Auto-Pilot Listbuilding Plugin, narrated by Will Allen showing you how to use the subscribe to unlock automatic list-building plugin for your secret page funnels.
There is an annoying and distracting hum in the background of this video.
Below the video is a button to access this plugin, which this is an 80 KB zip file.
And below this is another video (00:07:40 minutes) titled The Goldmine Detecting System, in which Allen talks about how to discover profitable, less competitive sub-niches. Below this video is a link to NeilPatel's Ubersuggest website, and a text list of Search Phrases to use on Ubersuggest.
Next is yet another video (00:03:09 minutes) titled The Done For You Affiliate Campaign, in which Allen explains how to start this campaign. The background humming is present in this video too.
He claims that you must follow his instructions in this video in order to get access to the Secret Page.
Below this video is a link to The Secret Page campaign, which is a Google document, which apparently automatically updates every 5 minutes.
The contents are exactly as Allen explains in the video above, with it being his review on a product that apparently you can use. He says to simply add your affiliate link.
Now… back to the members area.
The very LAST button, Allen offers what he claims is the Free Gift is a $74,567.20 Commission Funnel.
Once clicked, you will find another video (00:03:56 minutes) where Allen talks about the $74,567.20 Commission Funnel. Below this video, you are offered a button where you can get your 100% commissions promo link.
Get the product review bonus, which is the Easy E Cash Product Review on a Google document, 6 pages and 907 words in length.
Get the video review bonus, which is a video review on Easy E Cash, inside a zip file. Video is done by Will Allen (00:18:14 minutes) raving about Easy E Cash.
There is a loud annoying hum in the background of the entire video.
Get your giveaway bonuses, which are 16 separate zip files inside another zip file 2.9 GB in size. These appear to all be PLR products.
Get the product images, which is a zip file of 10 different images for Easy E Cash.
Get the promo emails, which is a Google document, 4 pages and 627 words in length.
Product Access is then provided in a link below this, followed by links to Allen's upsells.
Once you gain Access to the Flood Traffic App, here's what you get…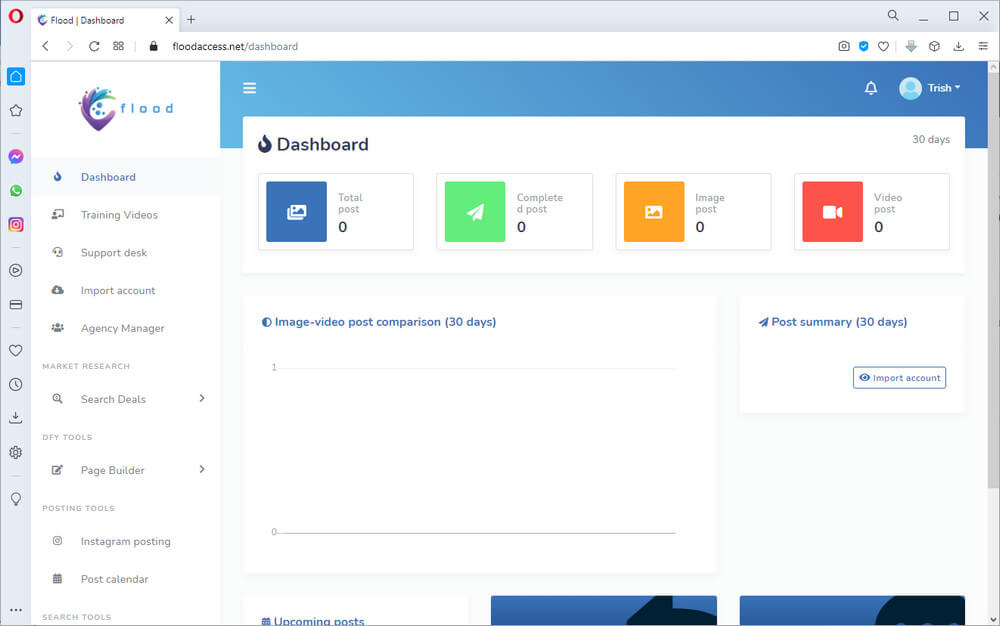 Under Training Videos from the sidebar, you will find the following:
How to Import Your Account (00:02:44 minutes) Will Allen tells you that the first thing you need to do after logging into your Flood account, you have to import your Facebook account, and he shows you how to do that.
Search Deals (00:03:14 minutes) Allen talks about how to find high converting offers on JVZoo and WarrioPlus to promote.
Page Builder (00:03:51 minutes) where Allen shows you how to use his page builder in which he provides you with templates to choose from, that apparently you can edit to your need.
Once you have completed creating you page, you will need to download the page(s) you created in order to install and use one your website.
Instagram Posting (00:04:23 minutes) Allen discusses posting on Instagram, where you can create auto posts for your Instagram account.
Post Calender [actual spelling] (00:01:11 minutes) Allen show you how to find all of your postings that you have setup on his platform, and how you can re-post if you wish.
Auto Comment Reply (00:06:34 minutes) Allen shows you how to create and add templates for auto replying.
Auto Comment (00:08:30 minutes) Allen discusses about auto commenting at regular intervals, by creating a comment template.
Hashtag (00:01:37 minutes) Allen explains how to search for necessary hashtags to use.
Website Comparison (00:02:10 minutes) Allen show you how to compare two websites based on their performance.
Agency (00:02:22) Allen shows you how you can provide an Agency on your Flood account for your sub-users to use.
FAILED PROMISE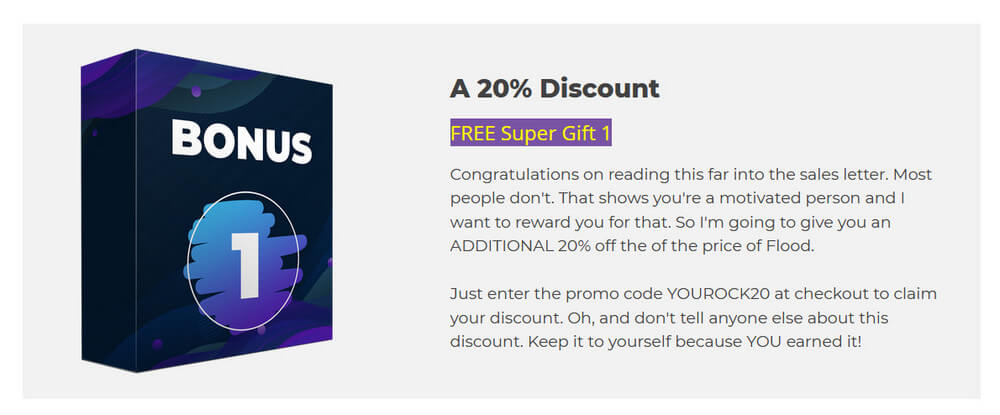 When I clicked Allen's Get Access To Flood Now! button, there was NO textbox provided for his Bonus #1, the 20% Discount promo code that he promises on his landing page. See the screen print below.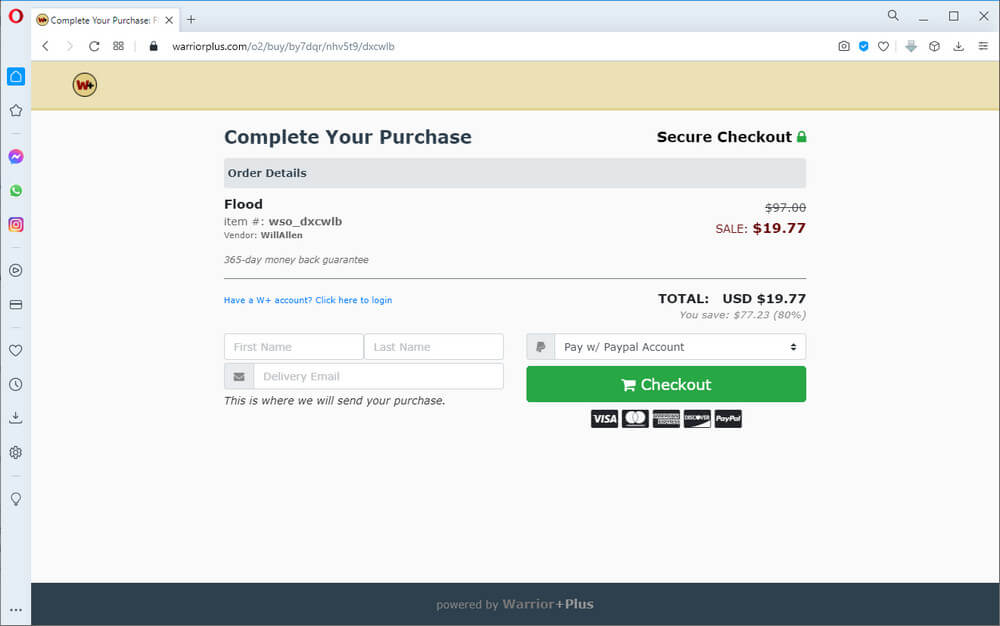 Also noticed that I had NO access to his Website Comparison app, and so am left to assume that might be available only in an upsell, though that was not made clear.
---

My Take on Flood

I do NOT believe Flood to be a beginner-friendly software, and it definitely is not a 1-click software, nor only in need of your taking three steps.
The training is far too short for most beginners to understand fully how and why they are being instructed to do what is stated for users to do in the videos.
Auto posting to any social media account is not recommended by pros as a means of growing a target audience.
Not only that but bot accounts are being discovered and shut down on many social media platforms daily now, in order to encourage humans rather than bots to use their platforms.
Besides this, relying on someone's platform to auto post to your social media accounts, I would never recommend due to your social media accounts relying on their platform being up and running at all times.
However, if you were to insist on using a method to auto post to your social media accounts, then do select an auto posting platform that is well-known, and will be more likely to still exist a year from now.
Below is my video review on Flood


Summary
If you want to get buyer traffic then you need to learn how to create content that your potential buyers can use rather than relying on bots to instantly grant you target traffic.
Going into business to strictly to make money should NOT be your number one reason to be in business.
If your passion is to help others by providing a service that you are good at providing… or you have created a product that will help others, then let that be your method for your creating content to get you buyer traffic.
There is no magical bot that can do that for you.
I do hope my review on is Flood really a beginner-friendly 1-click software has helped you decide whether you should buy this product or not.
Should you have any questions about my review on Flood, please leave them in a comment below and I will respond.
Don't Waste Your Money,