Eric Holmlund is the vendor of InstantVidz, and he says for you to listen up if you're interested in cashing in on a very important long-term trend.
He promises to show you exactly how to do it.
Eric claims to have been doing business online since 1999, which he explains to be a very long time when you consider all of the ways that the internet has changed since then.
He says that he's been doing internet business full-time since 2003, and that he has made many millions of dollars since then, making a full-time living online every year, including this year.
Eric repeats himself by saying that a LOT has changed during that time which means he has had to adapt his business over the years.
On of the biggest revolutions that he has experienced on the internet, he claims happened between 2007 and 2012, as video became the most popular form of media on the web.
Eric goes on to say that he rode that wave pretty well, integrating video into his own business and he also launched various video related products during that time period.
He says that he even created the worlds first internet marketing reality show way back in 2007.
The years after that, Eric explains, have been an evolution of video, where in we've seen video keep getting bigger and higher quality.
He goes on to say that for awhile, videos kept getting wider, as our computer and TV screens kept getting wider.
By 2011, Eric says that 69 widescreen had become the new standard; Then just a few years ago, many of the YouTubers pushed that aspect ratio even wider, to 89, which is a 2 to 1, ultra-wide aspect ratio.
And then… TikTok happened!
Eric claims that starting in 2021, TikTok became the number one most, high traffic website in the world.
He goes on to explain that because TikTok is mostly viewed threw the mobile app, vertical videos, to fit a phone screen have become the preferred video aspect ratio.
Eric says that he's not saying that he loves that trend, he's just reporting the facts.
Personally, he claims to still prefer a widescreen video but what he prefers, he says doesn't really matter; it's what his kids prefer, and an entire generation of internet users.
Eric goes on to explain that for Gen Z, TikTok is even replacing Google for common searches.
He goes on to say, for example, 40% of young people, when they're looking for a place for lunch, they don't go over to Google Maps or to Google Search, they actually go to TikTok.
And Eric claims that the study was actually from Google.
So… I searched the internet to see if this was true… and, VIOLA! See screen print below of what I found in the way of proof to share with you in what Eric stated.

Eric says that over the past couple of years, because TikTok was the number one choice of an entire generation, and because it became the highest traffic site on the internet, all of the other major players in the industry have scrambled to compete.
He goes on to explain that, this means that the vertical video format popularized by TikTok is now being embraced by:
YouTube
Facebook
Instagram
…and, pretty much every other place where people post videos.
In other words, Eric continues, this video trend is here to stay, because people are viewing all of these videos on their mobile devices.
He says that technology always keeps evolving but it's safe to say that this is at least a long-term trend; Mobile devices like iPhones and Android phones aren't going to completely change their shape and format anytime soon.
That means vertical videos will continue to be the preferred video format for mobile users.
Eric says to think of the ramifications for a moment, from a business stand point.
You have literally millions of businesses around the world that have invested heavily into adopting video into their advertising, marketing and education.
Now, all of a sudden, they need to start using vertical videos or they risk missing out on a huge portion of the global audience.
Eric claims that he is handing you this opportunity on a silver platter.
He explains that not only is it an opportunity to integrate vertical videos into your own business, it's an opportunity to instantly create vertical videos for the millions of businesses that now need them, and to get paid for it.
Today, Eric is inviting you to join InstantVidz.
My review of InstantVidz by Eric Holmlund will cover the following:
If You Don't Want to Waste Anymore of Your Time on Scams,
See My #1 Recommended Way of Making Money Online:


What is InstantVidz?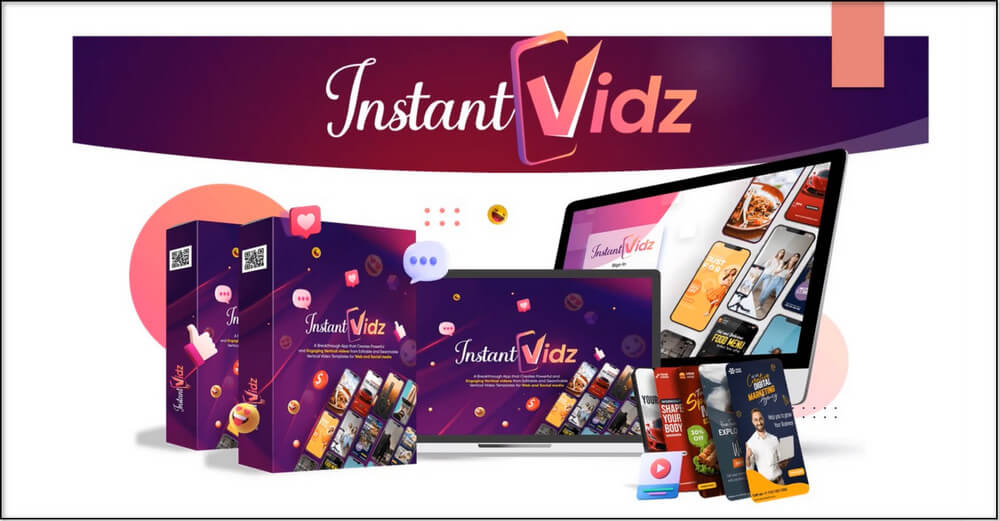 Program Name: InstantVidz [may also appear as Instant Vidz]
Website: https://instantvidz.com/
Price: $27 US funds for Personal use and $34.95 US funds for Commercial ($3 coupon was available at the time of my review!) use, PLUS 3 Upsells
Recommended? NO
Rating:
---
Eric Holmlund explains that InstantVidz is a cloud-based app that gives you the ability to do exactly what the platforms name sounds like.
He says that you can create videos instantly, and you don't need:
Any technical skills
Video skills
Graphic skills
Eric claims that they created this platform in such a way that you can log into it and quickly create videos for any niche.
He goes on to explain that businesses around the world are regularly paying hundreds of dollars for these kinds of videos.
With their InstantVidz platform, Eric says that you can create these videos in mere minutes.
He says that this is NOT just about TikTok… though yes, it's perfect for TikTok but it is also for, YouTube, Facebook, and every where else that videos are seen online.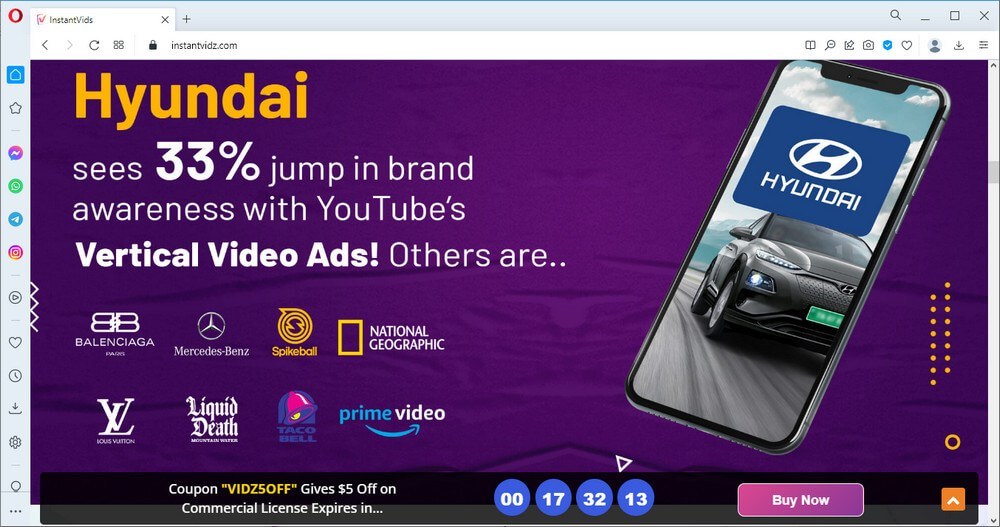 In other words, Eric says, if a company wants to use videos, either to get free social traffic or if they're doing any sort of paid for video advertising, they need vertical videos to reach the market today.
That means there is a huge need and a huge demand for this service right now, and he says that you could be the one to cash in on it.
When you join in on the special offer, Eric says, they will include a commercial agency license, so that you can use their platform to instantly generate videos for any unlimited number of clients.
He says that if you're ready to get a jump start and start cashing in on this massive trend right now then go ahead and order your access now.
Eric says, again… for a couple of minutes work, you could be making hundreds of dollars creating these simple little videos for all kinds of companies and again, all kinds of companies need these videos.
InstantVidz is totally cloud-based, he says, so that you can log in and use it from anywhere with an internet connection, and there are no monthly fees.
Eric reminds you that if you join during his special offer that you will have your full membership and you can cash in again and again with this opportunity.
He goes on to say that this is really an opportunity to create multiple income streams, because there are so many ways that you can use InstantVidz, and just some of the ways that you can make money with this app, is doing:
freelance work,
agency work for clients,
affiliate promotions,
explainer videos,
social media ads,
mobile sales videos,
getting TikTok traffic,
creating YouTube shorts,
and, so much more!
Eric claims that the components of this platform are valued at thousands of dollars, and that they could be charging $97 [US funds!] per month or more for this service.
But, he says, they're going to let you have access to all of it for a tiny, one-time fee today.
Eric explains that your investment is, as small as it is… totally risk-free with their 30-day money back guarantee, so now you've got nothing to risk.
With as many assets and benefits you're getting with InstantVidz, they are 100% confident that you're going to consider it a brilliant investment in your business.
Eric says that if you don't see the value in their app, then simply ask for a refund within 30 days and they will your purchase in full.
He says to join now and they'll see you on the inside.
---

How InstantVidz Actually Works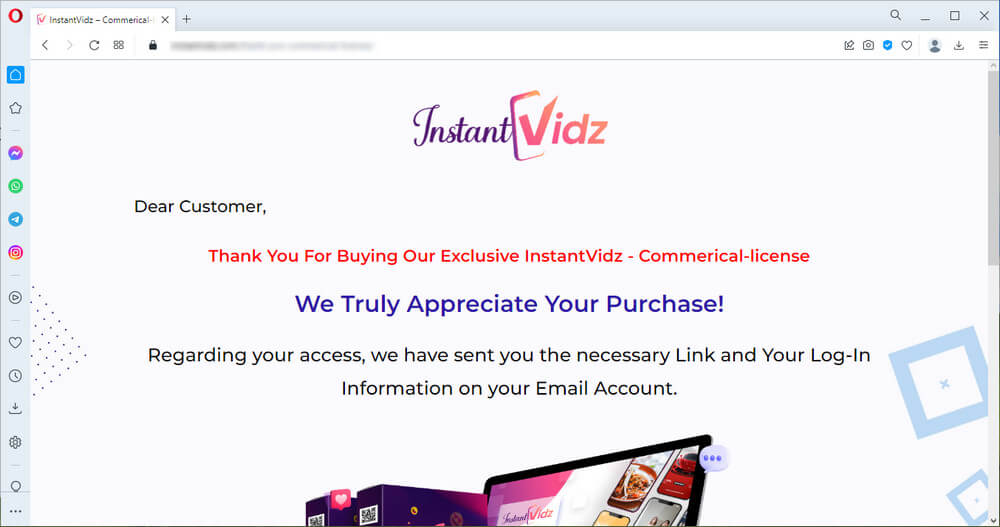 The Helpdesk information appears at the bottom of Eric Holmlund's Thank You page.
Once I received the email mentioned in his Thank You page, I logged in.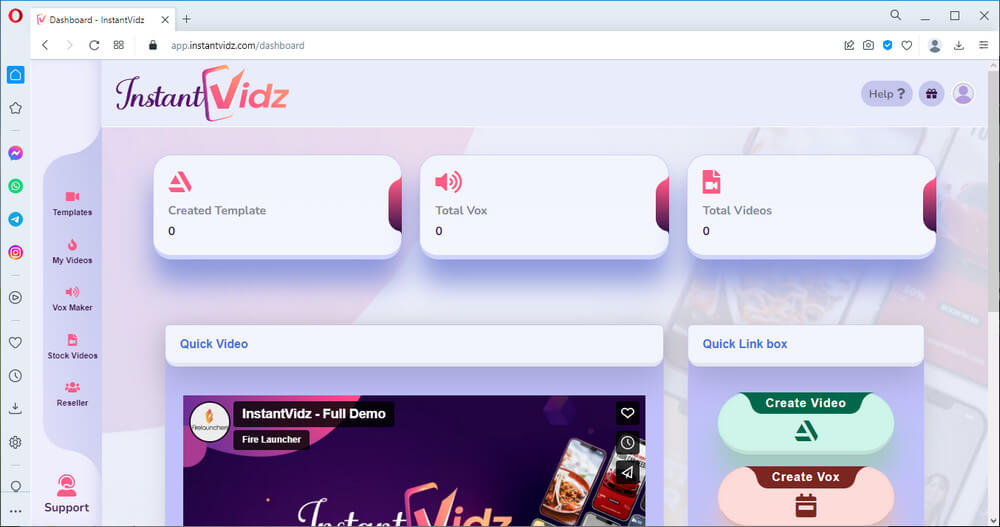 The training videos are available from the Dashboard, when scrolling down below the Full Demo video (16:47 minutes), as seen in the screen print above.
The demo video is from Eric's landing page.
In the Training Videos you will find 26 videos to refer to.
How to Create Vox (01:53 minutes)
How to Use Preloaded Template (01:53 minutes)
How to Add Text in Preloaded Template (01:31 minutes)
How to Add Image in Preloaded Template (46 seconds)
How to Add Image from Search Tool in Preloaded Template (01:05 minutes)
How to Add Music and Vox in Preloaded Template (01:35 minutes)
How to Add Sticker, Emoji, Avatar, and Increase Video Timing (01:59 minutes)
How to Search Vertical Video (01:14 minutes)
How to Use "My Video" Section (01:28 minutes)
How to Generate Video Thumbnail (39 seconds)
How to Add Text in Video Using "My Video" Section (01:12 minutes)
How to Add Background Music in Video Using "My Video" Section (01:40 minutes)
How to Reverse Video Using "My Video" Section (53 seconds)
How to Video Speed Up and Down (56 seconds)
How to Download Stock Video (43 seconds)
How to Manage Template (01:07 minutes)
How to Create Vox with Background Music (02:33 minutes)
How to Rotate Video (45 seconds)
How to Trim Video (41 seconds)
How to Upload Videos from Local (01:11 minutes) – files must be less than 50 MB
How to Add Image in Video (01:10 minutes)
How to use Horizontal Preloaded Templates and Video (02:06 minutes)
How to Edit Landscape Videos (01:47 minutes)
How to Use Faded Image Option in Video (01:14 minutes)
How to Use Reseller Section (01:33 minutes)
Contact Support (49 seconds)
NOTE: "Local" or "your Local" is defined as your computer.
In the basic commercial access to InstantVidz, under Templates, you will find 10 of each of the following categories: Real Estate, Food, Fitness, Automobiles, Fashion, Business, Education, Travel, Hotel, Footwear, and Super Sale, available only in Portrait orientation.
You can also Search for the different types of templates, find My Templates, and Upload Video from here.
My Videos is where you will find your videos, once you start creating them.
Vox Maker is where you will find the ability to create voiceover files from text that you put in the textbox provided.
Then, once you select a voice you prefer to use, you can generate your Vox file.
The My Vox area is for your voiceover files once you have created them.
Also, you can choose to Add Music to your Vox files from the My Vox area, or simply keep My Music files ready to use.
Stock Videos is where you will find videos that you can use without having to pay extra.
There are 6 different categories found under the basic commercial access to InstantVidz, which are as follows: Fitness, Nature, Animal, Food, Travel, Fireworks.
When the individual options are clicked on, another tab opens, offering folders inside a Dropbox account, where you can easily access the video files and then download those you want to use.
NOTE: Only selected videos of Vertical orientation are available in the basic commercial access to InstantVidz.
Reseller is available only as an Upsell.
Support takes your browser to another tab where you can reach out to Eric's support forum.
PROS
The option to turn down the volume of the background music is a great option to have, as it makes a video more professional sounding when using voiceover.
The video editor offers users a lot more options than I had first imaged it would.
You can edit your Vox voiceover text so that your chosen voiceover will pronounce the words you provide, though you may find that you need to add special characters in order to get a more polished Vox.
CONS
Noticed that the training videos were created using the Vox Maker, and a lot of the common words were pronounced incorrectly. This will need to be monitored closely when creating your videos.
Found the Vox voiceovers do not add inflections like those of real humans, when providing text to use, making the female voices sound very robotic.
You canNOT test a voiceover until you actually generate the Vox file, which many times will prove to be unusable, and then you will need to repeat the process until you get the results you want, if ever.
There is NO option to upload your own mp3 Vox file, so you will be stuck compromising.
If you want to only add music to your video, you have NO means of decreasing the volume, like you do when merging the Vox file your chosen background music.
There is no way of editing a failed Vox file. For example, the robotic voices could not pronounce Oshawa (the name of a major city in southern Ontario, Canada) properly.
There is no means of having the text come into view at different times, so that a call to action could actually stand out.
Sadly, support is REALLY slow to respond.
---

My Take on InstantVidz

Does InstantVidz open an opportunity for You Get Paid?
Maybe, and only If you have lots of time and are really patient waiting for help from the support forum. But these types of videos SHOULD be able to be created rather quickly, as Eric promised.
Sadly, InstantVidz is NOT as reliable as I had hoped it would be.
When discovering how robotic the female voiceovers are, I recorded myself using the exact same text or wording… but there is no means offered to upload and use other mp3 files that you create from outside of this app.
Given the issues detailed above (under CONS), I don't see how it would be possible to make enough money selling videos to local businesses only using this app, therefore I do NOT recommend InstantVidz.
Below is my video review of InstantVidz by Eric Holmlund


Summary
Having never heard of Eric Holmlund previous, then having this product recommended to me, I truly was hopeful that InstantVidz would be more usable than StoryReel in creating vertical videos.
And, who knows for certain, Eric may improve this app with better voiceover robots, as well as allow their users to upload their own voiceover mp3 files, in the future.
Though InstantVidz is slightly more usable then StoryReel, I do NOT believe that you could depend on making lots of money using ony this app either.
The option that impressed me the most with InstantVidz was that you can reduce the volume of the background music when you have a voiceover.
It turns out, that there are many different ways to turn down the volume of an mp3 file, depending on which option might be available to you.
Check out the two vertical videos I created.
The first on was created using InstantVidz and the second one was created using PowerPoint, once I created and merged the different audio files using Audacity.
In my opinion and at this point in time, using PowerPoint and/or Canva in creating these types of videos still remains the most viable means for you to use.
5 Ways You Can Create Vertical Videos – Perfect for YouTube Shorts!
Should you have any question(s) regarding does InstantVidz open an opportunity for you to get paid, please do leave them in a comment below, as I respond to all comments that I receive, in a timely manner.
Saving You Frustration,