Trevor Carr is the vendor of Rank Vault and he asks you: "what if you could rank any page on the first page of Google; what if you could rank any site on the first page of Google without backlinks?"
Yeah, he says, you heard that right, without backlinks, and without doing any hard work.
Trevor claims that you might not even know what backlinks are and that's not a problem, as you actually don't need to know anything in order for this to work.
He then asks you, what if you could rank any site on the first page of Google?
Trevor claims that this is one hundred percent possible with Rank Vault.
He claims that there is something very special about your website ranking on the first page of major search engines; You see, nobody clicks from page one.
Trevor then explains that if you dominate the results on that page, you will bank on all day long.
He explains that this is something that you can do for your own website and anyone else's site too.
They even offer you a 30-day money back guarantee.
If for any reason you don't like Rank Vault, just send them (their support) and email and they promise to refund you your money.
My review of Rank Vault by Trevor Carr will cover the following:
If You Don't Want to Waste Anymore of Your Time on Scams,
See My #1 Recommended Way of Making Money Online:


What is Rank Vault?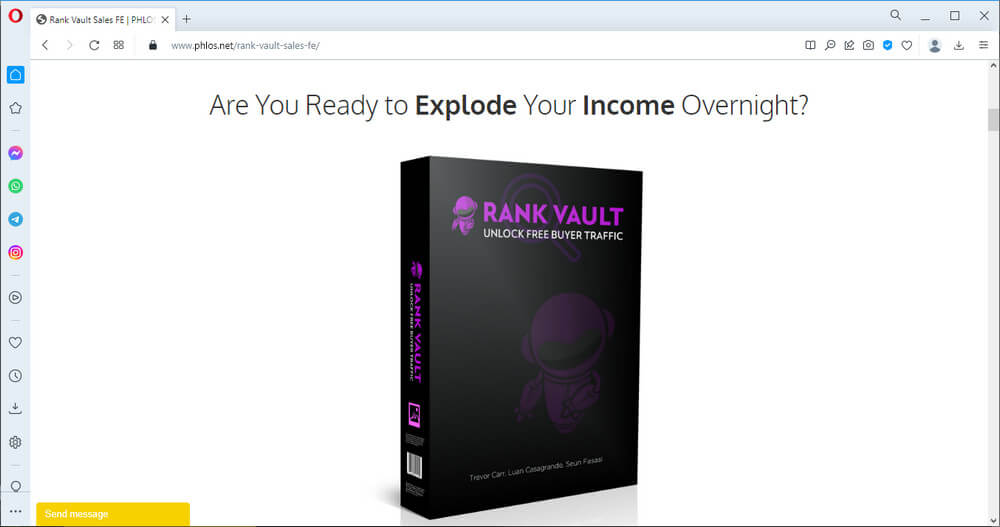 Program Name: Rank Vault [sometimes appearing as RankVault]
Website: https://www.phlos.net/rank-vault-sales-fe/
Price: $12.95 US funds PLUS a $2 DISCOUNT popup form, along with 4 Upsells with 4 Discounted popup forms
Recommended? NO
Rating:
---
Trevor Carr claims that Rank Vault software is a powerful cloud-based app that allows you to get page one rankings for any site without creating backlinks and without doing any hard work.
He says that with their powerful cloud app, you will be able to find keywords that are easy to rank, and that rank without doing any of the usual, boring, long-drawn-out work.
Trevor claims that what you need to do is find the easy to rank keywords, create a post for that keyword, and get page one rankings, plain and simple.
And when you have page one ranking at your finger tips, he explains that you can literally print money on demand.
Treavor then says, here's what you get with Rank Vault software:
Keyword Research Module – gives you thousands of keywords that you could rank for.
Golden Keyword Module – from the keywords you found on their Keyword Research Module, this module apparently finds the ones that are easy to rank for so that you can pick those, create your posts around those keywords, and rank.
Website Analysis – you can analyze any website and find SEO critical points that may be preventing the site from ranking well.
This way, you can fix the sites and start seeing improved results. And, you can do this for your own sites and for your client's sites too… and he claims that you can charge a handsome fee.
Backlink Maker – Trevor claims that backlinks are still playing a huge roll in SEO, so if you want to create backlinks to any site, you will be able to with Rank Math.
Rank Vault is said to be hosted on the cloud and there is nothing for you to install on your computer.
Also, Trevor states that today and today alone, you will be getting a full commercial license so that you can start selling SEO services and turn using Rank Math into a 6-figure online business.
Trevor claims that the potential with this new software is huge.
He says to just think for a moment… someone makes a search on Google… and your page pops up on the first page they were searching… so, they want what you have.
Trevor states that it's so different to other platforms like Facebook for example, where you're interrupted and people try to sell you something that you didn't even know you wanted.
With search, you are giving them the answer they are looking for, therefore increasing the chances of a sale are much higher.
He says, what's more, with the commercial license that you'll be getting with this, you can start your business today.
In fact, Trevor adds, if you buy Rank Vault now, they will even give you easy, fast training on how to make money from this app, immediately.
He claims that they have created the $100 a day SEO business blueprint, and that it's included with Rank Vault.
Trevor then decides to show you how to get your first sale with their cloud-based app, and how to scale it fast, to $100, $200 and $300 daily payments in no time.
He claims that they'll show you multiple platforms, multiple ways to do it and how easy it is to charge a hundred or even thousands of dollars by selling these premium services that no one has the opportunity to offer.
Trevor says that with the way things are in the world, there's never been a better time to start online.
Recession
Cost of Living Crisis
Fuel Costs Exploding
Energy Costs Exploding
He claims that you don't need to worry about any of that, and that you need to take full control of your life, your finances and your future.
Trevor says for you to pick up Rank Vault now and start the journey to an amazing life.
---

How Rank Vault Actually Works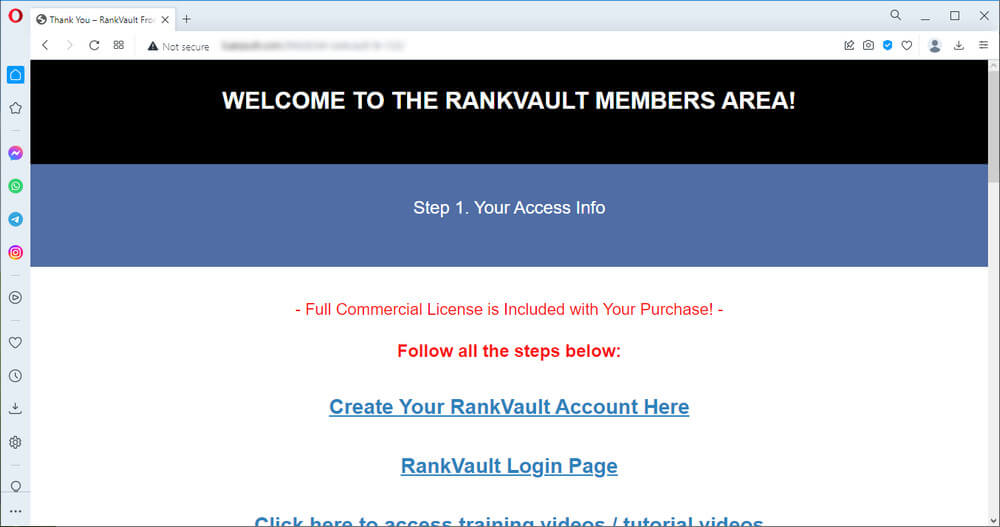 From the Welcome page you can create your access to the Rank Vault cloud-based app.
Step 1: Below the first two links, you will find a links to the following:
Training videos / tutorial videos
Bonus Training – SEO Biz Blueprint – RankVault – Bonus Training video (13:07)
The support email address that you are to use in the case of problems
Step 2: Links to Trevor's 4 upsells
Step 3: Download Your Bonuses – Unannounced Bonuses [affiliate links to other vendor's offers]
Step 4: Special Deal for Customers Only [another affiliate link to another vendor's offer]
A second support email address is offered at the bottom of this page.
Looking through the training first… [8 videos]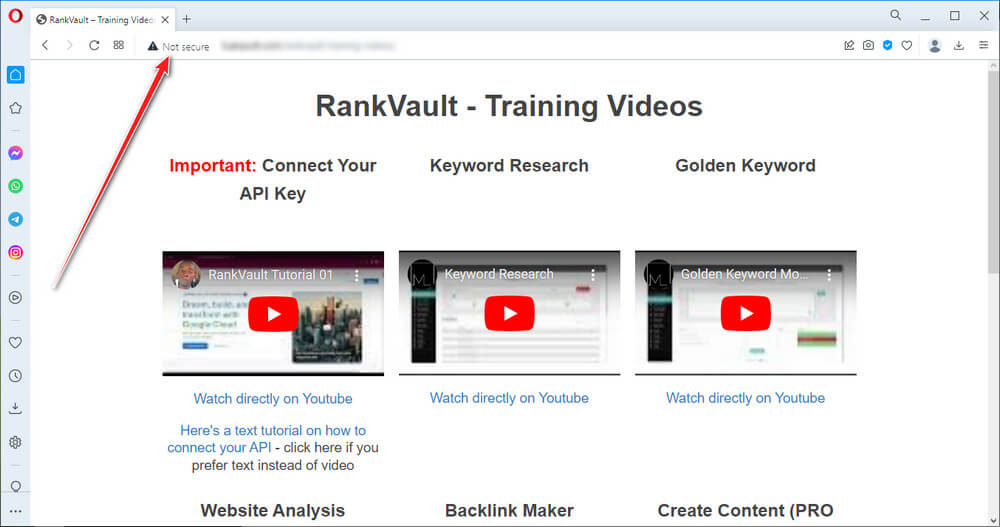 Important: Connect Your API Key (05:16 minutes), below which you will find a text tutorial on how to connect your API, in case you prefer text to video instructions (Google doc).
Keyword Research (07:26 minutes)
Golden Keyword (05:21 minutes)
Website Analysis (02:34 minutes)
Backlink Maker (02:19 minutes)
Create Content (PRO Version) (03:12 minutes)
Traffic Vault (PRO Version) (04:14 minutes)
Google Rank Checker (PRO Version) (01:41 minutes)
RankVault Dashboard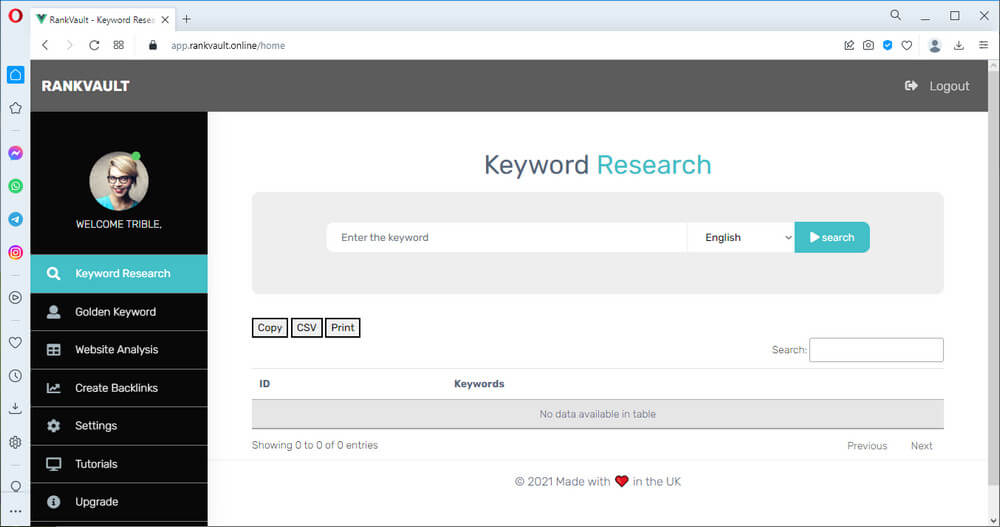 Once inside the RankVault cloud-based app, all options are offered from the left-hand sidebar.
Having decided to NOT add an API key to this third-party, online app, due to not knowing for certain, the level of security provided; Therefore, I am unable to test the Golden Keyword option for you.
For testing the Website Analysis option, I used my hobby site that is in bad need of being updated, and I've attached the PDF results file here for you to view.
The Create Backlinks option, when clicked on, opens in a new tab.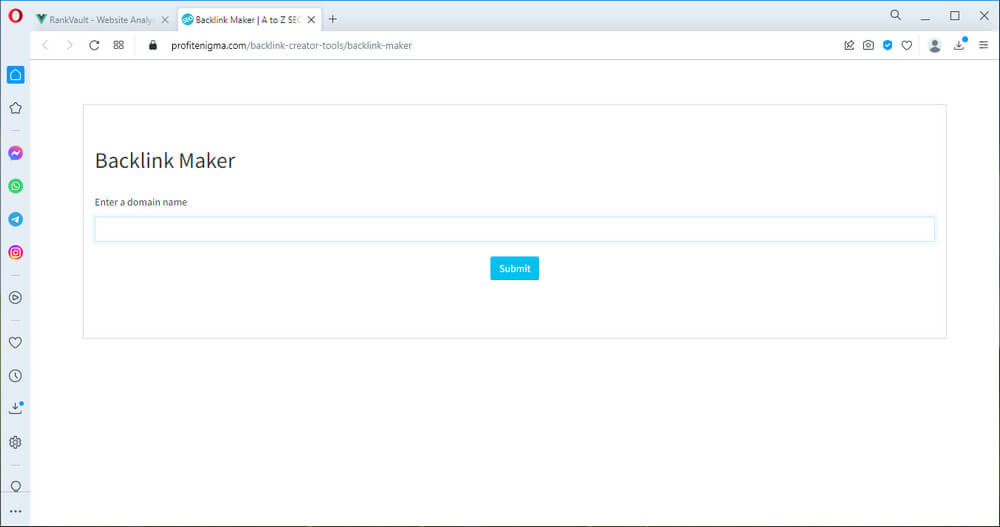 Knowing how harmful that low-quality backlinks are to any website (due to Black Hat tactics!), I decided to Google search for the authority of the domain my browser was pushed too, and VOILA!
A honest internet marketer's YouTube video review cautions his viewers to NOT trust this app.
PROS
Found NONE!
CONS
If you leave your access to Rank Vault idol for 10 minutes or so and then try using it again, you will soon discover that you need to log back in again.
When asked to create an API key for use in Rank Vault, I started wondering if that would be a wise idea. My thinking was wondering if this is a Black Hat tactic.
So, I searched Google with the following phrase: "Can connecting my Google account with a cloud-based app hurt my website" (without the quotation marks, of course) and below is a screen print of Google's answer.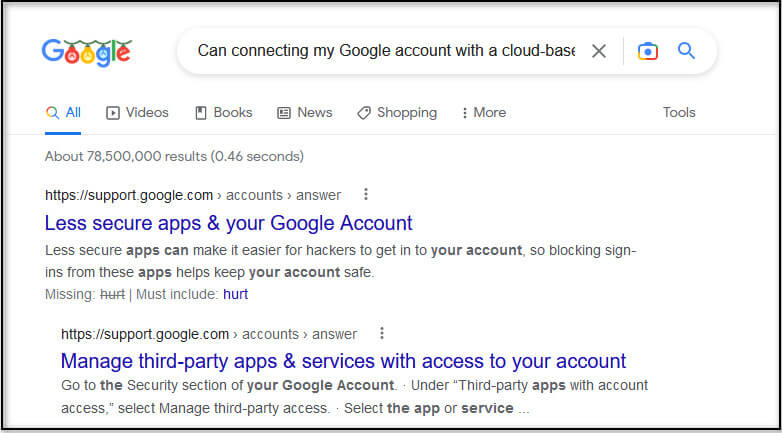 Because I don't have a Google account that I could afford to compromise like this, I am NOT able to test the Golden Keyword option.
Noticing this vendor's landing page, his entire funnel for Rank Vault, and the Welcome page are displaying NOT SECURE… and though the Rank Vault cloud-based app appears to be on a secure server, I still hesitate to trust just any internet marketer's online app when asked to connect ANY of my online accounts.
Doing a quick Google search, you can find FREE options available to you for running an automated website analysis on ANY website.
The bonuses offered are not real bonuses but affiliate links to other vendor's products.
---

My Take on Rank Vault

Personally, I do NOT recommend Rank Vault as I do NOT believe that Rank Vault unlocks free buyer traffic without a security risk to your Google account when adding your API key to their app.
Knowing that there are many unscrupulous vendors online, this makes it a risk that I am NOT willing to take by adding an API key to a third-party app from my Google account.
It this app were as awesome as Trevor claims it to be then it would not need an API key from each and every individual user, in order to function properly.
Below is my video review of Rank Vault by Trevor Carr


Summary
If you want is a truly, amazing keyword search tool, look no further than the one offered below… NO API key needed!
And, this keyword search tool comes with 4 video tutorials to help you get the most value from your search results. Go ahead, give it a try!
Should you have any question(s) regarding does Rank Vault really unlock free buyer traffic, please do leave them in a comment below so that we may discuss this topic further.
Stop Wasting Your Money,