A female narrator claiming to be Charlotte White informs her listeners that she goes by Charlie, and she claims that within 3 minutes she will share with you some secret methods of making extra income right from your home, using only your laptop computer.
Plus, Charlie assures you that you can do all of this part time whenever you want to work.
Her secret she says involves YouTube, though you don't have to worry as you won't need to go in front of a camera if you don't want to, and that you could work while in your pajamas if you wanted to.
Charlie goes on to say that she has something real to share with you, something that works, while assuring you that it is because you deserve it.
She goes on to say that this secret will give you the ability to afford the things in life that you need along with some nice things too.
Charlie claims that the more you do it (her secret, of course) the more money you make.
She even goes so far as to assure you that your dreams will come true if you watch her video and do what it shows you.
The following is covered in my review here:
See My #1 Recommended Way of Making Money Online:


What is Tubeloom?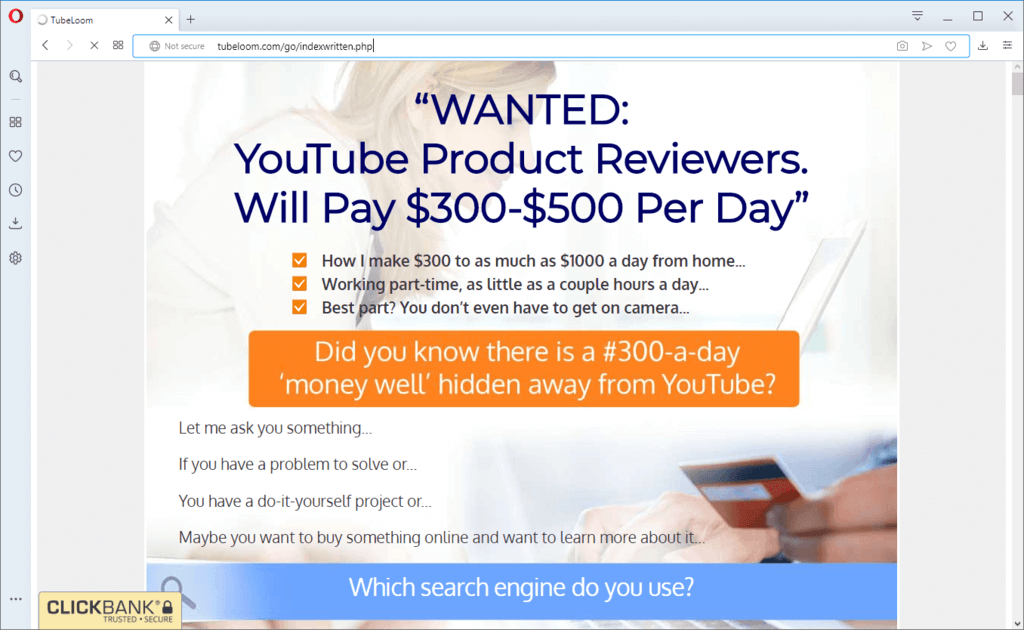 Program Name: Tubeloom
Website: http://tubeloom.com/go/
Price: $39.95 US funds + 3 upsells and 1 downsell
Recommended? NO
Rating:
---
Charlotte White, aka Charlie, says that before she shares her secret with you, she wants you to know of a few people who have made lots of money following these methods.
) Susan, whom Charlie claims, makes an average of $300 per day.
) And Gary, whom Charlie adds, makes $400 a day on average.
) And Laurie, whom Charlie states, makes $1,000 nearly every day for a week.
Charlie tells her listeners that she stumbled upon these little-known secrets for making money.
She goes on to say that it all started when she gave birth to triplets and decided not to return to her office manager job, as daycare would have been far too expensive for her to handle.
Though her husband Dave apparently manages a restaurant, Charlie claims she started doing research for working online from home opportunities.
She adds that she even fell for the surveys for cash deals but soon learned after spending money that this didn't work as she had planned either.
Filling in forms required her to push all the products or services to her friends and THEY had to sign up or she wouldn't get paid.
Charlie claims that after trying to fill in forms for awhile and getting no money for her efforts, she tried freelancing as a writer but was only paid a few dollars for a 500-word article.
She claims that she tried getting paid for:
data entry
social media manager
mystery shopping
writing books for Kindle
Yet, she says she never got paid for any of these.
Charlie claims to have spent over $1,500 on scams or assignments that paid too little, making it no longer worth her effort.
Then Charlie tells you that one of her children started acting odd and that she might have autism.
With expensive medical bills starting to come in, and even with health insurance they were asked to pay several thousands of dollars, which cause them a lot of stress.
Charlies adds that one of Dave's employees Miranda informed him she was quitting her job at the restaurant because she had found a method for making money from home.
Apparently, Miranda claimed to be making $300 for only working a few hours a day, and she promised to show Charlie what to do.
After Miranda explained everything to her, this is what Charlie claims gave her new hope; She claims that this is what Miranda shared with her that helps her to make between $300 and $500 a day.
Apparently, Miranda logs into several different websites online looking for things she knows about and can talk about.
While logged into these sites, Miranda is said to browse several different products that people and/or companies from around the world are selling and they want someone to help them promote them.
Miranda told Charlie that she gets paid whenever someone buys whatever it is that she talks about. She needs NO:
customer service
inventory
MLM
…and, she doesn't have to speak with anyone. Charlie tells you that what Miranda does is simply create videos and upload them to her YouTube account.
Charlie even goes so far as to claim that Miranda to be a bit of a ditz when it comes to computers; That basically all Miranda's videos contain are some screen prints and her talking about whatever product she had chosen to speak about.
Charlie even claims that Miranda's voice is a little whiny and that she stumbles over her words and makes mistakes all of the time… yet it didn't matter.
Miranda apparently solved people's problems, so they bought the products she talked about.
Charlie continues saying that the more videos you create the more money you get paid and you get paid for all the days to come for the same videos.
So, Charlie claims that she signed up to the site Miranda had told her about and immediately selected a skincare product to make her video of.
The afternoon of the same day Charlie claims to have uploaded her video to her YouTube channel, she was apparently notified of a commission that turned out to be two sales for a total of $37.10.
This is said to have inspired Charlie to make another video.
Charlie says that when making her videos, this is what she does:
Pretends to be speaking with a friend who wants to buy whatever she is doing her video about
That the listener already wants to buy it
The listener just needs a little more information about it
When Charlie includes all of the features like Miranda showed her, then her friends started asking her questions as to how she was making all the extra cash from working online from home.
Charlie claims that this could be the answer for all stay-at-home mothers and fathers from around the world who want to earn extra money regularly.
Charlie claims the following…

---

How Tubeloom Actually Works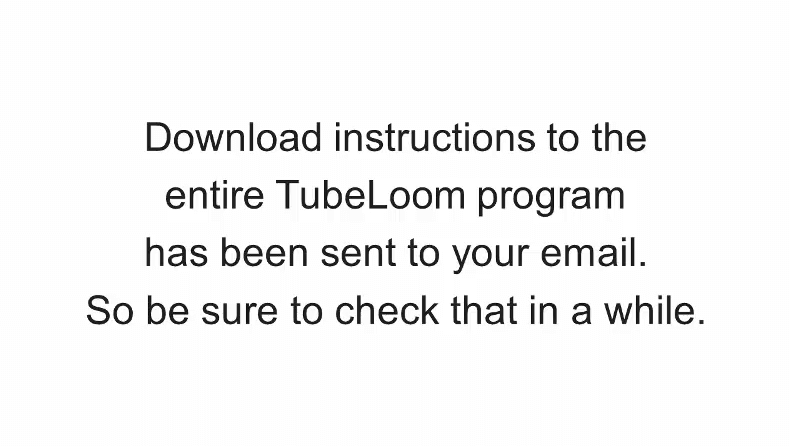 Back on October 28, 2018, I purchased Tubeloom in hope of discovering Charlie's secret methods, only to discover her website inaccessible and eventually it disappeared. I had no access to what I paid for.
After my emailed complaint to Charlie's support was ignored, I had to contact Clickbank for my refund.
It wasn't until November 2, 2018 that I finally received my refund in full.
Seeing this product back on the market touting the very same promises, I have to wonder how long it will be online before the site disappears once again, leaving paying customers without the promised secrets.
---

Is Tubeloom a Sham?

No, I do not believe that Tubeloom is a sham, but I do not feel confident enough in paying for access again this time to learn of Charlie's secrets, in case a repeat of last year events were to be repeated, as I do not like having to ask for a refund and being ignored.
Due to my experience with having purchased this product last year and received nothing for my trouble, I do NOT recommend Tubeloom.
---

How You Can Really Make Money Online
If you sincerely want to learn how to generate extra money working online from home then I would agree with Charlie that affiliate marketing is the way to go.
However, it is the training that I feel is most important.
So, once you have exhausted other programs, why not give the platform that I have been a member of since 2016, serious consideration.
The training platform I am referring to offers world-class training that even a novice can succeed with when following the training.
However, you need to be prepared and willing to do the necessary work on your own online business.
There truly is no magic wand available to make you millions of dollars without a lot of work even though many make money online programs love to make such promises to their prospective customers.
The training platform is a membership site that teaches the members how to make money online, and you can join their members right now for FREE!
Yes, you can… and I did say that you can join for FREE.
You will soon discover the many like-minded individuals who are regular members who work together daily, helping each other out so that each of us have the same opportunity to succeed in making money online daily, if you so wish.

This world-class training platform that I am referring to provides all of the necessary business tools that you will need in starting up your very own online business.
And, you won't even have to provide a credit card to start.
So, what are you waiting for?
You will have 7 whole days of free access to the first level of training which includes 10 complete lessons, after which you will be offered a substantially reduced first monthly payment to join so that you can continue with the lessons.
Why is such an offer being extended to you?
Because the owners of this world-class training platform are sure that once you have experienced the great training, and see for yourself all of the included business tools, that you will realize and appreciate all of the advantages in becoming a full-time member.
Heck, during your lessons you will even be able to create your very first website, which you can create using the platform's web servers. In fact, you will be allowed to create 2 free websites as a starter member.
Look, you will even have successful entrepreneurs to coach you while you create your very own online business. You can ask for help too.
So, if you're ready to truly work at creating your very own online business then you CAN succeed.
Just click that button below and read through my guide so that you get all of the details.
This could be your big chance to truly make the extra money you have only ever dreamed of making.

Oh… and before I forget… inside my guide, you can learn how YOU can have ME as your premium coach once you join this platform.
Hope you found this article helpful in making your decision to buy or not to buy. If you did find it helpful, please do feel free to share it with your friends.
Should you want to ask any questions as to is Tubeloom a sham, I do hope you will leave your comment below as I respond to all comments in a timely manner.
Once you're ready to learn,