Abhi Dwivedi is the vendor of StoryReel, and his video narrator claims that in the next three minutes he's going to show you how you can quickly and easily create a new form of content that is taking the internet by storm, right now.
For those of you who want to know of a much better online app to use that is FREE, click here to whisk your browser to my summary.
Continuing on Your Introduction to StoryReel
The male narrator claims that you can get eight hundred times more visitors, 72% of whom are guaranteed to purchase your product or services.
Better yet, he promises to show you how you can be doing this every few hours, promoting your services, building your buyers list and selling your products on complete autopilot.
You see, this is the exact same video content format that people like Jackson Weimer created and got paid $8,500 from Instagram, claims the narrator.
Same way Khadijah Lacey-Taylor made $30,000 promoting other people's products on social media, using this new content format, the narrator continues explaining.
And, Jakey Boehm, who earned over $34,000 creating and publishing this new style of content, says the narrator.
The narrator goes on to say that there are hundreds and thousands of ordinary people just like you and me, who are profiting and making big bucks online, simply by creating and posting this on social media.
So, what is this new video content format that he is referring to?
He says it's the stories videos.
The narrator tells you that stories is the vertical stories content format that has now dominated the internet and is the fastest way to generate views, traffic, leads and sales this year.
He claims that even Google is now ranking web stories number one on their mobile search results:
from Instagram stories to
Instagram Reel, from
YouTube shorts, to
TikTok videos,
Facebook, and
SnapChat Stories
All of them are apparently vertical content format, and the narrator says that you too need to be creating and publishing hundreds of these.
But, creating vertical videos for your business isn't easy, as the narrator explains that you need:
scripts,
animation skills,
story boarding,
complex tools,
video editing,
voiceovers,
technical knowledge about Google Amp and what not.
The narrator goes on to explain that it's simply not easy at all, and they figured that there has to be an easier way to create stories for Google and social media… and apparently that's when they went to work.
He goes on to say that after a year of research, development, beta testing and improving, they are excited to share with you the incredible StoryReel.
My review of StoryReel will cover the following:
If You Don't Want to Waste Anymore of Your Time on Scams,
See My #1 Recommended Way of Making Money Online:


What is StoryReel?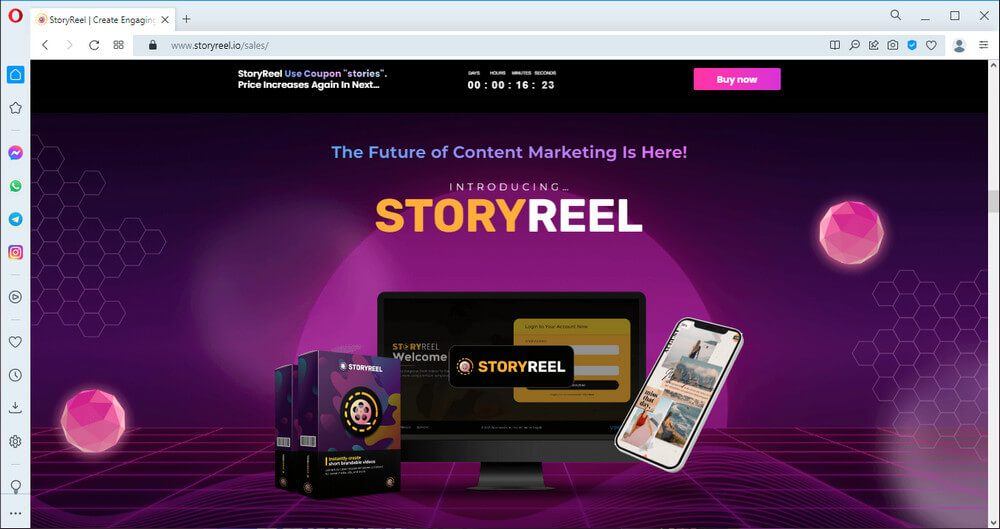 Program Name: StoryReel
Website: https://www.storyreel.io/sales/
Price: $39.95 US funds + 6 Upsells and 2 Downsells
Recommended? NO
Rating:
---
The male narrator claims that [cloud-based] StoryReel is the world's first and only web stories and video stories creation platform that lets you create vertical content for Google and all the other social media sites, using professionally created, fully customizable, content templates.
He says to simply log into StoryReel, and you can browse through hundreds of stunning looking templates carefully crafted to get you higher views and results.
Apparently, there are two kinds of vertical stories that you can create using StoryReel.
It is said that the first one is called Web Stories, and it's where you publish vertical content directly on your websites, blogs or funnels and get indexed by Google for unlimited free targeted traffic.
The second one is said to be called Social Stories, which apparently is essentially short vertical videos that you can post on Instagram, Facebook, YouTube shorts, SnapChat and other platforms.
The narrator goes on to explain that to create stories, click the Create Stories button, and then give it a name.
Then he shows you how you will get a blank canvas that he claims will give you full flexibility on creating whatever you want to.
He then shows you that you can choose from hundreds of templates, and then start customizing them by adding:
Text,
Images,
Video clips,
Changing font colour,
Style,
Background, and
Borders,
Change animation, and anything you want to change.
He shows you that you can click on the plus icon to add another page to your story, and add a new template or add content on a blank canvas.
Once you're done, he shows you that you can click on the play icon to preview what you've created, and finally, you can save or publish as a Web Story on your own domain or their domain or you can render it as a video that you download and post on your social media accounts.
He claims that StoryReel will let you create Web and Video Stories in any niche that you want.
The narrator goes on to say that you can upload your Video Stories as a YouTube shorts for example, who's getting over 15 billion views a day.

He goes on to say that even if they send you 0.0005% of that traffic, that's 75,000 new views every single day.
If only 1% of them visit your websites, and even 1% of that 1% buys for $20, that would be $4,200 in profits, plus you would gain a buyer's email list, he explains.
And then, you can publish these stories as Web Stories on your own websites, which he claims that Google absolutely loves and will send tons of free buyer traffic to.
He then says that using StoryReel you can:
Sell your own product and services online,
Promote affiliate offers,
Tap into tons of buyers with just five minutes of work,
Create Web Stories to rank number one on Google for competitive keywords, or
Create simple Web and Video Stories for your clients.
That's right, he says that StoryReel for a limited time only, comes packed with a commercial usage licence, which gives you unrestricted rights to create Web and Video Stories for your clients and charge thousands of dollars in fees.
He says you can help:
Bloggers,
Content creators, and
Local businesses.
To turn their content and websites into Web Stories, and get paid doing that for them.
He says that with StoryReel, you can start your digital marketing and social media business without:
Creating content,
Hiring expensive freelancers, or
Juggling sophisticated software.
Apparently, there's nothing to install and it is said to be so easy that even a child can do it.
The narrator says to create your StoryReel account and get instant access today.
However, he's quick to add that this offer won't last long and the price is increases every few hours… and, if you act now, you'll receive not only their commercial usage licence but also some very useful bonuses, such as:
Article-2-Voice Creator,
Courseable Trafficblaster,
SEO Software Pro
Your StoryReel purchase is also fully covered by their 14 days, risk free, money back guarantee.
If you don't agree that StoryReel lives up to the hype, then they'll refund your every penny.
StoryReel is currently available for a one-time fee, without any monthly cost or setup fee. Buy now and they look forward to helping you create profitable Web and Video Stories using StoryReel.
---

How StoryReel Actually Works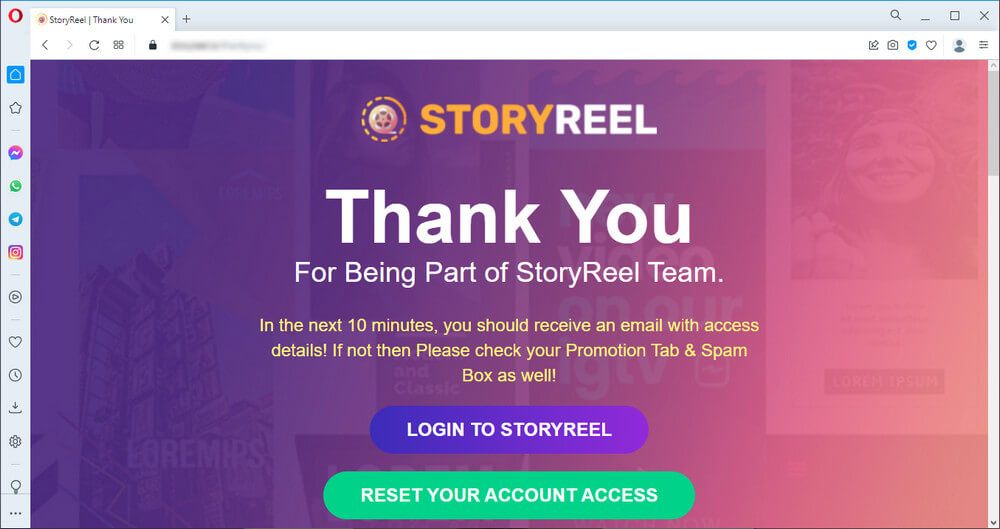 On the Thank You page you will be able to log into you StoryReel account, once you receive an email from the autoresponder, with your login details.
Below that is the Reset Your Account Access button [am guessing that is in case you do not receive the autoresponder issued login details] you will find a video (54 seconds) with Abhi Dwivedi greeting you as a member.
Below that is a Reserved Your Spot for a webinar button.
Below that are four button links to the following:
Claim Your Bonuses – Download Your Bonuses
OTO Bonuses – Download your OTO Bonuses
Contact Support – Click Here For Support!
StoryReel Pro Bonuses – Download Your 3 Bonuses
Once you get logged into the StoryReel Dashboard…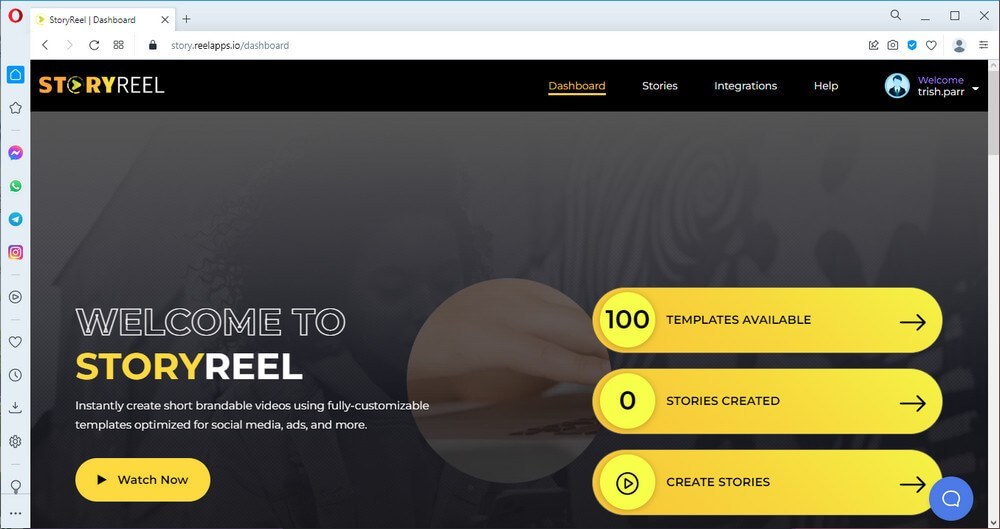 Clicking on the Watch Now button [bottom left], a video popup appears with Welcome to StoryReel (04:15 minutes) which offers you a quick walk through on starting to create your first story.
On the right, you have access to 100 Templates, Stories Created button (once you've started creating them, of course), and the Create Stories button, which is where you can begin by naming your creation.
PROS
Clicking on Help from the top navigation bar (menu bar), you can type in what you are looking for and videos should appear below the search textbox. However, two days after creating my test story, and then creating my video review of this app, this option no longer worked.
Unique Facebook Stories could easily gain your business the attention you desire, if you have the right followers and use the right story.
CONS
Was bombarded by so many webinar announcements from StoryReel upon paying for my access, as to annoy me, especially given I had not yet signed up for one.
Stories can be very time consuming to create in StoryReel and video rendering was non-existent for me.
After 5 hours waiting for my one-slide Story to render into a video, I submitted a ticket to Support, asking for help with this issue. And, the screen print below shows what was sent as an autoresponse to my cry for help: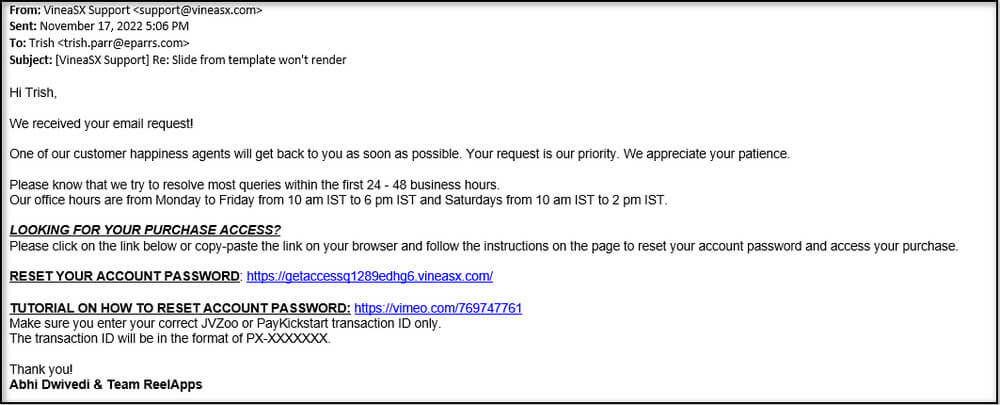 Have still not received help with the issue of my Test Story rendering into a video, and it is now well beyond the 48 hours promised.
24 hours later, I decided to see if I could find a better online app, and that's when I found not only a better app but also a FREE app. PLUS they have amazing support and this online app is well-known! If you're anxious to discover what that app is, click here to read all about it under my Summary.
---

My Take on StoryReel
The StoryReel narrator is correct that if your Facebook Story is unique enough… and I will add… that you have the right followers on your Facebook (or Instagram) account… then your Story could create free traffic, and conceivably even TONS of traffic… providing your Facebook (or Instagram) account where you share your story, has lots of followers that share your Story with their followers.

However, due to the absence of video rendering that was promised in StoryReel, as well as the lack of support in a timely manner, I do not recommend StoryReel. It simply is not a time-save app and it will cost you to create an account and use.
On top of that, consider this… if you were to leave your Story on the StoryReel server and simply share your Story on your Facebook or Instagram account, instead… then, say, later on, due to a lack of users, the StoryReel app is shut down, what do you imagine would happen to all of your stories?
Below you will find my video review of StoryReel by Abhi Dwivedi


Summary
Due to the lack of timely support from the StoryReel app support, it got me wondering if there might be a better method available online, for creating awesome Facebook Stories.
So, I Google searched… and VOILA!
How to Create Awesome Facebook and Instagram Stories, FREE!
The platform I can easily recommend to you in creating your Facebook and Instagram Stories, is:
well-known, so they are not about to disappear from the internet any time soon,


their platform offers users restricted FREE use… but don't worry,


their platform can render your Story quickly, as well as


allowing you to add more slides, if you wish, and


the FREE access also offers users a GREAT method for creating awesome Facebook Stories, without watermarks.
My bet is this… that you won't be using this platform for very long before you'll want to join them as a paying member, in order to get even MORE options!
If you haven't already guessed what this platform is yet, here goes…
I recommend you using Canva for creating amazing Facebook and/or Instagram Stories.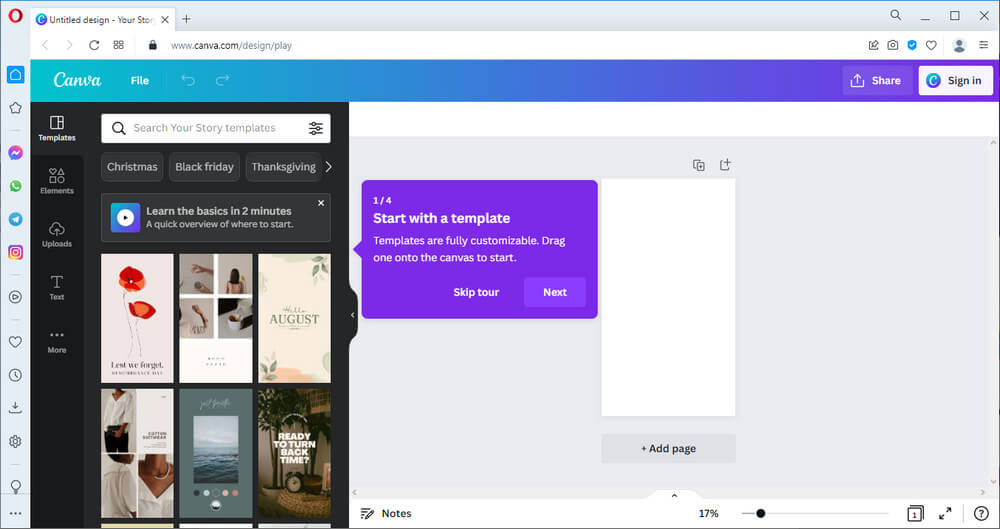 And, to find ever MORE royalty free images and videos that you may want to use in your Facebook or Instagram stories, check out Pixabay.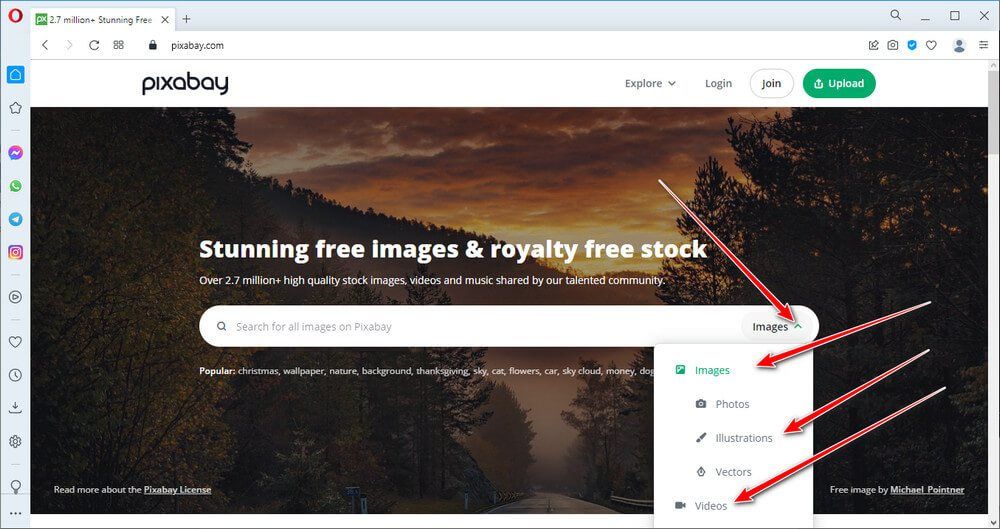 Simply decide whether you want an image, illustration or video, and then click on that option to make sure that your chosen option is selected from their drop-down list of options.
Do this before typing in the search textbox for what it is that you are looking for. Images are selected by default.

As for StoryReels suggestions for you to repurpose your videos that you already own, there is a simple-to-use online app that I'd love to tell you about.
This app allows you to create many different sizes of short videos for you to share on any of the many different social media platforms that you may be using to promote your business.
If this interests you, then check out my review of revideo to get more details about that online app.
Should you have any question(s) regarding, don't waste your time and money on StoryReel, simply leave them in a comment below so that we may discuss this topic further.
Saving You Money and Time,