The first 16 seconds of the landing page video is showing Norah O'Donnell from CBC giving the dreadful evening news that the last 3 weeks have nearly doubled the number of jobs effected by the COVID-19 pandemic.
This is followed by another 12 second clip from Inside Edition, where someone is reporting even more alarming numbers of those who have lost their jobs in the past 2 weeks.
Ryan Thompson then starts talking to you, saying he was out of work.
That the coronavirus pandemic ripped away his family, job and his normal life as he knew it, staring a life of uncertainty head-on. He goes on to say that he was trying to figure out how he would put food on the table for his kids or even pay his mortgage.
He states that being trapped like this and with the thought of losing everything he had worked hard for in his life, triggered his "side hustle" instincts.
Thompson claims that he has always had passions in life that he knew he could make money but working nine to five, he never had an opportunity to truly pursue those passions.
Thompson claims that being laid off due to the pandemic, opened a whole new opportunity for him.
This is what he claims sent him on an adventure that changed his life.
This he goes on to say, is how he quickly began to grow passions of his into highly profitable "side hustles".
Within a month, Thompson states that all of his debts were cleared… debts he claims that have haunted him for years.
Food, he says, was hard to find during this time and toilet paper was nearly non-existent but that he managed to get everything his family needed.
Thompson goes on to say that he is part of an exclusive "insider" group that gets together every month to discuss the latest methods and strategies for making money consistently "side hustling".
He claims that this group have CEOs, software engineers, chefs, small business owners, and more …and that they are all part of this exclusive team.
This "exclusive insider group", Thompson says, was formed during the coronavirus pandemic for those of you who have been laid off and are now out of work.
As a group, he says that they have decided to release their methods to the public to help as many people as they can, so you won't have to scramble for money, or experience the same fear he did of losing everything you have every worked for in your lifetime.
That's when he claims that emails started to flood their inbox from people making money from all over the world.
Then he shows you a testimony that someone named Jacob K. of Springfield, Illinois was supposed to have provided.
Followed closely by another testimony, this time by someone said to be named Samantha M. of Kansas City, Missouri.
And, followed closely by yet another testimony claiming to have been made by Richard G. of Santa Monica, California.
My review of Side Hustle Dominator will cover the following:
What is Side Hustle Dominator?
My Take on Side Hustle Dominator
Summary
If You Don't Want to Waste Anymore of Your Time on Scams,
See My #1 Recommended Way of Making Money Online:

Thompson goes on to say that like everyone else, he would side hustle here and there but nothing enough to ever quit his job for and do this full-time.
Yet, he claims that he kept watching others side hustle over and over and make lots of profit.
Apparently, he decided to focus on what they were doing that he was not.
Thompson goes on to say that he worked for hours trying to reverse engineer to figure out what worked and what didn't… that he took every idea and variable he could test and that he kept track of what worked and what didn't.
This is when, Thompson says that he realized that there are common components and patterns that all profitable side hustling methods share.
And apparently, this is what led him to creating an exclusive group for the hungriest side hustlers in the world, who want to make money.
Thompson goes on to say that the best strategies, tips and secrets for making the most money were discussed daily.
He claims that he was able to get 30 different members of entrepreneurs and multi-millionaires on his team.
This is how he was able to write down what their secrets are to side hustling, and making lots of money in the process.
Apparently, 27 of those 30 people had a personal formula that they swore was their key to success in having a successful side hustle business.
Thompson claims that upon closer examination of these methods, they all have some important resemblances in common.
After studying and using these methods then it suddenly happened.
Thompson claims that his first breakthrough came when the items he found at a garage sale made him over $2,000 in one day. He goes on to claim that this did not stop here. Many other of his side hustle gigs were making him over $1,000 a month.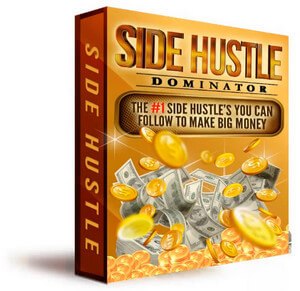 Thompson then claims that he just knows that the average person doesn't have the time, knowledge or patience to do what he did, and that is why he created an automated method of earning money side hustling.
And, he named it Side Hustle Dominator.
Doing minimal work, Thompson goes on to claim that you will finally have the potential to make as much money as you want.
He says that it is something anyone can do, even if you've never done this before, it won't matter because it is that easy.
What is Side Hustle Dominator?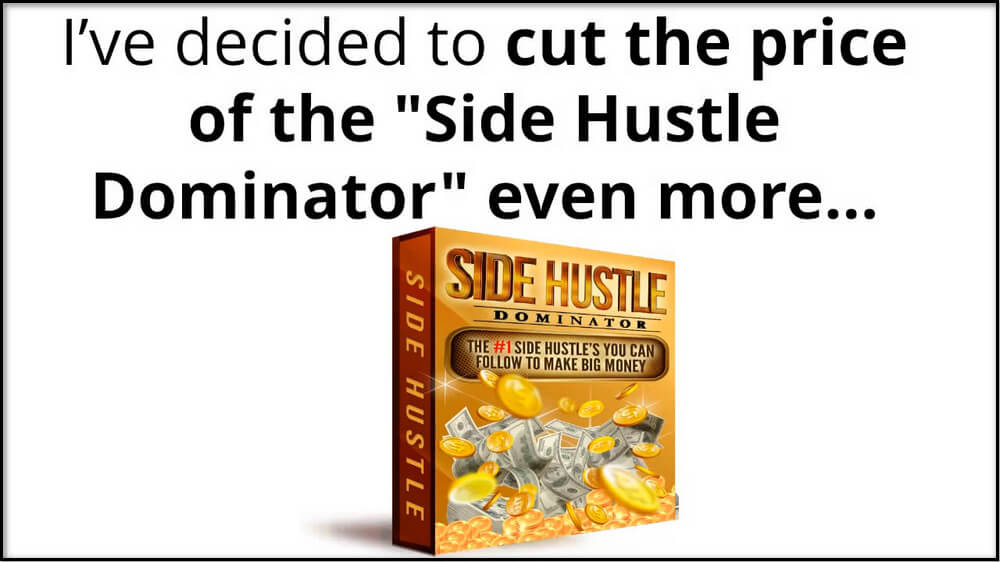 Product Name: Side Hustle Dominator
Website: http://www.sidehustledominator.com/special/
Price: $97 US funds
Recommend: NO
Rating:
---
According to Thompson, Side Hustle Dominator is an online guide.
Thompson claims the following are offered inside Side Hustle Dominator:
Side hustle jobs that you can start today
Jobs that can have you making thousands of dollars
Jobs that allow you to stay at home and earn money, of which some will even have you earning money while you sleep
He then goes on to say that he put his formula, along with other important tips that he has collected over the years, and he put them into an online guide that anyone can read and download directly from their computer, tablet or smartphone.
This online guide apparently will give you access to the same methods he used to make money.
Thompson claims he is making his online guide available to you for only $97 (that's US funds).
---
My take on Side Hustle Dominator is this…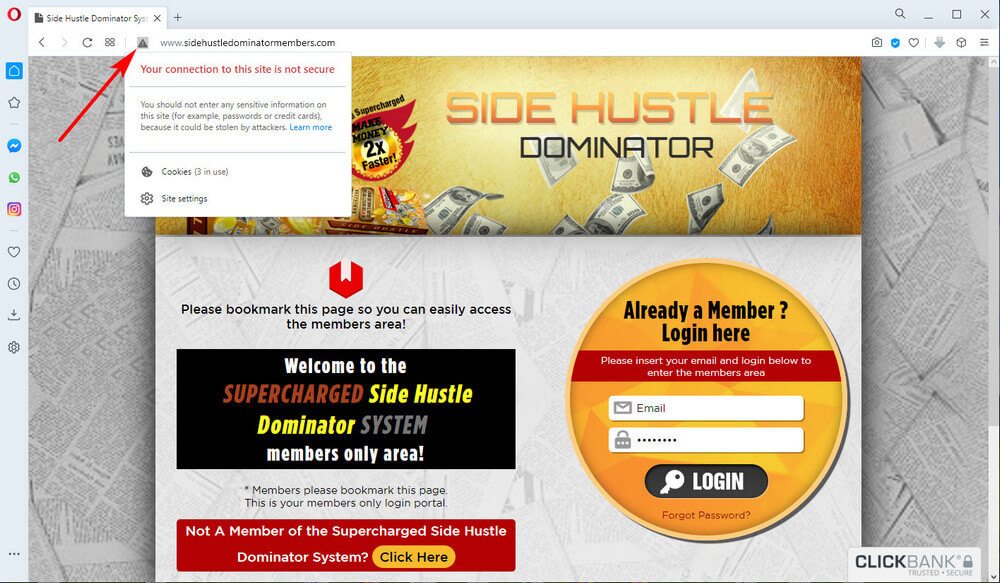 Is Side Hustle Dominator a Scam?
No, I do not think Side Hustle Dominator is a scam, just a very poorly executed marketing method.
Not sure if you caught all of the contradictions that were stated in Thompson's story folks, but I sure did.
On top of those, who would be willing to shell out $97 US funds for an online guide for these well-known methods for making money online, if you were out of work.
Especially, if you don't even know where your next mortgage payment would be coming from.
Normally I would purchase a product that I offer a review on, but this product is far too obviously flawed for me to even waste time exploring and then having to waste even more time asking for and applying to Clickbank for yet another refund, due to being unhappy with the information (or lack of) provided.
To top all of this off, Ryan Thompson's membership area isn't even properly protecting the device you would be using in accessing his online guide (see screen print above).
---
Here's a Money-Making Strategy That Really Works
For those of you who are serious about wanting to start your very own online business, I have an offer to share with you… one that you can sign up for as a FREE member.
After all, if someone has a limited amount of money to use in exploring a new venture, being offered a means of seeing such an offer for free would be the better offer any time… never mind during the coronavirus pandemic.
Would you agree?
As a starter member, you will have 7-whole days of FREE access to the first 10 lessons, you will also have business tools made available to you to use in starting your own online business… PLUS, you won't even be asked for a credit card.
Simply sign up, add your profile image, add your story to your profile so other members will be able to get to know you better… then get reading the comments below your profile page to see the link for where you need to start on those free lessons.
Simple, right?
That is what the owners of this platform have done for you so that you can experience the real value in having an entire community working with you, helping you to succeed with your own online business.
Get my free guide now, and read all about this platform.

In case you are wondering, NO… this is NOT a get rich quick scheme. On this platform you can learn to develop your very own online business.
However, you will be required to put forth the necessary time and effort into building your own online business. No one will be doing this for you.
So, if you are persistent, ambitious, and that you love helping others, then YES, of course this platform will offer you the opportunity you've been waiting for.
Supplied for you will be a FREE website, hosted FREE, and with a security certificate included so that YOU can protect your online visitor's devices with your website offering.
Plus, you will have an entire community in which to ask questions of whenever you need help. There is nothing like having lots of support 24/7.
You will have the support from like-minded individuals on this platform who are eager to help you get started too, as we were all starters at one point in time and now, we are enjoying "paying it forward".
You won't find this type of offer anywhere else online, of that I can assure you.
You have nothing to lose, so what are you waiting for?
Stop wasting time on scams and start building your future today.

I do hope this has SOLVED your curiosity with Side Hustler Dominator and answered the question: is Side Hustler Dominator a scam.
Should you have any question regarding this topic… or, even if you would like to simply add information on this subject, please do leave a comment below.
You will receive an email notice once I have responded to your comment.
Happy Learning,