Kevin Fahey is the vendor or 100K/Year Made Simple, and he claims that he will show you the 4 simple steps he takes to compound his sales, save time, and dominate affiliate leaderboards.
Kevin states you've probably had your fair share of disappointments trying to make money online.
Before he begins, Kevin says that he wants you to know that it's not your fault, and that the vast majority of people, some studies estimate as high as 99%, never make money online… or very little.
"So why is it so difficult to succeed in this industry?", Kevin asks.
Then he suggests the following fixes:
Knowing how to drive traffic to offers is one reason.
Staying focused is another.
Committing to one thing.
Focusing on your customers.
Getting the right tools.
And more.
But the main reason for failing to make money online, Kevin claims, is the unrealistic expectations created by the industry.
He goes on to say that the marketplace is full of greedy vendors promising passive income at the push of a button, which this just doesn't exist.
Kevin explains that passive income is definitely doable, but that it does require some work.
Customers who jump from one shiny object to another eventually get discouraged and they give up, Kevin says, and they don't make any money online.
So, who is Kevin, and why should you listen to him?
After introducing himself, he explains that he's been a full-time internet marketer for the last 15 years.
Kevin says that during this time, he made millions but markedly that he has helped over 10,000 marketers become financially successful.
He claims that you can see his results in a screen print that he provides of a spreadsheet titled Results, showing totals, and then says, here are a few of his many testimonials.
Screen prints of Aidan Corkery's, John Mulry's, and Branden Pierce's, testimonies are provided.
Kevin then goes on to say that it's really important for him to help others succeed, even though he knows it sounds cliché but there's no better feeling in the world to see someone turn their life around.
He claims that it's important to make the distinction between easy and simple, and that making money online isn't easy but that it can be made simple.
Baking a delicious cake isn't easy, Kevin explains, but if you follow a recipe, it can be made simple, and that's why he created 100K/Year Made Simple.
My review of 100K/Year Made Simple will cover the following:
If You Don't Want to Waste Anymore of Your Time on Scams,
See My #1 Recommended Way of Making Money Online:


What is 100K/Year Made Simple?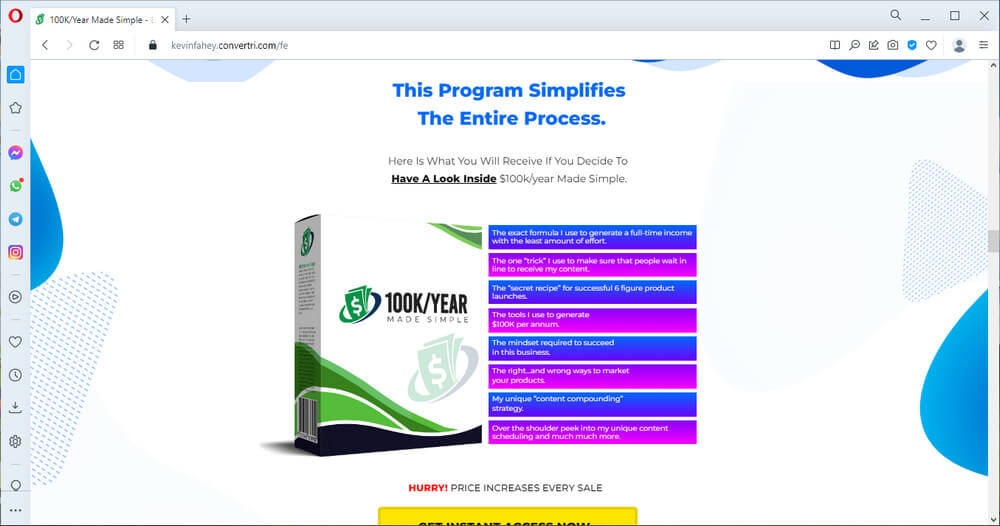 Program Name: 100K/Year Made Simple
Website: https://kevinfahey.convertri.com/fe (my affiliate link)
Price: $23.10 US funds, PLUS 4 Upsells
Recommended? YES
Rating:
---
Kevin Fahey explains that he created the course he calls 100K/Year Made Simple, which is full of case studies, insights and knowledge on how to make $100,000 a year as a marketer using something he calls resource compounding.
Inside the course, Kevin claims to teach you how to take what is essentially a finite resource compound it again and again until you earn $100,000 a year, year in year out.
He then assures you that inside 100K/Year Made Simple, he will show you a simple recipe that you can start using today to make consistent income online, and that it includes:
Videos
Cheat sheets, and
Pretty much all of the knowledge he has accumulated over the last 15 years.
Kevin claims that this information will save you hundreds of dollars, and possibly thousands of unnecessary expenses, but more importantly it will save you years of trial and error because time is one thing we can never have enough of.
Once it's gone, he says, it's gone, and so you have a choice; Continue jumping between shiny objects that will promise you push button riches or follow a simple but effective recipe that will show you how Kevin claims that he earns $100,000 commission year in and year out.
Kevin says if you're serious about succeeding online, and building a long-term sustainable business that will support you for years, then don't hesitate.
He claims to have a no questions asked, money back guarantee, so he says you have no risk whatsoever.
For the price of a cheap lunch, Kevin says that you will receive information that will transform the way you do business online.
He states that this stuff works, so do not let this opportunity pass you by.
Kevin explains that the price goes up every hour, so, delaying your purchase and you will end up paying more.
He says that he looks forward to seeing you inside the members are and, for you to learn the secrets to succeeding online, taking action and achieving massive success.
---

How 100K/Year Made Simple Actually Works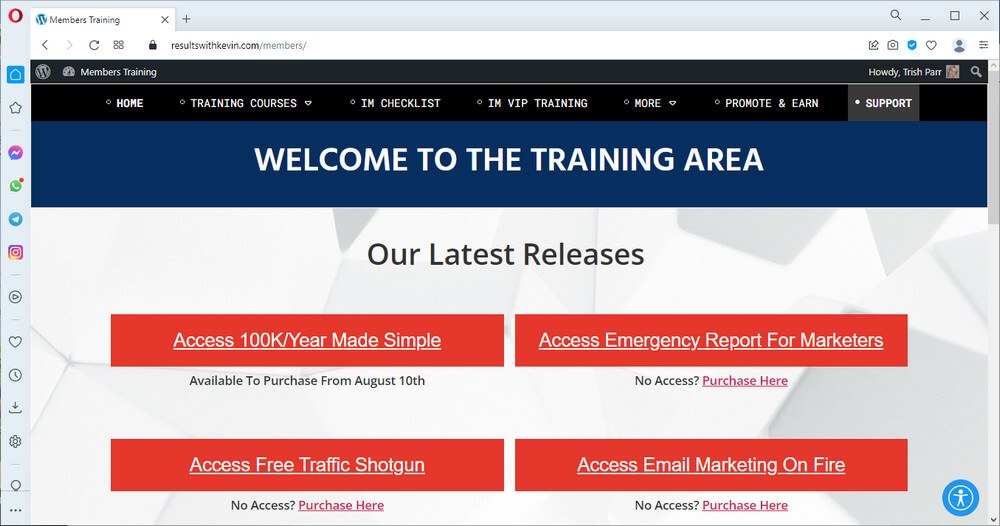 Once you click on the Access 100K/Year Made Simple button, you will find the following:
Welcome Video (02:46 minutes)
Module #1 – Creating Your Business & Productivity Plan video (13:37 minutes) and a web page of information below this video.
Module #2 – Monetizing Everything video (05:19 minutes) and again a web page of information shared below this video.
Module #3 – Automate & Repeat Everything video (04:17 minutes) along with another web page of information shared below this video.
Module #4 – Outsource As Much As Possible video (07:21 minutes) and more information shared below this video.
And Outsourcing Mastery webinar replay video (01:16:59) by Kevin Fahey.
Module #5 – Your First 100K/Year Made Easy video (13:11 minutes) and more information found below this video
Module #6 – Traffic video (11:12 minutes) and more text information below this video.
Module #7 – Turning Customers Into Affiliates – web page of information.
Module #8 – 100K/Year Calculator video (03:08 minutes) along with a button titled "Click Here To Access The Calculator (Click FILES & Make A Copy To Edit)
From Modules 1 through to and including Module 8, you will find a link to Kevin Fahey's book titled Rapid Digital Assets: Your Step By Step Guide To Creating 6 Figure Digital Products In Record Time, along with a link to his Facebook group and his YouTube channel.
PROS
Even with so many spelling mistakes in his NOTES that you'll find under most videos, Kevin STILL provides you with great advice, and knowing he is EARNING a regular Internet Marketing income, makes it easy to trust him.
Kevin really does simplify the internet marketing process by sharing everything he's learned in his 15 years experience in marketing online.
LISTEN to Kevin tips regarding Solo Ads (Module #6) if you want to profit in internet marketing.
CONS
Kevin's grammar and spelling in his NOTES sections is terrible, but his information is excellent.
---

My Take on 100K/Year Made Simple

Kevin Fahey is very good at sharing with his students, the knowledge he gained the hard way. I truly believe that Kevin reveals the 4 simple steps (and more!) to compound sales inside is 100K/Year Made Simple training.
I HIGHLY recommend this training for intermediate internet marketing students (and above), simply because you would have the basic training already mastered, and you'll be most apt to take the necessary action in making the steps inside Kevin's training actually work for you.
Below is my video review of 100K/Year Made Simple by Kevin Fahey


Summary
For those newbies who've ventured here in hope of finding a quick way to earn money online, I have to disappoint you by telling you that there is no magical method for earning money online.
Having said that, there is a way that you can learn how to setup and run your very own online business that could earn you a steady income in the long term.
The method I would like to share with you is being taught on the training platform that I have been a member of since 2016.
The training on this platform is considered world-class, and they can boast about the many students who have become very successful since taking the training.
Not only is this a training platform, but all of the tools that you will need in starting and growing your very own online business are also included!
If you're seriously interested in learning more about this platform, simply click on this link to gain access to my free guide.

The community on this platform alone makes it so worth joining, due to there being so many like-minded business owners helping each other out daily with whatever issues may crop up with your online business.
Oh… and you can become a member of this platform right now for FREE.
Yup, I did say FREE!
And… you won't even be asked for a credit card.
To top THAT offer out, you will have access to the first 10 lessons FREE, so that you will know first hand how good the training really is on this platform.
And, before I forget, you will be able to BUILD your online business while taking the training in those FREE 10 lesson, and you will be able to start building your line business FREE.
I already know that you will NOT find this sort of great offer anywhere else on or off of the internet. So, no more procrastinating.
If you're SERIOUS about learning to build a successful business, then sign up as a member now for FREE and get learning.
Should you have any question(s) as to 100K/Year Made Simple reveals the 4 simple steps to compound sales, please leave them in a comment below so that we can discuss this further.
I value and appreciate my visitors and enjoy helping you learn how to create a successful online business, in any way that I can.
No Need to Procrastinate,