Seyi Adeleke is the vendor of TubePayz, and he has an unidentified, male narrator asking you if you know that there are more than 2.6 billion YouTube users worldwide, and that 1 billion hours of video are watched on YouTube every day?
He continues with, that's a ton of views and traffic; and, what if you could launch unlimited automated YouTube-like websites loaded with 3.9 million videos, and over 250+ different categories, and profit from this giant $160 billion YouTube industry?
The narrator claims that in today's world, with the advancement of technology, the majority of people spend a great deal of time on their phones and computers.
"And, do you know what that means?", he asks.
The narrator states that billions of people around the world are consuming YouTube shorts and video content such as:
Music
Entertainment
Comedy
Education
Films
Animation
And, so much more.
Look, he says, YouTube has experienced phenomenal growth in recent years, and this industry is exploding right now.
Sixty-two percent of global internet consumers apparently use YouTube, and it is said that YouTube's site was valued at $160 billion in 2022 and is estimated to reach $320 billion by 2029.
It is also said that:
39.9% of the world's traffic is generated from YouTube in 2022,
400 hours of video uploaded to YouTube every minute world-wide, and
YouTube is the second most popular search engine after Google.
So, apparently this means that the potential to make money in this industry is just endless.
Then the narrator states that in just 15 days, they receive 61,890 visitors on their YouTube style beauty niche website, which made them $11,342.68.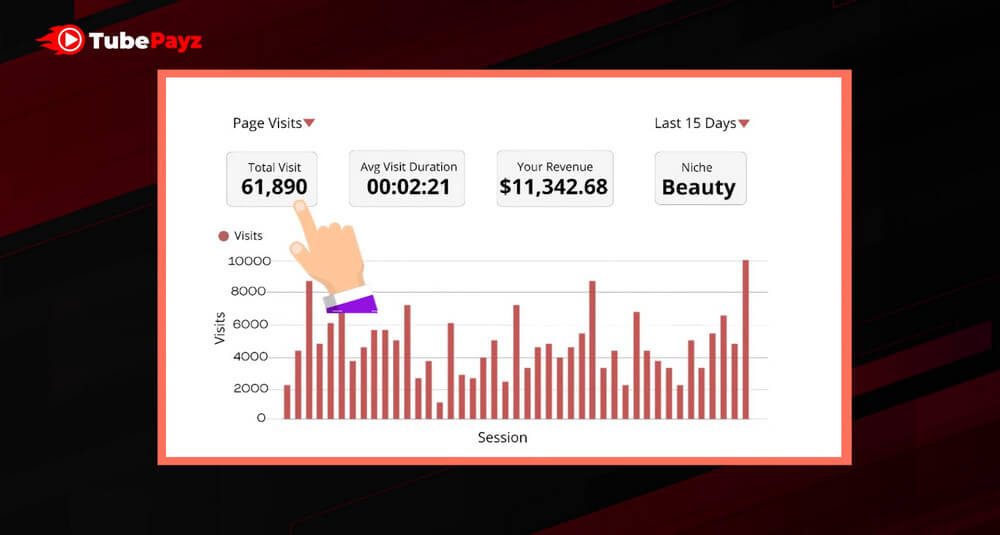 And in the last 45 days, they've had 91,890 visitors, on their YouTube style Weight Loss and Healthy Living niche website, which resulted in $21,654.74, in sales.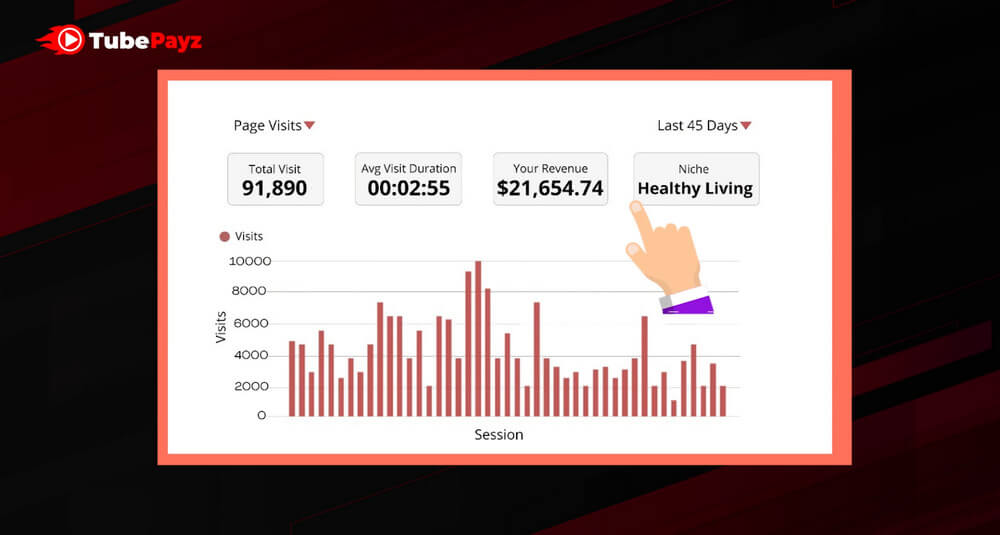 The narrator claims that making money with automated YouTube-like websites is a piece of cake, and anyone can generate this kind of cash flow by following the same exact formula.
Then he says, what's the secret? Introducing TubePayz.
My review of TubPayz will cover the following:
If You Don't Want to Waste Anymore of Your Time on Scams,
See My #1 Recommended Way of Making Money Online:


What is TubePayz?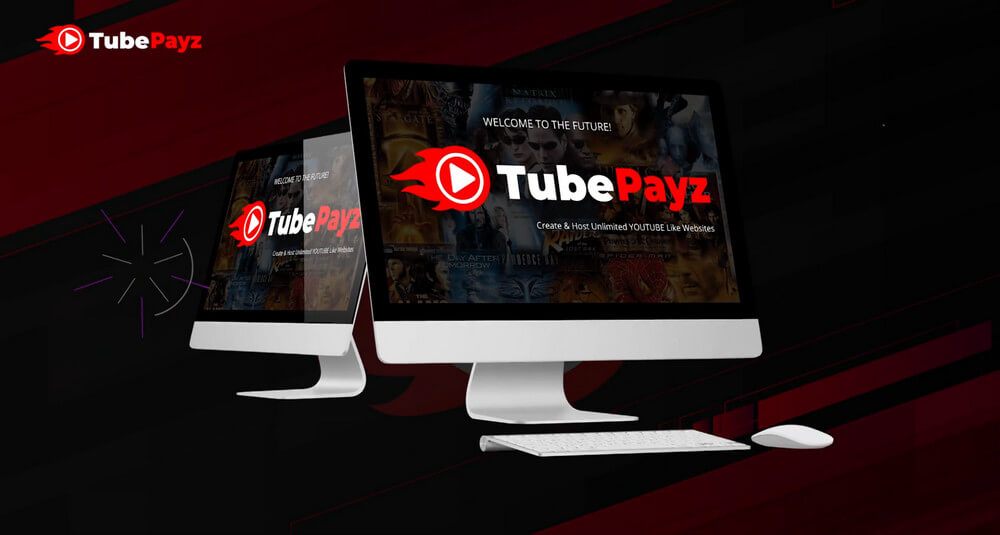 Program Name: TubePayz
Website: https://mytubepayz.com/exclusive
Price: $16.95 US funds + $2 DISCOUNT as the downsell, PLUS 7 UPSELLS, each offer DOWNSELL popups
Recommended? NO
Rating:
---
TubePayz is said to be the first to market 3-click, cloud-based app that allows you to create and host unlimited automated YouTube-like websites loaded with over 3.9 million video content in over 250 categories.
They also claim that TubePayz even taps into a pool of built-in 543 million giant traffic [whatever that means].
The unidentified, male narrator says to imagine if you could monetize that giant 543 million buyer's traffic on your website, by placing links to:
your own offers,
banner ads,
video ads,
Adsense ads, or
with your affiliate links.
He asks you if that would change your life.
Then he says that if you could combine the power of YouTube-like websites with the right monetization technique, then you too can generate non-stop sales on complete autopilot like this.
The narrator goes on to say that with TubePayz, you can quickly flood your wallet by promoting offers from WarriorPlus, ClickBank or JVZoo.
He says that after all, all you have to do is embed your affiliate link to the TubePayz website or channels, and the possibilities with TubePayz are just endless, and that now it's time for you to create and host automated YouTube-like websites in 250+ different niches such as:
Health
Crypto
Fashion
Education
Music
Entertainment, and
much more
The narrator claims that TubePayz also loads your website with their done-for-you 3.9 million+ YouTube shorts and video content which are in great demand.
He says that it's time to clone YouTube with all of its nail-biting features, such as:
Live video streaming
Video search engine
Channel creation and analytics report
In-Built video studio
One-click Like, comment and share feature
Subscribe and follow channels
Email list building
Social media sharing
1-click domain integration
SEO optimization for better rankings
Step-by-step video training, and
so much more
Then, the narrator assures you that you're getting a done-for-you system with built-in 543 million giant traffic and now you don't need:
a domain or web hosting,
technical knowledge,
to put yourself in front of the camera,
to do any frustrating work and researching,
He claims that everything is done for you, with TubePayz.
The narrator promises you that you're just 3-clicks away from living your laptop lifestyle.
Step 1. Click on their buy button to access TubePayz's cloud-based application
Step 2. Enter your site name and choose your niche from 250+ different categories.
Step 3. Watch as the app instantly creates a completely automated YouTube-like website loaded with 3.9 million video content in less than 60 seconds.
He says that once you follow these three easy steps, targeted traffic and sales flow in like a raging river, and it doesn't get any better than this.
The narrator asks you if there is anything else out there that lets you create your very own automated YouTube-like website with built-in 543 million giant traffic?
"No… right?", He retorts.
Then he says that right now you have an early bird discount on their landing page which gives you full access to TubePayz just at the price of a cheap T-shirt, but this discount will not be available to everyone.
The narrator goes on to explain that once their capacity is reached, they will be closing their doors for good, so, you're not to delay any longer, as it's a risk-free decision anyway, because you're backed by their 365-day guarantee.
He claims that there is no way for you to lose here, and that he'll see you on the inside.
---

How TubePayz Actually Works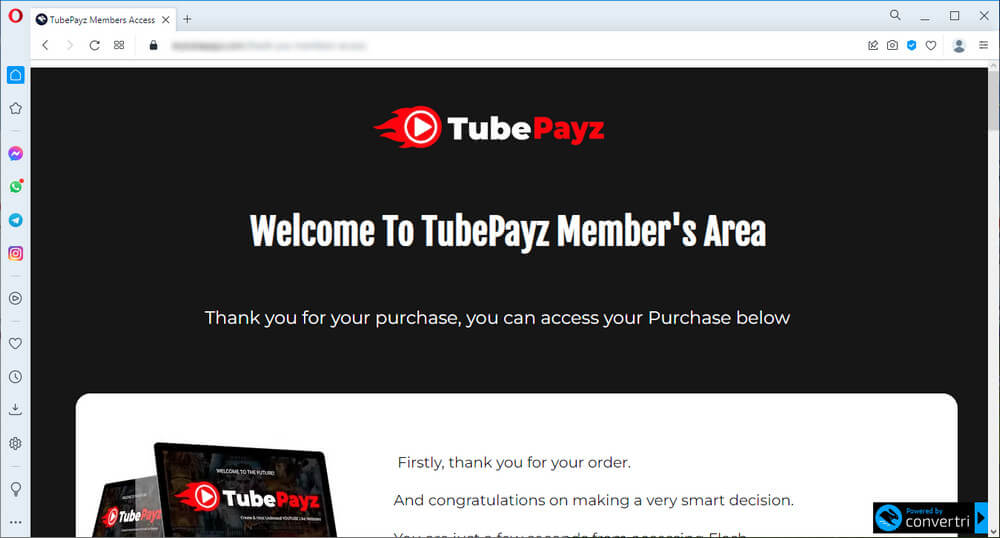 On the member's area web page, you're asked to bookmark the page for ease in returning to it in the future.
Step 1. Register For Mass YouTube FREE Traffic + Generate 5-Figures Commission (Zero Cost). Clicking on the button takes your browser to a ClickFunnels.com page with a webinar replay (02:34:16) made available to you, with an offer to purchase another vendor's training.
Step 2. Access Your Account Using The Details Below. Which takes your browser to the TubePayz Dashboard (screen print) when clicking the button.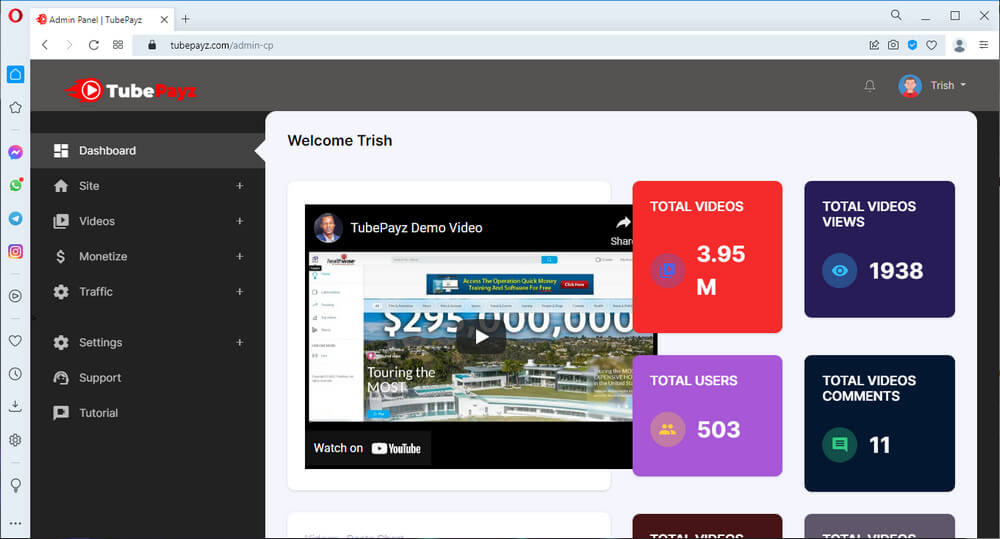 And, you're offered a link to their support forum, should you need help.
Step 3. Last Chance If You Missed The Upgrades. This offers you links to their 7 different upsells.
Below which they restate their support forum, and offering you a button link to it.IMPORTANT, PLS READ! Notice with the following:
If you open a dispute, it will automatically void the money-back guarantee. If you need any help/support, whether it's login issue, bonus issue, or any technical issue, we're always ready to help, hence kindly Do NOT go to PayPal, as it will void your guarantee. Instead, please open a support ticket using The Button Above.

We Value Our Customers & We Will Be More Than Happy To Help!

Cheers.

P.P.S Subscribe To Our YouTube Channel (And Turn ON Notification Bell) For More Content About Make Money Online, Online Business, Marketing Etc.

-Seyi's members area message
His YouTube channel link is offered to you in a shortened link, which I will NOT click on, as shortened links could be ANYTHING.
The TubePayz Dashboard
On the left-hand sidebar, you are offered the following:
Dashboard
Site
Videos
Monetize
Traffic

Method 1 [you can setup links to your social media accounts]

Method 2 [you need to create an account to use this site]

Settings

Payment Configuration [allows you to setup accepting payments from ads]

Support [opens in a new tab]
Tutorial
Under the Tutorials you will find the following videos:
Free Gift & VIP Training (01:41 minutes) – introduction by Seyi Adeleke
Below which is a button link to the same webinar noted above, titled Mass YouTube FREE Traffic + 5 Figure Commission which is Seyi's affiliate link to Sebastian Beja's webinar trying to get you to sign up for his training.
Below this again, is a button link to Seyi's YouTube Channel, that once clicked will allow you to subscribe.
Video #1 – How to Setup You TubePayz Account (19:22 minutes)
Video #2 – How to Drive Traffic to Your TubePayz Site (06:48 minutes)
PROS
I'm not sure if there is an advantage to setting up a TubePayz, as it appears to me to be a site created strictly to push Seb Beja's training to new people.
CONS
Seyi's Demo training video clearly shows that you can upload videos from Vimeo and Dailymotion video hosting sites too, yet those options no longer exist inside TubePayz.
The two Traffic Methods, the first one is using AddToAny.com's website, so that you can link your different social media and email accounts from there.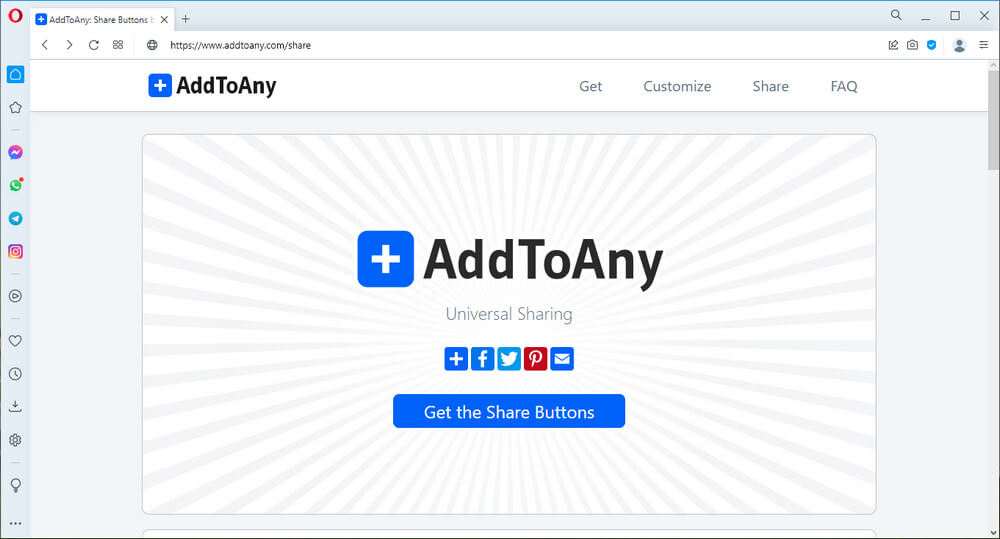 And, the second Method uses MyMaximaApp.com traffic login site.
Both of these sites are free to access and connect YOUR social media and email accounts with.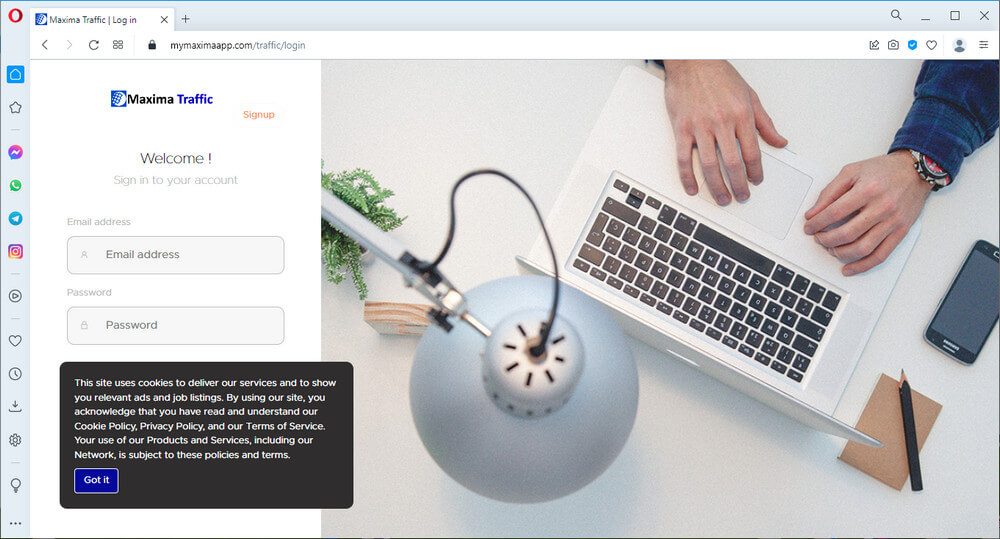 You are the only one who will be creating your own traffic to your own TubePayz channel and/or video(s), using your own social media and email accounts.
Using other people's videos may not work long-term, should the YouTube video owners discover how you are using his/her video(s).
TubePayz appears to be leaning toward Black Hat in the behaviour they are encourage their users to have.
And personally, I do not believe this platform will exist for very long before Seyi will ether be forced to take it down or that he may find it is no longer feasible to continue offering and supporting, due to a lack of paying users.
The 5 bonuses promised on his landing page could NOT be found ANYWHERE on his Members page or inside TubePayz, nor received by email.
---

My Take on TubePayz

Is TubePayz really a YouTube-like video sharing service? Not in my opinion, no.
If you were to put as much effort into creating a YouTube channel and videos of your own, and share those videos on your social media sites as per instructions in TubePayz, you are more apt to gain credit and even authority in your niche, long-term.
Due to the type of platform TubePayz has proven to be, once I went through Seyi's training, I do not believe this platform will exist long-term, therefore I do not recommend TubePayz.
Below is my video review of TubePayz by Seyi Adeleke


Summary
Black Hat behaviour is never recommended for any business owner, and will only serve to hurt those who continue trying to use those types of methods in earning an online income.
If you really want to make money online, you need to create an online business that will work for you long-term, and not something that works for a short period of time, after sinking in many, many hours of work.
Should this be more what you are looking for, then I would like to introduce you to an online training platform that will not only teach you how to create a sustainable, online business, but also all of the necessary tools to do so.
PLUS… you can start right now for FREE!
Yes, that's right, I said that you can start your membership with this training platform now for FREE.
And, you'll be allowed to create your very own online business by being allowed to build a website FREE as you follow along with the 10 FREE lessons that are included, so that you can learn for yourself just how detailed the training really is.
Though, to take any further lessons then those 10 FREE lessons, you will need to become a paying member.
Your first monthly fee will even be reduced to help you really get your business going.
Oh, and before I forget, you'll be able to turn on a FREE SSL certificate (HTTPS) for your FREE website, making your new online business safe for your visitor's devices… making Google very happy with your new site.

This training platform, I have been a member of since 2016, and they have become well known as offering world-class training.
Plus, you'll find an entire community of like-minded, business owners who work together daily, helping each other resolve issues they may be faced with.
There are even easy methods available on this platform that when you help other members out with your knowledge, you'll gain credits that you can use in reducing your monthly costs of your membership.
What more could you ask for, right?
If you want to know more about this platform, simply click here for access to my free guide.
Should you have any question(s) concerning is TubePayz really a YouTube like video sharing service, please leave them in a comment below so that we may discuss this further.
Saving You Wasting Money,