Matthew McDonald from Switzerland, is the vendor of S3 Bucket Website Express Masterclass, and he claims that they will go through the complete process of generating your own S3 Bucket websites.
He says that they are super cool and it's crazy awesome what you can do with them.
Matthew goes on explaining that they go through the whole process extremely fast but step-by-step, each step of the process, one foot in front of the other, and show you the right way of setting up S3 Buckets and converting those buckets into their own individual static websites.
Now, instead of using Amazon's Route 53 or DNS or any of those advanced kind of complicated process, he says that he's going to show you a super simple process.
One where you can pick up a domain name from NameCheap for like two bucks or even less, and then they're going to hook that up with a free SSL certificate from Amazon CORS and link that up with your S3 Buckets.
Maybe you don't want to go through the process of setting up a WordPress website just to setup a quick website, Matthew suggests.
Or, you want something that's going to be loading lightening fast; maybe you're doing search engine optimizing, or you just want a simple website that's going to load lightning fast.
If that's the case, Matthew explains that you can create all of your quick websites from now on using Amazon S3 Buckets, you convert that bucket into a website.
And, if you do it the right way, he adds, you'll have the SSL certificate and you can manage those buckets super easily.
Matthew says, if you would like to join him for his express masterclass, normally an express masterclass would be something like $97.
But if you want to jump in early, he assures you that he will give you access for a lot less.
My Review of S3 Bucket Website Express Masterclass will be covered in detail, in the following:
If You Don't Want to Waste Anymore of Your Time on Scams,
See My #1 Recommended Way of Making Money Online:


What is S3 Bucket Website Express Masterclass?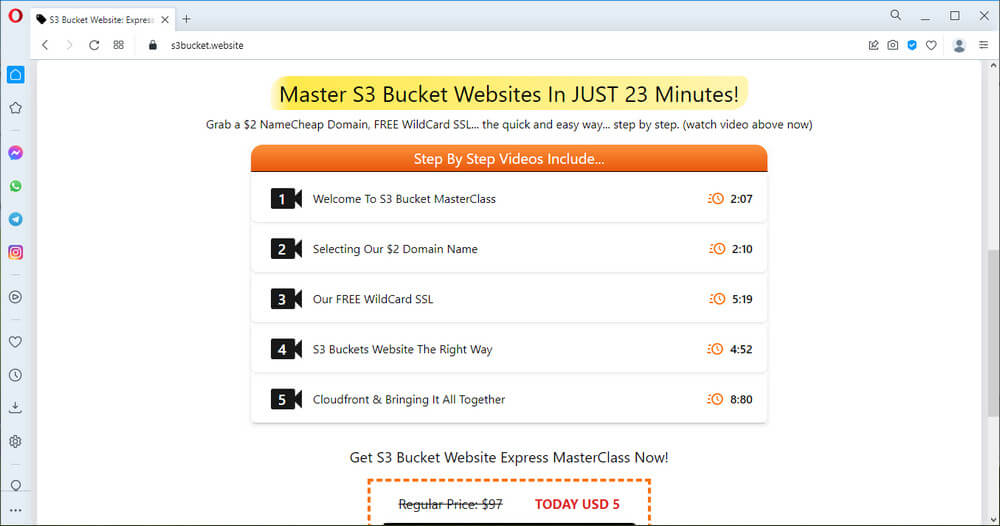 Program Name: S3 Bucket Website Express Masterclass
Website: https://s3bucket.website/
Price: $5 US funds, PLUS 2 upsells
Recommended? NO
Rating:
---
Matthew McDonald explains that inside his S3 Bucket Website Express Masterclass course, contains five videos that are straight to the point. Each video he says, is about 5 or 10 minutes, and it walks you through the whole process of setting your S3 Buckets up correctly.
He claims that he's going to give you a skill-set or give you some knowledge of exactly the right way to setup and manage your S3 Buckets, and convert those buckets into websites.
From a business perspective, Matthew says that if you are serving other clients online, then this is an excellent tool to use if you want to quickly setup a website for your customers or maybe you are gong to upsell them on a different product or a website service.
If that's the case, Matthew claims that you can quickly generate a preview website without going through the hoops and loops, and database setup with WordPress or Wix or one of these other providers [CMS – content management system].
He goes on to say that you can do it easily and extremely cheaply right from inside you're your S3 Buckets.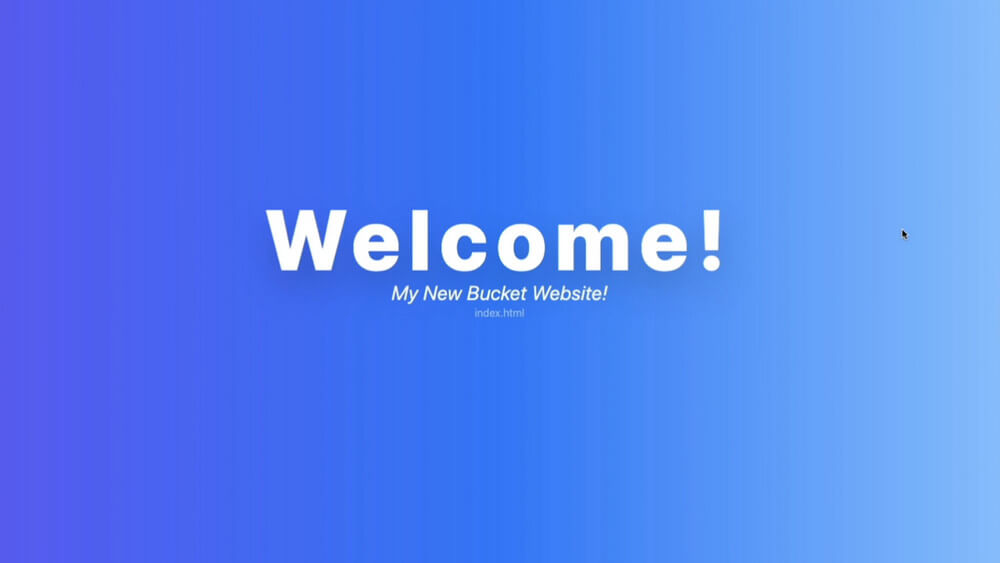 Matthew says that included in his course is going to be your home page welcome template, this beautiful template to give you a kick-start with your first website.
He quickly adds that of course he has this customizable error web page included.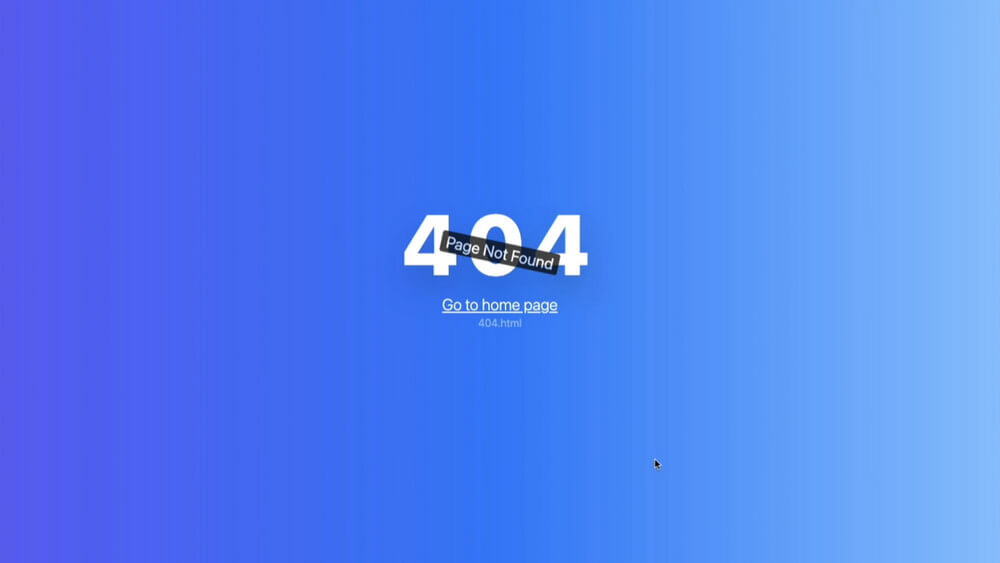 Matthew says that you'll get all of the different snippets that you will need, all the links ready to go so that you can express your way through setting up your S3 Bucket website.
So, create a bucket, convert that bucket into a website, he says that it opens up a world of opportunity.
Matthew says that if you want to jump in and join him, lock in your access to the S3 Bucket Website Express Masterclass. It's 5 videos, straight to the point.
If you like S3 Buckets, and you want to be able to convert those buckets to websites super easily, he promises they will also do the wildcard SSL, never pay for a wildcard SSL again with your S3 Bucket, and they are going to do it using NameCheap domains.
---

How S3 Bucket Website Express Masterclass Actually Works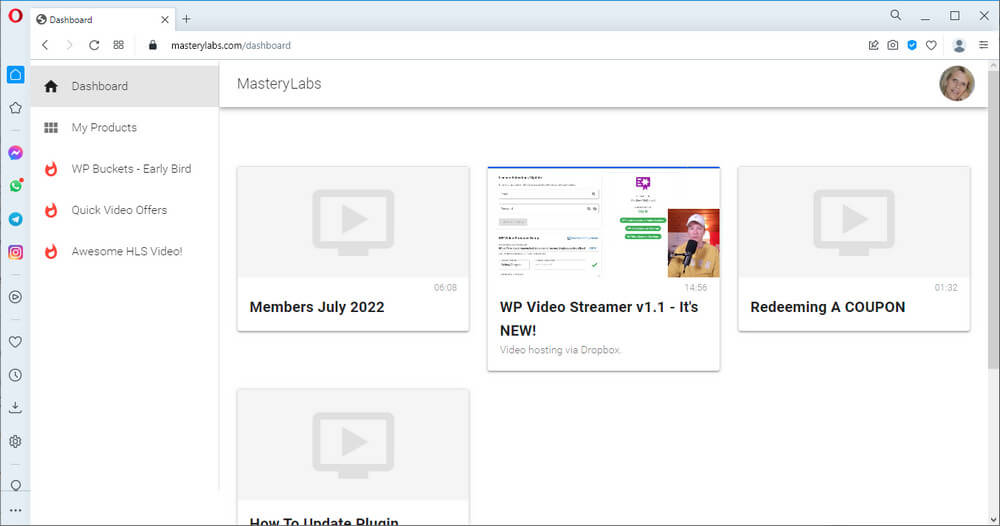 From the Dashboard, you will see the following four options:
Members July 2022 video (06:08 minutes)
WP Video Streamer v1.1 – It's NEW! video (15:46 minutes), with Matthew McDonald explaining how to create a Dropbox app and how to link it with their WP video streamer. He explains that the only requirement that you will need is to have a Dropbox account.
Redeeming A COUPON video (01:32 minutes)
How to Update Plugin video (45 seconds) – regarding WP Image Drop plugin
Below which there is a large button titled GET WP BUCKETS – MEMBERS OFFER, that once clicked takes you to his landing page for this plugin. Initial price is $10.99 with an unlimited usage offer an additional $8.99.
The Dashboard left-hand sidebar, you will see the following four options:
My Products
WP Buckets – Early Bird
Quick Video Offers
Awesome HLS Videos!
My Products
In this section also offers four options:
1. Video Sales Funnel Template Bundle – you are provided a button to download a zip file that once unzipped, you'll find a static website in HTML format.
Below which are 2 videos:
Funnel Quick Start Guide video (10:01 minutes)
Folders Index Guide video (03:22 minutes)
Below these videos are 2 buttons:
S3 Bucket Website Express MasterClass – which provides 6 lessons: with a button below those videos offering WP Bucket – link to Matthew's landing page to BUY this plugin, detailed above
WP Buckets – takes your browser to his UPSELL for this plugin.
2. S3 Bucket Website: MasterClass
Start Here… HELLO YOU! Video (02:07 minutes)
STEP 1: Picking Up Our $2 Domain video (02:10 minutes)
STEP 2: Getting Our Free SSL video (05:19 minutes)
STEP 3: It's Bucket Time! video (04:51 minutes)
STEP 4: Hello CloudFront! Video (08:30 minutes)
Folders Index Guide – same 3 minute 22 second video mentioned above.
Below this is the SNIPPET mentioned in STEP 3, and below this are 4 large button links…
DOWNLOAD STEP BY STEP PDF GUIDE (48 pages)
Download Index.html and Error.html Templates
VIDEO SALES FUNNEL TEMPLATE BUNDLE – zip file detailed above
WP BUCKETS – the upsell to his plugin mentioned above
3. Video Stack Pages – a plugin that he used to sell – (the link here, is to my review of this plugin) and 6 training videos.
Install and Activate
Getting YouTube API Key
Premium User Guide
Premium: Contact Channel
Developer User Guide
NEW: Using Google Fonts… more
4. Affiliate Video Pro – another plugin that he used to sell – the link here, is to my review of this plugin) and 3 training video guides.
Welcome
Quick Start Guide
Premium: YouTube APE Key
WP Buckets – Early Bird
Once clicked, takes you to the same UPSELL WP Buckets plugin mentioned above – $10.99 + $8.99
Quick Video Offers
Once clicked takes you to another UPSELL – Get Quick Videos Offers Now – $97 + $197
Awesome HLS Videos!
Once clicked on, take you another of Matthew's UPSELLS, Get Awesome HLS Bundle Now! – $97 + $100
PROS
Could find NONE!
CONS
The zip file providing Video Sales Funnel Template Bundle, the HTML files are NOT formatted, and therefore a waste of time for those who have no idea how to connect the accompanying CSS and JS files… IF those files would even provide the necessary formatting.
Some of the training videos kept starting and stopping, making watching them very annoying.
Any training that you need to have in order to make a plugin work for you, I feel should be made possible to download. Example: What if you wanted to make a quick change? You'd need to go find your login, and then hunt down the training in order to make any change.
---

My Take on S3 Bucket Website Express Masterclass

In good conscience, I can NOT recommend S3 Bucket Website Express Masterclass, as those files would only be of use to those who know how to code HTML files (providing the proper CSS and JS files were included), otherwise this training will be a total waste of your time.
And, as far as I can tell, Matthew's training is but a lost leader in order to show you all of his many upsells.
Below is my video review of S3 Bucket Website Express Masterclass by Matthew McDonald


Summary
Noticing that both of Matthew's previously SOLD plugins, Video Stack Pages and Affiliate Video Pro are now being offered as part of his $5 training, I have to wonder if these plugins will be updated, going forward. I suspect not.
And, if as a buyer you depend on his WP Buckets plugin, what will happen to your website should Matthew decide to no longer update that plugin?
Well, sorry to have to be the bearer of bad news, but your WordPress website would then be in need of a total rebuild.
Therefore, I do NOT recommend purchasing or using his WP Buckets plugin either.
Especially when it would be advisable to find another method (perhaps using folders inside of your FTP access, like we used to use when only HTML was available to use in creating websites) that would provide you with the advantages Matthew details in his video about his WP Buckets plugin.
Should you have any question(s) regarding, can you master S3 Bucket websites in just 23 minutes, please do leave them in a comment below, as I do respond to all of my comments in a timely manner.
Stop Wasting Money,