Steve Mellor is the vendor of Untapped Traffic, and he says that here's how you can send a flurry of traffic to any offer you want, at the push of a button.
He claims that traffic is the life blood of any business.
Steve goes on to say that he knows like many of you, you'll have tried YouTube, Instagram, Twitter, Pinterest… but so far nothing has really worked.
Trying to find affordable advertising options that actually work, feels almost impossible, he says.
Steve goes on to say that eventually you realize that the only way forward, is paid traffic.
He adds that this doesn't come without its problems, as it's stupid complicated to setup.
Apparently, there is:
Targeting
Retargeting
Audience Segmentation…
A whole host of hoops that you've got to jump through before the platforms even let you run a single ad.
Steve says that if you've struggled with that like he has, then you're going to want to pay very close attention to this.
He claims that he struggled to get traffic to his offers, that he honestly tried everything, and he suspects you have too.
You know, Steve goes on to say, you've posted on social media, you've tried running Facebook ads… or, perhaps you haven't tried running Facebook ads, because they can be scary.
He states that it feels like learning Facebook ads needs a degree in astrophysics just to get started.
Apparently, that was before he was approached by and old friend and a client who needed help getting traffic to her offers.
Steve explains that she couldn't use Facebook or Google to do it, because they wouldn't let her.
He goes on to say that what they discovered was shocking.
My review of Untapped Traffic by Steve Mellor will entail the following:
If You Don't Want to Waste Anymore of Your Time on Scams,
See My #1 Recommended Way of Making Money Online:


What is Untapped Traffic?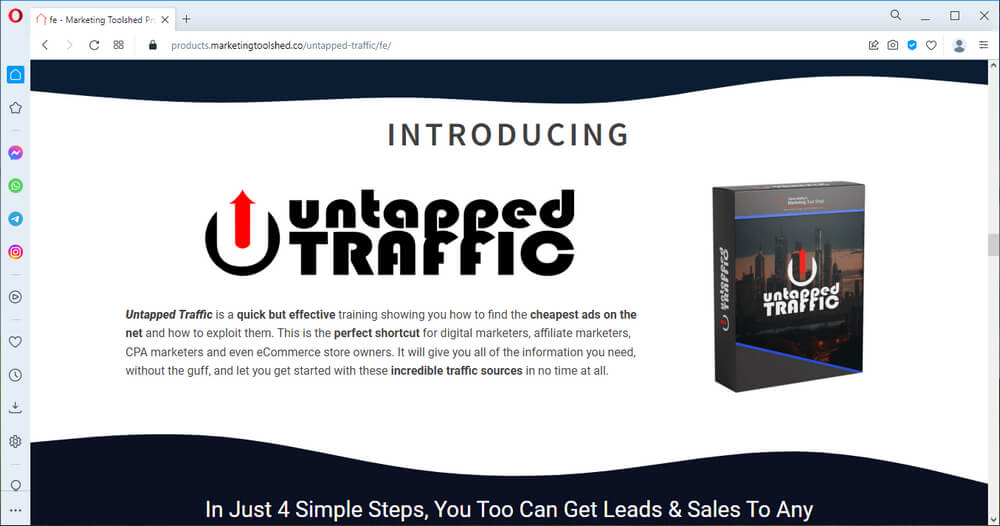 Program Name: Untapped Traffic
Website: https://products.marketingtoolshed.co/untapped-traffic/fe/
Price: $47 US funds… PLUS 3 Upsells
Recommended? YES -> but only for those who own access to RHIMS 6.0 or similar training
Rating:
---
Steve Mellor claims, this simple training course shows you how to tap into the undiscovered traffic source that even the gurus are missing out on, and the best part is, it's completely newbie-friendly.
And, he says that Untapped Traffic is the perfect shortcut for:
digital marketers,
affiliate marketers,
CPA marketers, and even
eCommerce store owners.
Steve also claims that you don't need any technical skills or expertise to get started.
He explains that with Untapped Traffic, you'll be able to solve your traffic problems by sending traffic directly to your offers without any need of complicated bridge pages, and you can even use uncloaked affiliate links.
Steve says this make this the least technical way to start affiliate marketing that he has ever seen.
Plus, he claims that this traffic is going to help you build your list fast, by sending more views to your lead magnets then every before.
Steve assures you that they found a traffic source that nobody is talking about right now but lets you run ads for a fraction of the cost of traditional ad platforms.
He states that some pretty big brands have already tried using this traffic, and the results that they were getting were incredible.
Apparently, they claimed that running these ads costs 90% less than running them on Facebook or Google.

Steve says, as well as that they got four times higher customer retention, and a huge spike in orders.
He claims that in a few minutes you're going to discover exactly how you can tap into this same traffic source, and run traffic to your own offers and affiliate links.
Steve goes on to explain that this information is a little bit delicate, so he doesn't know how long he's going to be able to keep this product online.
He says to think about it like this… almost every course out there that showed him how to run ads is telling him to run Facebook ads.
And, Steve claims that what that means is that the competition for advertising on Facebook is growing exponentially, as more people enter into the marketplace.
He goes on to say that more advertisers means a bigger cost for your adverts.
With massive companies like AT&T, Microsoft, Amazon… already using the platform, Steve says, …surely, it's not going to be long until the little guys… and that's you and me, by the way… are going to get pushed off the platform, entirely.
"And, do you want to know the big secret that nobody is mentioning?", he asks you.
Facebook is only a fraction of the traffic available to you, is Steve's response.
He goes on to explain that there are people who never touch the platform.
The Steve asks you: "So, why should you compete for that traffic, when you can get in front of more people for less money?"
When you include multiple tactics and ad types, you'll have everything that you need:
to beat AbBlocker technology,
get thousands of impressions and clicks for just a couple of bucks, and
get your message out in front of more people.
Steve explains that it's super low-cost traffic that actually converts.
He tells you to imagine in a few months time, finding the absolute perfect offer, only to find that running an ad on Facebook is going to be far too expensive, and knowing that you missed out on this explosive traffic source.
Steve says that opportunities like this just don't come along every day, and if you want to grab this game-changing information:
for your business,
for yourself,
maybe even for your clients… then you need to act now.
He suggests that you not let the pain of ineffective ad strategies hold you back any longer.
You're to join him for Untapped Traffic and solve your traffic problems, once and for all.
---
How Untapped Traffic Actually Works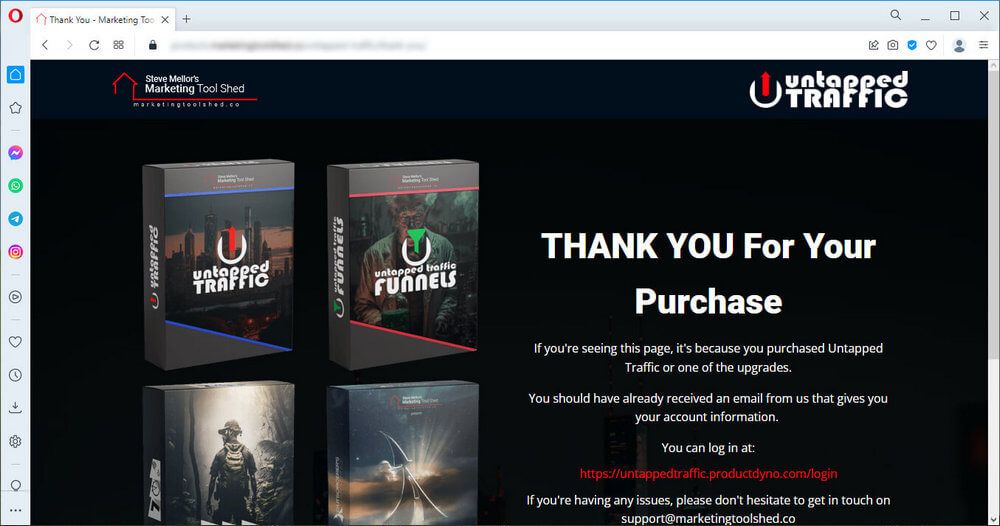 On Steve Mellor's Thank You page, he explains how you will receive your log in information in an email to the address that you provided at the time of purchasing Untapped Traffic.
There is also an email address provided to his support should you have any problems accessing the training.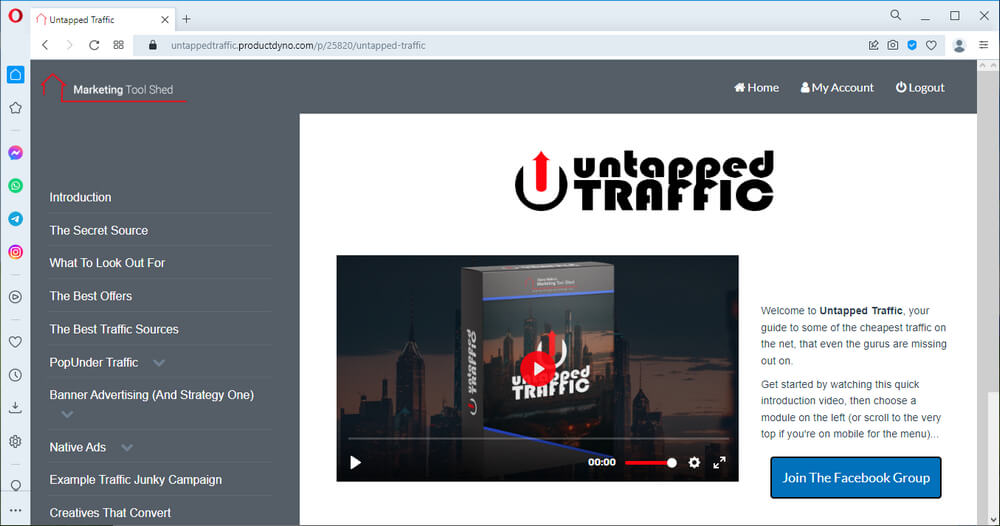 From the Dashboard for Untapped Traffic, you'll find an Introduction video (01:57 minutes), along with a link to the Facebook Group.
Below that are instructions regarding support files offered throughout the training, along with a Workbook (PDF – 28 pages) to download.
From the left-hand sidebar you will find the following:
Introduction – details noted above
The Secret Sauce – video (03:13 minutes)
What To Look Out For – video (07:21 minutes)
The Best Offers – video (08:54 minutes), plus notes.
The Best Traffic Sources – video (08:11 minutes), plus notes.
PopUnder Traffic – video (02:29 minutes)
Strategy One – video (02:11 minutes)
Strategy Two – video (02:22 minutes)
Strategy Three – video (02:39 minutes)
Banner Advertising (And Strategy One) – video (02:51 minutes)
Strategy Two – video (02:00 minutes), plus a link
Strategy Three – video (02:36 minutes)
Native Ads – video (01:50 minutes)
Strategy One – video (02:46 minutes)
Strategy Two – video (02:39 minutes)
Example Traffic Junky Campaign – video (13:43 minutes)
Creatives That Convert – video (19:07 minutes), plus 2 links
Wrapping Up – video (02:57 minutes)
BONUS: Drive Traffic with Banner Advertising – (4 videos)
Introduction – video (31 seconds)
Designing the Banner Ad – video (04:00 minutes)
Ad Campaign Goals – video (04:26 minutes)
Setting Up and Running the Campaign – video (11:28 minutes)
BONUS: Youtube Channel Traffic Tactics – (7 videos)
Introduction – video (01:17 minutes)
SEO – video (04:17 minutes)
Social Media – video (01:38 minutes)
Reddit – video (02:56 minutes)
Collaboration – video (01:47 minutes)
Commenting – video (01:19 minutes)
Other Quick Tips – video (01:20 minutes) – very poor-quality video (blurry!)
BONUS: Traffic Exchanges – ( 3 videos)
Introduction – video (01:11 minutes)
What is Traffic Exchange? – video (03:10 minutes)
Right/Wrong Way – video (02:46 minutes)
PROS
The training here might work, though I feel only customers who've purchased RHIMS 0.6 and gone through completely would have a chance in using the training in Untapped Traffic, given the excellent advice offered inside RHIMS 0.6.
The Workbook PDF file is a summary of the training, in printed format.
CONS
Overpriced training for what little advice you actually receive from the present price-point.
The content needed for "creatives" was not taught in this training, making this offer a lot less valuable to newbies.
I prefer to be able to download video training, and that is NOT an option here.
---

My Take on Untapped Traffic

Due to the advice offered inside Untapped Traffic by Steve Mellor, I feel the cost far from being worth it… unless, like I stated above under CONS, if you've purchased and gone through JayKay Dowdall's RHIMS 6.0.
Does Untapped Traffic truly reveal the hidden traffic source that delivers sales and leads for less?
Of that I'm not certain, though I do believe it's worth the effort of putting the knowledge gained inside Untapped Traffic and RHIMS 6.0 to work for me, to see for sure.
However, I can NOT recommend Untapped Traffic to those who think they can skip to the head of the pack without having gone through other training, such as RHIMS 6.0, which is why I am rating Untapped Traffic as low as I have here.
Below is my video review of Untapped Traffic by Steve Mellor


Summary
Had Steve Mellor's training included tips on writing actual content, such as advertorials to be used with his "creatives", then newbies would have a much better opportunity of benefiting from this training.
Should you have any questions on whether Untapped Traffic truly reveals the hidden traffic source that delivers sales and leads for less, please do leave them in a comment below, so that we may discuss this topic further.
Not all Training is Equal,