Glynn [no surname given] tells you that he is a 7 figure super affiliate and he claims to be the top selling product creator and vendor.
He goes on to profess that DigiFunnel Lab is a complete, all-in-one, done for you system designated to finally make it simple for you to make the money you deserve.
He continues by saying that this cloud based web app is 100% newbie-friendly and designated to give you the ultimate shortcut to making money online.
And, he states that you do not need any technical skills or previous internet marketing experience.
Glynn claims that DigiFunnel Lab is a complete game changer and something that is going to help you to automate some of the most important tasks required to run a successful online business.
He says that you have heard that you need a sales funnel if you want to make money online, and he claims that this is true that you certainly do.
He goes on to profess that having a sales funnel as opposed to just a simple sales page alone is proven to boost conversions and double and in some cases even triple your results.
And he says that the funnels that DigiFunnels Lab creates for you include a sales page, a thank you page and even a complete mini-product and that you can forget doing any complicated techie stuff.
My review of this product will be covered in the following:
If You Don't Want to Waste Anymore of Your Time on Scams,
See My #1 Recommended Way of Making Money Online:

What is DigiFunnel Lab?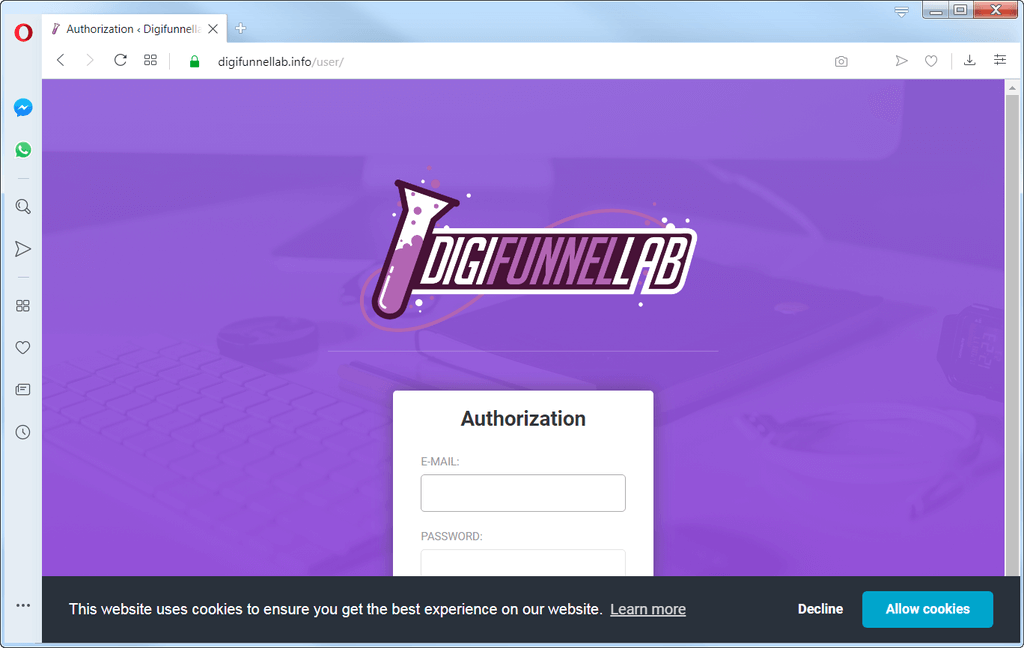 Program Name: DigiFunnel Lab
Website: http://digifunnellab.com/z/exclusive/
Price: at the time of writing this $24.97 US funds and increasing slowly daily + 1 upsell
Recommended? NO
Rating:
---
Glynn claims that when they say done-for-you they mean done for you, and that creating sales funnels complete with quality products is now as easy as clicking your mouse.
He states that once you secure your copy of DigiFunnel Lab that you will instantly get access to over 100 done-for-you products that you can use to build your funnels around.
This way, he claims that you don't have to do any writing, any design stuff, and you are not having to make videos because DigiFunnel Lab is doing all of that for you.
He says that is why when you use DigiFunnel Lab, you will save countless hours when compared with traditional product and funnel creation.
He says that DigiFunnel Lab is really like getting three software tools all bundled into one.
Glynn goes on to say that first, you get access to a landing page creator… just choose the type of landing page you want, add your autoresponder details, and DigiFunnel Lab does the rest for you.
This, he professes, will instantly enable you to build and email list of buyers and that you will be collecting buyer leads to get the most out of your traffic, and that you can email multiple offers over time so that you make money time and time again with just a click of your mouse.
Glynn claims that the landing pages included in the software are visually stunning… and that if you were to decide to do this all on your own that you would need some serious design and copywriting skills.
Either that or he says the other option would be to spend money on a very expensive landing page building software tool like ClickFunnels which could set you back $297 per month.
He states that if you are just starting out or looking to do things on a budget, this can quickly add up.
Luckily, he claims that you don't have to stress about doing it on your own or spending hundreds of dollars per year on an expensive software tool when you have DigiFunnel Lab.
Glynn claims that DigiFunnel Lab integrated with all of the top autoresponders like Aweber, GetResponse, Active Campaign, and more.
---

How DigiFunnel Lab Actually Works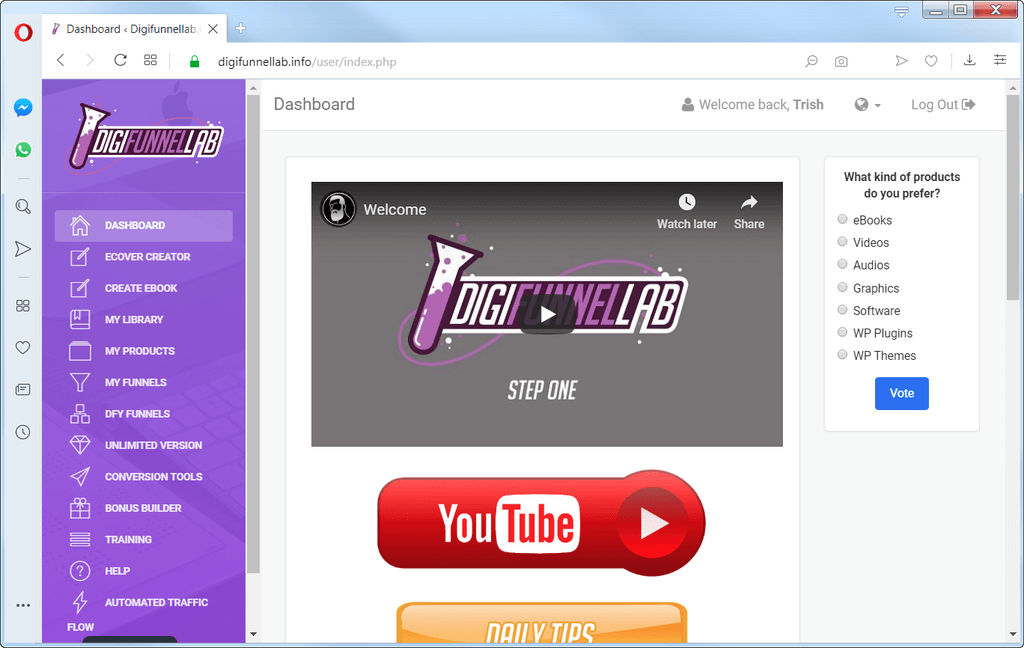 Once I signed in, the following is what I observed that my money purchased access to.
DASHBOARD
2:33 minute Welcome YouTube video
Links to his YouTube channel
Links to his Training
ECOVER CREATOR
I needed to setup an API key to continue
CREATE EBOOK
Options on the following:

1.) Create from Articles – uses a method of scraping information from websites. Not 100% reliable in my testing. My test sampling is available upon request.
2.) Create Manually – just what it states. Once you select a title and click the Create button, a form opens up for you to begin your work in.
3.) Create from URL – this is where you can paste a URL into the textbox provided and then click on the Grab URL button.
4.) Upload Your eBook – Your provided with a means of uploading a PDF file if you have already created or obtained an eBook to use in your project.
5.) Choose DFY eBooks – You are provided with 10 different prepared eBooks to choose from.
You can copy any or all of these to the My eBooks (MY LIBRARY) where can even download them if you wish.
The DFY eBooks were as follows:
1.) 12-Point Checklist – Download your 12 point checklist for building an online business – 12 pages.
2.) 20 Online Business Ideas – Discover 20 online business ideas that you can start today so that you can have the freedom to work from anywhere – 13 pages.
3.) 5 Steps To Overcoming Excuses – Excuses can be a detriment to anything we want to achieve.
Everyone can come up with some excuse that sounds like a legitimate reason why something isn't accomplished, but very rarely does the excuse justify why something is not done on time – 11 pages.
4.) 5 Steps to Profit – This System was Designed to Guide You to Profit NOT to Complicate or Understate.
This is Straight-Up and Correct! How to Quit Your Old Job and Work Full Time Online! – 24 pages
5.) 5 Steps To Unleashing Your Inner Greatness – In order to achieve the best that we can out of life and to have our greatest successes, we need to find out inner greatness – 9 pages.

6.) 51 Social Media Marketing Methods – Increase your online earnings today!
It's Time to Discover How Social Media Can Earn You Instant Profits! – 26 pages
7.) 7 Reasons Why You Are Unhappy – If you ever wanted to know what holds you back in life, much of this revolves around the way that you interact with other people and with yourself.
The conversations that you have in your mind may be the very reason that you are not happy – 20 pages.
8.) Adsense $100k Blueprint – The time tested, proven course for building a 6 figure internet business – 109 pages.
9.) Affiliate Marketing 2017 and Beyond – Get ready to give your business a huge, upgrade because you are about to discover the time saving, profit boosting magic of affiliate marketing – 13 pages.
10.) Affiliate Wise Guy – Discover the works first nuts and bolts start to finish. Ultimate guide to making money selling other people's products and services – 46 pages.
MY PRODUCTS
This section will hold the eBooks I create and/or upload
MY FUNNELS
Once you give your "Add New Funnel" a title, and click the Add Funnel, the title will appear below under My Funnels.
Then, on the right, you can click on the Edit option that will take you to the next step where you can decide to either:
Add Database Product (one of the 10 eBooks previously mentioned PLUS 15 other PLR products) or
Add My Product
Which then, takes you to the MY PRODUCTS section to find the eBook you created and want to use.
DFY FUNNELS – Access Denied, you don't have access to this Feature.
UNLIMITED VERSION – Access Denied, you don't have access to this Feature.
CONVERSION TOOLS – Access Denied, you don't have access to this Feature.
BONUS BUILDER – Access Denied, you don't have access to this Feature.
TRAINING – 8 videos on how to use DigiFunnel Lab. They are listed as follows:

1.) OVERVIEW – 3:53 minutes
2.) Create Your Product – 8:00 minutes
3.) Create The Cover – 12:12 minutes
4.) Edit Your Product – 3:27 minutes
5.) Add It To The System – 5:23 minutes
6.) Create Your Funnel – 6:40 minutes
7.) Connect Up Email – 16:01 minutes
An affiliate link to Aweber via AUTORESPONDER button
8.) Connect Up Payment Processor – 6:57 minute
A YouTube Channel offer via YouTube button
BONUS CONTENT – 5 of his videos that you can access freely from YouTube
1.) How to Get ClickFunnels for Free – 11:09 minutes
2.) How to Make $2000 with Expired Domains – 11:26 minutes
3.) Make 1000 Dollars from Untapped Traffic – 20:50 minutes
4.) How to Make $700 from Cheap Domains – 10:53 minutes
5.) How to Make Money with Clickbank – 43:19 minutes
Any websites mentioned in his training was offered as button links below the video the site was mentioned in. Some of them appear to be affiliate links.
HELP
Help and Support video – 1:19 minutes
Along with 15 what appears to be the most common questions asked and answered.
Then the Help Desk for submitting a ticket.
AUTOMATED TRAFFIC – Access Denied, you don't have access to this Feature.
RESELLER LICENSE – Access Denied, you don't have access to this Feature.
UPGRADE MEMBERSHIP – takes you back to his upsell web page.
An affiliate banner for PixelStudioFX appeared at the bottom of EVERY web page within his membership area.
---

Is DigiFunnel Lab Bogus?

No, I do not believe DigiFunnel Lab to be bogus. However, I do consider their "R.I.P. ClickFunnels" announcement across the top of the landing page to be a clever marketing ploy, especially once as a member, you discover the affiliate link to ClickFunnels.
A major failing this software has is that you cannot use their funnel software to create your very own Clickbank campaign, to do that you HAVE to sign up for ClickFunnels.
Being unsatisfied with this product, I requested a full refund as I am not impressed with how cookie-cutter their software really is.
UPDATE: So far two requests for a refund over four days were ignored.
After issuing the vendor Rod at anywidget dot com a second time, and this too was ignored, I have since gone to PayPal for assistance in getting this vendor to follow through with their money back guarantee.
Thought you might want to know that the vendor's 30 day money back guarantee is NOT being honoured.
Due to this and the lack of real advantages in using DigiFunnels Lab instead of ClickFunnels, I can NOT recommend DigiFunnel Lab.
---

A Complete Method for Making Money Online
If you are looking for a really complete method for making money online then I have great news for you.
I have been a member of a training platform now since 2016 and I would love to share this platform with you.
You will soon see for yourself that ALL of the business tools are made available to use to help you create a real online business.
One that you could be proud of, I'm sure. The training is world-class here and you will be knowledgeable once you have completed the training.
As you go through the training you will be creating your very own online business. And, you can begin today if you want. You can sign up for FREE!
Yes, that is right… FREE.
You will have full access to the first 10 lessons for 7 whole days as a Starter Member.
All you will need to do is sign up, fill in your user profile so other members will know who we are talking to and then get started on those lessons.
Once you've taken those lessons, I'm sure you will soon see for yourself how great this training platform really is and that you will want to remain so that you can complete the 5 levels of training.
You can find out what this online business is about and how it all works in my free guide here:

You will not only have access to world-class training, you will also be able to chat with all of the other members.
You can even ask questions… all at NO cost to start and you won't even be asked for a credit card either!
So, if you are ready to get serious about building your very own online business then you need to fully understand that this training platform is NOT a get rich quick scheme.
You will need to be serious about following the instructions offered in the training and stick with your plan without faltering by taking time away from your new business.
Patience and persistence is needed to get that brand new business that you have only ever dreamed of creating, and going so that you can start earning an income.
You will even learn how to gain the necessary traffic to your new business WITHOUT paying for advertising. The technique is how I got you here to my post today.
Did you know that learning makes humans (no matter our age) happier and thus healthier? Well it does and you can read all about how lifelong learning makes us happy if you need proof.
Now… if you are ready to discover the training platform I am referring to, please click here for my free guide.

Oooops… I almost forgot to mention that if you want to see how YOU can have ME as your premium coach once you join this platform. You can find out all about that option inside my free guide.
I do hope you found the information provide here to be most helpful to you. If you did, I hope you will be sure to share this with others too.
Should you have any questions about is DigiFunnel Lab Bogus, I do hope you will leave me a comment below. I sincerely appreciate and respond promptly to all those who take the time to leave me a comment.
Looking forward to meeting you,