This type of claim should set off all sorts of bells and warning signals, though I have to admit, their deal sounds pretty awesome to be able to earn that type of income on a daily basis.
When you read about any such "software loophole" you can pretty much bet that the offer is either black hat (method of violating the proper use of software for personal gain) or that once that "loophole" has been plugged (and you can believe that if it were to be a real loophole, it would be plugged very quickly!), any business dependent on that loophole would then come to a grinding halt.
This business took me longer than 5 minutes and 17 clicks, as you will see in my review. I can only guess at how long it might take a newbie.
Suffice it to say, I feel this is a stretch of the truth in the time it would take for you to setup a website with them, and to make it fully functional in even 20 minutes, let alone only 17 clicks.
In my review, I will be covering the following sections:
If You Don't Want to Waste Anymore of Your Time on Scams,
See My #1 Recommended Way of Making Money Online:

What is Five Minute Profit Sites?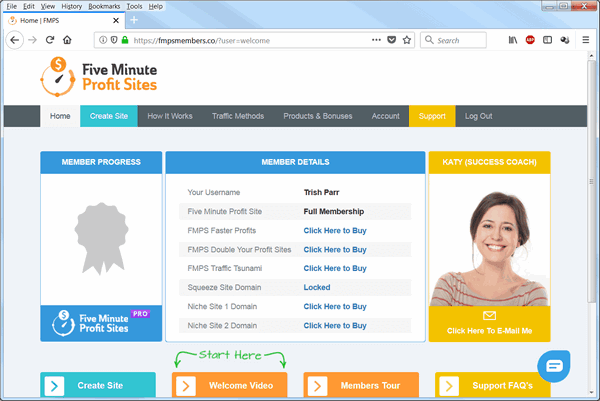 Program Name: Five Minute Profit Sites
Website: http://five-minute-profit-sites.net/invite
Price: $37 US funds + upsells + other costs
Recommended? NO
Rating:
Samantha Smith is the spokes person for Five Minute Profit Sites, and she starts off promising you that they know the secret to you making consistent money week in and week out with their software. They promise that what they are about to share with you is shockingly profitable.
They state that no matter what your skills or experience is, no matter whether you are 21 or 75, you can make consistent money every day from a secret industry estimated to be worth over $12.3 million a year.
They claim this to be a little gold mine that is hidden away from the public, and they claim it is so simple to exploit this "cash cow".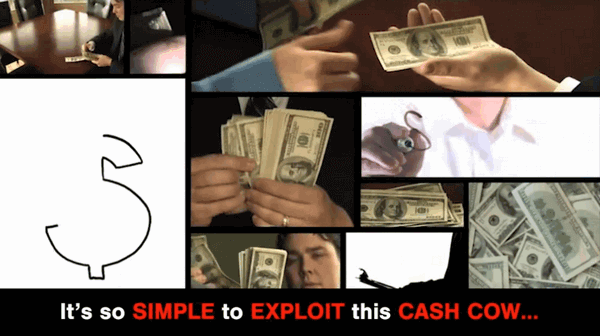 But, only if you manage to get a free license to use their secret software; a software they claim that builds you a website in under 5 minutes and 17 clicks. They go on to claim this is completely new and unseen, and that you will have an opportunity to use their software for free.
They do admit that they will make a profit with every affiliate sale you make, but claim that won't come out of your pocket. They go on about it being an easy point and click software designed for beginners. When you win their free software, you get your own login.
Step one – you setup your free Clickbank account. Step two – you select a domain that you select from a dropdown list of domain names that they provide. And step three – you sign up to a free email service, Aweber as they recommend them as the best email service around. The code you receive from Aweber you will need for your free website.
Sadly, many of the Making Money products offered on Clickbank are nowhere close to what they promise users they are and many of them are of a very low quality.
How Five Minute Profit Sites Really Works
Okay, so once I paid my $50.99 Canadian funds, I was sent to a URL that states "Sorry – You're too Late… Five Minute Profit Sites is Sold Out".
I found myself a tad confused… though I have to admit, I was not worried as this being a Clickbank product, no vendor would not be allowed to rip anyone off without Clickbank stepping in. Plus, I paid for this using PayPal, which is another safety net offering protection from unscrupulous vendors.
In my inbox, I received an invoice from Clickbank with a button to "Download or Access Digital Product" and so I clicked on it. My browser took me to the Five Minute Profit Sites registration form where I entered my name, email address and a password I wanted to use.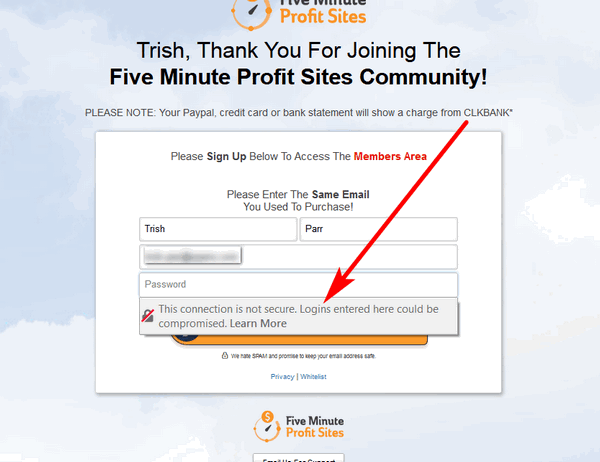 SIDE NOTE: When I entered my password into their registration form, my browser warned me that "This connection is not secure. Logins entered here could be compromised. Learn More"…with a link to offer me more information.
I chose to continue by simply adding my password, and clicking their "Take Me to the Members Area!" button, which then took me to their membership page. On this page there is a "Welcome Video" button clearly marked with "Start Here", so I clicked on that and received a short introduction as to what all my membership provides me with… and I was advised to start by creating a site, being sure to watch the video training offered.
The site that was built within seconds and it appears to be a cookie-cutter type of website that ALL members receive to use, with only the domain names being different. This website offers your visitors free downloads that they claim to be of a total value of $1,995.
But is it really worth that much?
This business turned out to be a method of creating an email list for you to use. Once you capture your converted visitor's email address you are instructed to then use your list to send them your Clickbank affiliate links to related products in hope of their making a purchase.
This is similar to the affiliate marketing business model that I use to monetize my website here. Though, what this site offers you and what I do different even though we are using some of the same business techniques.
This method could make you money, though it truly depends on whether you are ready to do it this way.
From what I have seen for myself, this method of creating an email list the Five Minute Profit Sites way of offering you to promoting products, might work. But it is not a good way to build trust or long-term relationships with your readers. This is the difference between what this site does when compared to what I do.
Disadvantages of Five Minute Profit Sites
Once you have signed up, you will discover that Aweber cannot be used as their acceptable email service. Instead, you will discover that you have to use GetReponse which costs $15 US funds monthly… plus you will be paying other email list owners on a regular basis using Solo Ads, so they will email their lists recommending your website.
In their training they even admit that you may not get traffic that converts from Solo Ads… and, that the prices vary.
Business ideas like this one fail to teach their users as to which products are the best or worse to offer to your list, never mind which may convert the best. Just because a product converts best does not mean that it is a quality product either.
Most of the Making Money offers on Clickbank offer several promises and then fail to deliver what their sales videos promise.
Having only an email list does not provide you with a long-term means of building much needed trust in an audience. You really do need an online presence that a website gives you for your readers to visit and witness your authority in recommending products.
Internet users today are much more informed and most of them will not click on just anyone's links.
Another disadvantage of this system is though they claim this is your website you have no access to make any changes to your website other than the actual email sign up form. You don't even own the domain name either.
Should the Five Minute Profit Sites cease to exist in the near future your business will disappear right along with their exit!
In my business, I own everything that I do, right down to the domain name. My online business assets depend only on me.
Getting Traffic to Your Five Minute Profit Site
No matter what system you decide to use, without internet traffic you won't be making any money. Five Minute Profit Sites uses Solo Ads to drive traffic to the website they have you create… which is not a real website, but a landing page.
Don't get me wrong, using Solo Ads is a legitimate method to use in getting traffic… but can you see a pattern in their method?
You will always be chasing the money.
You will be always paying someone to promote your website offer of free information in hope of gaining a few more to your email list… so that you can email your list with more offers.
With my method, I don't need to chase the money it comes to me. And no, I do not pay for the use of anyone's email list or pay for ads either.

Is Five Minute Profit Sites a Scam?

No, I don't believe Five Minute Profit Sites to be a scam. It is a legitimate method that could work. However, if you truly want to make money online long-term, you need a bigger online presence to invest in.
The Five Minute Profit Sites are quick to let you know that you will need their upsells, which is my guess will cost you plenty more.
Why not learn to build your own landing pages instead of paying for their cookie-cutter or canned website?
What may start out to be $50.99 CAD could soon add up to be several hundreds of dollars (or worse) out of pocket with all of the upsells, as well as the extra necessities like autoresponder and Solo Ads… all this and only a little profit to show for it if you are not very careful.
From what I have experienced with this system, I have to admit that I do NOT recommend the Five Minute Profit Sites.
A Money-Making Strategy That Stays Relevant Long-Term
The money-making strategy that I discovered is with a great training platform that I joined over two years ago which has taught me to create an online business that includes all of the necessary elements needed to make money online.
This platform can teach you how to create your very own online business… one where your website visitors will see as authoritative, and this will help you build the necessary trust with your site's visitors. Also Included in this training is how to build an email list; one that is part of your website and not strictly the focus of your business.
This training will show you how to create your online business in a way that will attract its very own FREE organic traffic so that people will come to your business rather than you having to go out there chasing people.
Just like how you found my review right here today, all without my having spent so much as a red cent in paid ads or paying to use another people's email list.

Why not take a few minutes now and find out what this online training is all about it.

You need to understand though that you will be expected to work as this is NOT a "get rich quick scheme", not by any sense of the imagination. This will require your dedication and patience to build, as it takes time to grow any business the right way.
The best part of this training platform is that you can sign up for FREE and check out the quality of information offered here… all withOUT so much as opening your wallet nor even providing a credit card!
Are you ready to quit wasting your time on scams and start building your online business today?
GET my free guide here:

Another bonus that you will learn about in my free guide is how you could get ME as YOUR Premium Coach.
If you have any questions regarding whether Five Minute Profit Sites is a scam or that you simply want to share your thoughts on this, please do leave me a comment below. I always respond in a timely manner. 🙂
Time to Earn to Learn,