When this was called The China Secret, their initial landing page video warned viewers with, "A global financial crisis is on the verge of rearing it's ugly head in 2019." …but this has been replaced with a new domain and a new landing page video.
Now they claim that what he is "…going to share with you today may not only be 2019's most profitable insider secret, it may be one of the biggest opportunities the Internet has ever seen."
In his first landing page video, the text claimed him as "54 years old" but he stated verbally that,
At 55 years old, after being a corporate slave for my fat-cat boss for close to a decade, I lost my job. I lost my home. And most importantly, I lost my wife. I don't blame her – I couldn't provide for our family.
However, in his more recent landing page video he states, "At 49 years old, after being a baker in my family business for over 20 years, our business failed – overnight, it was gone. I lost my home. Somehow, my wife stayed by my side during this – but we had some of the toughest times of our marriage, and I don't think many women are as strong as her."
Both stories are totally different, yet the narrator is the same in both videos, though the person never does identify himself. Not identifying himself should be a very big red flag to anyone, never mind the discrepancies in the claims made.
On the outside chance that you need more information to help you decide whether to trust this vendor's offer… or not, my review here is meant to help you with your decision.
See My #1 Recommended Way of Making Money Online:


What is Insider Profit Groups?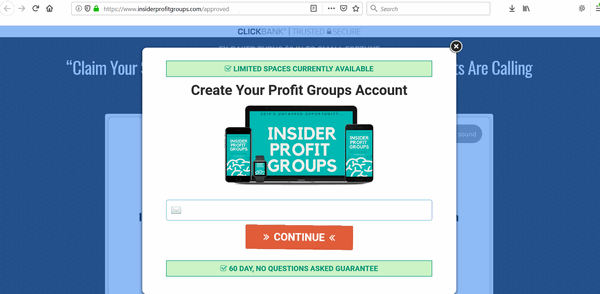 Program Name: Insider Profit Groups
Website: https://www.insiderprofitgroups.com/approved
Price: $9 US Funds + 3 forced upsells
Recommended? NO
Rating: COMES WITH A WARNING
---
SIDEBAR: Knowing this offer was previously available from https://www.thechinasecret.co/secretaccess or https://www.thechinasecret.co/ I visited those URLs, only to discover that it is now pushing browsers to the link shown above, so their original landing page video no longer exists online. So, if you received an email with one of these URLs, or find an old link to either of these URLs somewhere online, they will arrive at the newest URL if/when clicked on.
The male narrator goes on to ask you if you have ever felt like a failure, then says he understands, followed by him saying it is not your fault. He claims that "the way these products are structured, it's doomed from the get-go." Saying they are equivalent to spoilt milk, and that the methods in those products expired long ago.
He claims he learned to reverse engineer several successful internet profitable campaigns that required specialized paid tools that are usually reserved for big companies that mine data.
He also claimed that one of these techniques shocked him with how simple it was, and that it is completely free to implement and uses a common feature on a website you likely already use.
This secret, he claims, produced him the kind of money in the screen prints that others show off with but you are never able to duplicate. Then he says that several industry experts are already catching on to this with one analyst calling this the new internet.
This unbelievable new profit opportunity, he states, is commonly known as Facebook Groups and the little know profit group technique that pillages a $4.7 billion market.
He goes on to say that you probably haven't heard much about a small group of marketers who are making 7 figure sums with their own Facebook Groups all over the world. He claims he has cracked that code.
---

What Happened After Paying for Insider Profit Groups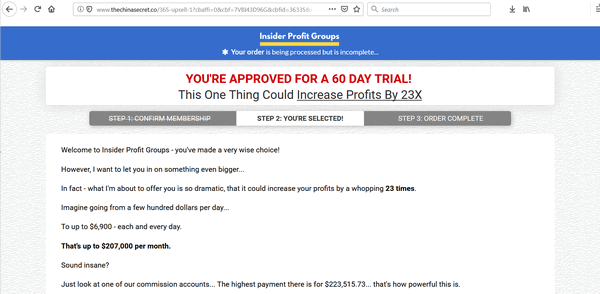 Having decided to take a chance at spending the $9 US funds to see what all the fuss is about, I signed up to take a look at what this vendor might be offering, and only after paying did I learn that I was only being granted a 60 day trial. Which upon quickly mulling it over, I decide that seemed fair enough.
So, anxiously I tried to learn what is actually being offered… but each time I said no to their upsells, my browser was pushed to their next upsell. This happened 3 times, when I finally got fed up and returned to my email hoping to have received an email from the vendor (which never did arrive in my inbox!) with a link to their 60 day trial in it… only to discover that I had been charged for the three upsells that I did NOT authorize.
WOW!
Being Canadian, this trial offer now was costing me $12.91 CAD, PLUS the upsells which were each: $282.63 CAD, $210.89 CAD, and $139.16 CAD… coming to a grand total of $645.59 CAD.
Now, I am no newbie, but this definitely had me in a panic.
Thankfully though, upon contacting Clickbank for a refund using their online chat form, Tatianna refunded me in full. It did take 13 minutes in total (felt like forever, naturally) where I explained to her what had happened but I was finally granted a full refund.
This experience left me upset enough that once I received my refund in full for all FOUR charges, I left my office in order to try and calm down.
This sort of experience is NOT nice whether you are a newbie or a seasoned user, and should be avoided at all costs.
After listening to the narration on the video with the promises that were made, I was hoping to be able to provide you with a full review of what was covered in their $9 US funds offer. However, I am now offering the following WARNING instead.
If you do purchase this product, be prepared to ask Clickbank for a full refund should you be so brave as to click on their "CONTINUE" link and okay that $9 US funds purchase because chances are, you too will find you end up letting this vendor charge you for their 3 upsells while you are trying to get to their promised secret that was supposed to only cost $9 US funds.
As for how their system really works, well… that is anyone's guess.
---

Is Insider Profit Groups Bogus?

The Insider Profit Groups may be only coded incorrectly, but then it has been online for awhile now, so is that really the reason I experienced what I did?
Due to the experience I went through I could NEVER recommend Insider Profit Groups.
---

Making Money Online the Proper Way
If you are truly interested in learning how to make money online the proper way, I have a method of training that I want to share with you.
It is a platform that I have been a member of for over 2 years now, and I am so satisfied with the training and all of the business tools included that I will gladly tell you all about it.
The training offers easy to follow, step-by-step training that anyone can understand, from newbies (to computers) to advanced merchandisers. They will teach you how to create a successful online business that will stand the test of time.
Given the ever changing rules setup by the popular search engines, the methods and approaches for creating an online business are always change too.
The instructions that you will receive as a member of this training platform literally promises you an advantage over your competition, as well as providing you with a means of staying "ahead of the crowd" in learning of changes as they are about to happen instead of after the fact.
So, if you are sick and tired of searching for that one illusive opportunity for you to make money online for real, here is your opportunity.

In case you might be thinking that this opportunity might be a "get rich quick scheme", you can forget that notion. The training platform is only for those who really want to learn, can be dedicated to building their online business, and are prepared to persevere and have patience in learning to do business the right way.
Anything worth doing is worth doing the right way… right? As Oscar Wilde once said:
If a thing is worth doing, it is worth doing well. If it is worth having, it is worth waiting for. If it is worth attaining, it is worth fighting for. If it is worth experiencing, it is worth putting aside time for.
AND… this training platform you do NOT have to fight for. You can simply sign up as a Starter member for FREE.
That's right… I said, FREE!
You won't even be asked for a credit card, and you will have free access to 10 complete lessons as well as the tools to complete those lessons.
The training you will be privy to will teach you how to attract customers to your business instead of your having to pay for advertising. That technique is the same as the one that brought you here to my post.
So now if you want, you can read my free guide to learn more.

Oh… and there is one more goody I can share with you, and that is how YOU can get ME as your premium coach. How you can do this is also revealed in my FREE guide.
If you have any questions as to my warning of Insider Profit Groups or The China Secret, I do hope you will feel free to leave me a comment below. All comments are responded to in a timely manner.
Stop Wasting Your Time,