Now this website's domain name alone was able to capture my attention, simply because I do prefer to edit some of the images I use. Needless to say, I was intrigued enough to sign up and give this course a try.
Most of the time, when I've needed to edit an image a certain way, I have been able to search for and find help with Photoshop, though more and more training that is offered freely online is for the more recent versions of Photoshop.
Upon visiting their website and reading through the details offered there, I discovered that "as long as you have version CS5 or newer, you're fine". Being as I own Photoshop CS5 (though I still prefer working with Photoshop 7, even though fewer tutorials are now available), I decided to sign up for this training and give the course a try.
This review will be covered in the following segments:

What is Learn Photo Editing?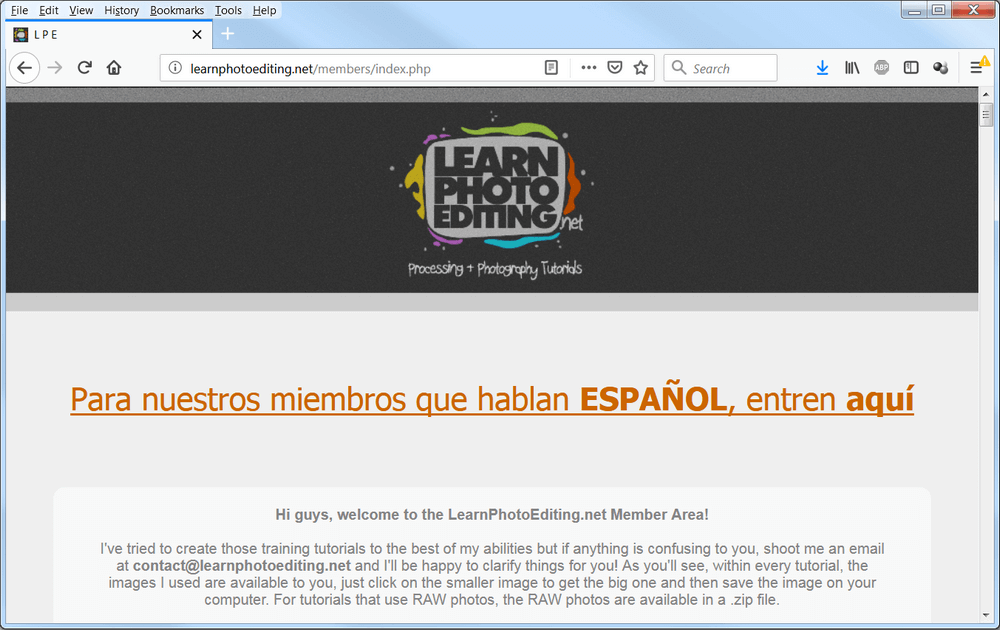 Program Name: Learn Photo Editing
Website: http://learnphotoediting.net/
Price: $39 US funds
Recommended? NO
Rating:
---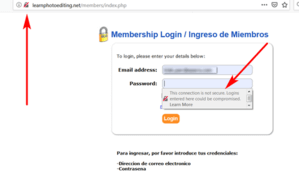 You will be offered a login screen to a website that is NOT protected by a SSL certificate, so you will want to be aware NOT to log in using any mobile device.
Be sure your desktop or laptop computer has updated AntiVirus software installed, and that you have a secure internet access.
Once you are inside the training, there is a short introduction to the person (no name given) who is providing the training.
An email address is offered in this intro, in case members have any technical issues that are not found inside the tutorials.
Below the intro you will find access available to each of the 36 different types of tutorials with most only needing one click.
Though there are several "aaah, aaah, aaahs", in one of the instructor's training videos that I reviewed… the instructions are simple enough to follow along with.
For the most part, I found that the video instructors (the instructors sounded close enough to be the same person, but I am not certain) do go through the steps slow enough as not to confuse the viewer… and, you can always put the videos on pause or go back over what you missed, whenever it is necessary.
For the visual learners you will find these tutorials to be very helpful, though, these tutorials are NOT for the novice photo editor by any sense of the imagination.
The techniques taught in the tutorials I tried following take a very skilled hand and a trained eye just to know when to blend what and where. I did give serious effort to editing a photo using retouching techniques to create fantasy portrait, but my efforts were in vain. After two hours of trying, I gave up.
Of the 36 different tutorials offered inside the training, 5 are more for Halloween type of effects, 5 appear to be more for enhancing beauty, 2 offer cartoon effects, 1 offering to show you how to create a vintage look to your images, while still others offer other types of distortions and/or enhancements… some may be basic while others are a LOT more complicated and/or time consuming.
Within EACH tutorial you will discover either step-by-step text and image tutorials or several videos of lessons in order to complete the effects you may have selected for your project… and I did notice that some tutorials offered both video and text to help with explaining.
---

How to Learn Photo Editing Works

Having discovered that the training offered is a LOT more highly specialized than I had imagined it would be, I have to admit, most (if not all) of the effects offered, I would never have a use for. These techniques may be more suitable for professional magazine-like images then to the average person looking to improve upon their image.
The vendor states that 8 new tutorials have been added since starting 2014, which MIGHT mean there may even be more added later, but these are not promised.
NOTE: I noticed this vendor is also offering other vendor's eBooks on photography techniques, using affiliate links as well as other affiliate links for suggested items, like Amazon, for things needed in some of the training. In my opinion, this is a means of monetizing the training beyond the initial cost.
By setting up the training in this fashion, I feel it cheapens the overall offer. If the price were much lower or free for the training then the affiliate links would be totally justified. Also then perhaps beginners who want to learn this level of photo editing might better afford the training… and maybe even make the training even popular.
However, the price being $39 US funds, this training would be far too expensive for those wanting to simply tweak one or two images. On top of that, it is questionable as to how long this training will remain available online. Downloading the training is NOT available.
For the professional photographer selling images through an online image database, this training might be a perfect means of re-purposing their images so their images might be used for more than one type of project. But I would hazard a guess that most professional photographers would already have access to such tutorials as is offered in this training.
---
Is Learn Photo Editing Worth It?

I have to conclude that I do not recommend Learn Photo Editing for the average person looking to edit a few images. Professional photographers may be the only ones to gain any advantage from these tutorials.
However, if you STILL want to buy this product after you have read over my review, feel free to click on my affiliate link here: Learn Photo Editing affiliate link.
---
Alternatives That Could Save You Money
Free Adobe CS5 Tutorials – 17+ house of online video training: https://prodesigntools.com/free-new-video-tutorials-for-all-cs5-products.html
Free Adobe CS6 Tutorials – 30+ hours of free online video training: https://prodesigntools.com/adobe-cs6-tutorials-free-videos-all-products.html
There may well be books available at your Library too, like Adobe Photoshop CS5 Step by Step Training by Noble Desktop, ISBN:1934624578 9781934624579.
You can also Google search for these, as well as searching YouTube. This may very well save you a lot of wasted money.
If you have any questions regarding whether Learn Photo Editing is worth it or you simply want to share your thoughts, please do not hesitate to leave me a comment below. I always respond in a timely manner. 🙂
Time to Stop Wasting Your Money!