Here we go again with the same sort of claim that for me, sets off all sorts of warning signals, even though their offer sounds convincing. After all, they wouldn't lie, would they?
When this vendor stated that you don't need any technical experience or even your own website, I have to admit I became a bit suspicious.
Then their suggestion that their offer will send my heart pulse racing and my mind spinning, all I could think was… come on, get on with it, will you.
This cash cow has been sitting under my nose all this time… excuse me?
Yes mobile users are definitely on the rise, you bet they are.
The introduction video states that Amazon and eBay will gladly pay me for sending these mobile users to their sites. They are going to post cheques to my front doorstep every month… then I'm informed that this vendor's software is going to do all of this for me.
In my review, I will be covering the following sections:
If You Don't Want to Waste Anymore of Your Time on Scams,
See My #1 Recommended Way of Making Money Online:


What is My Mobile Money Pages?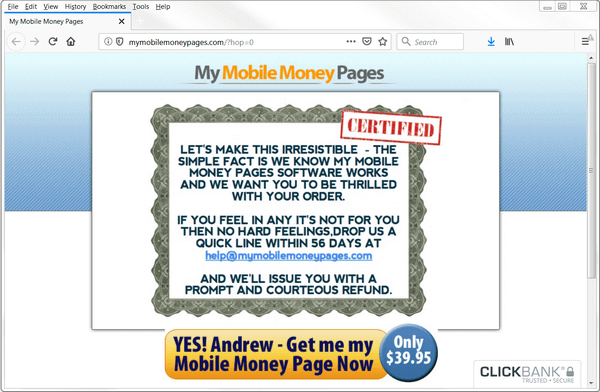 Program Name: Mobile Money Pages
Website: http://mymobilemoneypages.com/
Price: $39.95 US funds (possible upsells)
Recommended? NO
Rating:
---
A fella named Andrew Davidson claims to have built an incredible application called My Mobile Money Pages which he claims will literally make everything point and click simple, all in under 2 minutes. However, he does note the following:
"Basic sites can be created within 2 minutes. However very basic users require more time to add content and customization."
First you are provided a page with a form in which you put in a "money word" they give you for your sub domain name (so the textbox is clearly labeled as being), which becomes your main keyword. Then you select your choice of domain name from a drop down box of pre-named sites… wait a minute, doesn't that sound exactly like Five Minute Profit Sites?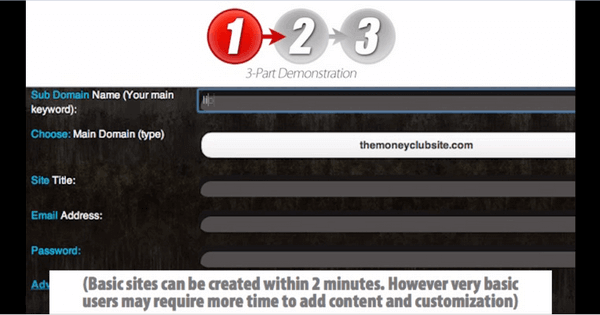 You type a title in the Site Title textbox, enter your email address, password in their appropriate textboxes and then click on the Start button, and your site is then created within seconds and the full details are then emailed to you.
There is a MMP Keyword Interceptor (keyword search tool) that is suggested that you use to type in the "money word" they give you and click the Submit button. Within seconds you will have the top 40 to 50 "money words" that they claim are actual buyer keywords.
You are then instructed to export this list to a text file by simply copy and pasting the list. Then, from the text file, you copy and paste that list into their stage 3 Keywords textbox, putting your "money words" into the box provided (one per line), and that, Andrew claims, is all you need to do, and your mobile page is ready to start collecting affiliate commission.
Andrew goes on to say that you get money from Google Adsense ads (but wait… don't I have to sign up for Google Adsense and be accepted first?) that are inserted into the sidebar of your newly created website. Same thing for the Amazon links.
Then claims are made that quality authority backlinks will be created for your new website automatically.
Further claims are made that your new website will be translated for you into 40 different languages, with a handy widget of flags of the different languages being offered for visitors to click on; when a website visitor clicks on a flag of their choice, instantly your website changes.
This is where Andrew claims, "The result effectively multiplies the amount of unique content on your site, which in turn results in more free traffic and bigger affiliate commissions being sent to your door."
Apparently, "you can plugin in anything automatically eBay, Amazon, Google Adsense, Commission Junction, LinkShare… all in under 2 minutes making your site "locked and loaded and ready to go".
They supply all the domains (sub domains actually) and hosting… and you don't need to spend time writing articles either?
Andrew claims that "everything that would normally take 80 Hours+ per week has been compressed into as little as 2 minutes." And, he goes on to claim that all the magic happens in the background.
It is even stated that you can work on your site while you are at your regular job, working under your desk from a mobile device, while your boss isn't looking… or do it while you visit the bathroom.
Andrew quotes Forbes with "Mobile payments are expected to reach £300 billion by 2013." …then… eBay with, "our eBay APP has 4 million downloads. We expect mobile sales to reach half a billion this year." …and… Sisco with "Smartphone sales now outweigh sales of PCs."
Oh wait a minute… Andrew states that "the mobile money rush has just begun and those that get in early will crush it and bank the biggest commissions"…
Why quote old data like this… unless this product has been around since at least 2012?
---
How My Mobile Money Pages Really Works
After discovering all of the outdated data that Andrew shares nearer the end of his "online training presentation", I was NOT about to fork over my Canadian funds.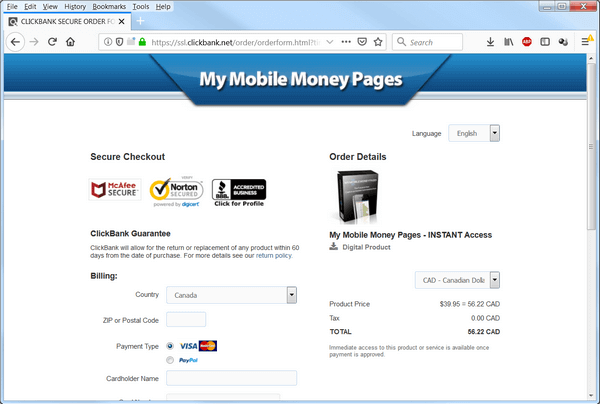 If this product is out dated and with it now being 2018 (and, there is a pretty good chance that it is), I won't be risking wasting my money, will you?
---
Is My Mobile Money Pages a Scam?

I was not willing to risk paying for this product to learn one way or another, given that this appears to have been around since at least 2012, and Andrew's warning provided nearer the end of his short 15 minute online training presentation.
Given this fact and from what I have experienced with Five Minute Profit Sites (this product sounds so similar), I do NOT recommend My Mobile Money Pages.
---
A Better Approach to Long-Term Income
A better approach to long-term income that I have discovered is a training platform in which I joined with back in 2016, where I have learned to create an online business. The training includes all of the necessary basic needs to make money online.
You can learn how to create your own online business so that your site visitors will see you as being authoritative in your given niche, which in turn works in establishing the trust of your visitors. The training will even provide you with other lessons such as how to create a quality email list.
Organic traffic magnet is what your website could easily become with the quality training provided by this platform that I encourage you to give serious consideration to joining. This way, you won't need to chase people, as they will be drawn to you.
Take a few minutes of your time now, and find out exactly what this online business is about.

This is NOT some "get rich quick scheme" either, you can rest assured of that fact. You will be required to have patience in learning and be dedicated at following the training. You also need to understand that it takes time to grow a quality business for long-term results.
Plus, you can sign up for FREE simply to check out the quality of the training platform. You won't even be asked for a credit card either!
So… are you now ready to stop wasting your time chasing that proverbial pot of gold, and start building your successful, online business today?
GET my FREE guide NOW!

An additional bonus that you will discover in my free guide is that you could get ME as YOUR Premium Coach.
If you have questions regarding whether My Mobile Money Pages might be a scam… or even if you only want to share your take on this topic, I hope you will feel free to leave a comment for me below. I assure you that you will receive a response from me.
Time to Stop Wasting Your Money,