So, if as an affiliate to Amazon you are wondering why your Amazon OneLinks are not working, this is the real reason why Amazon Onelinks aren't working.
Nearly a year ago now, I discovered that all of my Amazon OneLinks on my personal blog were no longer working properly. These links were meant to help finance the cost of hosting my website where I share information with readers who are in search of answers.
The first time I noticed this (earlier this year) I ended up having to make three separate telephone calls to the Amazon.com Associate technical support staff before FINALLY being informed that the OneLink no longer works on anything BUT their text links.
Needless to say, I removed all of the Amazon linked images from my personal blog. After all it has never been my intention to give Amazon free advertising (or anyone else for that matter).
This is when I decided that from now on I will only be using Amazon's affiliate text links. Besides, I was also told that their text links converted better anyway.
Several months later, a few others whom I work with (learning to do affiliate marketing properly) stated that their Amazon OneLinks were no longer working.
In order to help them, I checked my text links and low and behold, NEITHER were my Amazon OneLinks working. That was on October 11, 2018, at which time I signed into my Amazon Associate account… located their affiliate support telephone contact number, and I called them to find out why.
Their tech support person claimed to know of no reason that the OneLinks were no longer working and she promised me that my ticket would be bumped up to another level of their supposed support staff. At which time this level of support was to contact me with a resolve. I have heard NOTHING back from Amazon.
Then on 24 of October, I discover a podcast by Alex Sol with Jesse Lakes
Keep in mind that I STILL have NOT heard back from Amazon's other support level team… and Jesse informs the listeners that Amazon's shorter text links will NOT work in OneLink… and, get this… Amazon has known of this issue for some time now.
WHAT?
This irritates me to no end, to have to hear this from someone who is not even associated with Amazon instead of Amazon's own technical support staff.
Now how irresponsible is this of Amazon I ask you?
Jesse goes on to say that the Amazon shortened links is actually using a Bitly link disguised as an Amazon link. Then why in tarnation doesn't Amazon STATE the fact that affiliates need to use their FULL affiliate links and NOT the shortened version… IF we want the OneLink to work that is.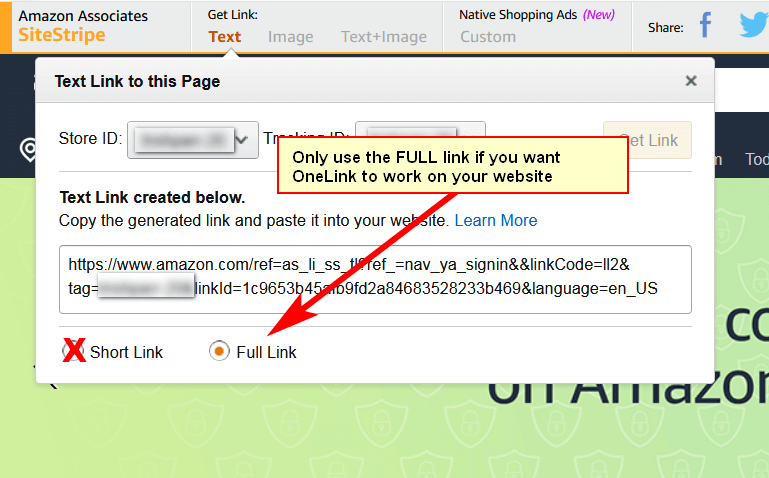 So now… how many of us Amazon affiliates have been driving traffic to Amazon for FREE!
I don't know about you but this makes me feel totally used and abused by Amazon.
They couldn't hurt or insult me any worse than their having done this… and then pretending they have no idea why my OneLinks are NOT working as they should.
My Amazon OneLinks worked at the start but they no longer work now.
How is that even possible when another redirecting service can figure out why this OneLink service of Amazon's doesn't work… but Amazon refuses to inform their affiliates of this fact?
It sure would not surprise me to learn that a class action lawsuit has been filed against Amazon for their playing ignorant of this fact for months now.
A Fix for Amazon OneLink
In the meantime, there is an alternative to losing out on affiliate commissions we should be making, and that is to use geni.us link service.
They charge $5 monthly for 2,000 clicks, and as our clicks grow, our monthly payment to geni.us link service goes up in monthly cost.
At 3,000 clicks we pay $10 monthly
At 5,000 clicks we pay $15 monthly
At 8,000 click, $20 monthly
At 10,000 clicks $24 monthly
At 12,000 clicks $29 monthly
At 15,000 clicks $39 monthly
At 17,000 clicks $44 monthly
At 20,000 clicks $48 monthly
At 25,000 click $62 monthly
At 30,000 clicks $70 monthly
And upwards… you get the idea, right?
Amazon has an affiliate rule that we are to NEVER disguise their affiliate links and so geni.us uses scripts that not only ensure that your website visitor is sent to their country's Amazon product upon clicking the affiliate link, BUT they also make it quite ease for our website visitors to see that the link is to Amazon when their cursor is over top the affiliate link.
So far, geni.us has a rave review from customers who are using their service as a resolution to losing their commissions for Amazon customers who leave their site and then go off looking at their country's Amazon site for the product we just taught then that would solve their issue.
Also, geni.us will even let their users know when/if a link is broken… yet Amazon does NOT do this for their Associates.
I'm off now to change and test my Amazon text links on my personal blog to see if the FULL link works and I am giving using geni.us serious consideration due to the rave reviews I've seen since.
Huh! Just changed out my Amazon affiliate text link that is on the latest post I shared on my personal blog and changed the Short Link to the Full Link. Then, using a different browser, I tested my link to see if it would open to my Canadian Amazon website but alas that too did NOT work.
So now my only option is to sign up for and use geni.us link service so that I will no longer be losing commission for the sales I send to the different Amazon's. I will be giving serious consideration to removing ALL Amazon links if I do not see an improvement with sales. Of that you can be sure of.
If you have found this helpful, I hope you will share my solution here with those you know as an Amazon affiliate too.
Will you be using the Amazon Short Link anymore? Feel free to leave me a comment below, as I respond to comments in a timely manner.
UPDATE: GeniusLink works! My Amazon links are FINALLY doing what they should… sending clickers to their perspective Amazon and in countries I am NOT an associate of, my links will send them to the American Amazon. Finally… maybe now I will see a marked improvement in performance.
 Rating for Amazon OneLink: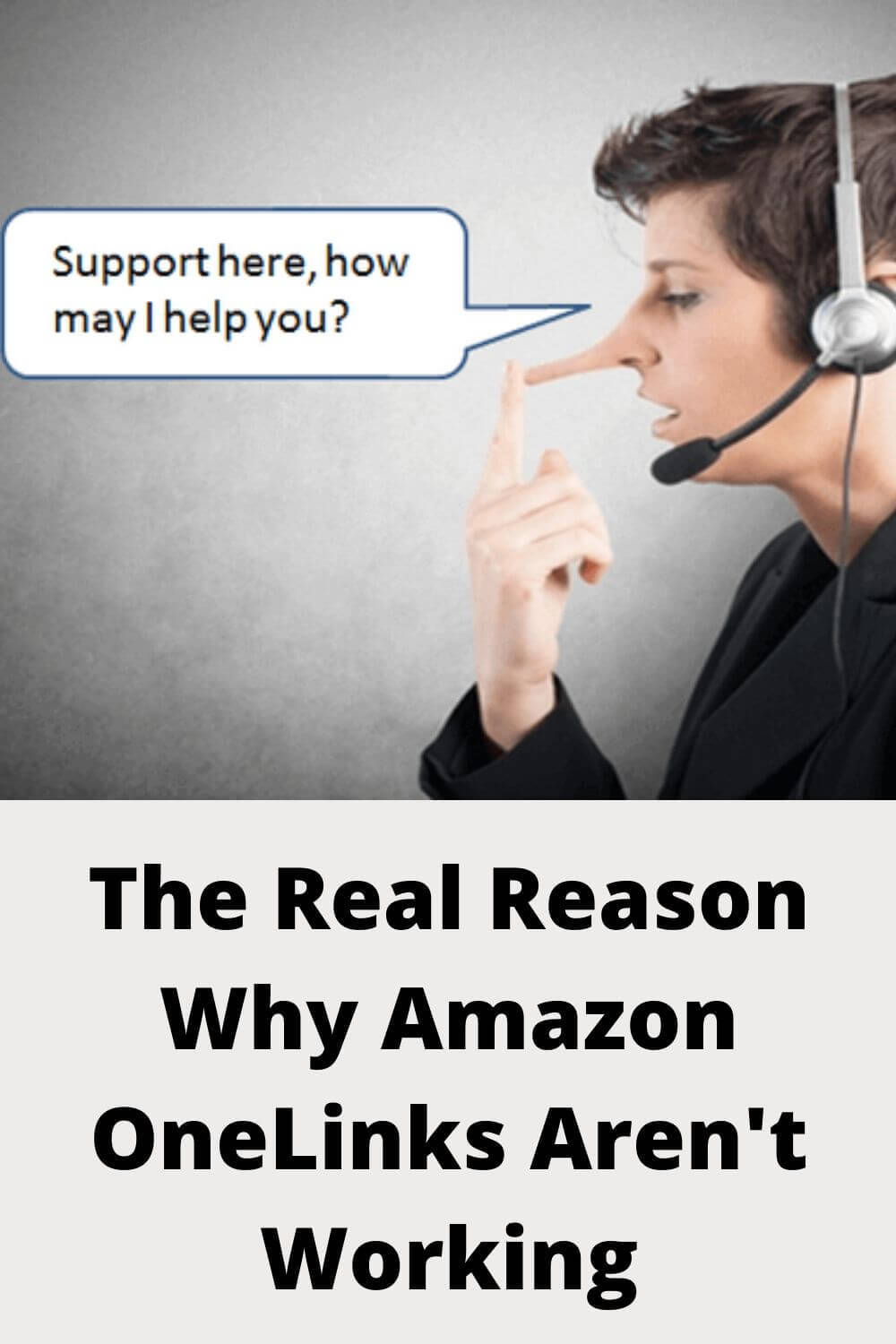 Header Image: by ID 40547806 © Alphaspirit | Dreamstime.com