Ali G., Stoica B., and Vlad M., partnered up to present Video Marketing Blaster to the world.
And, Ali claims that they have been in the SEO game for well over 20 years, and that they tried every sneaky SEO ranking tactic in the book.
The number one method that works right now is ranking YouTube videos, and it isn't about to change anytime soon.
Why? Well, Ali explains that YouTube is Google's baby brother.
This, Ali says, means that YouTube has an unfair advantage over each and every other website, because Google allows its baby brother to skip the line up.
He goes on to say that if you have tried to rank videos in the past and failed, that doing this manually is tedious and hard, and to actually rank you have to be an SEO Jedi, but you are not to worry.
Without SEO expertise, others rank video after video on the 1st page of Google.
"How?", Ali asks… because they have an unfair advantage.
Ali says that his partners Vlad and Stoica have been working on coding. Apparently, his partners have worked at reverse engineering the YouTube and Google ranking system.
He claims they were trying to find the "secret sauce recipe" so that their users can replicate the exact components needed to rank on page 1, fast.
Ali goes on to say that his partners did it with big data analysis, the obsessed over the ranking factors, uploaded thousands of user's videos, to reverse engineer the system.
He goes on explaining that they were determined to figure out the Google algorithm likes and doesn't like, when it comes to ranking videos.
Apparently, they found over 50 factors that Google favours when ranking videos, and after many years in development they are so proud to announce their epic traffic driving, push button solution.
This review will discuss the following:
See My #1 Recommended Way of Making Money Online:


What is Video Marketing Blaster?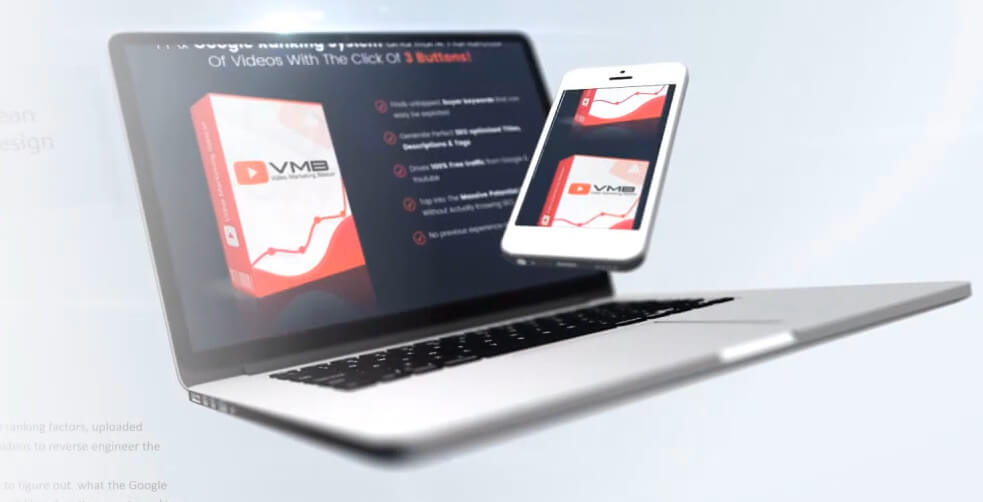 Program Name: Video Marketing Blaster
Website: https://videomarketingblaster.com/
Price: $27 US funds + 2 Upsell (Pro & Agency)
Recommended? YES
Rating:
---
Ali goes on to say that Video Marketing Blaster is the only (Windows Only) software that is able to reverse engineer the YouTube and Google ranking systems, and rank hundreds of videos with only literally 3 clicks.
And, that this software will show you several unused keywords when you enter your main niche and then click on Research keyword. That is the #1 click.
This step provides you with all of the keywords that your competitors are using to get the most traffic, and… he says, this is just the suggestion module alone.
All you need to do is select all of the keywords that you want to target, and with click #2, (top navigation bar, clicking on Video Details), this software will generate perfectly SEO optimized titles, tags and descriptions for your keywords.
Ali claims that you will have the right keyword balance that will make Google totally fall in love with your video, and give your video instant top ranking.
And finally, click #3. Simply copy and paste your title, tags, and description and upload your video… Voila!
As instantly as that, says Ali. And now, you are a video marketing super hero with the power to drive free targeted traffic to whichever video you would like.
Where you used to take hours of researching, writing and tweaking, you can now take seconds, as there is no learning curve, and the results are instant, Ali says.
So, let Video Marketing Blaster take all of the heavy lifting and hard work for you.
Ali says that he doesn't want you to struggle, suffer and fail doing all of this work manually… that he is offering you all that you need, on a sliver platter. However, he says there is one catch.
There is one other requirement that you have to agree on if you jump in and start using this software.
You have to provide a screen shot of your success from using this tool, because he and his partners live for success stories.
If targeted traffic is what you want than Video Marketing Blaster is exactly what you need, Ali says.
And that he is completely confident in this software's ability in doing what it is that he is promising you that it will do.
Therefore, Ali says that he is providing you with a 100% unconditional, no questions asked, 30-day money back guarantee.
Ali says, imagine how it will be like, one week from today, when all your traffic worries were over. Imagine getting tons of targeted visitor traffic to your offers.
That traffic will convert ten times better than whatever you are doing right now.
With Video Marketing Blaster, anyone can rank their videos on the first page and profit from all of the targeted traffic that comes in.
Ali goes on to say, this will work for you too. So, he asks… Are you ready to take the shortcut to success?
---

How Video Marketing Blaster Actually Works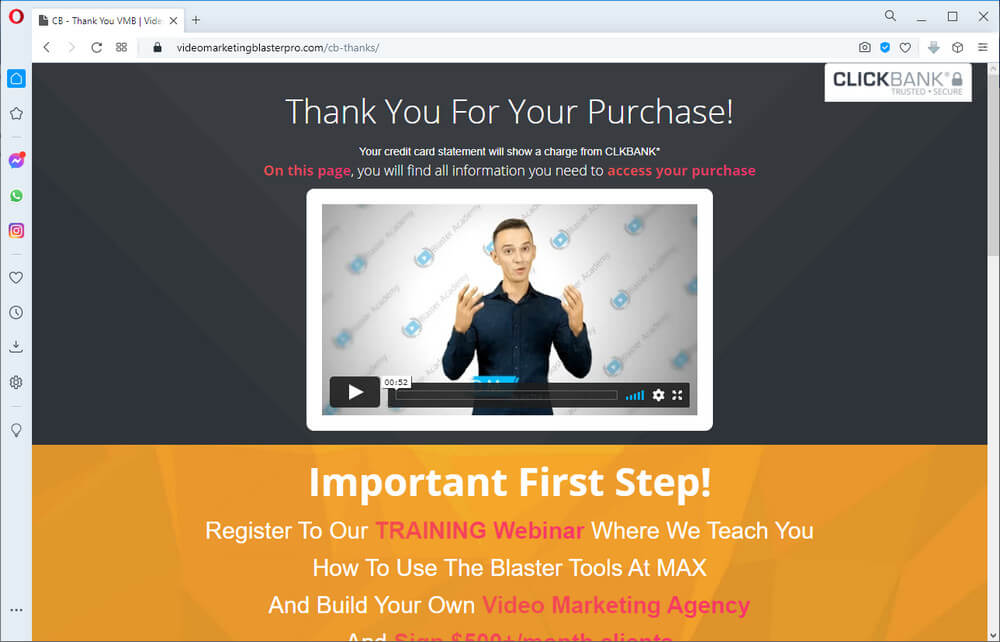 Once you purchase Video Marketing Blaster, you will be greeting by Vlad who explains how you will gain access to your purchase.
Below the introduction video, you will find an important first step noted for registering for their training webinar as they claim that they will teach you how to use their software, and even be able to build your very own agency, if that is your wish.
THAT webinar is NO LONGER AVAILABLE.
Below the webinar registration button, you will find 6 bonuses of which they are:
Apple Style Intro/Outro Video Pack
Vintage Photo Pack
850 Royalty Free Images
The YouTube Review Trick
100 Music Loops
Audio Video Platinum Pack
Once you get your login details in your inbox, and you sign in, you will be greeted by a video by Vlad, introducing you to their software.
In the training modules that contain videos, you will find help with:
Long-Tail Keywords
Full Training Video
The Dashboard
Keywords
Video Details
Niche Analysis
Video Report
Rank Tracker
Their software is only accessible from their website, so you will NOT need to download and install ANYTHING.
However, access to the Niche Analysis, Video Report and Rank Tracker are only offered to those who purchase their upsells.
Should you decide to purchase their Pro and/or Agency versions after purchasing the basic package, all you will need to do is to click on whichever option you wish to upgrade to, and you will be offered a means of buying the upgrade of your choice.

This software even has support, should you have ANY issues once you are inside the membership area.
CONS
Their Thank YOU for purchasing page appears to be no longer attended, as a vital webinar replay should at least have been made available… or that information removed from their Thank YOU page.
I did NOT take this software for a TEST drive… BUT… there is a 100% money back guarantee if you find any issue that you are not happy with using this software.
PROS
Given proper titles, tags, and descriptions, videos WILL rank better.
---

Is Video Marketing Blaster Worth Buying?

Yes, I do believe that Video Marketing Blaster is well worth the money as it will help anyone by not only saving you time in selecting your video titles, tags, and description, which also provides you with help ranking your YouTube videos well above your competition.
The reason I only gave this product 3 stars is for the lack up updating that has happened to their Thank YOU page.
Besides my recommendation, Ali offers you a no questions asked, 30-day guarantee that if you are unhappy for WHATEVER reason, you will be fully refunded.
Saying worse comes to worse and Ali ignores your request for a full refund, then you have only to reach out to Clickbank who ALSO authorizes this product as fully refundable for 30-days, but only IF the vendor ignores your request.
---

How to Make Sustainable, Long-Term Income
If you are looking for a serious way of making a sustainable, long-term income, then I would like to share a great learning platform with you.
This platform I have been a member of since 2016, and am STILL gaining lots of advantages here.
You can sign up as a FREE member, and you will NOT even be asked for a credit card either.
As a FREE member, all you are asked to do is to provide a profile image of yourself, and a short description that you would like to share about yourself with other members. This way, we know who we are speaking to.
And… as a FREE member, you will have 7 whole days in which you will have FREE access to the first 10 lessons, in which I urge you to take FULL advantage of. This way, you will see for yourself, the high quality of training that is provided.
Plus, you will be allowed to create a FREE website, in which you will EVEN be provided with a FREE SSL certificate to use on your free website.
That certificate will protect your website visitor's devices, making Google love your site even more than websites without security for their user's devices.

In order to provide you will full disclosure, you need to understand that this is NOT a get rich quick system, but rather a learning platform where like minded individuals gather daily to help each other out by answering questions of those seeking help.
You need to understand that only those of you who have determination, persistence and patience will gain from this training.
As a FREE member you can ask questions and get help with your FREE website.
The owners are sure that once you have experienced the world-class training provided on this platform that you will want to remain a member.
And, should you become a paying member, you will have even MORE tools available for you to use.
So… what are you waiting for?
Click on the button below and read through my FREE guide so that you will be FULLY informed as to what all to expect from this learning platform.

Hope you are now better informed and that I have answered the question: is Video Marketing Blaster worth buying.
Should you have ANY questions regarding this product, you have only to leave your comment below and I will do my best to supply you with a helpful answer.
Come, Learn to Earn,