Mike Williams tells you to imagine receiving a regular monthly payment straight into your bank account from YouTube, spending only thirty minutes a week doing something which he calls, great fun.
Then he says he thought it was too good to be true until it happened to him, as he claims that he receives an average of $10,000 a month, paid directly into his bank account, as regular as clockwork, by YouTube.
Williams goes on to say that the best part is that he doesn't have to mess around shooting videos.
He claims that YouTube allows him to plunder their massive stocks of certain types of video and use any of the footage that he likes, to make new videos.
And, he claims, this is child's play to do because YouTube has an amazing video editor on their website, complete with free music for your new video.
Now, he claims this is great fun, and according to Williams, this makes sense because the more videos YouTube has the more advertising they can show and the more money they can make, which is how you get paid.
Because the videos carry paid advertising which you receive a portion of what the advertisers have to pay.
With the video and video editing software both being free, Williams claims that the commissions you earn would then be all yours to keep. And that you can start today with no experience or technical knowledge needed.
My review of this product will cover the following:
If You Don't Want to Waste Anymore of Your Time on Scams…
See My #1 Recommended Way of Making Money Online:


What is YouTube Secrets?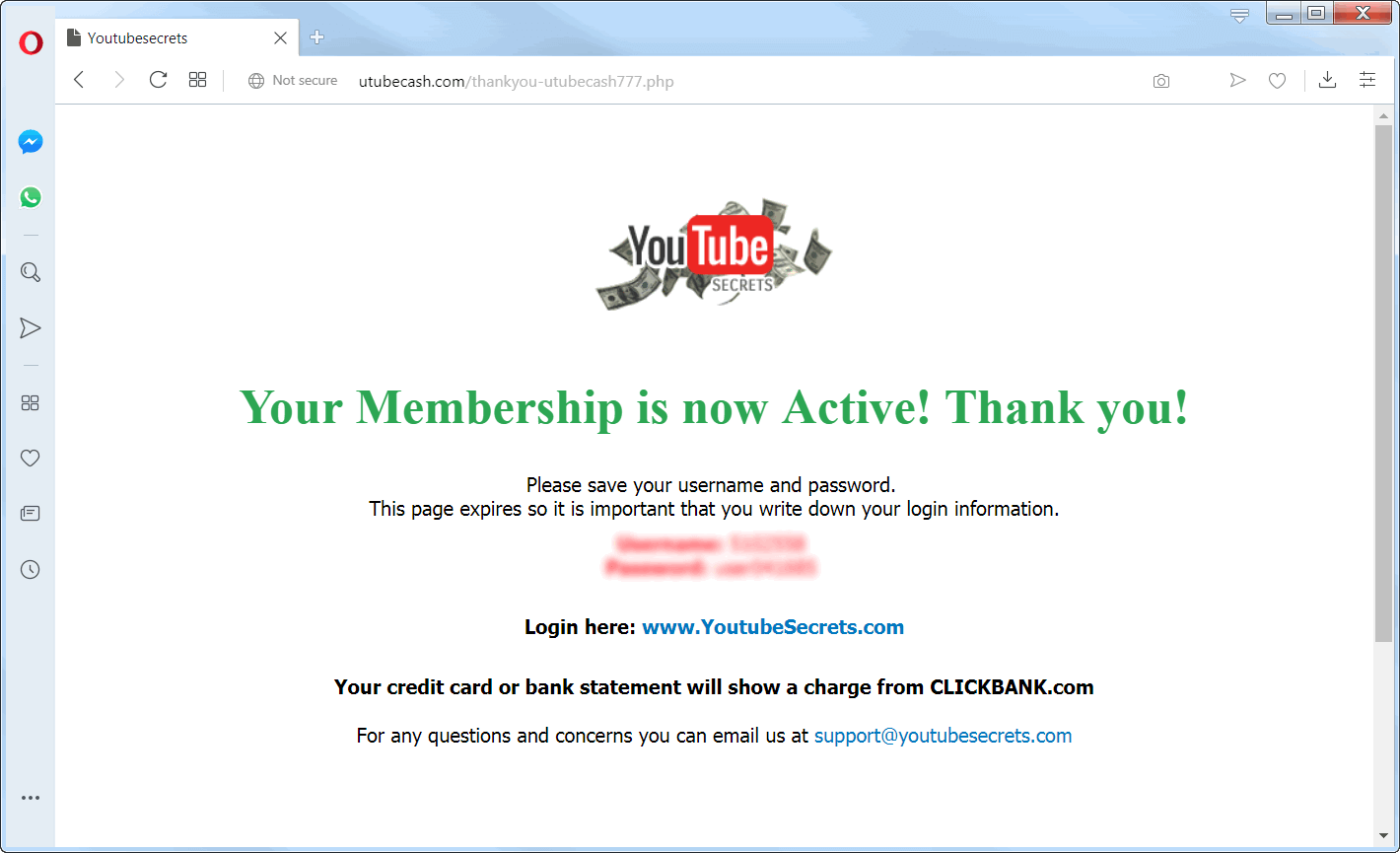 Program Name: YouTube Secrets
Website: http://www.youtubesecrets.com/
Price: $27 US funds ($1 US funds 7-day trial) + 1 downsell + 1 upsell
Recommended? NO
Rating:
---
Mike Williams claims that he has been very careful to pace this program so that it is perfect for beginners as well as more experienced folks.
He goes on to say that whether you are a total YouTube rookie and want to zoom straight to YouTube gold from your start… or, maybe you are an experienced operator wanting to improve your results… you can quickly discover for yourself how profitable and fun his training is.
Williams goes on to offer you an instant 7-day trial to all of his secret, step by step video tutorials to guarantee your success… even private, unlimited, one on one consultation with him, in which he personally will hold you by the hand to make sure that you make money with his system.
He even claims that he personally mentors everyone that joins making spots limited, and so he urges you to start now to start making money with YouTube today.
He claims to have "cracked the code" to making money effortlessly on YouTube and Williams promises to show you EXACTLY how he makes over $10,000 per month spending only a few minutes of work each week, promising you that there is NO filming nor technical knowledge needed.
---
---

How YouTube Secrets Actually Works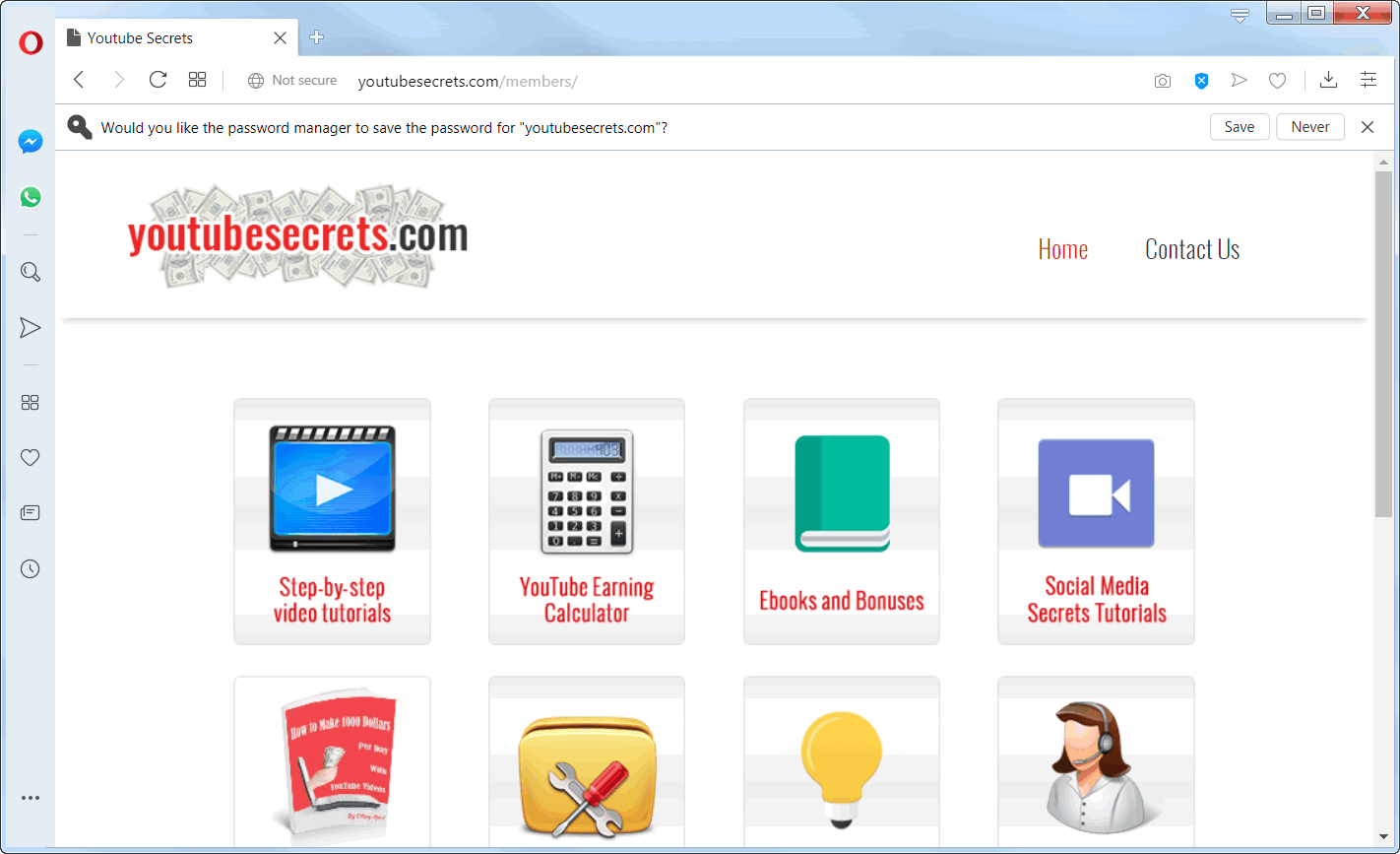 The Step-by-step video tutorials intrigued me in that the narrator was willing to share as much detail as he did… though he coughed a LOT through each and every video no matter how short they were.
However, once I got to the third video that was stated to be just over 27 minutes in length, the audio stop working just past 5 minutes into the video, right up to the end… which, I have to say I found to be a big disappointment.
Then later in this training module, I found more issues in 3 other videos.
Titles of the training are as follows:
Welcome to Making Money on YouTube
Video Editing Introductions
YouTube Video Editor How To (no audio after 5 minutes)
Adding Ad Free music if you want to monetize (audio silence for 59 seconds)
Advanced YouTube Settings
Advanced Search
Creative Commons (video no longer viewable after 3:08 minutes)
Descriptions are very important (no audio at all!)
Do not keyword spam
How to add your description
Importance of Thumbnails
Do not duplicate
How to calculate earnings
View Statistical Data
SocialBlade
VidIQ
Apply techniques to current videos
Get your videos seen – Importance of thumbnails
More Views More Money
Message to subscribers
Adding an Ending to your videos to get more subscribers
Annotations
Comments
How to write a description
Keyword Search with VidIQ
How to monetize a successful channel
Channel Settings Setup
Can you make money on YouTube?
Age Restrictions equals no pay
How to setup your account to receive monetization
Live Streaming
The third video (with no audio after 5 minutes) is the ONLY video that was THAT long. Most of these videos are anywhere from 2 minutes to 10 minutes in length.
Ebooks and Bonuses consisted of 9 eBooks of which many that had dates are older, and most (if not all) were offered as freebies by the authors.
Social Media Secret Tutorials is a collection with the videos which were created by James Burchill from Hamilton, Ontario, Canada back in what appears to have been 2014.
Introduction and Opportunity Overview
The 7 steps to successfully duplicating my social media profit process
Why clients will gladly pay you hundreds if not thousands of dollars each month
The money proof discussion
The monthly process and procedures (part 1)
The monthly process and procedures (part 2)
36 Ways to Fail in SMM
How and where to find contractors
The content you create
6 Secret Source Ideas
Sample Client Updates (in Hootsuite format)
My lead generation strategy
The 99 dollar solution
Email List Building Explained
If you were the answer…
The technical benefits of SMM
Easy upsells for hundreds more
CC Matrix
The engagement matrix (bonus)
Demystifying Social Media – TV Interview (URL in YouTube)
Bulk scheduling sample – Excel spreadsheet (video missing)
Hootsuite Rules
BONUS Shameless Self Promotional Information (video missing)
YouTube Secrets Ebook – 64 pages with large print so that it is easy to read.
Tools and Resources provide a list of 20 online tools and/or websites to help you create your videos.
Tips and Tricks offer short videos which average anywhere from 6 to 10 minutes, in length in which the first 7 were created by VideoCreators.com for what appears to have been their YouTube channel.
How to Infuse Growth into your YouTube Channel
How to Never Have your Channel Take Down
How to Make it EASY for People to Love Your Videos
How To Never Run Out of New Video Ideas
7 Steps to Launching a New YouTube Channel
How To Make Money on Fiverr as a YouTube
How To Grown with 0 Views and 0 Subscribers
69 HACKS How To Grow a Successful YouTube Channel (only 44 hacks!)
How To Get Your First 100 Subscribers In Just 1 Week
How To Get Your First 1000 Subscribers FAST!
Youtube Tutorial – How to Grow a Successful Channel
PROS
Though this training MIGHT be good for beginners, I would think that most experienced YouTubers would prefer training that is more inclusive and up-to-date.
CONS
There were far too many defective and missing videos, as well as missing attached documents for which promises were made within the videos would be included.
Most of the training appears to be well over 5 years old, and some things mentioned in the Social Media Secrets (example: Google+) no longer exists.
The one on one consultation promised did not exist for me. In trying to use the vendor's support forms on his website, the forms did not work.
When I sent an email to the support email address shown to me on the vendor's thank you web page, the 6 separate emails I sent detailing the issues with his videos remained unanswered.
After days with no response received, I contacted Clickbank to make sure that my next payment was stopped as I have no wish to continue with this website.
---

Is YouTube Secrets for Real?

I'm sure that YouTube Secrets website started off meaning well but with what now appears to be a neglected website and no real support for their training, I can NOT recommend YouTube Secrets.
---

World-Class Training Platform for Making Money Online
The training platform that I would like to share with you, I have been a member of since July 2016. The training truly is world class and it is kept up to date on a regular basis. Not only that but you can join as a starter member for FREE and take 7 days of FREE training.
That's right… NO MONEY necessary for you to take the 7 days of FREE training. You won't even be asked for a credit card.
With over one million different niches to select your new business from, you will find it easier to make you choice with help directing you to the best niche for YOU.
Not only that but the training will teach you how to create a business that will draw your customers to your business like a magnet… all WITHOUT spending so much as one penny on advertising. The technique is like what has brought you here to my post today.
So, if you are tired of chasing that proverbial pot of gold, then check out my FREE guide.

Oh… and just to be perfectly clear about this… this is NOT a get rich quick scheme. So, if working on your business is not what you want then this is definitely not an option for you.
This training platform takes all of the guesswork out of making money online by providing you with not only world-class training but also the business tools needed to setup and operate your very own business.
Now, with ZERO risk and endless possibilities waiting for you, what are you waiting for?

If you have any questions regarding whether YouTube Secrets is for real, or if you just want to add information to the conversation, I do hope you will seriously consider leaving me a comment below as I respond very quickly to all comments.
Looking forward to hearing from you,