Ankit Mehta and Pankaj Malav are the vendors of revideo.
Their landing page video narrator (sounds a lot like Todd Gross) welcomes you to the home of reinvented, reengineered, and reengaging videos.
He claims that with revideo it's finally fast and easy to create eye-gluing videos for:
Instagram Reels,
Stories,
Tik Tok,
YouTube,
Ads, and
more.
The narrator continues explaining that you can:
Show your latest product,
Promote a new sale,
Make an announcement… a BIG announcement, or
Share your content on social media.
Everything with 100% more engagement, 50% lesser ad spends, and more people consuming your content till the end, guaranteed, the narrator assures you.
"How easy?", you ask.
Well, the narrator claims that it's so easy that you'll want to create more and more videos. And he's quick to add, why not, if video creation was as simple as 1, 2, 3.
Then he tells you that you select from simple templates, choose your footage, scene, animation or style, customize your text and your logo, then let them sprinkle some pixie dust and you're good to go.
He claims that your sensational content first, market driven video is ready to share with breath taking design, animations, subtitles, audio waves, and more.
They say to let A.I do the heavy lifting for you.
My review of revideo covers the following:
See My #1 Recommended Way of Making Money Online:


What is revideo?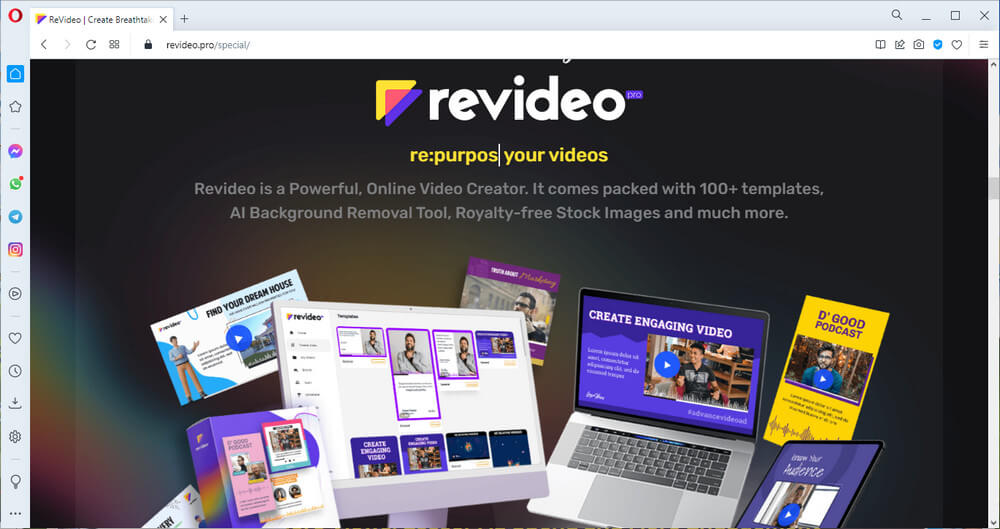 Program Name: revideo
Website: https://revideo.pro/special/
Price: Personal Use: $35, Commercial Use: $39.20 US funds, PLUS 10% discount coupon for Commercial AND 5 Upsells and 2 Downsells
Recommended? YES
Rating:
---
According to the video narrator, revideo is the first to market:
an award-winning,
speech to text technology,
to add captions right inside your videos,
without any expensive tool or manual work.
Yes, the narrator exclaims, they have cracked the code on how:
top marketers,
social media influencers, and
content creators… like:

Gary Vyenerchuck
Jay Shetty, and
Russell Brunson
…are getting more and more views on their videos, and converting them into:
Prospects,
Leads, and
Buyers
The narrator is quick to say, so what you are getting with revideo today:
50+ proven to convert, hand-crafted video templates, right inside your dashboard, to kick start your video creation.
According to their landing page video narrator, each template is designed with precision to work for social media, short content, ads and more.
He states that revideo is award-winning, machine learning enabled speech to text technology that automatically transcribes any video into text in over 20+ languages, and adds it right inside the video with multiple customization options.
The narrator claims that when 85% of the videos on social media are watched with audio muted, it ensures that your visitors get your message even without sound.
brand identities, so you don't need to upload or customize video each time you start. Apparently, everything is ready and prefilled for you.
multi video orientations, so that you can repurpose any video of any dimension and make it suitable for portrait, square or landscape platforms.
custom headline and description text inside your videos, so you can highlight your message and reach marketing goals faster.
custom video upload and asset library, so you don't need to upload your video again, and that you'll find them on a centralized panel.
Team seats available for you and your clients, so that you can work on the same projects with separate login access.
More features like:
Text styles
Emoji support
Animated stickers
Custom assets, and
More
Text styles
Emoji support
Animated stickers
Custom assets, and
More
The narrator says that what you have seen is really just a tip of the iceberg here.He claims that revideo has over 50 more features, believe it or not, that you can actually explore inside the dashboard.
Apparently, their goal is to provide a platform where their users can create high converting videos for any marketing goal.
The narrator says, at the lowest price with so many features at this low price it's the perfect choice for:
content creators,
influencers,
marketers,
coaches,
teachers,
business owners,
real estate agents, and
anyone aiming to grow their brand and get staggering results.
All the videos created with revideo belong to you. Use it for local clients or sell on Fiverr and keep 100% of the profits.
The narrator says, just think about it, when other tools or freelancers can take hours or even days, revideo gets your video ready in just minutes.
He says, so here's their special Founder's deal just for you.
As a part of the Founder's deal, he claims that you are getting revideo with an agency commercial license.
He says that means that you can create mesmerizing videos for local businesses or clients, and charge them monthly or a one-time high fee.
He claims that you are also getting 5 sub-user seats that you, your team or clients can have separate logins to create or manage the campaigns. Then he exclaims… how cool is that!
The video narrators says that the possibilities here are absolutely endless when you use this brand new, AI (Artificial Intelligence), cloud-based app.
He says that it's your time to upgrade to revideo when thousands of marketers are missing out on this; so secure your access right now.
Apparently, your purchase is secured by a 14-day money back guarantee, and that they are just an email away to help you.
This limited time Founder's deal is going to close in the next few days, so be sure to buy now.
---

How revideo Actually Works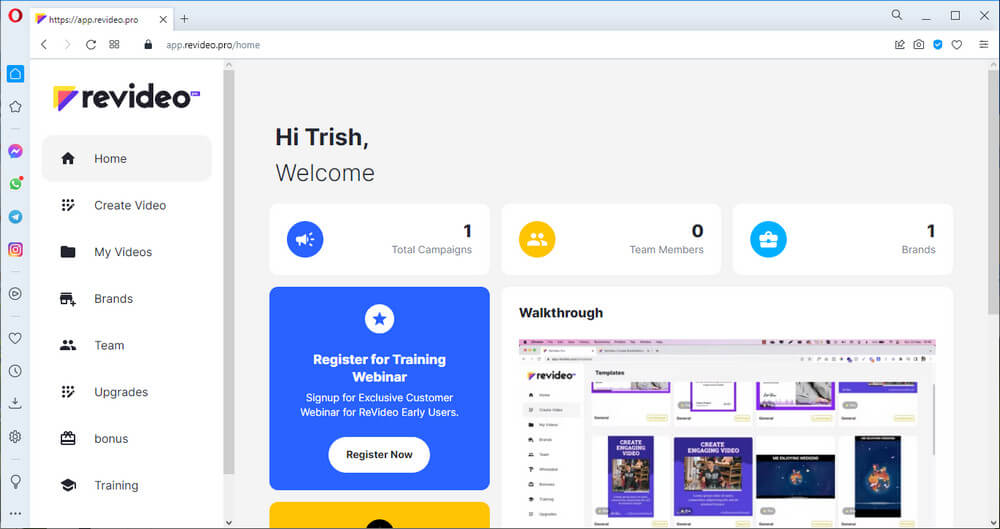 Inside the revideo dashboard labeled as Home, you will find a Walkthrough video (07:17 minutes) that provides you with a demo video (the same video that is on their landing page that offers a sneak preview of their app.
Under Create Video, you are provided with 6 different templates, but only 3 different sizes in which to choose from. If you want more than these 6, then you will need to purchase their upsells in order to gain access to more templates.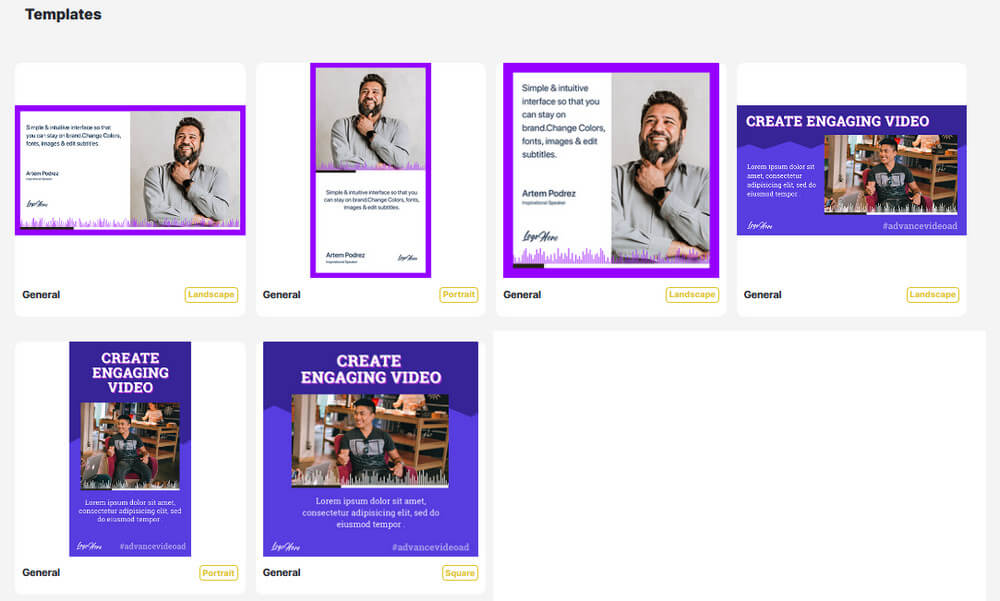 The My Videos is where you will find the videos you create.
Brands provides you with a place to store the brand logos you want to use on your videos.
Team is where you can create separate access for your team and/or clients.
Upgrades provides you with access to:
Stock Image Finder – using a few keywords, you can find images you want to use
Remove Background – provides with an option to remove background from an image
Audio Tracks Pack #1 – short mp3 files
Audio Tracks Pack #2 – more, short mp3 files
The bonus area provides you with free access to signing up for the following (most are apps):
VoiceFox
SurveyFox
VidFox
KissApp CRM
AppsBuilderPro
KissMeet [actually MeetFox]
10xtools
Xpages
xSocial
Freshmails
xConvert
Semi-Exclusive – linked to anther page with 80 other included products to download
Revideo MEGA – linked to a Google doc with MORE links to more freebies [though, this doc contains a warning shown in the screen print below]

Training provides you with two videos, one is the same video as you saw on their landing page and the dashboard, though here it is titled differently:
Demo (07:17 minutes)
How to create video using ReVideo (05:03 minutes)
Your Name is where you will find your login details.
PROS
The videos certainly are different looking and might be eye-gluing, though only time will tell for certain.
You get exactly what is promised on their landing page, minus the 100+ or 50+ templates mentioned.
Plus the access to their upgrades, which are really only inclusions, which are mentioned on the landing page.
Their support actually DO respond to help answer questions you may have.
CONS
I found it easier to upload my videos edited previously rather than using their editing option.
You cannot fine tune the editing on their platform like you came when using video editing software that is installed on your computer.
There is no custom video upload and asset library, and I had to upload the same video over and over again, for EACH template that I used to create a repurposed video with.
WMV formatted footage (Windows) is NOT acceptable to upload to their platform for use in creating your videos.
Once I converted my videos to MP4 format they were accepted.
Their tutorials should contain more information, such as editing the sub-titles, and their "How to…" video needs updating.
I found their landing page claims a bit overstated for their basic package, as you do NOT get access to 100+ templates (50+ stated in their landing page video).
Those are ONLY available if/when purchasing their upsells.
Just a heads up… when you get the following prompt (screen print below), you will need to go back to your My Videos and delete the Draft version as it will NOT open, it will be totally unusable. Then go back and start again.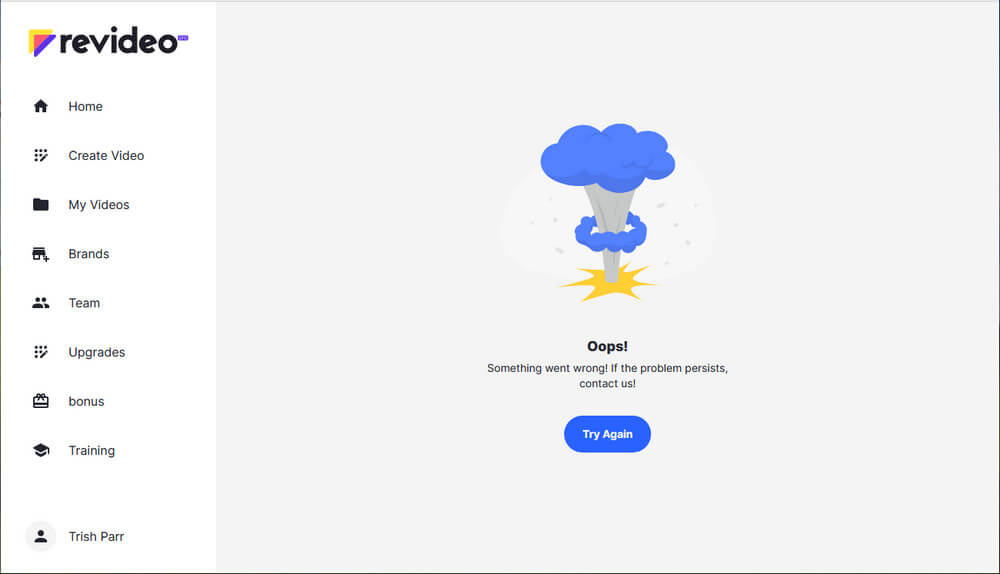 ---

My Take on revideo

Can you make huge profits using revideo to sell services to businesses?
Of that I rather doubt that it would be possible as a stand-alone business; though it could work well as an added bonus to an agency's offerings to local businesses.
The videos are acceptable and I will be using those that I have created in testing this app.
Because I found it easier to edit my original video BEFORE uploading it to use in their app, I feel that their editing option within revideo needs improving, thus my 4 out of 5-star rating.
Below is my video review of revideo by Ankit Mehta and Pankaj Malav


Summary
Videos definitely help any business grow by providing yet another means for creating content that is easy for viewers to consume.
Making short, helpful videos do tend to work best on social media. Even YouTube is now encouraging their users to create short videos.
If you want your offers seen, video is the way to go!
Should you have any question(s) with regards to: can you make huge profits using revideo to sell service to businesses, please do leave them in a comment below.
I value my viewers and will respond to you in a timely manner.
Videos Inform Viewers,