Vendors Tom Yevsikov and Firas Alameh, uses a narrator named Joey to tell their story.
And, he asks you it you know that there are 1 billion hours of content watched daily on YouTube.
Joey goes on to say that to make it clear, this is 41 million hours watched every hour and seven hundred thousand hours watched every minute.
At that point, he explains that YouTube still is the biggest traffic and exposure source your business can get.
And, he claims that literally, all of your business prospects and ties to consumers are active mostly on YouTube.
So, with that in mind, Joey says that in just 3 minutes you'll be able to tap into all of this goodness on complete automation, even if you have:
no subscribers,
no videos on your channel, and
no idea what to do next,
…he claims that you will be able to get thousands of new clicks, subscribers, viewers and sales from YouTube, in less then 24 hours.
Skeptical?
Curious?
He says to give him 3 minutes of your time and he'll show you how it's possible.
My review of TubePal will cover the following:
If You Don't Want to Waste Anymore of Your Time on Scams,
See My #1 Recommended Way of Making Money Online:


What is TubePal?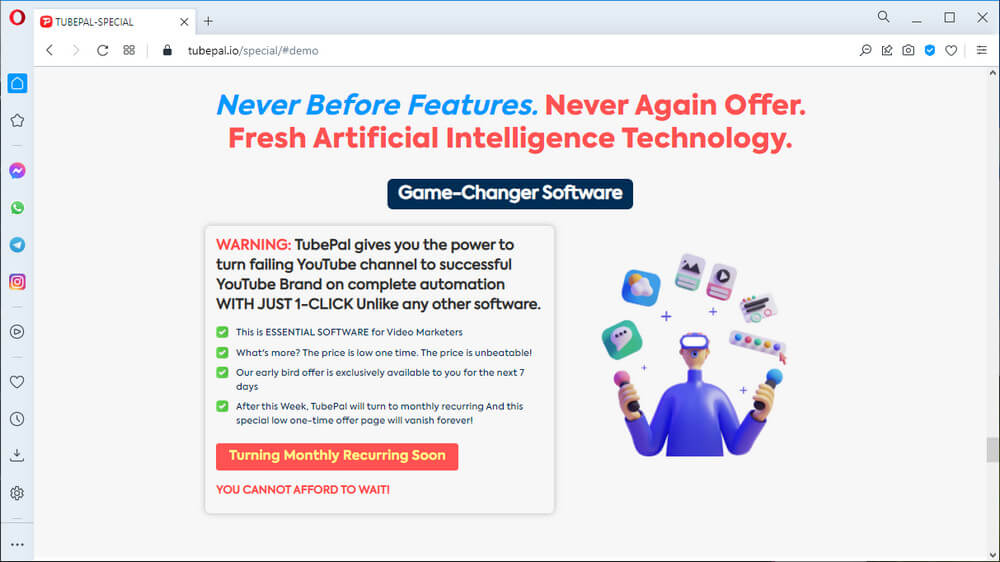 Program Name: TubePal
Website: https://tubepal.io/special/
Price: $47 US funds for Standard and $67 US funds for Premium + 5 upsells
Recommended? NO
Rating:
---
Introducing TubePal, which vendors Tom Yevsikov and Firas Alameh claim to be the worlds most complete YouTube marketing software.
Apparently, it's being call the "all in one YouTube solution", and best app to get passive, evergreen, free traffic from YouTube, by claimed celebrities and several big business owners that use this powerful app to get millions of subscribers and views on videos.
The narrator says to imagine your YouTube growth instantly and for free.
He claims that TubePal is feature-packed, incredibly innovative, and easy to use YouTube automation software that takes care of everything, from:
following,
commenting, and
engaging with other channels,
…on auto-pilot.
All while building backlinks, to rank your videos higher.
According to the narrator, competition research giving you data not even the owners of those channels know.
Here are some of the promised key features:
1.) Set auto-reply on comments on your YouTube videos. Apparently, it could be keyword based, generic replied, auto-delete offensive comments, or reply to the same comment multiple times.
It is said that you can set your comment reply comment template and get complete reporting of this process.
2.) Set auto-like, auto-comment on your YouTube videos.
3.) Set auto-channel subscription on your YouTube.
4.) Auto-set video link wheel, popularly known as the YouTube back link to get free traffic.
Apparently, you'll be able to open and close real campaigns, set multiple money videos and get complete reporting of the process.
5.) Track video rank on YouTube based on keywords to improve ranking and traffic with day wise rank reports.
6.) Get complete analytics of videos and channels, be it views, comments and shares.
Estimated minutes watched
Average view duration
Subscriber vs unsubscribe
Likes vs dislikes
Video added vs video removed
Device type report
Operating system report
Annotation impressions
Annotation clicks and closes impressions
Annotation clicks and closes
Audience retentions
…and much more, said to give you insights into what needs to be done to make viral videos.
7.) YouTube search engine integration to find best videos for traffic. You'll be able to find the best videos, playlists and channels via keyword.
8.) Complete video and playlist manager.
9.) Multi-lingual support with built in 12 languages. They claim that you can set your dashboard in your local language, and use TubePal whichever way you want.
Joey claims that this collection of premium features puts TubePal into an entire elite traffic class of its own.
He says to imagine no more crying for traffic, no more wasting time and effort on shortcuts that burns thousands of dollars, no more waiting months for results with SEO or ads.
Apparently, smart entrepreneurs use TubePal to setup automated campaigns to get traffic from YouTube videos organically for the long run, without effort.
And he says there's good news for the agency owners: hundreds of smart entrepreneurs took TubePal commercial licenses, created gigs on Fiverr and Upwork, and now manage client's YouTube channels on automated TubePal campaigns, and are now charging $100 to $1000 for it.
A task, he claims which takes just five minutes in the TubePal dashboard.
With TubePal, he says that anyone can charge $100 to $1000 for YouTube channel management.
Joey says to imagine a new income source opportunity with a TubePal commercial license.
Plus, he adds, TubePal has complete, step-by-step video training and it comes with a no questions asked, 30-day money back guarantee.
He says that this means if you don't like it, even on the 30th day after purchase, simply message them and they'll immediately refund you 100% of your amount.
Like all good things, he continues, this special, one-time offer page will vanish forever, and TubePal will turn back to a monthly recurring fee.
The narrator says that this is the dream tool of every business owner, so get your hands on it before everyone else starts exploiting this gem of an app.
He says that your part of YouTube traffic and sales starts here with TubePal.
He says to try TubePal, because it's completely risk-free, and that you're to get TubePal before they close this offer.
---

How TubePal Actually Works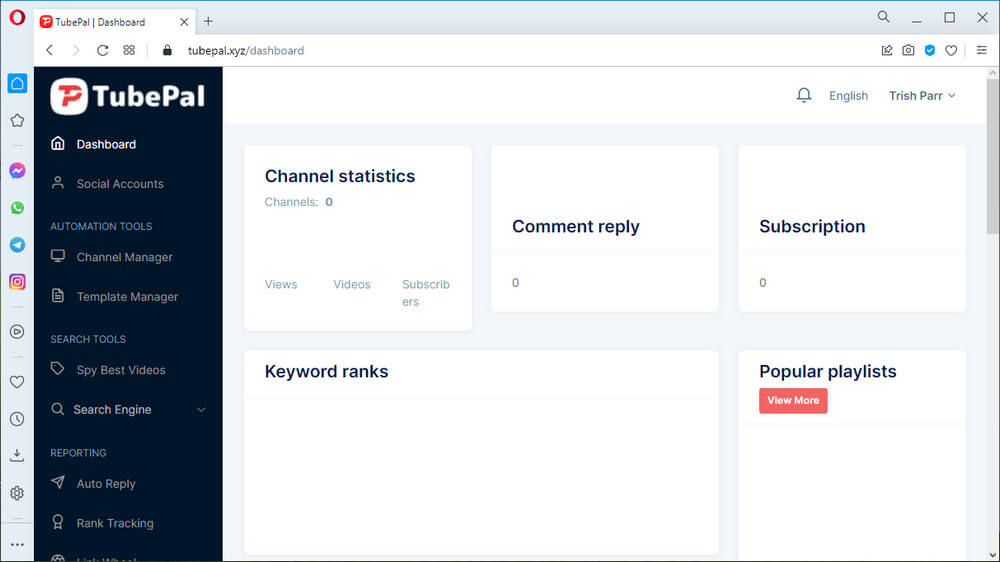 From the Dashboard, down the left-hand, sidebar, you will find the following:
Social Accounts – this where you import your YouTube channel, by signing into your YouTube channel account from inside their Dashboard.
AUTOMATION TOOLS
Channel Manager – Provides the following:
Like/Comment Campaign
Subscription Campaign
Video Manager
Playlist Manager
Upload Video
Each option offers an Action button that takes you to a form to create your campaign.
Template Manager – Provides the following:
Auto Reply Template
Auto Comment Template
Each option offers an Action button that takes you to a form to create your template.
SEARCH TOOLS
Spy Best Videos – provides you with a YouTube Keyword Finder
Search Engine – when clicked, reveals the following:
Video – provides you with YouTube Video Search by keyword
Channel – can deliver you with YouTube Channel Search by keyword
Playlist – offers you a YouTube Playlist Search by keyword
REPORTING
Auto Reply – offers a form for setting up your Auto Reply Campaign
Rank Tracking – give you a form for setting up your Video Rank Tracking campaign
Link Wheel – provides a form for setting up a Video Link Wheel campaign
Tutorial – takes you to another page titled TubePal Tutorial with a video (29:17 minutes)
PROS
I could NOT find any.
CONS
Support ignores tickets, as I submitted a ticket on day one and was ignored.
When I didn't hear back from their support after over 24 hours, I then reached out to the vendor, using their email address that was supplied by PayPal on my invoice, and I have not heard back from that email either.
The video Tutorial is NOT easy to follow as the narrator starts showing you how to setup your Channel Manager, but you cannot do that first, as you NEED to create the templates under Template Manager FIRST, before being able to set up your Channel Manager.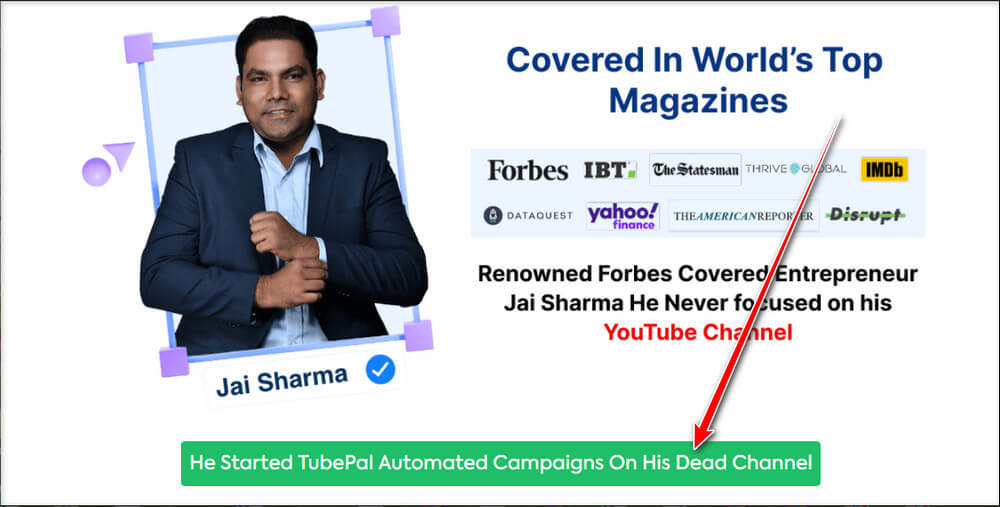 With their landing page clearly stating that Jai Sharma only allowed testing done:
"On His Dead Channel" (shown in the screen print above)…
And then, learning that I needed to sign into my YouTube account using my gmail account… for security reasons, I decided to create a totally separate, brand new YouTube channel to test TubePal out with.
This way, I can safely share my results with you here, and not hurt my own channel should the test fail.
There are NO instructions provided for YouTube accounts with NO videos, even though their promise of:
"in just 3 minutes you'll be able to tap into all of this goodness on complete automation, even if you have no videos on your channel…"
…was clearly made within the first few minutes of their landing page video.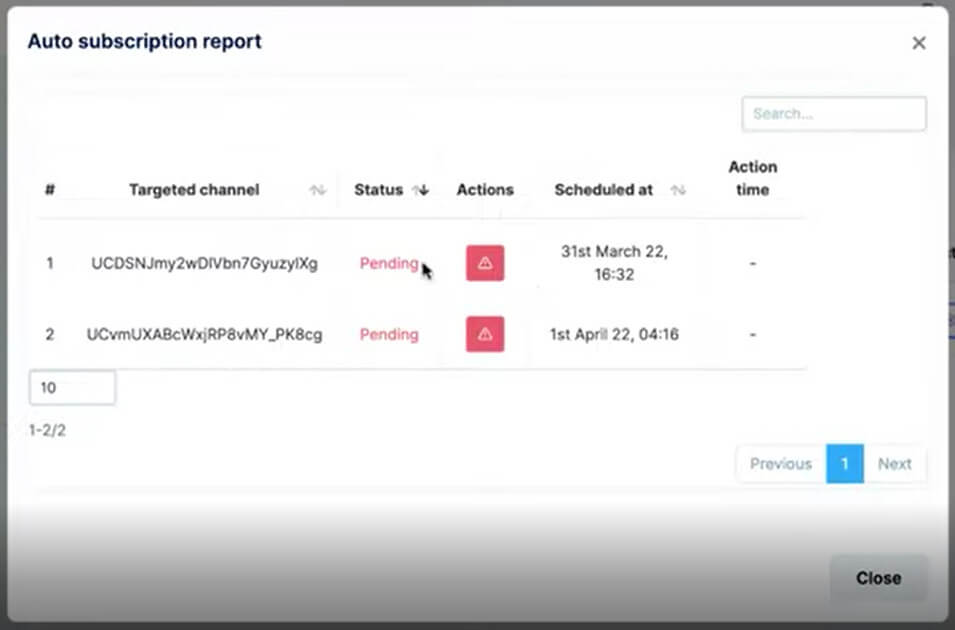 When setting up my Channel Manager, I entered the YouTube Channel's ID that I wanted to Target… as shown in the Tutorial video (screen print shown above).
Yet, the channel's ID that I entered once, never appeared again and there is NO means of adding it after.
That field is NOT available when I click the same icon that the Tutorial narrator says to click on, in order to see the channel's ID that you've entered.
There is no way for me to fix any of this without their Support staff or the vendor responding.
I could NOT edit a Playlist that I forgot to set as Public and I could NOT add just one video to my Playlist from inside TubePal, as the Tutorial narrator claims I should be able to do.
Under SEARCH TOOLS, I selected Spy best Videos, and when I entered my keyword, well… see screen print below.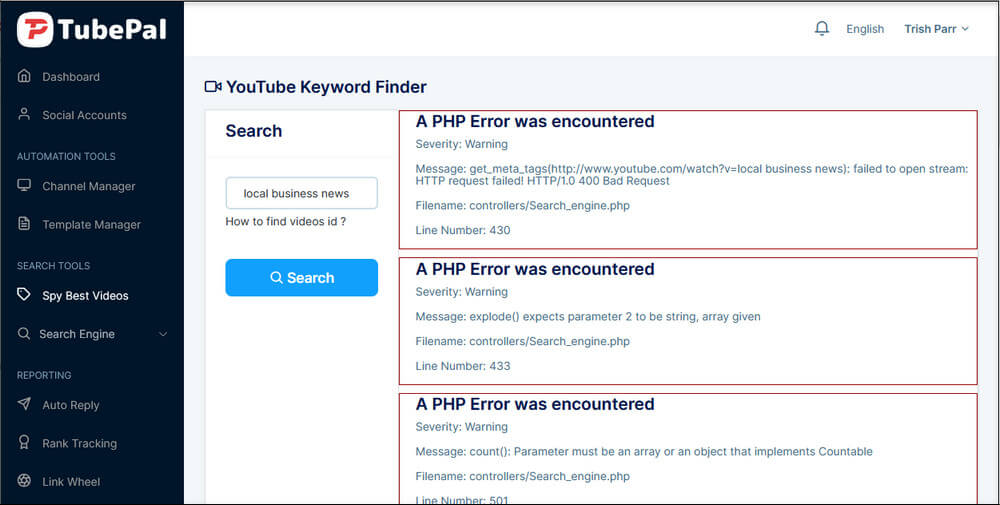 Under SEARCH TOOLS, selecting Search Engine > Video, this does NOT work as the Tutorial narrator promises.
When I click on the three dots on a selected video (as shown in the Tutorial) and selecting Tag / keyword (one of the choices you can select from a drop-down list), my browser opened the following page in a new tab.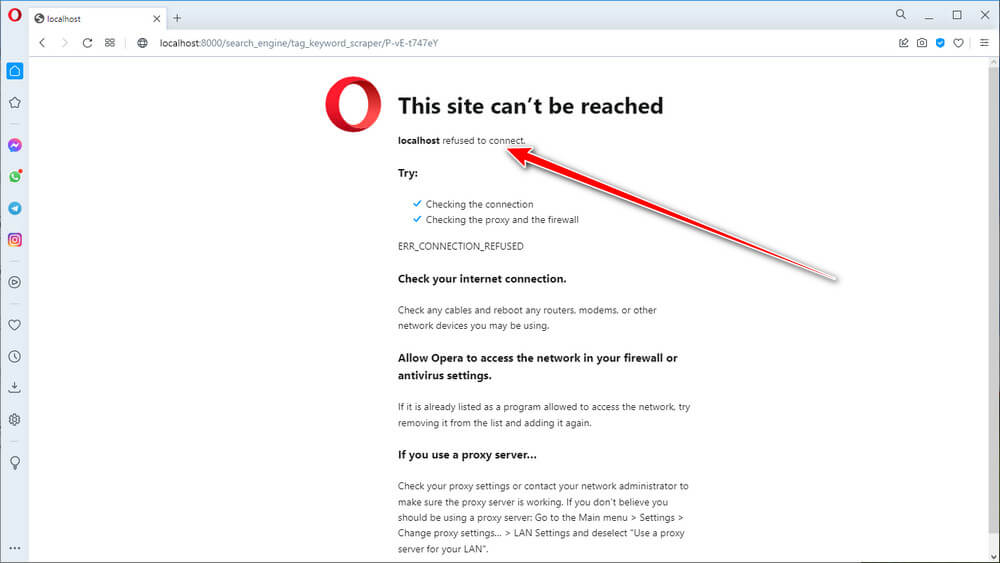 YouTube REFUSED to connect from inside TubePal. And the Copy url option does NOT work either.
The same REFUSED to connect happened from SEARCH TOOLS, when selecting Search Engine > Channel, then entering my Keyword and clicking the Search button, and once I picked a video, clicked on the 3 dots in the upper, left corner of the thumbnail of the selected video, and clicked on Playlists.
Yet, if you select Visit channel from the drop-down list, your browser is set to the proper channel.
And, from SEARCH TOOLS, when selecting Search Engine > Playlists, once you've added your Keyword and the Channel ID you're interested in, and you click the Search button, you'll find the same three dots on each thumbnail offered here too.
When clicked, the drop-down list offerings are Video (REFUSED TO CONNECT), Vist [NOT a typo] playlist (REFUSED), Visit channel (SUCCESS!), or Copy playlist url (FAILED).
Under REPORTING > Auto Reply, you will see the very same option that you see from Template Manager, though it is supposed to actually keep track of comments that your TubePal has made for your channel.
Under REPORTING > Rank Tracking, is suppose to show the rank of your video(s) for a particular keyword.
Under REPORTING > Link Wheel, apparently you are supposed to be able to see a list of video IDs that you've added. It is said to be "like backlinking".
When trying to Create campaign, I noticed that the one video on my new channel was showing a broken link icon in place of the thumbnail.
It appeared though YouTube was blocking my TubePal account, but when I checked under Channel Manager, I saw the following: "The request cannot be completed because you have exceeded your quota. (quotaExceeded)".
This I found rather odd, as I had stepped away from my computer for a few hours (life demands called me away).
When I returned to continue with my testing, I wasn't even 30 minutes inside the software and I found dead links to my YouTube channel.
Was that TubePal or YouTube that was doing the blocking? Your guess is as good as mine.
The Tutorial video is in bad need of being updated to match the updated changes that have been made in their software, that is should they ever get this software back to some semblance of working properly.
Two days after putting in 3 tickets that were ignored, when I tried signing back into my TubePal account to record on video my experience to share with you, I found that my TubePal account had been closed, without cause, notice, or a refund automatically issued.
Having not been able to reach ANYONE from TubePal, I signed back into my PayPal account (thankfully, I had that platform's buyer protection from unscrupulous vendors).
And, put in a ticket to the effect that I had tried reaching someone, anyone from TubePal, without success, and that on the 5th of May, I found my TubePal account shutdown without notice, cause, or refund.
On the 24th of May, I misinterpreted what PayPal stated in their email to me, and I foolishly closed the claim because, I thought I had been refunded, only to discover that I had not.
LESSON LEARNED: Don't YOU ever close a PayPal case that you've opened. If it sounds though PayPal has threatened you, DOUBLE-check with PayPal BEFORE acting on closing your claim!
I am far from a newbie and I have now lost $52.95 Canadian funds because of my not understanding EXACTLY what was stated by PayPal.
---

My Take on TubePal
I've been left to assume that TubePal has been deemed 'black hat' by Google's YouTube and may have been forced to shutdown.

Can TubePal really get free traffic from YouTube?
Not likely as the software does NOT function properly, and their support appears to be none-existing, as I have not been able to reach anyone either at support OR the vendor.
Therefore, I do NOT recommend TubePal.
After foolishly closing my PayPal claim, thinking I had been refunded, I tried logging back into my TubePal account and was allowed in this time, thus…
Below is my video review of TubePal by Tom Yevsikov and Firas Alameh.


Summary
It truly is disappointing to see such potential wasted by scammers who deem it more important to steal your hard-earned money then to present their customers with real software that does what they promise it will do.
That's why I've made it my mission here to test these products out, saving YOU the hassles.
And, I have discovered that there are only a select few vendors who are truly honest, and they offer really great products that you and I can use… all for a great price too.
You're not to worry. Just make sure to ALWAYS do an internet search for whatever product of service that you are looking to purchase, so that you are fully aware of other's experiences with said product or service, BEFORE making your decision.
Should you find a product or service that does not hold up to their promises, you can always seek a total refund, as long as it is within their set time-frame for a refund.
If you find no refund policy posted, you can STILL ask for one if you are not truly satisfied. But do be sure to be honest about your refund requests too.
If you have any question(s) regarding TubePal really getting free traffic from YouTube, please leave them in a comment below so that you and I can discuss this further.
I value my commenters and I respond to all comments posted, in a timely manner.
Don't You Get Ripped Off,