James Francis is said to be the founder of this formula, and he says that his landing page may be the most important letter you read all month.
Then he promises to explain how you can launch a side hustle that could generate from $500 monthly, up to $2,000 in just a few hours weekly.
And, he says he will show you how to do this without using Bitcoin, trading, taking surveys, drop-shipping, Blackhat tactics, or any of that stuff.
Francis claims to have created a system for selling digital products to buyers who are searching the web for solutions.
He goes on to claim that his system has been very reliable over the last eleven years and that he has helped thousands of people create their side hustle.
After taking you through his college days, and all of the different things he tried and failed at, he talks briefly about the recession from 2008, and how difficult his start was.
Francis then announces that once he shifted from selling to serving others, within 30 days he had enough money to pay for 3 months rent.
This review will cover the following:
See My #1 Recommended Way of Making Money Online:


What is The Prosperity Formula?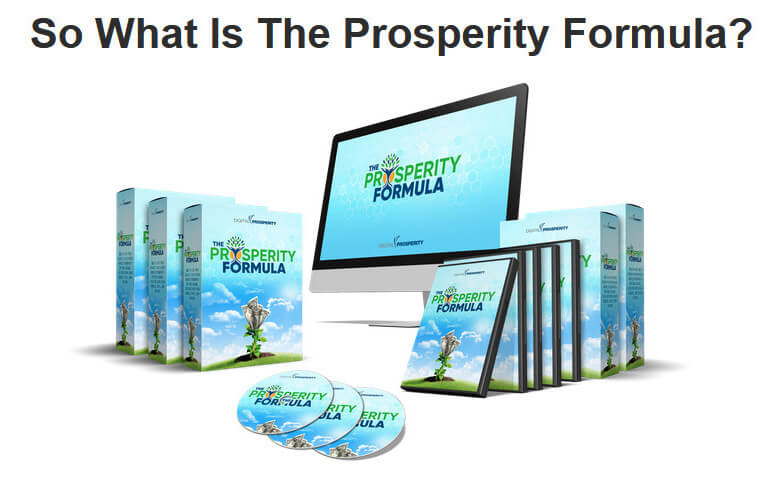 Program Name: The Prosperity Formula
Website: https://secure.digitalprosperity.com/the-prosperity-formula-written-cb-2020
Price: $27 US funds + 2 upsells (first one at bottom of Clickbank invoice)
Recommended? NO
Rating:
---
James Francis states the following:
This works in ANY niche – using his formula, he claims that you can generate income in almost any niche where people are spending money.
Sales will come in within days of launching – Francis claims that The Prosperity Formula uses mini-site templates to drive sales and that there is nothing technical to be concerned with. He claims that it is common to start getting sales within 1-3 days of launching.
You will need only a few hours per week – he claims he built this formula so that you could use it to get results with only 3 to 5 hours of work per week.
He also claims that The Prosperity Formula is made for beginners, where he starts at the beginning and will take you through each phase, step-by-step.
Not only that… but he claims that you can do what he teaches as you commute back and forth to a full-time job.
With his formula, Francis claims that you can start driving sales in just a few hours per week. Then you can decide whether to quit your job or not, once you start getting sales.
He goes on to say that it doesn't matter whether you are male or female, young or elderly, a techie wiz-kid or a newbie, he can show you how to do this in his training.
Francis even goes so far as to claim that he has seen people from almost every "walk of life" generate extra money with his formula.
You will find 6 short video testimonies he has had what he claims as his students, make for him that are hosted on his landing page that you can listen to.
Francis claims that you can leap-frog what he had to take YEARS to learn, saving yourself frustration.
He then states that the only limit to your success is how many mini-sites you can launch, and that once you get to the point of launching so many mini-sites, and sales are coming in, you can replace your 9 to 5 income.
He claims that once you understand the psychology behind why people spend money… and how you can learn to ethically persuade strangers to spend their money with you, that you will have what MOST of the population will never have… the ability to generate sales on demand.
Then… he goes on to say that when you learn to sell something to a stranger regardless of your circumstances, you will be able to increase your income whenever you want to.
Francis claims that The Prosperity Formula is a proven method for creating an online side hustle that can earn from $500 to $2,000 monthly.
The training is apparently 18-module video course with step-by-step instructions.
He claims that he can teach you how to create more mini niche sites than you can handle, which will provide you with profits as high as you want them to be.
Inside his training, Francis says that he will unveil his 4-step formula for creating profitable mini-sites in a matter of hours.
---

How The Prosperity Formula Actually Works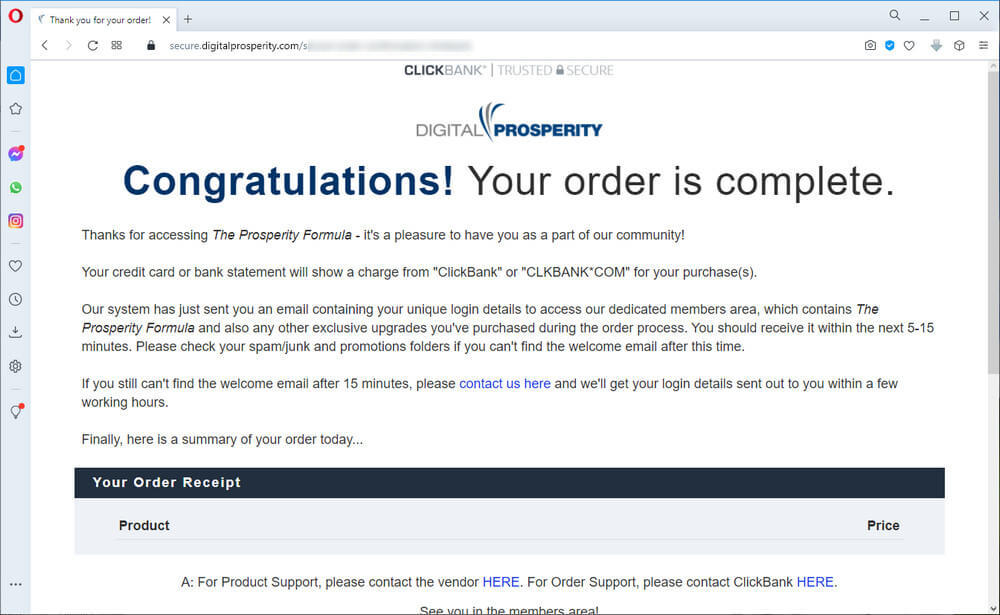 What I discovered was a very awkward way for any vendor to provide their digital product. I never did receive my product directly or instantly as promised.
In my Clickbank invoice, the vendor's product link took me to this page shown in the screen print above.
Then I had to contact them by clicking on the "contact us here" link, that then took me to another page, shown in the screen print below.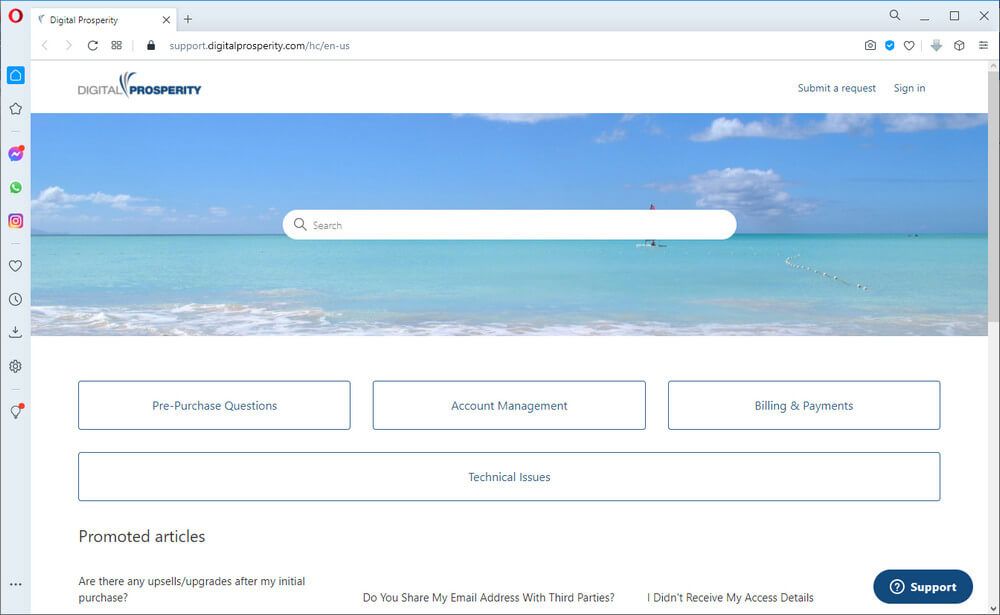 Then I clicked on the Support button, shown on the bottom, right corner of the screen print above, in which I typed my question into their popup form, and was then offered 2 links.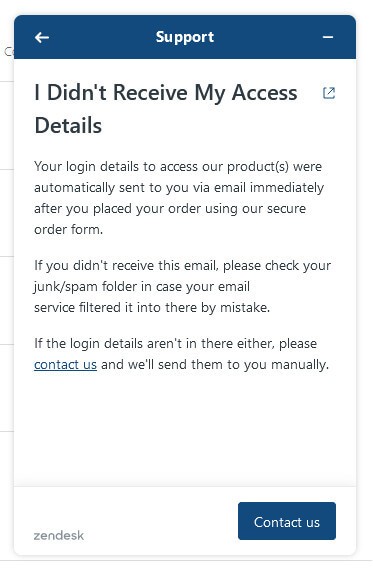 When I clicked on "I Didn't Receive My Access Details" link, that took me to yet ANOTHER page where a contact form was offered to me.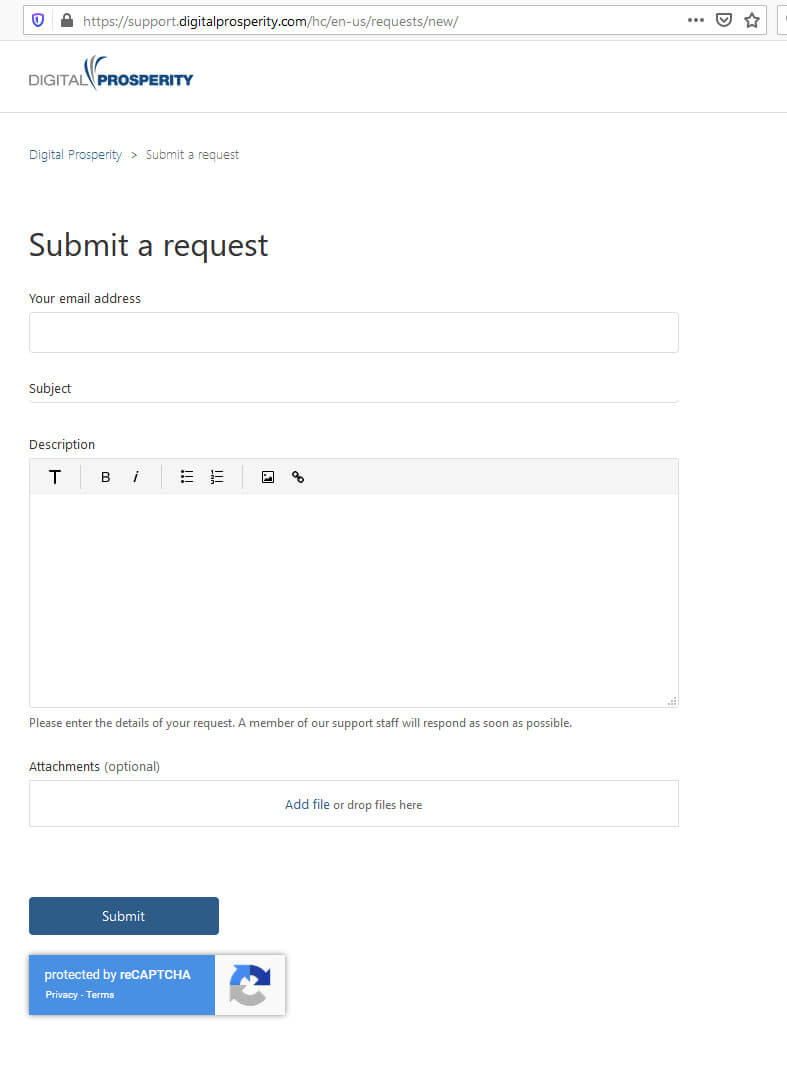 Once I filled in the contact form, requesting either access to the digital product or a full refund, I FINALLY received an automated email from their server stating my ticket was accepted… followed shortly there after with an email providing me with access to the training.
Pheeeeew, this is the BIGGEST runaround I have ever seen for receiving access to ANY digital product that I have EVER purchased online.
Now… let me sign in and see what is there in the way of the promised 18 modules and 4-step formula for launching mini-sites.
Disappointingly, James Frances goes on to SELL me on his formula for the first 3 minutes of his Start Here introduction video. I felt like screaming, "Hey, I've already paid. Can we please get started?"
The course navigation is as follows:
Start Here – 7 minutes, 12 seconds, introduction to the training


Profit Validation – 12 minutes, 3 seconds


Creating Your Customer Profile – 11 minutes, 43 seconds + Resources: valuable PDF form for you to use


Laying the Foundation – 18 minutes, 12 seconds + Resources: (the information in the video is already out of date and two of three links are dead) 3 links to external websites that appear to be affiliate links


The Prosperity Formula – 12 minutes, 15 seconds


The Prosperity Formula – Part Two – 10 minutes, 45 seconds


Audience Attraction – 11 seconds, 47 seconds + Resources: 3 live examples (one had a broken link to the video example when I took this training, which I reported to his support staff)


The Solution Selling System – 20 minutes, 34 seconds


Building a Loyal Fanbase – 13 minutes, 48 seconds


Building a Loyal Fanbase – Part Two – 21 minutes, 57 seconds + Resources: an affiliate link to LeadPages, squeeze page template (a zip file), a link to more training, (2 more dead links), links to HTML editors KompoZer (Free) and Adobe Dreamweaver (Paid, which I would NOT recommend newbies, using as this editor adds codes where is should not, if you are not familiar with HTML coding, will complicate your HTML coding), and a link to free FTP software FileZilla


Profit Multipliers – 19 minutes, 7 seconds + Resources: SamCart is linked and noted as recommended, along with tutorials linked, and a link to free WooCommerce plugin


Your Automated Follow-Up Machine – 12 minutes, 57 seconds


Communicating with Your Audience – 22 minutes, 54 seconds + Resources: Link to Aweber tutorial provided


Building Bridges – 13 minutes, 37 seconds + Resources: link to free Sumo plugin provided


How to Get an Unlimited Stream of Buyer Traffic – 10 minutes, 56 seconds + Resources: The Ultimate Facebook Ads Execution Guide eBook, plus a link to another of James Francis courses offered if you would like to pay $97 US funds


The Top 3 Alternative Free Traffic Strategies – 12 minutes, 4 seconds


Testing, Tweaking & Improving – 23 minutes, 48 seconds


Your Six Figure Blueprint – 11 minutes, 32 seconds + Resources: link to another of Francis' courses
So, there are his promised 18 modules, though I have yet to find the 4-step formula for launching mini-sites, unless of course, he meant the brief training he offers in module 10 for using Lead Pages.
The training seemed exceptional at the start, and Francis promises to keep his training updated.
However, I did find some bad links in his Resources offered under his 4th video. Vital links too, I might add, as his #2 task was to click on the first link and register your domain.
Personally, I have better access to great quality hosting so that I do not need those resources, but for me, this is a bad sign that the vendor is already starting to slide out from under his promise to keep his training up to date.
After each video, Francis provides a quiz that you will need to complete before moving on to the next lesson.
You would need to purposely fail in order to fail answering these questions properly.
NOTE: I tried answering a question wrong to see if I could correct my choice, but NOPE, I could not.
PROS: James Francis claims to offer his students coaching for free, if you have not yet reached 10k monthly. However, I did NOT put that to the test to see how true nor the quality of such coaching.
CONS: Far too brief of a training course for newbies.
Course is slowly becoming neglected, as I experienced one stale video and several broken links to his Resources.
Nowhere in this course were disclaimer even mentioned, yet affiliate disclaimers are vital parts of any affiliate marketing website.
Nowhere in the squeeze page template were Terms and Conditions, Privacy Policy, and About pages mentioned either, and these are other vital parts of ANY website, no matter the size.
Francis mentions that his training is only an entry level program, and I "take my hat off" to him for his honesty in stating this, even though that was only stated once.
That video I found when I clicked on the support tab that gets displayed halfway down the web page, on the viewer's right, once you arrive at the The Prosperity Formula training.
---

Is The Prosperity Formula a Scam?

No, I do not believe that The Prosperity Formula is a scam, just very brief training on how to setup a basic squeeze page offer that might be helpful to some who are familiar with affiliate marketing or creating their own products.
However, I do NOT feel this training a good fit for newbies, as most newbies would need more helpful information than what is offered in this course.
Due to this and the CONS listed above, I do not recommend this product.
---

Best Training Platform That Provides Tools too!
If you are a newbie, looking for a highly recommended training platform, that I can provide you with right here. The training platform that I recommend to newbies and pros alike, I have been a member of since 2016.
The training is literally, world-class… and, you have an entire community to ask questions from if you run into issues. This platform is available to all members 24/7, is fully supported should technical issues arise and is even FREE to join.
When you join this platform, you will NOT be even asked for a credit card.
As a free member, you will have full access to the first 10 lessons for 7 whole days. This way you will quickly learn how priceless the training really is.
On top of that, you will have several tools made available to you also, including being able to create your very own website… which you will also be supplied with an SSL certificate to use too.
This certificate will make your free website protective of your website visitor's mobile device, which could make Google love your site more than those without this protection.
The reason for offering you a free membership is in hope that you will see for yourself, how valuable the training is, and that you will want to continue with the additional levels of training so that you can take your online business to the next level.

This training platform is NOT a get rich quick system, but rather offers training where you can learn to establish your very own, sustainable, long-term online income.
In other words, you will be expected to put in the necessary steps needed to make your online business as profitable as you want it to be.
So, if you are tired of training that moves so slowly that you're easily bored, then this platform is for you, as you can take the training as quickly or as slowly as YOU want to. No one will be watching over your shoulder.
And, if you are tired of training that is so ridiculously priced that the average person could not afford it, then again, this platform would be a perfect fit for you.
Not only will your membership cover the training but also all of the tools that you will need in creating your very own business.
So now, are you ready to learn how to create your very own sustainable, long-term income online?
If you answered, "Yes" to that question, then simply click to get my free guide and discover what it is all about.

This review is meant to help you make a decision as to whether to purchase The Prosperity Formula training or not.
Should you have any questions regarding is The Prosperity Formula a scam, I do hope you will leave me a comment below, and I will respond in a timely manner.
Thanks for visiting,