Dennis Brown is the owner of Freight Broker Boot Camp, and he claims that his course is well-known throughout the industry to be the most comprehensive and cost-effective freight broker training program online today.
Whether you are:
a truck driver, looking to get off the road,
a carrier looking to start a brokerage division, or
you have absolutely no experience in the freight business at all,
…he claims that his web-based training program will show you in detail, from A to Z, how to become a freight broker or freight agent in less than 30 days.
He goes on to say that one of the greatest benefits of his online training program is that it allows you to learn at your own pace, from the comfort and convenience of your own computer.
No waiting for the next class no traveling, no traffic, no airports, no hassles, and no time needed for you to be away from work or your family while you study.
Then Brown tells you how he went from being a guy with absolutely no experience in the logistics industry, to building one of the fastest growing and highly profitable freight brokerages in the United States today.
Brown claims that back in 2003, he became interested in the freight brokerage business after a friend asked him if he knew what a freight broker was.
This questions apparently sent him on his journey of discovery.
In this review, I will cover the following:
See My #1 Recommended Way of Making Money Online:


What is Freight Broker Boot Camp?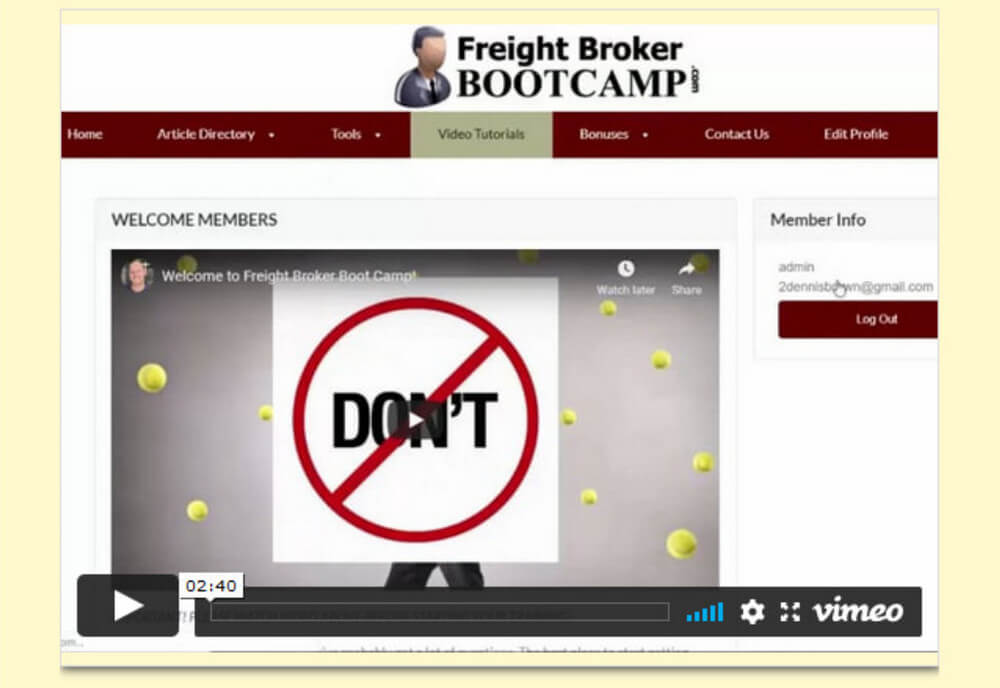 Program Name: Freight Broker Boot Camp
Website: https://www.freightbrokerbootcamp.com/
Price: $185 US funds (one-time investment) + upsell of platinum membership
Recommended? YES
Rating:
---
Dennis Brown claims that he spent months researching the industry and trying to learn the inside secrets on how to become a successful freight broker.
When he could find little information online, he says that he hired a well-known and respected consultant with over 20 years of experience, to fly to Buffalo, NY and teach him the inside secrets to starting and growing a successful freight brokerage.
Brown goes on to say that by the time the consultant left, he had invested over 50 hours and $10,000 to get the answers he was seeking.
This apparently, made him ready to start his new venture, which he named Logistic Dynamics.
He claims that in January of 2004, he moved his first load, and the rest, he says is history.
According to Brown, his first year in business was 2004, and he claims they made over one million in sales. And by 2008, they were doing over $18 million a year in sales… and, that Ink Magazine ranked Logistic Dynamics as one of the fastest growing companies in America.
By the end of 2015, Brown says that Logistic Dynamics were doing over $80 million a year in sales, so he decided to sell the company to spend more time with his family.
Along the way, he says that he had many people asking him to teach them how to become a freight broker or freight agent.
In 2009, he decided to launch an online freight broker training program that included everything that he was looking for when he was trying to get started.
It was from that idea that Freight Broker Boot Camp sprung, and since training thousands of freight brokers and freight agents, the feedback has been incredible.
Brown does warn you that success did not happen for him overnight and it was a LOT of work, so he is NOT guaranteeing you that you will be successful as a freight broker or freight agent.
However, he does tell you that he can guarantee you two things…
All of the answers and tools that he was looking for when he was trying to get started, are included in his online training program at a fraction of the $10,000 that he paid for them.
Brown is so confident in his online training program that he offers an unconditional 60-day guarantee that if you are unhappy for ANY reason that he will refund 100% of the purchase price, no questions asked.
---

How Freight Broker Boot Camp Actually Works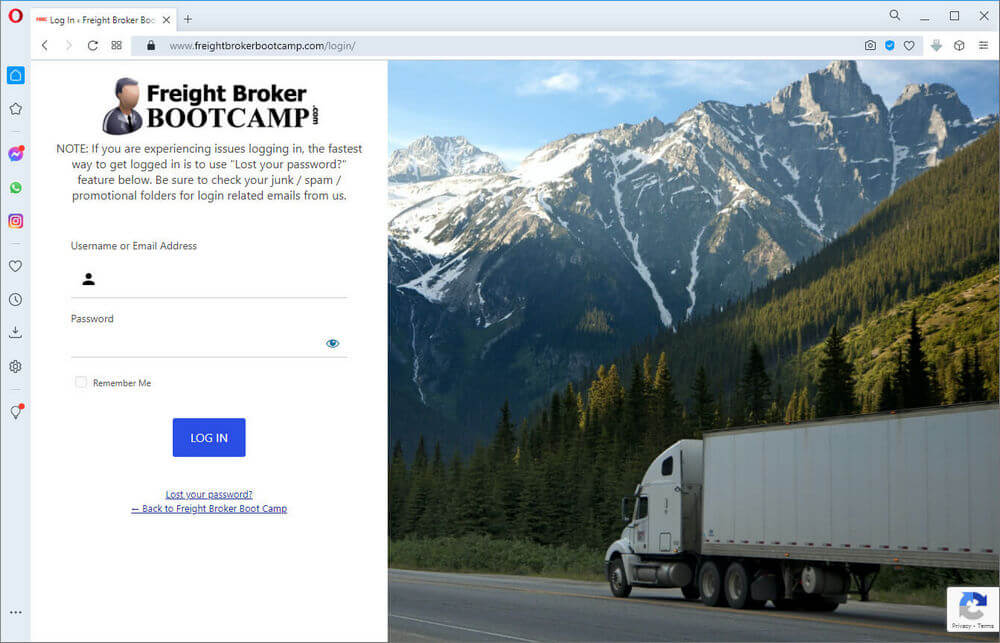 Inside the members area, the Article Directory has six chapters, which contains over 45 different lessons, covering over 300 different topics, which covers the following:
Chapter 1
1.1 Introduction
1.2 Basic Tool Requirements
1.3 Freight Broker Basics
1.4 Freight Broker vs. Freight Agent
1.5 Transportation Regulatory Bodies
1.6 Code of Federal Regulations
1.7 Freight Broker Authority
1.8 Surety Bond vs. Trust Fund
1.9 Start-up Expense Assessment
Chapter 2
2.1 Transportation Infrastructure
2.2 Freight Shipping Documents
2.3 Less Thank Truckload LTL Freight
2.4 Third Party Logistics – 3PL Broker
2.5 Freight Rate Classification
2.6 Freight Mover Tariff
Chapter 3
3.1 Customer Acquisition Tactics
3.2 Freight Shipping Rates
3.3 Motor Carrier Operating Expenses
3.4 Negotiating Freight Rates
3.5 Dispatch Procedures
3.6 Fuel Surcharge Rates
3.7 Factoring Receivables
3.8 Moving Money
3.9 Credit Ratings
Chapter 4
4.1 Double Brokering
4.2 Booking Double Loads
4.3 Lumper – Driver Assist
4.4 Automobile Transport
4.5 Hunderdweight – CWT
4.6 Brokering Dump Trucks
4.7 Hazardous Materials HAZMA
4.8 Oversize Loads
4.9 Military Freight
Chapter 5
5.1 Carrier Insurance vs. Broker Bond
5.2 Freight Broker Insurance
5.3 Freight Claims
5.4 Freight Broker Software
5.5 Software Reporting & Analysis
Chapter 6
6.1 Tax Planning
6.2 Incorporate vs. LLC
6.3 Principles of Accounting Part 1
6.4 Principles of Accounting Part 2
6.5 IRA
6.6 Freight Agent Acquisition
In the Tools section, you will find the following:
Carrier Database and
Shipper Database with over 100 thousand records
Contract Generator
Fuel Surcharge
Website Templates
Forms & Agreements – a complete library you will need to operate as a freight broker or freight agent
Freight Broker Business Plan
…and an eBook titled "Think & Grow Rich"
Under Video Tutorials, which is where you will be able to learn how to the different and specific tactics and strategies in and around:
operations,
sales, marketing,
goal setting,
and find the different motivational topics as well.
Platinum members only have access to the following 3 special bonuses:
Shipper Sales Training – Overcoming 4 Common Objectives,
Sales Scripts library in the form of a PDF document,
and 7 Figure Broker Coaching Calls (5 webinar replays where Brown coaches members live during this webinars).
---

Is Freight Broker Boot Camp for Real?

Yes, I do believe Freight Broker Boot Camp training is for real, and I DO recommend his course.
This gets 5/5 stars, due to Dennis Brown's having taken a business he knew NOTHING about, and turning it into an $80 million dollar a year in sales business in a mere 11 years.
Obviously, he is a person who knows what he is taking about.
PLUS, Brown offers his students an iron-clad, 60-day guarantee that if you are not 100% satisfied with his training, you can ask and receive the total cost of his training refunded to you.
However, as Brandon Scott will tell you himself in the following video, you will have to sacrifice your time and that if you are not willing to make this sacrifice, in order to build a successful freight brokerage business, then do NOT waste your money a freight broker training.
Should you decide to purchase Dennis Brown's course, I would appreciate your using my affiliate link to sign up for his course.
Using this link does NOT cost you anything extra, but rather rewards me from helping the vendor to spread the word about his awesome course.
When you use my affiliate link it would be your way of thanking me for this detailed review that helped you make an informed decision.
---

Make Money from Home Online
So, if Brandon Scott (in his video above) has now talked you out of signing up for Freight Broker Boot Camp, then perhaps you would be interested in learning to make money from home online.
If so, there is a training platform that is perfect for learning to make money from home that I would like to introduce you to, here.
As Scott tells you that you need to sacrifice TIME to build your business, you will need to do the same when learning online to make money from home.
Though, with the training platform that I recommend, you will have an entire community ready and willing to help you whenever you run into difficulty, whether with your website or your chosen niche.
Heck, you can even sign up and try this training platform out for FREE!
That's right, I did say FREE!
You won't even be asked for a credit card either.
Simply signup, create a brief profile to introduce yourself to the other members and upload your image to that profile so members will have a face to go with your name.
Once that part is completed, get started straight away with taking the FREE access to the first 10 lessons. But you will only have this free access for 7 days, so DO NOT waste time!

This training platform will show you how to setup your very own online business by not only providing you world-class training but also the tools you will need in creating your business.
All you really need to get started is a passion to succeed.
And, for absolute transparency, this is NOT a get rich quick scheme, as YOU will be required to put in the necessary hours of work required to build your very own online business.
Having an entire community of like-minded individuals to work with daily can make all the difference you need in helping you keep motivated and building your business.
The owners of this training platform are very confident that you will be so amazed by the quality of training provided that you will want to stick around and learn more (just like I have!)… thus their FREE offers to you.
So…
What are you waiting for?
Click that button below or simply click here to get full access to my free guide.

Do hope my review of the Freight Broker Boot Camp training has helped you decide on whether to take the course or not.
Should you have any question on this topic, or you simply want to add to the conversation, I do hope that you will leave a comment below.
Making Money Can be Fun,