Here we go again with wild claims of making lots and lots of money, especially if you have no knowledge or technical skills. This is the type of claim that should send us all running from any offer simple because you would have a better chance of becoming a millionaire when buying a lottery ticket.
First thing I noticed is that the Ewen Chia's website isn't even protecting his potential website visitors, especially mobile-users, in that his site is NOT protected by a SSL certificate.
The landing page video offers a few screen prints with much blurred out and lots of loud music, lasting all of 16 seconds, then a popup appears offering you a free web class.
The following review will cover the following topics:
If You Don't Want to Waste Anymore of Your Time on Scams,
My #1 Recommended Way of Making Money Online:


What is Clickbank Formula?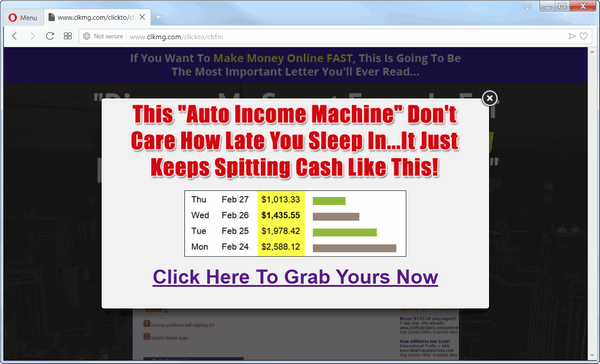 Program Name: Clickbank Formula
Website: http://www.clkmg.com/clickto/cbfm
Price: $17 US funds + 3 upsells
Recommended? NO
Rating:
---
When you first arrive at Chia's landing page, you will find that you are offered a popup form introducing his "Auto Income Machine", which will try to convince you to "Grab Yours Now" by clicking the link offered in that popup. This is just an upsell.
If you DO click on his popup link, when you arrive at his next web page, you will be greeted by yet another upsell offered in another popup form, with "Get Your Complete Internet Business Built-For-You…" type of promise. Again, this is another upsell.
Sticking with Chia's offer of the Clickbank Formula, once you have paid to receive his product, you will be provided with a link to a web page which offers you the opportunity to sign up for his free webinar, to sign up for yet his 3rd upsell of his secret website software, and another opportunity to buy his "Auto Income Machine".
---

How Clickbank Formula Really Works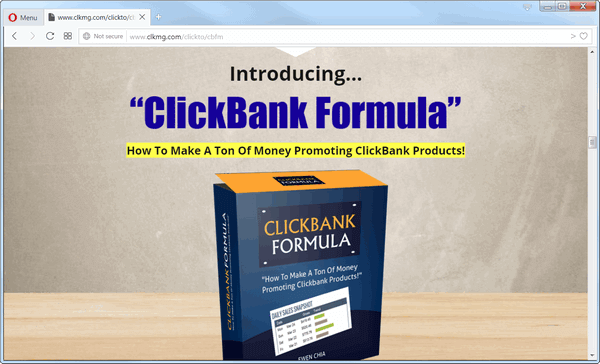 Scrolling down the product page, you will find seven embedded YouTube videos subtitled; "Component #1: Step-by-Step Video Training", which consists of the following:
Video #1 – Elements of a Squeeze Page Funnel (5:39 minutes)
Video #2 – How to Find a Clickbank Product (8:43 minutes)
Video #3 – How to Build Your Website (11:20 minutes)
Video #4 – How to Get Your Autoresponder Account (14:05 minutes)
Video #5 – How to Input Your Autoresponder Code (1:50 minutes)
Video #6 – Get Domain Name & Hosting (7:29 minutes)
Video #7 – Uploading Your Website (4:17 minutes)
Now for the products under the subtitle "Component #2: Clickbank Businesses":
Paleo/Health Eating – zip file
Internet Marketing – zip file
Green Energy – zip file
Woodworking – zip file
Dieting/Weigh Loss – zip file
Each of these zip files contain 3 folders along with a Word file with instructions. In each folder titled Website, is one HTML landing page and a couple of images. Each "product" site is purposely written to be generic so that if one vendor stops offering their product, you can change the affiliate link to another vendor.
The landing pages consist of a title, a product image, and an arrow pointing downward to a form (that you would need to insert using an autoresponder form that you will need to create) below… that's it!
In the Product folder, you will find a txt file with URLs to suggested Clickbank vendors. In the Email Follow Ups folder, you will find email templates that you could use to send to your buyers.
On Chia's product page, under Component #2 (screen print shown below is from his landing page) is where these zip files are offered for you to download. Below the list of zip files you will find Chia's second upsell offered in a link titled: "10 additional Clickbank Done-For-You Businesses".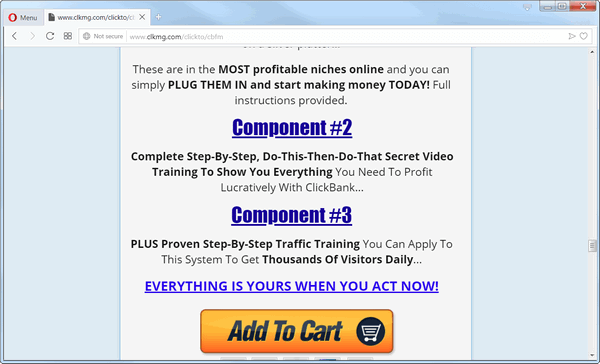 In the "Component #3: Step-By-Step Traffic Training" sections, you will find 18 flash videos embedded.
His Free Traffic Strategies list the following videos:
Press Release

Part One – 2:12 minutes
Part Two – 4:00 minutes

Facebook

Part One – 3:08 minutes
Part Two – 4:50 minutes
Part Three – 2:06 minutes

Twitter

Part One – 1:00 minutes
Part Two – 00:43 minutes
Part Three – 3:32 minutes
Part Four – 2:43 minutes
Part Five – 5:30 minutes
Part Six – 2:33 minutes
His Paid Traffic Strategies list the following videos:
Bing Ads

Part One – 6:11 minutes
Part Two – 6:39 minutes

Facebook Ads

Part One – 3:27 minutes
Part Two – 4:14 minutes
Part Three – 4:50 minutes
Part Four – 4:20 minutes
Part Five – 4:17 minutes

Solo Ads

Zip file to download, containing a mp4 file, 1 hour 27 minutes and 40 seconds in length, and is of an old webinar, along with a PDF file containing the slides used in that webinar.
Disadvantages of Clickbank Formula
The training videos in component #1 adds up to a grand total of 41 minutes, 23 seconds… most of which you can find better quality training offered freely in other's YouTube videos for each of these topics.
In component #2, the 5 Clickbank Businesses, the website HTML files are NOT responsive so they would NOT be mobile-friendly, and they look more like block ads then landing pages.
With no means of downloading the short videos in component #3, and the lengthily time it took for each of these videos to load so that I could watch them, I would expect that you too will need to spend more time waiting for them to load then actually watching them.
Having to pay to receive a copy of an old webinar regarding solo ads, I found shocking. That, I feel, should have been a simple bonus and NOT included as training. Not counting this webinar, the total time for training on component #3 is all of 1 hour, 6 minutes and 15 seconds.
---

Is Clickbank Formula a Scam?

No, I do not believe Clickbank Formula is a scam, but rather a very poor quality product. If you really want to make money online then you really do need a bigger online presence to invest in.
The pushy popup forms offering other upsells, I found to be offensive and very intrusive to say the least. You can learn to build better quality landing pages than those included in this product/training. For these reasons, I can NOT recommend Clickbank Formula.
---

A Better Strategy for Making Money Online
The better strategy for making money online that I discovered over two years ago now, has taught me to create my very own online business which contain all of the required essentials needed to make money online.
The approach this platform teaches will have you with your very own online business, one that you will find yourself being viewed as an authority in your business. In turn, this will help you gain trust from your website visitors and some of those could become your loyal customers.
This platform will show you how to create your online business so that it will attract your very own organic traffic which is FREE traffic… so that searchers will come to your website rather than you having to go out there paying to lure people in.
The technique is the same as you have found my review here… all without my ever having to spend any money advertising, or sending out 'spammy' emails to anyone.
Take a few minutes of your time now and discover what this online training is all about.

In case you are wondering, this is NOT a get rich quick scheme.
Any business worth doing is worth doing right, wouldn't you agree? Then let me tell you here and now, you are going to need to have patience and dedication while building your business so that it is built the right way.
Think you will be amazed that the training platform that I would like to share with you here, you can sign up for as a member FREE, and you WON'T even be asked for a credit card either!
So… are YOU ready to stop wasting your money and your time on scams and start learning to create your very own online business today?
To get my FREE guide click here.

Oh… and before you go, I have another bonus to offer you. You can learn all about how you can get ME as YOUR premium coach in my free guide.
Do you have a question concerning whether Clickbank Formula is a scam or would you like to share your thoughts on this topic? Then please feel free to comment below and I will respond in kind.
Time to Quit Wasting Money,