Michael Cheney claims to have made over $7 million since 1999, when he started making a full time living online, by mostly promoting other people's products.
And, many of his newbies still ask him "what is the quickest and easiest way to make serious money online.
His answer is that there are countless ways to make serious money on the internet. You only need to pick one and stick with it for a proper amount of time.
However, Cheney says that this is where the problem comes in.
Most people do not have half a day to set aside for learning and applying methods that work.
Cheney says that if you are like most people he knows, you most likely have less than a 1 hour a day to spare in running your business.
When he discovered this new money-making method which makes countless newbies several thousands of dollars, he became very happy that he could finally answer the old question asked by so many newbies.
He goes on to say that all you have to do is copy his method, paste it into your business and count the money coming "out the other side".
My review here will cover the following:
See My #1 Recommended Way of Making Money Online:


What is The Commission Machine?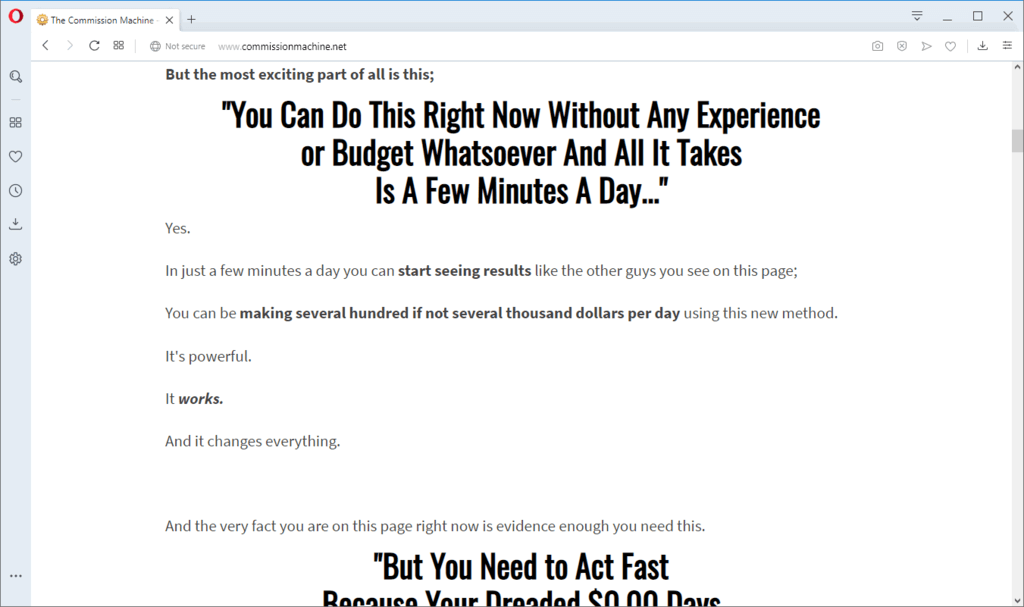 Program Name: The Commission Machine
Website: http://www.commissionmachine.net
Price: $47 US funds
Recommended? NO
Rating:
---
Michael Cheney insinuates that he is using a super affiliate secret weapon to bring in thousands of dollars.
He shows you his PayPal account, where he shows you that he has $95, 5855.58 US dollars for which he states is from commissions.
This, Cheney claims is proof that this works for him.
He claims that the best part is that it works even if you are a stone-cold newbie with no clue, no experience, no money for ads, and no list. But… Cheney says not to take his word for this, that you are to have a look and see what other people are saying in his landing page video.
One young man claimed that once he followed Cheney's method that he was able to triple his income "literally over night" …that he made just under two thousand dollars in four days.
Then, another gentleman tells you that Cheney is an expert at affiliate marketing, and that he has been helped loads by these techniques with affiliate marketing… making like $15,000 in a single week, and multiple thousands in recurring commissions, just from a few little tweaks made from Cheney.
This gentleman was followed by another young man who claims he was only shown The Commission Machine a couple of weeks ago and after implementing it, already his profits are soaring.
He says he made over $8,000 just in the last couple of weeks, and it just continues to get bigger and better with every day.
Then this gentleman shows some screen shots on what he has earned in the last couple of weeks or so. One screen print of commission earned shows $209.28, while another shows $501.22 Total.
Another gentleman states that in two and a half days, less than seventy-two hours, "they" generated over 77 sales and almost a thousand dollars (while showing you a screen print Total of $983.47) in commissions.
Then this gentleman claims that today he earned $147.00 and yesterday he earned $33.68, using tactics that he learned from Michael Cheney's course, The Commission Machine.
He claims that it is 9:51AM right now and that he has already earned almost $200 already off of this.
Then another gentleman comes on saying this works for me it can definitely work for you.
He says he is not a rocket scientist that he is just a normal "cat" and that if it works for him it can work for you very quickly… very, very effectively, very fast it can help you.
---

How The Commission Machine Actually Works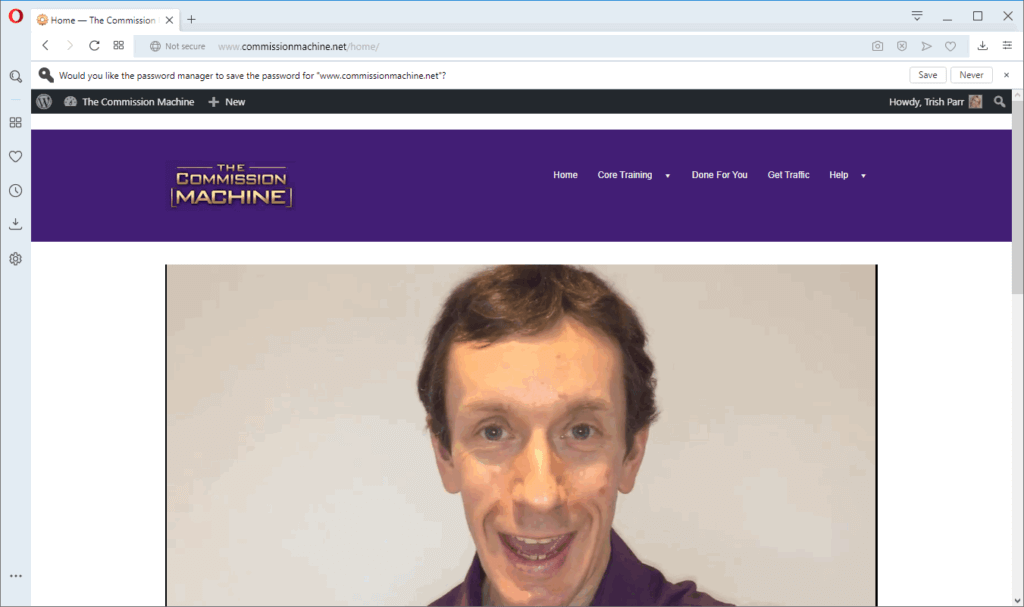 First thing I noticed is that Michael Cheney's membership site is NOT protected by a SSL certificate.
Cheney's introduction video informs you that the most important thing for you to do is to make sure that you attend the live orientation call that takes place tomorrow. That they are doing this orientation call twice tomorrow.
He does make two different times available to you, one at 2 PM EST and the second one at 7 PM EST, so I will aim to attend the one at 7 PM tomorrow, though I may miss it by a few minutes at the start.
Clicking on the Step 1 link under Cheney's introduction video, I can clearly see that the orientation call is a webinar, and most likely it is a replay.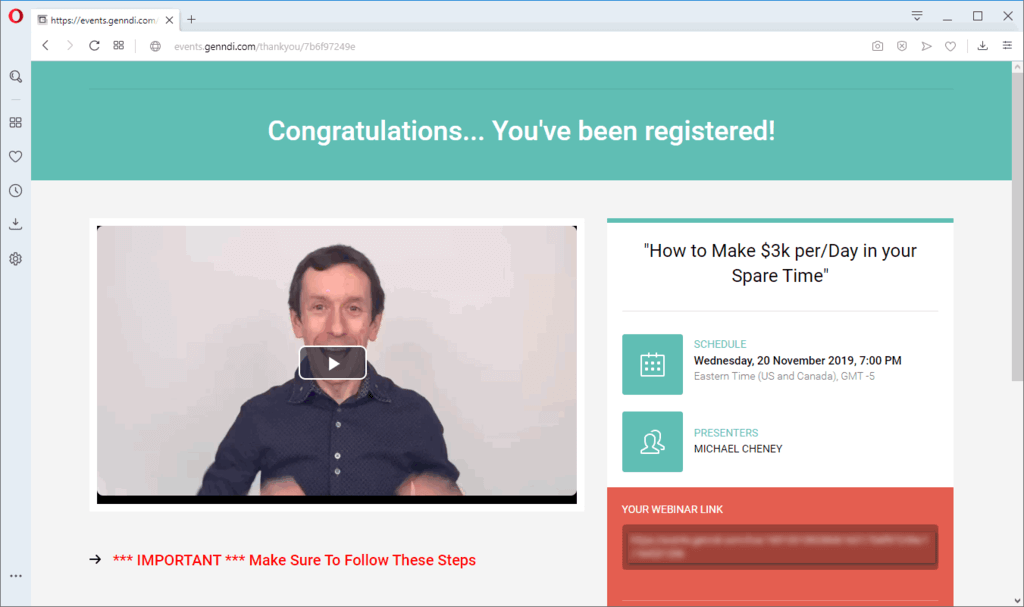 Playing this video Cheney states that this is to be a "live call" that you will be attending and that if you show up on the call live you will get a $5,000 bonus website for free.
Oh, and there is a pre-call homework link provided that sends you to yet another website, with yet another video promise made by Cheney.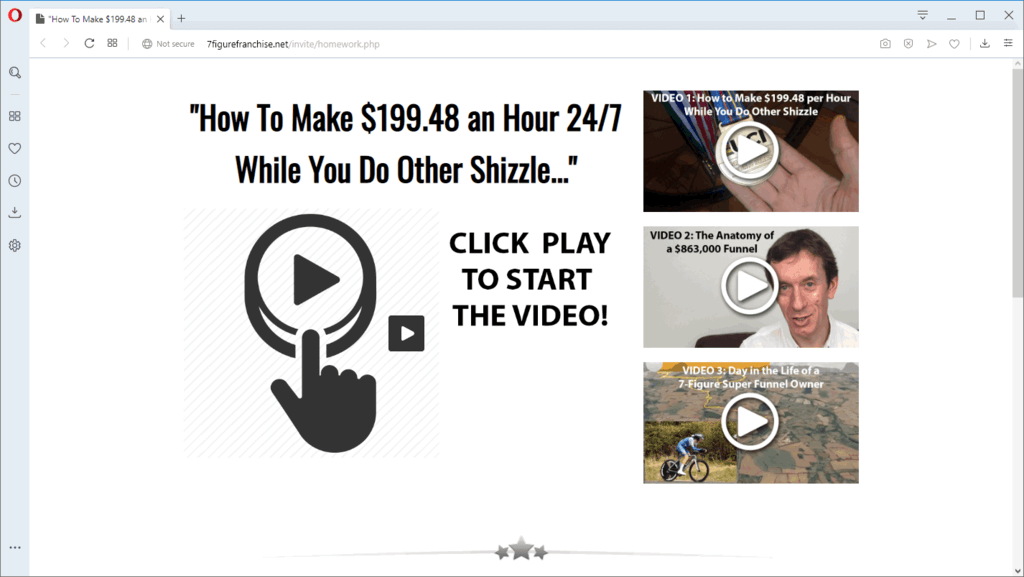 In this video he talks about a funnel that earns him $199.48 an hour 24/7.
Then he finally gets around to showing you the idea of upsells that he calls deep sales offers. Cheney claims this is a self-selling super-funnel.
It is then that he shows you several funnels, side by each, explaining that once they go through the first funnel, they are automatically sent to yet another funnel a week later, then another and another, and so on, whether they buy from these funnels or not… all automatically… and he claims to use 9 funnels in total.
This super-funnel, Cheney claims, makes all the money for you.
Then he insists that you are to make sure to attend the live call, and to watch your inbox for the next video on this series where he will give you this anatomy of an eight-hundred-thousand-dollar funnel.
Now… back at the membership page, Cheney's video continues by telling you that during the live call he is going to share with you the only way left for the little guy can get rich online.
And, he is also going to share with you a method that you can use to get tons of free traffic, and quickly turn it into money. And, a simple way that you can get paid thousands of dollars in commissions instantly and directly to your PayPal account.
Step 2 is labeled as "Access Your Core Training". These videos refuse to show as being available, never mind play, in Firefox's latest browser v70.0.1 (64-bit). Instead, I was forced to use my Opera browser.
Module 1: Getting Started – Video time, 3 minutes 11 seconds. Cheney talks about how much he has made since about 2000, and that what he is going to give you are the ingredients and the recipe and the instructions to create your own commission machine.
He insists that you do not skip any of the modules as he has "dropped some golden nuggets" of information in every single module.
His process works on a launch you are promoting or if it is something evergreen, you can use this to get more commissions coming into your bank account.
Module 2: Research – Video time, 28 minutes 28 seconds. Cheney covers how to uncover the little-known commission goldmines hiding online.
Module 3: Angle – Video time, 24 minutes 10 seconds. Cheney talks about how to stand out, and hypnotize prospects into buying from you.
Module 4: Providing Incentive – Video time, 23 minutes 24 seconds. Cheney claims that you will have people begging to buy through your link when you use these powerful psychological triggers and incentivize strategies.
Module 5: Messages – Video time, 46 minutes 53 seconds. Cheney says you will really vamp up your commissions once you learn these kick-ass conversion tactics for creating killing promo messages.
Module 6: Deploy – Video time, 28 minutes 43 seconds. Cheney claims that is it now time to deploy your messages and start cashing in by following the steps he shows you in this video, for maximum commissions.
Module 7: The No List Method – Video time, 13 minutes 38 seconds. Cheney shows you how to make money with no list.
Module 8: Advance Ninja Tactics – Video time, 11 minutes 8 seconds. Cheney shares with you how to take your affiliate earnings to the next level with these tactics revealed in this breakthrough module.
Get Traffic – Video time, 13 minutes 39 seconds. Cheney tells you to create a second Facebook account using a different email address, and how to use this account to learn affiliate marketing and is NOT for personal use.
PROS
The secret method for getting affiliate links onto Facebook so they won't be blocked… though I do not honestly see me using this method either, in case Facebook discovers too many using this method and puts a stop to it.
CONS
During the training, I discovered this product was created back in 2015, making it already four years old. This makes me wonder just how reliable this product is anymore.
The "live orientation call" was not live but rather a webinar replay… and it was Cheney's way of introducing you to his franchise offer that will cost you $1997 to join, at the time of my writing this review.
The following screen prints states a fact…

---

Is The Commission Machine Bogus?

No, I do not believe that The Commission Machine is bogus but it is severely out of date, and recommends you break one of Facebook's most adamant rules regarding how many accounts we can have.
These are among the reasons that I can NOT recommend this product.
---

How to Make Money Online Long Term
If you seriously want to know how to make money online for the long term, then I have something pretty spectacular to share with you.
This something is a training platform in which I have been a member of since 2016.
The training is considered world-class, and I can promise you that this is NOT a get rich quick scheme, but rather a membership site that you can join for FREE to take a look around and even create your first FREE website while you take the first 10 lessons for FREE too.
Yes, I did say FREE!
All you have to do is sign up as a member, fill in your profile by introducing yourself, and then uploading a picture of yourself so that all members will have a face to put with a name when speaking with you.
In this training platform, we work together to resolve any issues and help each other by sharing great tips that we learn along our way.
Heck, any training that we create on this platform, the owners even PAY us for!
As a member, you will soon discover that you have an entire community right there along side you as you start to build your very own online business.
Not only that but the first 10 lessons will have you well on your way with having your online business built before you have to decide whether you want to stay full time or not.
Bets you will want to stay as a full-time or premium member!

To be a part of this training platform, you will need to the type of person who has a burning desire to change where your life is heading right now.
As you will be training to become an entrepreneur.
Having a personality where you are eager to learn from the best entrepreneurs is what you need to bring to this platform, if you truly want to succeed, as this cannot be taught.
You will need to be the type of person who can follow instructions given and NOT deviate so that you will be led to success sooner.
If you are this type of person then you CAN do this, and you will be in for one heck of an awesome ride.
You will be provided with all of the business tools you will need to build your very own online business.
The training will show you how to build a successful business so you MUST be prepared to do the work required and have patience.
This is NOT a get rich quick scheme and therefore you need to understand up front that building a business takes patience and work to make your business successful.
Are you ready to learn more?
If so, then simply click here and read through my guide, and be sure to discover how YOU can have ME as your premium coach once your join this training platform.

Thank you for dropping by and reading my review.
Should you have any questions about is The Commission Machine bogus, you have only to leave me a quick comment below and I will gladly respond.
Tired of Wasting Money,