Ankur Shukla assures you that you can now turn any blog post into a video in just one click.
He claims he can show you how his brand new software called WP Video Machine does this for you.
He goes on to claim that his software takes any blog post from your WordPress website and turns it into a video in just one click.
Shukla says his software creates a video with images, music, voiceover and animations that are created in just one click.
He maintains that most people with websites and blogs only focus on getting Google traffic and rankings, and completely ignore the option of using YouTube, which he explains is the second largest search engine that can send your website even more free traffic.
This, he claims, will double the leads you can generate from your website.
In my review of this software, I will be covering the following:
See My #1 Recommended Way of Making Money Online:


What is WP Video Machine?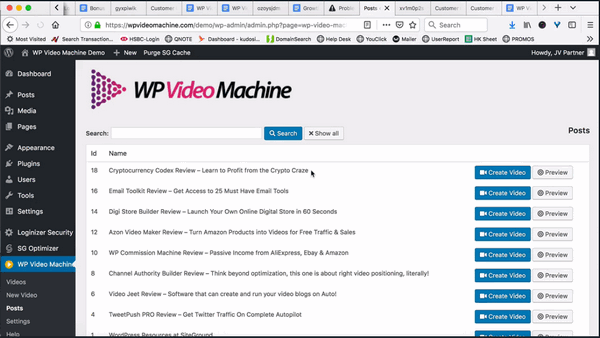 Program Name: WP Video Machine
Website: https://wpvideomachine.convertri.com/
Price: $19.95 US funds + 6 OTO upsells
Recommended? NO
Rating:
---
Shukla goes on to say that the fact is it is way easier to rank videos on YouTube as compared to Google as YouTube has less competition than Google, and because creating videos is not easy. For most people, creating videos is a lot of hard work.
He claims that creating videos needs complicated software, voiceover recording, audio and video editing, animations and music, finding great images and having the technical know-how to use all of that.
All of this can be very frustrating, so he says.
Shukla declares that's exactly why he created WP Video Machine, so that anyone can turn blog posts into videos in just one click.
He then makes it look super simple to create videos with his software by showing you that all you need to do is install and activate his plugin (WP Video Machine) on your website, and go to the post section, find the post you want to have a video created from and then click the Create Video button.
After that, Shukla claims that all you need to do is click one button… another Create Video button… and your video starts getting created instantly.
Then after you wait a few minutes… boom, your video is on YouTube, with a backlink added back to your website, giving you valuable SEO juice from YouTube and free traffic automatically.
He goes on to say, the video looks great, it has amazing images from your website, and can even add more using their over one million images.
And, he claims his software has complete text to voice done automatically so your videos are actually talking videos with almost natural speech.
Then in Shukla's video tutorial, he shows you a drop down box of all the different languages his plugin offers for creating the audio.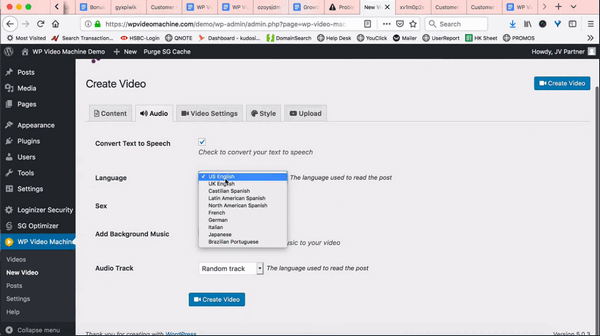 He claims it has hundreds of background music to choose from as well as male or female voiceover, and it shares your newly created videos on multiple social media accounts (Facebook, Twitter, Tumblr, LinkedIn, and BufferApp) too.
Then Shukla asks you; why get traffic from Google when you can actually use the same content in a different format and get traffic from YouTube and valuable high quality backlinks that Google absolutely loves?
This way, he claims, you will double your traffic sources, and double your sales and commissions.
Imagine, he says, getting double your leads by doubling your traffic sources by simply using his software.
He claims there are 5 billion videos watched daily on YouTube, so the more videos you add to your YouTube account, the more traffic and backlinks you will gain, and the more free traffic you can get.
Shukla claims this is exactly why he created his plugin. Creating videos is hard, he says, and that is why a lot of people don't do it… but with his WP Video Machine, he claims you will be 10 steps ahead of everyone else.
And then, he repeats that with his software it is one click simple to turn your blog posts into video content, for using it anywhere you want.
The SEO value of the backlinks coming from YouTube is "huge" (Shukla's words!) and that's why Google will love you even more and will push you higher in ranking.
Shukla claims there is simple logic here; if you just focus on just one source of traffic you will get less traffic.
But if you can use the same content, press one button and add another huge traffic source you can double your traffic, double your backlinks, and double the amount of sales commissions and leads that you can generate from your traffic. He claims it is that simple.
He goes on to claim that this is why his plugin is a "must have" for anyone with a WordPress website. All you need to do is add his plugin to your site and start turning your content into videos.
---

How WP Video Machine Actually Works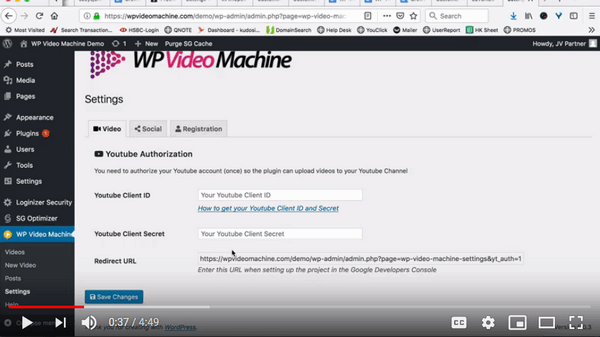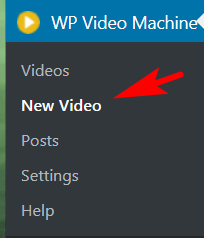 After you have purchased, installed and activated this plugin, you are directed to setup your YouTube Client ID and Client Secret to get YouTube's authorization.
This part is NOT so easy to do either, as his instructions do NOT match what Google now asks within any YouTube account now.

Shukla's instructions need to be updated before anyone can receive YouTube Authorization.
Then I decided to give his software a test anyway, so I ran the software manually, going to the New Video section and copying and pasting the post title and contents of the post that I wanted to convert to a video, into the proper fields.
And then, I added each image one at a time, and then clicked on the "Create Video" button.
About 15 minutes, my video was created and it appeared under the "Videos" section where I could then connect with wpvideomachine.com's server that stores all of my content and images, as well as the newly created video.
Or, I could click the Edit option and find my website back to the "New Video" field where I started from, with the post title, content and images all in place, ready for me to edit and then create a newer version of the video… or I could choose to download the video… or simply delete it.
Tutorials on how to get started, as well as troubleshooting errors are available from the WP Video Machine control panel too. The overall setup does appear to be very impressive.
However, you can check out for yourself the quality of the video output created by WP Video Machine below that was created from one of my older posts, in order to share with you here, the quality that this software does NOT offer you.
WP Video Machine Sample of Output
Poor quality videos are obviously unacceptable for any use.
Would you want to share THIS quality of a video with YOUR potential customers? I sure wouldn't!
PROS
An excellent idea and the frame work presentation for this software is very well done.
CONS
The poor quality of video output makes this a poor investment at best.
After clicking on "Delete" from the WP Video Machine options under "Videos", I noticed that my video that was created on 27 April 2019, along with my website content and images remains intact on the wpvideomachine.com server.
This I believe is definitely a violation of trust.
It is NOT right that anyone's content should remain on this vendor's server, especially after DELETING the video from my website's WP Video Machine installation.
PLUS, there is NO option offered for deletion on the vendor's server either.
---

Is WP Video Machine Bogus?

No, I do not believe that WP Video Machine is bogus, just a poorly thought out and executed software.
Due to this and the reasons stated under CONS, I do NOT recommend WP Video Machine.
---

Easy Ways to Create Quality Video Content
There are several other easy to use options available to you in creating great marketing videos; some even let you work on your project from an account online using their web server.
I have taken the liberty to share with you below, a few of the options that are available to you now.
Making Marketing Videos that Impress with Animoto
Animation Basices in Wideo HTML5
Making On-Brand Marketing Videos with Biteable
Powtoon @ Work
The Kizoa APP is Now Available
My Fav Video Recording Screen Capturing Software
And then there is FastStone Capture software which does everything that is promised for $19.95 (priced the very same as it was over 5 years ago) …AND, you will even have the ability to edit your videos too, though only minor editing!
This is the software I use for my screen captures AND my how-to videos that I create for a training site that I am a member of, as well as my YouTube channel… though, I have to admit, my YouTube channel is badly neglected.
So, now you can stop wasting time on scams.

Should you have any question regarding if WP Video Machine is bogus or even if you only want to add to the conversation, I hope you will feel free to leave me a comment below. A timely response is my promise to you.
Saving You Money and Aggravation,