Chris X et al is the creator / vendor of Commission Cloner, who promises this will give you the most profitable affiliate campaigns of 2021, and lets you blast them out to over two billion free traffic buyers.
He goes on to assure you that you will have over 2.5 billion buyers on tap, right from their Commission Cloner.
So that you can instantly click once to clone his campaigns, then click again to replace his links with your affiliate links, then simply plugin into the traffic sources for unlimited free buyers.
Then Chris says to repeat today, tomorrow and every day of 2021, without having to worry about:
buying traffic,
setting up websites,
products,
lists,
techie stuff
Because he claims that all of the hard work has been done for you.
Chris claims that it's like you cloned a six-figure affiliate business, with all of his affiliate promotions, but with his links all replaced with your affiliate links.
This way, Chris explains that from now on you're only ever launching affiliate campaigns that are proven, and plugging them into dozens of free traffic pools.
Chris claims that he is a six-figure super affiliate.
Today, he'd like you to become a Commission Cloner, because for the first time ever, his free traffic now becomes your free traffic, and his affiliate links become your affiliate links.
He also claims that Commission Cloner lets you clone his most profitable campaigns so that you get to keep 100% of the commissions, while doing 0% of the work.
Apparently, then it lets you clone free traffic like Chris does.
Chris states that you can plugin your done for you campaigns into 2 billion free traffic buyers.
My review of Commission Cloner will entail the following:
If You Don't Want to Waste Anymore of Your Time on Scams,
See My #1 Recommended Way of Making Money Online:


What is Commission Cloner?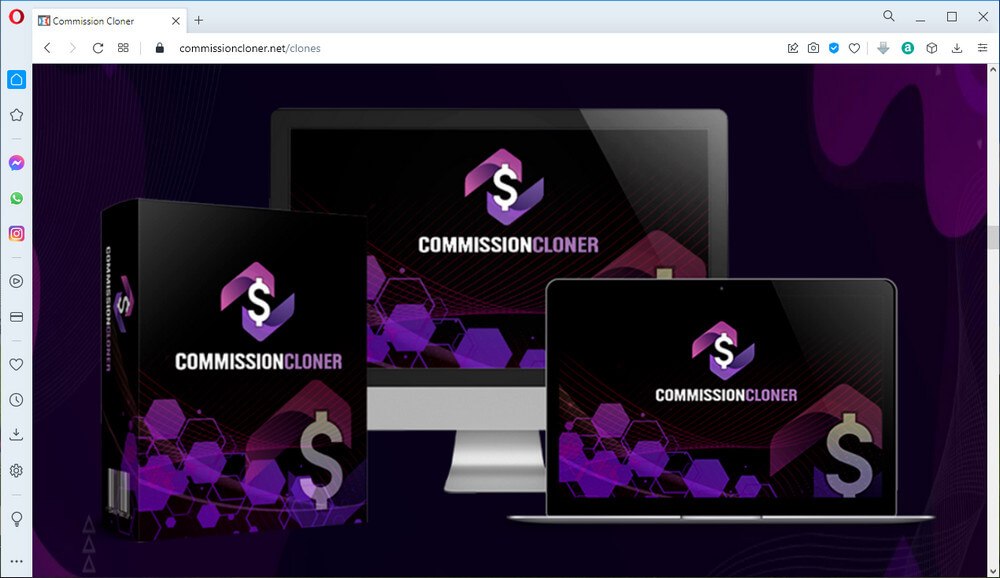 Program Name: Commission Cloner
Website: https://commissioncloner.net/clones
Price: $27 US funds (popup offers a LARGE discount – only $14 US funds) + 5 Upsells and Downsells
Recommended? NO
Rating:
---
Chris X et al says that Commission Cloner is a software app that pretty much forces you to do everything needed to make money, by his doing almost all the hard work for you, with everything preloaded inside a single website app.
He goes on to say that it's the easiest way to get free traffic and commissions in 2021, by copying what he does.
Chris repeats himself saying that all you need to do is replace his affiliate links with yours, choose from the free traffic sources and then click "clone".
This way, Chris explains, you can copy and clone what he is doing, so this way you won't have to invest the time and money that super affiliates like he invests daily.
Then he says that it sounds impossible, right?
Then Chris exclaims, not anymore!
He is now presenting Commission Cloner as a new 2-click software app that's the world's first done for you instant traffic blaster, with the ability to blast your affiliate links to every free traffic source on the planet in one click.
Chris states that this works for average people.
That in fact if you are brand new, or don't have a product or a list, and even if you don't have a website, you don't need one because everything from A to Z will be done for you, and 100% preloaded inside his cloud-based app.
In fact, Chris says that all you need to create your affiliate campaign and start getting traffic is to click four buttons, and you don't need to write so much as a word of content, create videos or even worry about traffic.
He claims that it is all done for you and is apparently just 4 clicks away, with every free traffic source, built right into this one, done-for-you platform.
Chris says to just look at how easy it is with his brand-new app.
He claims that first, you tell the software where you want to send traffic to, and that it can be any link to a website or an affiliate link.
In fact, Chris claims that he wants to make things really easy for you and that he has included all of his most profitable campaigns right now… and that these are the same offers he recommends that you promote to make commissions like him.
Chris calls himself a ClickBank Elite, Super affiliate and that he claims to know what sells. He says that is why he has personally tested every top offer into his app to maximize your profits.
Step 2 – you steal his done for you campaigns.
He says to take it from someone who's been making money for years, the campaign you create is very important.
Then he adds… but it's also time-consuming, and who has time to write headlines, calls to actions, and format images for dozens of traffic sources.
Chris then says that's why they've preloaded done for you campaigns for every niche and affiliate program, with banners, headlines and text all done for you.
So, he says for you to simply click once to steal one of his campaigns, edit and tweak it if you like, swapping in a different image, headline or video, or simply let him do the work.
And, Chris claims that just like that, their incredible software has built an entire campaign for you, around your website or affiliate program, filled with content, creative headline, call to action, video, and of course, your affiliate link.
Chris goes on to claim that to pay a top-marketer like him to create your campaign would cost you $5,000 or more;.
But that they're all preloaded into his powerful, cloud-based app, with dozens of his most profitable done-for-you campaigns, fully customizable, and just a click away.
Step 3 – Click to get free traffic.
And, now for the fun part, getting traffic, which Chris claims is normally the hardest part.
But apparently with Commission Cloner, all you need to do is click once to share your site to every free traffic source on the planet, with over 2.5 billion buyers on tap, in seconds.
Chris claims that it is the combination of his free traffic sources with his proven, hand-selected affiliate programs that makes his one-stop software app so powerful.
He states that literally, everything you need to start getting traffic and commissions is done for you, so you can stop guessing how to profit and simply clone what already works.
Simply log into his software, Chris says, and click a few times to clone your campaign, and then click again to launch it into all of the billion buyers traffic pool.
Chris then explains for you to then, turn around and do it again and again for all of the affiliate programs that he has included.
Apparently, there is over $30,000 of ClickBank, JVZoo and WarriorPlus commissions built right into his software.
He claims that this is your chance to become a super affiliate by leveraging all of their hard work.
Then Chris is quick to add that if you are an advanced marketer that you can edit his templates too.
For example, he suggested replacing your affiliate link with another website URL or another affiliate link.
According to Chris, this means that when you've exhausted his done for you campaigns, you can tweak them to promote anything you like, as your license will include full customization rights.
Chris says that you will always own 100% of the traffic and get to keep 100% of the profits.
He states that this is the solution for affiliates and beginners hungry for traffic and sales by providing you with everything you need to start making the daily sales and the commissions you've always dreamed of.
Which, he says, can be done for you by Commission Cloner.
Chris then asks the following questions:
Can you follow their three steps, and click four times?
Are you frustrated at the old ways of getting traffic?
Do you want to just clone the campaigns of a super affiliate?
Are you ready to try something truly new?
If so, Chris says it can work for you.
He claims that as long as you have a browser to run the app on, you can dive into the free traffic pool whenever you feel like a cash dip.
And he states that you could be making money with dozens of affiliate programs every month just like he is doing, and all without:
monthly fees,
costs,
setup time,
worrying about traffic.
Chris claims that it's the software he would have wanted when he started out. For the first time in your life, he says that you are on the inside.
Then Chris states that Commission Cloner has been in development for months now.
He goes on to say that if you are still seeing his offer, you can still get his software app but that you need to take action right away.
With thousands of people hitting his landing page, Chris claims that this has to be a limited offer.
Chris claims that soon they will have to move to a monthly recurring price, and it will still be a steal at $97 per month.
He says that this is your chance to skip the free traffic learning curve in one move, and that the smart marketers know that the other traffic sources are saturated, and only getting worse.
Chris also adds that the smart marketers know in 2021 that they need an edge.
Apparently, knowing isn't enough, that you also need to take action.
Chris states that this opportunity won't be around for more than a few days.
That in fact, they are going to increase the price every single hour, and then at the end of the week the price will jump to a recurring monthly price.
However, Chris then states that you can get in at the ground floor, at a tiny one-time fee, and that you'll get instant access to the easiest affiliate traffic app on the planet.
He says that unlike other apps, Commissions Cloner sets you up within seconds.
Apparently, just this one tool does everything you need to make money online with no monthly fees.
Unlimited affiliate campaigns
Unlimited free buyer traffic
Unlimited commissions
Chris says it's all here, at a price that's practically a steal, but only if you act now.
He claims that you are only one click away from unlocking explosive free traffic, with the power of his done for you traffic app.
Apparently, Commission Cloner has an unconditional 60-day money back guarantee, so Chris says to try it for sixty days, launch some campaigns, get some traffic, and make some money.
Then, if you still think this is not for you, Chris claims that he will refund your money, no questions asked.
Chris says that once you buy, he'll send you an instant access to the app, and then you can have your first campaign live in just 60 seconds.
Then he claims that you can clone as many campaigns as you like, and you can get unlimited free buyer traffic as many times as you like.
He says that there is no limit to the affiliate commissions you can make and no monthly fees.
Chris states that you'll get instant access to his software and all of his bonuses, as soon as you join, and that he'll also include personal access to his email address in the members area.
He claims he's here to help you succeed.
---

How Commission Cloner Actually Works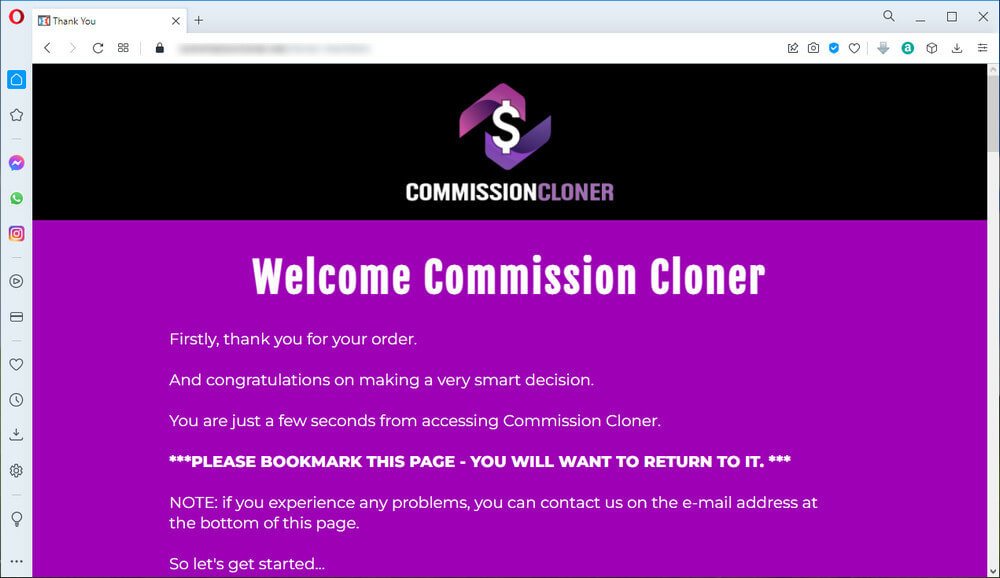 On the Thank You page, you will find a link to their software, along with the following: "NOTE: please check your email for your account login".
Below that, you will find 2 training videos (the 1st one is 6 minutes long, and the 2nd one is 3 minutes 59 seconds long) that you will NEED to pay close attention to, so that you will know how to use their software.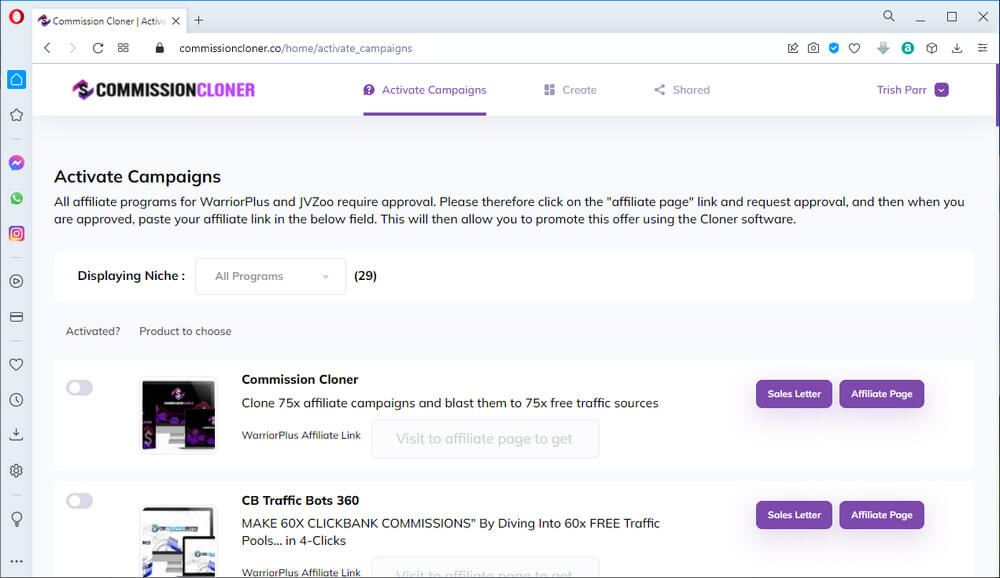 When I first signed in, my browser loads their Activate Campaigns area, where you will find 29 campaigns in which to choose from, by adding your affiliate links in the proper textbox.
It is clearly stated that all affiliate programs from WarriorPlus and JVZoo require approval in order for you to get an affiliate link to use.
Below each of the campaigns on this page, is a textbox that is clearly labeled as either WarriorPlus Affiliate Link or JVZoo Affiliate Link.
Beside each campaign are two buttons; one labeled Sales Letter and the other as Affiliate Page.
Commission Cloner – Said to clone 75 affiliate campaigns and blast them to 75 free traffic sources.
CB Traffic Bots 360 – Claims to make 60 ClickBank Commissions by diving into 60 free traffic pools in 4 clicks.
Fliik – States that you can profit with comparison videos that rank on Google and YouTube with no selling.
Thriive – Apparently, no one knows about these "micro-niches" but that's why they claim their so profitable.
Pockitz – You're told to discover how Seun generates income from his pocket using other people's videos.
News Profix Pro – Is said to create fully automated news sites that generate content and traffic automatically.
Raiid – Said to generate ClickBank commissions with sites pre-filled with content.
Traffic Transformer – Said to transform other people's content into your free traffic in 4 clicks.
Breeze – Said to get free traffic from 20 viral traffic sources with giveaway funnels.
Clikitz – Said to get you paid per click using other people's content and without doing any selling.
Beast Funnels – Said to create funnels that generate viral traffic and build your list at the same time.
Profit Forcer – You're asked: "What if you could just force yourself to profit by switching a super affiliate's link with yours?"
Affiliate List Bot – You're to build your buyers list while also generating affiliate commissions with DFY pages.
Affiliate Cloner – Said to clone profitable affiliate campaigns and preload them on this DFY hosted website.
Commission Blaster – Claims to instantly blast your website or affiliate link to 30 new free traffic sources with 2.5 billion buyers.
Slick – Said to create 20 types of done-for-you video campaigns then blast them to 100 traffic sources.
10x Profit Sites – You're asked "Want to launch 100% done-for-you ClickBank sites with a new affiliate software?"
1 Click Affiliate – Said to launch WordPress affiliate sites, promoting ClickBank, WarriorPlus and JVZoo offers in seconds.
Comparistes – Said to create price comparison sites with DFY daily content, to get free traffic and rankings, while promoting some of the world's biggest brands.
Commission Pages – Claims to launch instant funnel pages that build your list while also generating commissions.
Mightee – Said to generate free viral traffic with giveaway and social contest funnel.
Frooggal – Said to launch instant coupon sites for sites like Amazon, with content and products pre-loaded.
Academy Pro 2.0 – Said to create Udemy style video course membership sites that pay you 100%.
AffiliWeapons – Claims to give you 5 affiliate "weapons" that allow you to profit with DFY websites.
PinWizz – Said to get free traffic from Pinterest with this powerful newbie-friendly software.
JackedATM – Claims to jack any website or article and then siphon off the traffic to your own sites and affiliate links.
DoodleMaker – Claims to create engaging sketch and doodle videos using the power of AI.
ConversioWidgets – Claims to boost the conversions of any website with 17 AI widgets.
Kaptiwa 2 – Said to offer you lightening fast video hosting and marketing software for a huge discount.
PROS
On the Active Campaigns page, the Sales Letter buttons are all linked to the vendor's landing pages and the Affiliate Page buttons are all linked to the vendor's JV pages, making it easier for you to apply for your affiliate link.
CONS
I had to contact the vendor's support for my login, as I was NOT emailed that information as promised.
In the Create section of this software, if you make a mistake entering your ClickBank ID, I could find no means of fixing it, causing you to have to fix your ID, EACH and EVERY time you create a ClickBank affiliate link.
For a complete list of the free traffic sites referred to from inside their app, I have taken a screen print of them.
Click here to see that screen print, as it is quite long, and they all appear to be social media sites.
When using the Create option, I saw no real proof that anything that I did was actually shared anywhere online.
It would also be very wise to make sure that ANY of the products you allow YOUR affiliate links on are actually worth supporting, else you could damage your online reputation by becoming known for "pushing junk".
---

My Take on Commission Cloner

Is Commission Cloner a new app that clones profits?
I saw no evidence of that being the case with what work I did inside the software app.
Due to not being able to see any evidence of any of the work that I did actually being shared anywhere online, and the issue with not being able to correct any mistake made when entering your ClickBank ID, if this did work, I don't recommend Commission Cloner.
Below is my video review of Commission Cloner by Chris X et al.


Summary
To think that you can magically make money with a magical formula that many self-professing, super affiliates promise to provide you with reminds me of an old saying.
The harder I work the luckier I am. ~ Samuel Goldwyn
There is no magical formula to making money online.
But there is a simple system that you can follow in creating a real, honest, and solid business that can teach you how to earn a substantial income in the long run, if you're prepared to work.
If you are ready to learn, then I would love to share a training platform with you that I have been a member of since 2016.
You can join this platform right now for FREE!
You won't even be asked for a credit card.
Once you've created your profile, you can head over to the first 10 lessons that are FREE for you to experience the quality of the training on this world-class training platform.
PLUS… you can create your very own website for FREE.
Your website comes with a SSL certificate activated straight away, and ready to protect your website visitor's devices, making your site more desirable to Google.
If you wish to know more about this training platform, click here to get my free guide to learn all about it.

Should you have any questions regarding is Commission Cloner a new app that clones profits, please do leave them in a comment below so that we can discuss this further.
There is No Magic Formula,