Ankur Shukla is the vendor of Commission Host and he claims that top hosting companies can pay you anywhere from $100 to $200 in commissions for ever new customer you send them.
He says that promoting essential services like hosting offers can make you big money.
Then he shows you an affiliate marketer's website, while he claims that all this marketer does is write hosting affiliate reviews.
Shukla claims that this marketer has made over $200,000 dollars in the last few years by simply promoting hosting offers, as he shows you a screen print that is supposed to be this marketer's income chart.
Then he shows another blogger's income chart that was apparently from 2018, who writes hosting reviews and gets paid over $29,000.
And then he claims that this affiliate has made over $32,000 in the last few years from passive income, from Bluehost alone.
Shukla then states that he has personally tried this system, and that over the last few months he apparently has made recurring commissions by promoting just one hosting offer.
Along with screen prints of total sales, Shukla claims that he earned over $1,000 the first month [his screen print shows July 2020], $2,000 the second month [his screen print shows June 2020] and just shy of $4,000 the third month [his screen print shows May 2020].
That's over $7,000 in commissions in 3 months, he says.
Then he says you can get paid month after month, and that if you are wondering how you can do this too, there is a fast and easy way to replicate his method.
My review of this system will cover the following:
If You Don't Want to Waste Anymore of Your Time on Scams,
See My #1 Recommended Way of Making Money Online:


What is Commission Host?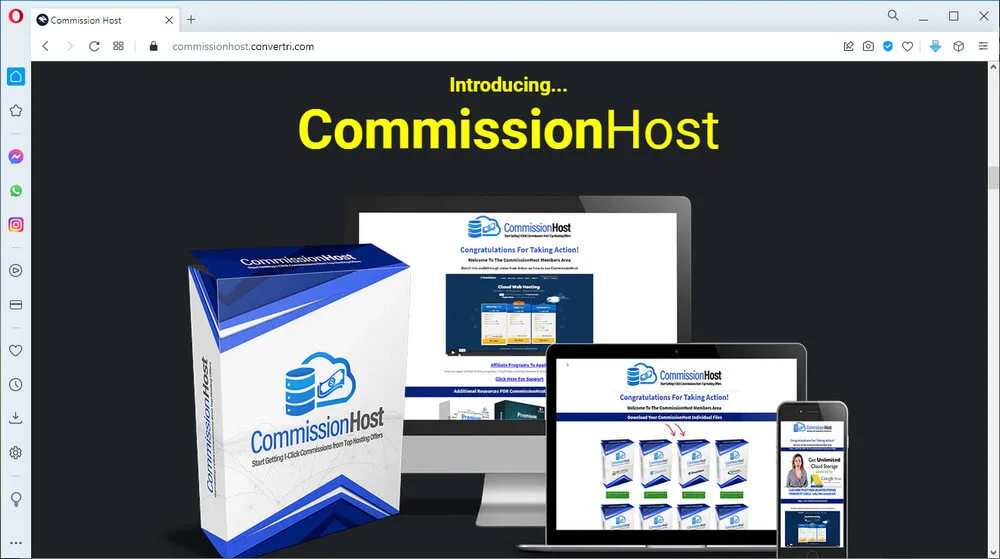 Program Name: CommissionHost
Website: https://commissionhost.convertri.com/
Price: $17.22 US funds, claiming a limited time 70% discount, PLUS 7 upsells and 7 downsales
Recommended? NO
Rating:
---
Ankur Shukla claims that Commission Host is a simple, 1-click, done for you commission system that gets you paid big commissions from top hosting offers month after month.
The following is what he says that you get:
20 done for you hosting affiliate review blog posts
All images and graphics
All properly formatted content
Ready to import into your site in WordPress format
He says that all you have to do is 1-click and import these done for you posts into your site and start earning commissions. That's it!
Then Shukla shows you how this works. He goes on to say that inside the Commission Host members area, you can download the 20 affiliate reviews.
Then, log into your WordPress website, click Tools > Import and select the affiliate hosting offer that you want to add to your website.
Shukla then states that with just 1-click, an amazing, authority site affiliate review is added to your site, along with images of high-quality graphics, as well as a call to action (CTA).
You will then have a full and in-depth review of the hosting offers, all done for you.
Then you can review the imported review to see how it looks on your site, add your own affiliate link, and then you can start making money from it.
Shukla says that this is perfect for anyone who already has website or a blog.
Or… he quickly adds, if you want to launch your own affiliate site full of hosting offers, you can do that too and become a super affiliate.
Shukla claims that Commission Host takes away the pain of writing full affiliate review articles, designing graphics, and putting it all together.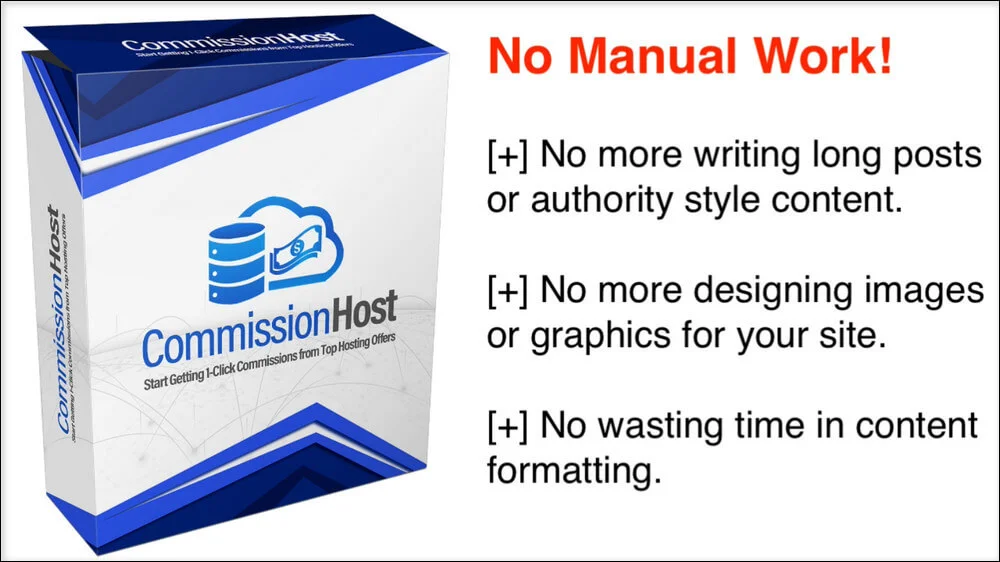 He stresses that you do not need to spend time in any manual work, no formatting… nothing is required, no designing. Just 1-click and import these done for you posts and you're done.
According to Shukla, the best part is that you can instantly promote and earn commissions from 20 affiliate sites at the same time.
He goes on to say that yes, you get 20 hosting affiliate reviews with Commission Host and you can add them all in one day on the same website, or you can post them every single day for the next entire month.
This he says, is completely up to you.
Shukla goes on to say that early customers who got access to this were apparently blown away by the simplicity of this.
Top bloggers are already making top commissions from this, he says; People earning six figures from top hosting companies alone.
Then he claims that "this fella" has made over 20 million dollars [I think he meant to say 200 thousand as that is the screen print that he repeated displaying here] over the last few years in passive income from Bluehost alone.
Shukla then states that he personally made over $7,000 in the last few months.
He goes on to claim that this system works because every one needs hosting to start an online business and that's why you need to start now and take action.
He says, start making money with hosting offers, so do not think about this twice. Shukla then adds that you should jump in now and get your copy of Commission Host today.
Shukla states that this is an early bird price right now and the discount will go away very soon, so take action now before it's gone.
In the below video, Ankur Shukla demonstrates Commission Host for you.
---

How Commission Host Actually Works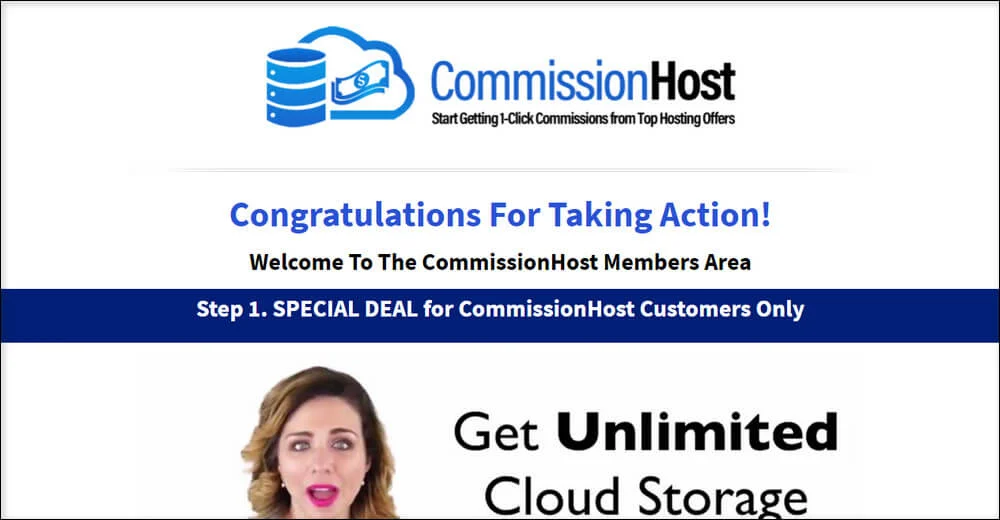 Inside the members area, you will see that Step 1 is simply Ankur Shukla's affiliate link to an offer of unlimited cloud storage powered by Google Drive.
Step 2: is a walkthrough video (00:05:29 minutes) from Shukla, showing you how to use Commission Host.
Below the video, you will find a link to Affiliate Programs To Apply to, which will take your browser to a Google Doc with a list of hosting companies that you can apply to become an affiliate of.
At the time of writing this, 20 hosts are listed with 3 having no means of emailing them. You MIGHT find a contact method for those 3 at their websites.
Shukla does note that it might take anywhere from 8 to 10 days to get approved based on the hosting company's terms.
The next link is Click Here For Support, which when clicked will open your chosen email software and load the support email address for you.
Next, you will find Additional Resources FOR CommissionHost CUSTOMERS only. These are all zip files of which are:
Premium Headlines – a text file with headlines you could use
Premium Call To Action Buttons – 15 different PNG images of different colored buttons
Premium Landing Page Builder – which is a Lead Page Optin Page template that has been tested up to WordPress v5.6
Below this you can Download Your CommissionHost Individual Files, which are also zip files, and appear as follows:
Ad Hosting
bluehost
DreamHost
fasthost
FatCow
GoDaddy
GreenGeeks
westhost
HOSTPAPA
HostGater
HOSTINGER
Hostmonster
HostDime
site5
Inmotion hosting
InterServer
IONOS
IPOWER
Liquid Web
namecheap
Next, you can Download Your Bonuses HERE, which are 6 zip files, and are shown as follows:
Hosting Testimonials
Seo Meta Tags & Keywords
Top 10 Hostings
WP Optin Boost
WP All SEO
WP Image Optimize
And, last of all is Shukla's IMPORTANT Step 3. Did You Forget Any of These? Here you will find 6 links to his upsells, which are as follows:
Get UPGRADE CommissionHost PRO HERE
Get UPGRADE CommissionHost Lead Magnets HERE
Get UPGRADE CommissionHost Done-For-You HERE
Get UPGRADE CommissionHost Hosting Offer HERE
Get UPGRADE CommissionHost Developer's License HERE
Get UPGRADE CommissionHost Reseller's License HERE
PROS
Who wouldn't love less writing and more commissions, right?
CONS
Once more than ONE customer publishes these posts to any website online, you will find the value of these articles substantially reduced. See screen print below for proof of this.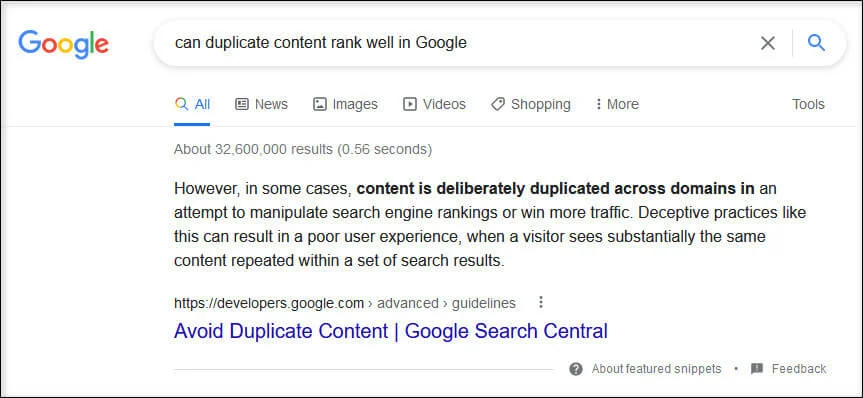 …or better still, simply click on Google's guidelines titled, Avoid creating duplicate content and read the guidelines for yourself.
So, if you DO buy into these promises then you will NEED to rewrite all of those reviews, making sure you do not have duplicate content on your website.
The images haven't even been optimized manually, forcing you to have to use an optimize image plugin when using the images, or manually optimizing them before uploading them to your website.
Plus, how out of date are those images of the hosting companies' sites.
In the frequently asked portion of Shukla's landing page, a claim is made that you do not need extra plugins or themes.
This is misleading at best to any newbie, as your WordPress site will need specific plugins and a theme installed.
This product is a far cry from being newbie friendly, unless of course the newbie has someone else setup their website for them, add a theme so they can work on the site, and install necessary plugins, such as cache, firewall protection, anti-spam, etc., and then teach them how to use the new WordPress Block Editor.
Each of the host review files will take you more than 5 minutes promised to upload and add your affiliate links to. You will be lucky if it only takes you 20 minutes for EACH of the 20 files.
---

My Take on Commission Host

Ankur Shukla may have meant well by providing you with this product but due to the likelihood of users being punished by losing out on their site ranking in Google search results due to duplicate content, I do NOT recommend Commission Host.
Yes, Commission Host is what COULD be defined as being a plugin-n-play system. But there really is NO MAGIC WAND for creating content.
If you want your content to rank well then you will need to provide quality, unique information or you will be wasting you time and money.
Below is my video review of Commission Host by Ankur Shukla


Summary
For those of you who want to learn how to write great content, and start a profitable, online business, I would like to share with you a training platform that I have been a member of since 2016. And, you can join as a member for FREE!
That's right… I DID say, you can become a member FREE!
You won't even be asked for a credit card.
Once you've signed up, simply fill in your profile and upload a recent image of yourself, the you will find comments below your profile, directing you to the 10 FREE lessons that you will have FULL access to for seven whole days!
"Why all of the FREEBIES?", you ask.
The owners of this training platform are THAT confident that you will experience for yourself that the training here is definitely world-class… and that you will see how great the members here are when it comes to helping each other that you will understand fully the value of this platform.
Not only that but you will have an entire community at your finger tips should you have any technical issues that you need help with.
All that you would need to do is simply post a question and you will soon find several members ready to help you with what they have learned.

On top of all of that, you will have the ability to create a website for FREE so that you can follow along with those FREE LESSONS. Plus, you will be able to turn on a FREE SSL certificate for you FREE WEBSITE.
Try and top THAT offer anywhere online. Bet you can't!
The whole idea is to be able to offer you as much information as to the quality of training, tools and help that as a member of this training platform, you would be able to gain full access to, should you decide to sign up as a paying member.
Of course, this offer is NOT for the freebie seekers, as you will soon learn that creating an online business takes serious work.
As I stated above; there is no magical means of having good quality, unique content created for you.
So, if you are ready to learn more about this training platform, click here to get my FREE guide.

Do hope you found my review of Commission Host to be helpful in answering the question; is Commission Host a plug-n-play system.
And, that your decision to buy or not to buy was made much easier for you.
Should you have any questions regarding my review of Commission Host, please DO leave them in a comment below so that I can respond to them.
I value all comments made and I do respond in a timely manner.
Thanks for dropping by,