Straight away, LJ Aviles tells you that he is going to help you make money online whether you want him to or not.
He says that you are here because you are looking for a way to be able to make some extra money from home, or maybe you're looking for a little pocket change, or a side-hustle.
Aviles goes on to say, because nowadays the more money you have the better your life will be.
He says that you're tired of feeling struggling, maybe you're not getting paid what you know that you are worth at your job.
So, you want to be able to make some extra cash, he says.
Aviles says that maybe you have some debt accumulating that you want to be able to pay down, or maybe save up for a vacation and just treat your family to some nicer luxuries of life.
If that's what you want, Aviles says that this is exactly where you need to be, that you are in the right spot.
He says that the first thing you need to do is go ahead and click on that link below his landing page video, and claim your free membership to his Stupid Simple System.
He claims that once you get inside, he will walk you though his stupid simple steps on how you can start to make money from home.
My review here will provide you with the following:

See My #1 Recommended Way of Making Money Online:


What is Stupid Simple System?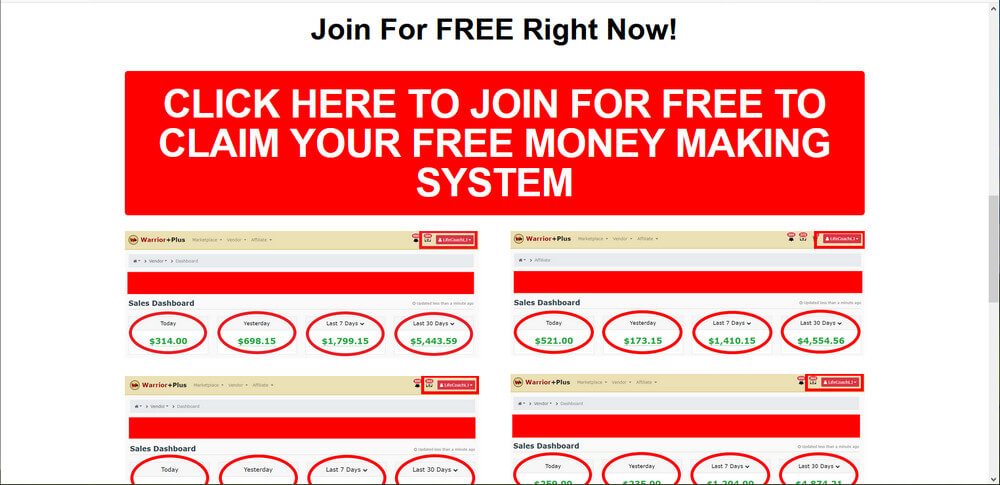 Program Name: Stupid Simple System
Website: http://affiliatesecretsystem.com/sss/
Price: FREE + 7 upsells and 7 downsells
Recommended? NO
Rating:
---
LJ Aviles claims that the first step is that you are going to get an affiliate link and once you get that link, the second thing he says that he is going to teach you and share with you exactly what to do is get traffic and once you send traffic to the system that is where step three pops in.
He states that you are going to get paid when all your leads purchase any of the upgrades that your traffic package is from within the system. He claims that it is that simple.
The best part Aviles says is that he is going to do all the work for you that you are not going to have to talk to anyone, you're not going to have to hit up any of your friends and family, you ain't going to do anything like that.
He says that he teaches you exactly what to do inside the system and he claims that he is going to do all of the work for you, to help you make money.
Aviles says if that is what you are looking for, you're looking for that assistance that guidance that mentorship and that support that is exactly what you are getting in his VIP crew with the Stupid Simple System.
He says to always remember that you are only one side-hustle away. 
---

How Stupid Simple System Actually Works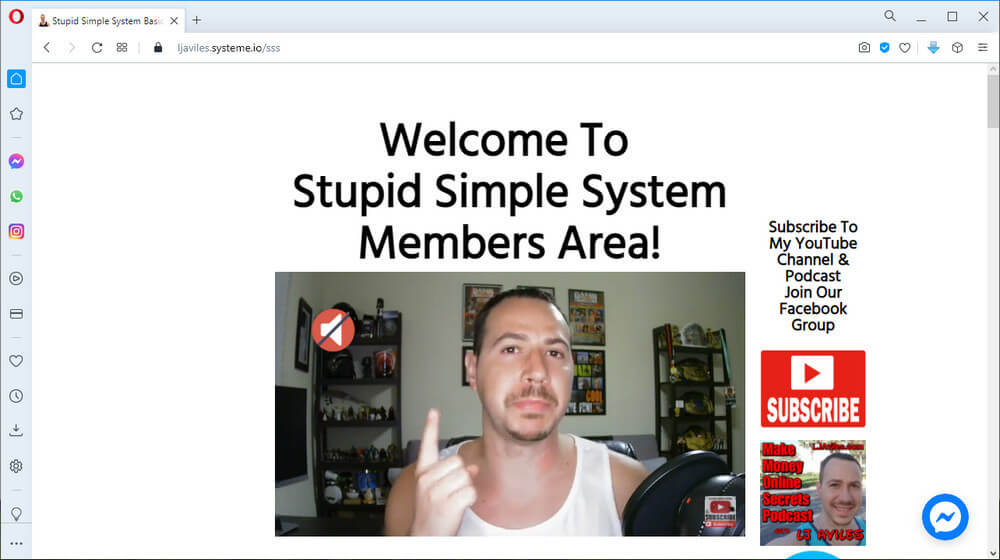 The introduction video is a 16-minute YouTube hosted video in which LJ Aviles tells you the reason he set up his course for you. He then walks you through his FREE course.
Step 1: Get Your Stupid Simply System Affiliate Link – NOTE: You will need to setup an account with Warrior Plus if you do not already have one.
At roughly 2 minutes 14 seconds into his introduction video, he clearly shows you that you will be using Solo Ads to buy traffic. These are NOT free packages.
The Step 2a link below this video titled "Get Fast Traffic And Leads" is clearly labeled "Click Here to Buy LJ Solo Ads Traffic". This link takes you to his life coaching web page where he explains about Solo Ads and provides you with packages to buy your traffic with. This is NOT a free system.
Step 2b: Free Traffic Strategy Training offers Free Traffic Training which is a link to Aviles' training web page where you will find another YouTube hosted video, this time for 28 minutes, below which is a link to join MLM Gateway for free and connect with Buyer Leads to Get Traffic to Your SSS Affiliate link (in which this link appears to be his affiliate link).
Below the link is a note of "Premium Membership is Recommended But Not Required…"
Step 3: Watch The FREE Webinar Teaching You How To Get Up To $2,000 Cash Payments Sent To You On Complete Autopilot! – which when you click on the link offered below this title on his training page, you will find a 2 minute video to tell you to click on yet another link in order to gain access to his webinar.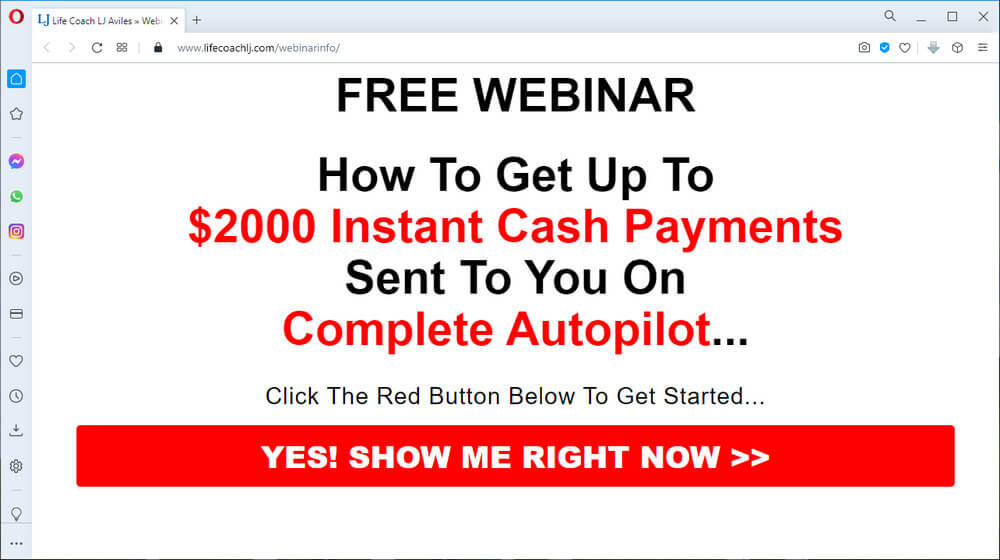 Once you click on the YES!… link, you are provided with a textbox in which you must enter you email address in order for you to be able to go any further.
Now that you have arrived at his free webinar, you will find a video 47 minutes 30 seconds in length where LJ Aviles says that if you want to be able to make money online then you are at the right spot and he is really glad to share with you exactly what he has going on today.
He then proceeds to his talk about how to get up to $2,000 instant cash payments sent to you on complete autopilot… and how to get started in the next 33 minutes. He labels himself as a life coach.
At 10 minutes 44 seconds into this video, Aviles finally says, "here's your solution…" and then he introduces you to the fact that it is an online business.
And he displays his model of what an online business does.
Aviles claims that he will share his secret on how to ethically 10 times your income by doing exactly the same amount of work.
Then he asks you if you would like to earn 100% commissions on all of your sales.
His examples of a "normal online business model" is then explained by providing you with 3 different options.
Then he talks about your investing in a product, claiming this is the best online business model, because someone else looks after the back end of the product and you reap all the money from your sales.
Aviles tries to lure you further by suggesting that he would do all of this with you, so that you would have someone holding your hand, walking with you all of the way.
He then tells you that he put together a special package to help you get massive results and help you succeed.
The name of the company is then introduced to you.
Apparently, it is a global company that teaches you the life long skills of internet marketing to help you successfully run an online business.
Aviles goes on to explain that you get resale rights to sell the products as your own when you invest in their products, and you have the opportunity to earn 100% commissions of up to $2,000 per sale… and, that you have the opportunity to earn 100% commissions of up to $2,000 from OTHER people's sales.
This appears to be an MLM business and if so, then Aviles would be your upline and not your partner.
When you make a purchase, you become Aviles' customer, and then you must go out there and get customers.
Below this video is a timer titled "Claim Your Exclusive Bonuses When The Timer Runs Out!" and once the timer runs out you should be able to see all of the bonuses that Aviles promises you, if you sign up from his site.
Step 4 – Upgrade To VIP For Advanced Training and Bonuses – a link to an upsell to upgrade to VIP for $7 US funds.
Step 5 – Get The Stupid Simple System Case Study, Secret Traffic Sources, & Bonus Training – a link to another upsell for a Case Study for $27 US funds.
Step 6: Unlock High Ticket Takeover To Add A High Ticket Income Stream To Your System – a link to another upsell to Unlock High Ticket Takeover Income Stream for $67 US funds.
Step 7: Unlock Autopilot Traffic To Get Unlimited Traffic To Your Link For Unlimited Potential Sales – another link to another upsell to Unlock Autopilot Traffic for $147 US funds.
Step 8: Become An ELITE and Double Your Commissions To Earn 100% Commissions On ALL Stupid Simple System Products – another link to another upsell. This time to upgrade to Elite & Double Your Commissions for $297 US funds.
Step 9: Get ASSET Complete & Earn Passive Recurring Income & Earn 100% Commissions With This 2nd Automated Income System – another link to yet another upsell. This time to Unlock Asset Complete, Your 2nd Automated Income System for $397 US funds.
Step 10: Access All Of Your Stupid Simple System Upgrades – another upsell. This one is to Access All Of Your Stupid System Upgrades for ??? and this link goes to a Warrior+PLus web page with all of the products you've ever purchased. Looks like Aviles make have boo-booed here.
And last of all, his SURPRISE BONUS! …which provides VIP members login access.
PROS
Could not find any.
CONS
Aviles talks about your partnering with him but you would be sponsored by him as this in all intense and purposes appears to be a multi-level marketing business (MLM).
I purchased Aviles VIP System and it is also not worth the $7 US funds.
Among the bonuses mentioned in his webinar, Aviles claims that his Bonus #4 is worth $497, and is a copy of 10K Email Manifesto eBook.
Yet, when I Google searched that title… well, check in out for yourself here: https://s3-us-west-2.amazonaws.com/webinarbm/10K_Email_Manifesto+(1).pdf. I did NOT bother checking the other "bonuses".
---

My Take on Stupid Simple System

This training I do NOT recommend, simply because in my opinion it is a total waste of your time.
With a little more forethought and work in providing real quality, free training, LJ Aviles may have had a great idea.
However, I found getting to his FREE training very annoying after having to click and scroll through over 14 different web pages, in order to get past his many upsells and downsells, only to be offered a trivial means of helping him "sell" his free training.
Below is my video review on Aviles' Stupid Simple System a 100% Free System".


Summary
If you truly want to gain access to REAL world-class FREE lessons… 10 lessons to be precises… AND be offered a means of building a FREE website that comes with an SSL certificate making your site more user-friendly for mobile users.
All of this will be offered to you FREE of charge (you won't even be asked for a credit card!) while you learn to create your new online business then please, click on my free guide and get the FULL details.
Should you have any questions regarding is Stupid Simple System a 100% free System, then please do leave your question(s) below in a comment and I will respond to you quickly.
Stop wasting your time,