Matt Bacak starts off by asking if you know why he would rather run an email-based marketing business than any other type of business?
You know, rather than:
using Shopify,
selling on Amazon,
building funnels,
creating products or software,
social media marketing,
building an agency,
running ads on Facebook or running a Facebook group,
posting on social media all day long
He says it is because he doesn't have to have employees or overhead or even create content.
And, he added that he doesn't have to sell ads in order to keep sales coming in.
Bacak claims that it costs him virtually nothing to send emails. He claims that all he does every day is come into his office and he sends an email… that's it.
And then, he says, within minutes he generates sales.
Then Bacak shows you screen prints of a list of sales that supposedly came into his inbox, while claiming that is $4,528.26 in a day. Followed by his claiming… that's $5,013 in a day, that's over $10,000 in a day, that's over $64,000 in a month.
And here's another one, he goes on to claim there's over $42,000 in a month… just from one account that he says that he barely even uses, and he declares the list goes on and on, and apparently, he's got tons of email accounts.
Bacak says that for the last 24 years he has been one of the biggest underground marketers in the world. In fact, he says you probably never even heard of him before… or maybe you have heard of him. But here's what he claims is his thing.
He claims to have helped guys like Russell Brunson and Ryan Deiss before they were as well known as they are today.
In fact, Bacak goes on to say that he has won trophies for Marketer of The Year, he won it is 2010, 2019, and he has been interviewed on national television about making money online.
In fact, he says, it was one of the most run [aired] episodes of all times that they had.
Bacak goes on to say that he has been asked to speak all over the world, in places like Singapore, Ireland, Australia, Thailand, Israel, London [England], Poland, and many more.
But what is most important of all, Bacak claims is that he has been making millions of dollars a year just by sending emails, since 2003.
And in fact, he says that he has sent well over a billion emails in the last 18 years. At last count, he adds that he has email lists are growing up to 10,970 new subscribers a day.
On top of this, he says that his first book, The Ultimate Lead Generation Plan [01 Dec 2005] became a number one, best seller book in just a few short hours by just people sending emails.
This review will cover the following:
See My #1 Recommended Way of Making Money Online:


What is Secret Email System?

Program Name: Secret Email System
Website: https://secretemailsystem.com/
Price: $5.60 US funds, said to expire day after you arrive on his landing page + 2 Upsells and 2 Downsells
Recommended? YES but for informational purposes only
Rating:
---
Matt Bacak says that he has had a huge office before, hundreds of employees, his own private airplane, and he even had his own pilot flying him around to different events.
But he says, what he really had was a lot of headaches and a lot of overhead and a LOT of stress.
He says that eight years ago, he decided to hire a top tier accountant to help him figure out what was the most profitable area of his businesses.
And he says that out of everything they were doing, email was the most profitable thing by a mile.
Apparently, Bacak said enough is enough and closed his doors but he kept his email list, the most profitable asset he had, and that is it.
He says that he instantly created his own freedom business by doing this.
He says that as of now he only works a few hours a day, and that most of their work is sending emails, and that's it.
Bacak claims that the way he does it is that he has these pages that runs specific ads to generate leads.
And, once he generates leads, he claims that he can make money off that lead for years.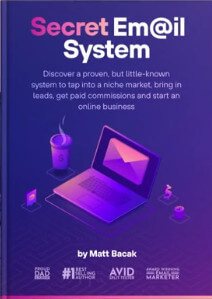 So, what he said that he did was that he wrote a book called the Secret Email System.
He claims that the reason he calls it the Secret Email System is because it is the secret way that nobody actually knows how to do email profitably.
And in fact, he says, so profitable that it feels like you are retired.
Bacak goes on to say that in fact nobody is really teaching email, how to do email right.
And, he explains, it is all about promoting other people's products, not creating your own.
He claims that he has been doing this for eight years now, and he is not the only one that this has worked for.
He also claims that recently he taught 67 people and each of those people started generating sales within 24 hours.
Bacak goes on to say that one of his clients claimed to have broke 1.1 million dollars gross with $575,000 net.
Though, he does add that this was a long time coming. He goes on to claim that another client came out of nowhere and that client is now making 2 million dollars a month.
He says that it is absolutely amazing how many people don't follow his BMG 10 method that he created.
Basically, he says that you build a list, email the list, get paid, and then 10X it.
Bacak claims that anyone can blatantly copy this method.
He says that you have probably seen this strategy in one way or another already, but he ventures a guess that you have not started using it, or made it work.
Apparently, a large number of people have tried to use this method, but Bacak claims that most of them get it all wrong.
He claims that each of them left out one or more key methods or key elements that he reveals inside his book that will make his strategy so effective.
Leave out one of these methods, and Bacak says that at best you will spend way too much money, and at worse your entire strategy will fail.
He says to make sure you use all of the elements inside his book, and you might not be able to keep up with the amount of money flooding into your bank account.
Using this BMG method that he created, Bacak says others have made millions. He says that his strategy did not just happen over night. He claims that it took him three years and $64,929.47 to master.
He claims that he put those life-time changing methods and strategies in his 32-page book so you could learn to make money online.
And, he continues to say that these strategies have made other businesses millions of dollars… he states that in fact ordinary people into millionaires.
Bacak claims that this is not just theory, that his goal is to create a little but powerful book about the system that he sought after for years, and inside this book, here is what he says that you will discover:
The shocking truth as to why artist starve.
The way to success
The top niches for making money online
How to shortcut your way to money
The most important metric, the strategy to immediately start making money
Bacak's top 7 traffic sources
Bacak's money making mantra, which he claims to be a special effect that will manifest more sales whether you want them or not
How to 10X it, which he claims is that last missing piece, that in fact is the one thing that rarely anybody does but that is the biggest reasons why they fail
Plus, he claims he will give you his outrageous bonuses:
Bacak's 3x Formula Calculator, plus a video to share his secrets in using this properly
Plus, a thousand emails that you can adapt, swipe and employ
Bacak's secret 357,582 Lead Generation Template to get self liquidating leads
Bacak's Secret Email System Checklist… and handful more
Bacak says he looks forward to your being one of his next success stories.
---

How Secret Email System Actually Works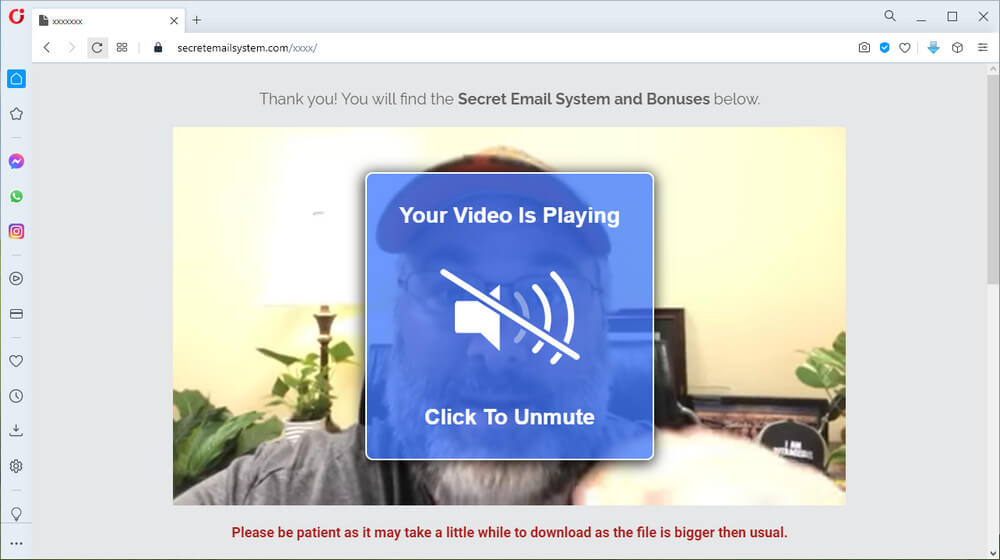 Matt Bacak offers you a quick 52 second introduction video, below which you will find a Windows version zip file and a MAC version zip file, and below those is a link to his video of over 35 minutes, inviting you to hire him as your very own coach.
When clicking on the invitation button, my browser was taken to yet another web page titled Step 1 of 3: Please Fill Out Pre-Appointment Intake Form with another video of Matt Bacak telling you what your next step will be.
Having filled in a similar form back in 2016, for an offer by John Thornhill, I decided to forgo that option.
And, for those of you who have not had the benefit of being introduced to a similar signup method offered by John Thornhill, well… that price was nearly $4,000 Canadian funds.
The zip file I downloaded is the one meant for Windows users. It was a file 634,392 KB in size, and Bacak did mention for you to be patient when downloading this file as it is rather large.
Once unzipped, you will see a folder with the following:
The first folder titled 3x Formula Calculator – which contains an Excel file and the video (00:08:37 minutes) labeled WatchMeFirst.mp4, which is what Bacak promised to include that shows you how to use his calculator.
You will need to make the Excel file editable so that you can use it.
The second folder titled 1000EmailSwipes – which contains another folder titled 1000Emails, containing the emails Bacak promised, and a 7 minute 5 second video, labeled HowToEditAnEmailForAnyNiceh.mp4 by Tiffany with tiffanylambert.com who shows you how you can edit these 1000 emails.
The third folder titled Free Sessions – which contains a txt file labeled FreeSessionInstrutions.txt that states the following: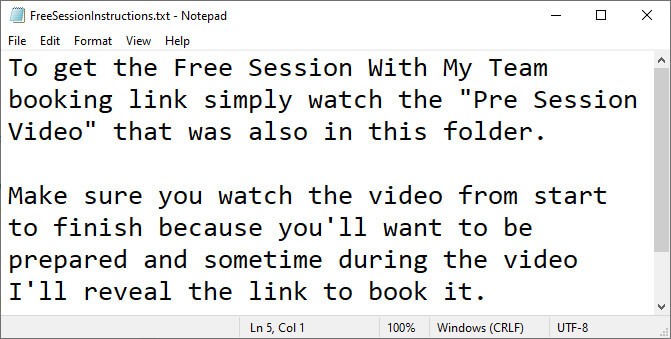 …along with a video (1:25:28 minutes) labeled PreSessionVideo.mp4 that appears to be an old webinar.
The Free Strategy Session you need to fill in ANOTHER Pre-Appointment Intake Form for your Free Strategy Session.
The fourth folder titled Lead Gen Template – which contains a txt file labeled LeadGenTemplate.txt that states the following: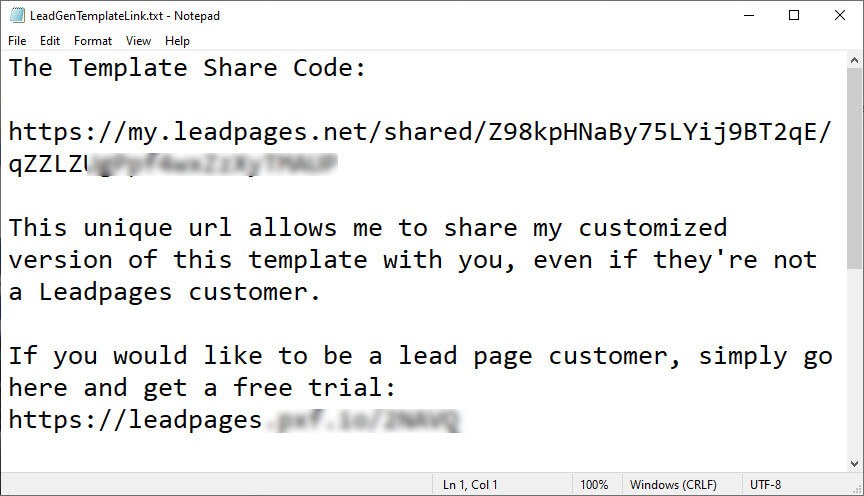 (I blurred the sections in my screen print above, in order to provide the vendor with privacy.)
And, the first link certainly is a unique link folks, but all it is a web page where you will find a video from LeadPages.com as a popup page.
Close that popup and you will see a copy of Matt Bacak's Lead Gen Template
This came with, a video 9 minutes 27 seconds labeled LeadGenTemplateVideo.mp4 in which Matt Bacak demonstrated how to use his template.
PLUS… 4 PDF documents:
GiganticSwipeFilesBook.pdf – 161 pages, which includes things like:
Killer Article Titles (100)
102 Benefits [Statements You Could Use]
Bombastic Blog Post Subject Lines
High Converting Bullet Points
etc.
InternetMillionaireMindBook.pdf – 35 pages, titled Secrets of the Internet-Millionaire Mind
SecretEmailSystemBookNEW.pdf – 60 pages, titled Secret Em@il System
SecretEmailSystemCheckList.pdf – a 1 page checklist
Along with another video, this time labeled as irresibleOfferVideoGuide.mp4 (20 minutes 48 seconds), in which Matt Bacak talks about how to select irresistible offers from the 3 different websites that he referred to inside his Secret Em@il System eBook.
PLUS… 2 txt files:
MasterclassDetails.txt – in which it is stated that you will be automatically added to receive messages for the 10,978 New Leads-Daily Masterclass, from Matt Bacak.
PrivateFBGroup.txt – in which you will find a request for you to join his private Facebook Community, in which a URL to that group is provided.
---

My Take on Secret Email System

Who wouldn't want to learn something new in whatever Matt Bacak has to share with you for all of $5.60 US funds?
So, yes of course, I recommend purchasing his Secret Email System, but for informational purposes only.
As to whether you choose to purchase his upsells is really up to you. For me, that his signup sheet, you know, for the pre-appointment form brought back a bad experience from a past experience with this same type of "appointment" form, therefore I avoided even contemplating doing that.
Below is my video review of Matt Bacak's Secret Email System


Summary
Taking on the expense of a coach or mentor would be so costly a mistake for anyone who does not know the first thing about creating a website.
So, if you truly want to know how to make money online, then you should start out learning how to setup and create a successful online business first.
My free guide will show you how you can start your learning from FREE. You won't even be asked for a credit card, and… you will have access to many different coaches or mentors.
If you want me as your premium coach that too is discussed all inside my FREE GUIDE.
I do hope that I have been able to answer the question, "is Secret Email System as revealing as Matt Bacak promises" to your satisfaction.
Should you have any question(s) regarding the Secret Email System, I do hope that you will leave those questions for me in a comment below.
Learning Should be Fun,