Shan Din says that in this video (his landing page video) you will learn how a simple Fiverr gig can make you money. He says that a lot of people are already selling on Fiverr, and that the market has been saturated lately.
He goes on about Fiverr and how you can learn as there is a way to do it. Then he goes on to say that he will show you the following:
1.) A low competition keyword gig to dominate, that you will be going after a gig where a lot of people are making money, and yes there is a lot of competition but there is a way to beat that competition.
2.) How to learn this skill in one week and start earning passive income.
3.) The demand for this simple service.
Apparently, you can also access his Fiverr course to dominate the marketplace, and that the link to his course (you will need to go to where his landing page video is actually hosted on YouTube) is in the description below the video.
However, Din does say to wait, that you should not go and start downloading his course right away. That you should watch the video first so that this will make perfect sense to you.
Then and only then, Din says that you will be able to craft all the skills to dominate the marketplace, creating that gig and making money online.
Din then takes you over to Fiverr dot com and starts searching a topic to show you how many people are actually searching for that particular gig.
He goes on to show you the top row of gigs, saying that they are the best service providers in the category that he just searched, and that they are making good money.
In my review here, I will be covering the following:
See My #1 Recommended Way of Making Money Online:


What is Social Lead Attraction?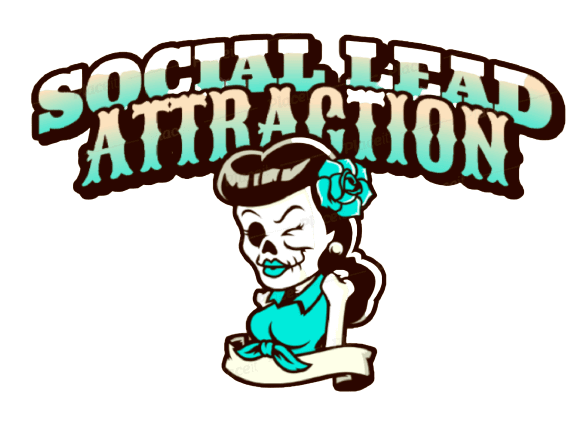 Program Name: Social Lead Attraction
Website: https://shandin.clickfunnels.com/s-l-attraction-fe
Price: $7.95 US funds + 3 Upsells and 3 Downsells
Recommended? NO, as this no longer works
Rating:
---
Shan Din continues by saying that he wants you to go for the Logo Design gig that you do not want to go anywhere else… but you will be going for a low competition keyword, where most people will be looking for this Logo Design with low competition.
This way, Din says, you can come up onto the first page in Fiverr, and people will start placing an order with you and you can start making money. Once you build a [good] reputation, then you can definitely scale up.
Din claims that you can offer any kind of logo design.
Before you go ahead and start opening a seller account, Din says that he wants you to have that skill first. He goes on to say that there are a couple of ways actually to gain that skill.
So, if you don't want to have a skill… that you just want to start doing it plug and play with the templates that fill in the blanks, there is a website called FreeLogo Design.
You can simply go there and you can enter the name of the company, whatever company is actually asking you, you can select the category and click on the Get Started button, and this website apparently will create a nice-looking logo for you.
But… Din explains that there is a problem doing this.
Once you want to upload that logo, the site will ask you for money.
He says that he doesn't even know why they call themselves free logo design when they don't even offer you the option to download what was created using their templates.
Din suggests that you forget about using free logo sites like this one, as it won't even work. But he claims that there is another way.
He says that you can go to SEO Clerks dot com.
Din goes on to say that if you have not yet watched his other video on this site you can go ahead and watch it so that you will know how to use their site.
He goes on to explain that a lot of people are offering to create logos for just one dollar on that site.
And, he suggests contacting one of these people and making a deal like what he discusses in his other video, then you can collect the orders from Fiverr and then place your orders here.
If you don't want to do anything, if you just want to be a boss, let them handle the work and you will be just the middle man.
You collect all the orders from Fiverr, go to SEOClerks and send them the details about the logo, and then you will be delivering the logo to fill your Fiverr orders.
Apparently, this is the way a lot of people are already doing this, and those Fiverr sellers are even using the other seller's images that they deal with on SEOClerks on their Fiverr gigs.
And, seemingly they are making good money too, as this is how they are skirting the system by being the middle-man.
Obviously, Din says that he doesn't really recommend this method either. He says that instead you're going to have a skill that will make you money for the rest of your life.
Din says, so what you can do is simply go to Udemy dot com, type "logo design" [without the quotation marks, of course] into their search textbox, and look how cheaply you can become a master at logo design.
He then scrolls down the page and talks about the low cost of the training offered in the many different courses there. Din claims that you can become a master in logo design in only days.
Plus, Din clearly tells you that he is NOT affiliated with Udemy in anyway, so not to worry that he will not be making money should you sign up for any of their courses; that he is simply sharing this information with you.
He then goes back over to Fiverr and types "restaurant logo" [without the quotation marks] into their search textbox and discusses with you on how to setup your gig once you have learned to create the logos from your training.
---

How Social Lead Attraction Actually Works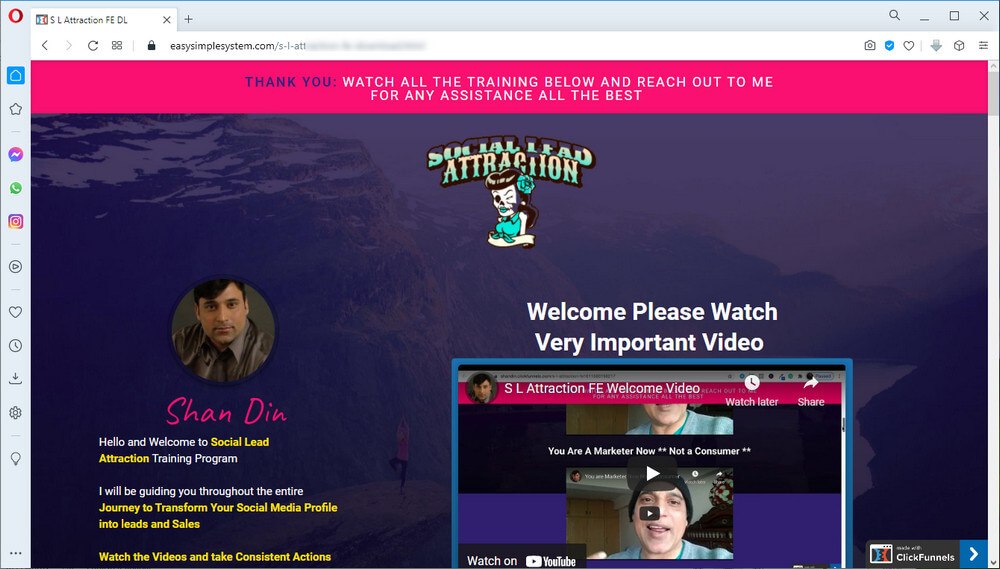 Shan Din's Welcome video (00:02:09 minutes)
First, Mindset Module contains 3 separate videos. They are as follows:
Why 98% Fail and Why You Won't (00:05:39 minutes) – Shan discusses this topic, hoping to help you stay on course.
You are a Marketer Now ** Not a Consumer ** (00:03:51 minutes) – Shan shares with you the need and how to change your thinking
Beat This Let's Visualize the Success (00:04:42 minutes) – Shan provides you with a bird's eye-view so that you understand that you can learn to achieve anything you want to in your life.
The TRAINING consists of 11 short videos and they are as follows:
Step 1 – Transform Your Facebook Profile (00:17:14 minutes) – you get to see Shan do what he wants you to do by watching him do this over-the-shoulder.
Featured Image Transformation (00:09:23 minutes) – Shan shared something that I have never seen suggestions made on doing this before and it appears to be an excellent idea.
Step 2 – Get $67 Page Builder in Just $5 (00:03:41 minutes) – Shan shares an outdated gig offer with you that no longer exists, and is what I deem as BAD advice for anyone to doing… which is why I figure that this gig has been removed from Fiverr.
A link to Thrive Architect Builder is offered below that video, with a link to the offer discussed in his video.
Step 3 – Reverse Engineer Thank You Page Part 1 (00:06:38 minutes) – once again, you get to watch over Shan's shoulder as he does exactly what the title to this video states.
Reverse Engineer Thank You Page Part 2 (00:11:42 minutes) – Shan continues showing you how to complete this assignment.
Step 4 – Auto Responder Magic (00:15:13 minutes) – Shan talks to you about the importance of using an autoresponder and he walks you through how to setup a campaign using Aweber.
A link to Aweber, which appears to be his affiliate link, is provided for your ease of use, below this video.
Step 5 – Create Your Lead Machine (00:12:22 minutes) – Shan walks you through the steps for setting up a basic landing page using Thrive's Architect pagebuilder.
Simple & Free 20 Seconds Bitly Setup (00L04:14 minutes) – Shan shows you how to setup a link shortening account with Bitly, and he explains why you will need this.
Getting Traffic to Your Profile (00:06:38 minutes) – Using a free account in Canva, Shan shares with you how to create your new Facebook cover and featured image, as well as explaining the advantages for doing this.
Ideas to Get Lead Magnet (00:05:54 minutes) – Discussing two PLR websites, Shan shows you how you can easily obtain free eBooks to use in your free offers.
Links to the PLR websites are provided below this video.
Conclusion & Million Dollar Support (00:02:40 minutes) – Shan explains why he calls his support million-dollar support.
Last but not laest, Shan provides his support email address should you have any questions that need answering regarding this training.
PROS
Shan's idea discussed in his TRAINING would work for ANY business, be it new or well established.
The inexpensive price tag on Shan's training makes this short course valuable enough that I do recommend it.
Using your personal Facebook profile to advertise your business like he explained, is a great way to take advantage of individuals that you may not even know who may be creeping your Facebook profile, trying to find out more about you.
This is a short course that will provide you with a free means of advertising your business.
CONS
Not one to ever recommend using Thrive's Architect pagebuilder, never mind offer training on using it, because I have found a much better and less expensive landing page builder that works wonders for me.
And, is every bit as easy to setup as Thrive's.
Would NEVER recommend anyone use a cracked or illegal version of anyone's product, never mind offer training condoning a seller's gig on Fiverr that is doing this.
Shan's training is obviously not evergreen and as much of his video training has become outdated within days of his launch, if it lasted that long. Example: Step 2 – Get $67 Page Builder in Just $5.
---

My Take on Social Lead Attraction

Even though Social Lead Attraction is being offered for a low price, the techniques no longer work in Facebook, though initially they certainly did at the time this training was made created.
But the vendor has not updated his training to resolve this issue.
So, to answer my opening question, is Social Lead Attraction for real, I say, "NO it is not."
And, there is what I deem to be one piece of very bad advice offered in this training that I have already pointed out under my list of CONS.
Below you will find my video review in which I have pointed out the good and bad about this training by providing you with a walk through.


Summary
In every course that I take, I am certain that I can find at least one issue that I disagree with. This does NOT mean that I do not value the course.
And, that is definitely the deal here with Shan Din's course that he calls Social Lead Attraction.
For the sake of transparency, I grade my reviews accordingly and will always point out the flaws if there are any.
And his suggesting what he did about skirting the cost of a $67 landing page builder… instead of simply suggesting students use a less costly page builder does not warrant a five-star rating.
I do hope that you have found my review here to be valuable to you in making your decision as to buy or not to buy.
For me, this course has more than paid for itself already. Now I too can advertise my offer on my personal Facebook account cover.
Should you have any questions regarding is Social Lead Attraction for real, please leave me a comment below and I will get right back to you.
Thanks for dropping by,