Send to Bank or Send N Bank both belong to vendor's Al Cheeseman and David Kirby.
And, they claim that this is the most affiliate friendly email software with leads ready loaded and limitless functionality with huge profit potential, at an unbeatable one-time price.
They claim that all you have to do is to hit the send button once you've logged in and you get instant commissions.
Apparently, you can say goodbye to wasting thousands of dollars on expensive old school autoresponders.
They claim their software is cutting-edge and is said to be ready to profit in 2021 and beyond, with custom inbuilt [build-in] SMTP servers that they claim delivery 100% of the time.
Claims are made that Send N Bank is an amazing newbie friendly software that allows anyone, regardless of their experience, to effortlessly send beautiful emails to potentially generate huge profits.
They say that this software enables anyone to upload any email list and send emails instantly and that no checks or approvals are needed.
It is also said that you can send unlimited emails to unlimited subscribers to get the highest inbox delivery rates in this industry.
They say that this software is:
Affiliate-friendly, and that while their competitors are working against affiliates, their platform is made for affiliates.
Comes with done-for-you built in templates so that you can get started straight away.
Has a drag and drop email builder so that anyone can create beautiful promotional emails without any technical knowledge or experience.
That it has industry-leading artificial intelligence and smart technology that will enable you to effortlessly increase the profitability of your email campaigns.
Their software is sold at a low, one-time payment, and they claim that their competitors will charge you every month for a restricted inferior product.

They say that they charge you a one-time low price to give you full access so that you can potentially profit forever.
Apparently, in as little as minutes, you will finally be ready to potentially generate huge profits, just like they claim to be doing.
My review of Send to Bank / Send N Bank will cover the following:
If You Don't Want to Waste Anymore of Your Time on Scams,
See My #1 Recommended Way of Making Money Online:


What is Send to Bank?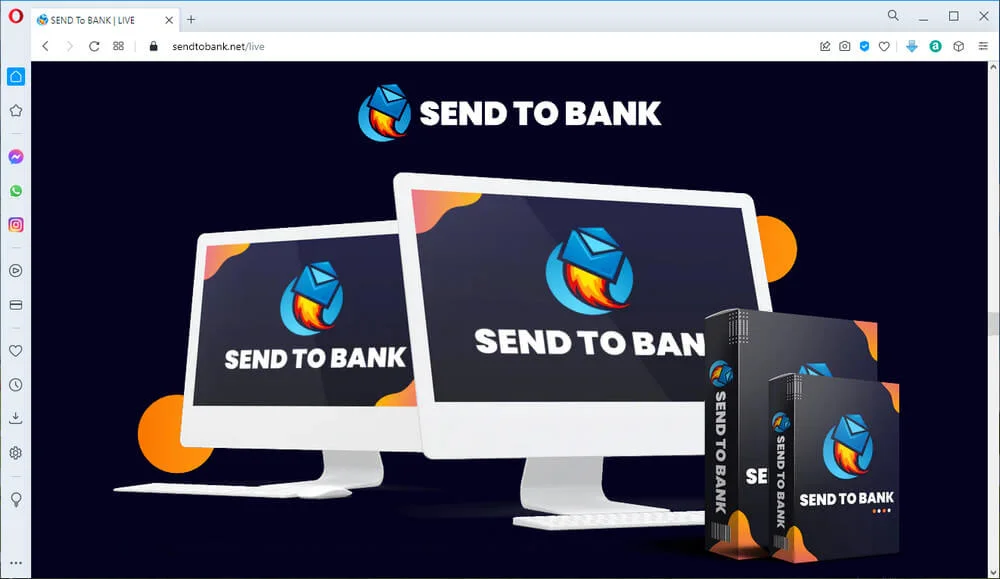 Program Name: Send to Bank / Send N Bank
Website: https://sendtobank.net/live
Price: $14.93 US funds PLUS 9 Upsells and 10 Downsells popup offers
Recommended? NO
Rating:
---
Al Cheeseman and David Kirby claim that Send N Bank is an industry leading, affiliate friendly email autoresponder with SMTP built-in.
They also say that it is beginner-friendly and suitable for all ages.
Then they say that it's seriously all that you need to succeed online, and that it's a must have for anyone who wants to generate huge profits online.
Claims are also made that you don't even need to worry about all the usual technical setup because it's simple and it works at the push of a button.
That you don't need anything else because Send N Bank is said to be incredibly powerful.
They even go so far as to say that you can start making money in just three simple steps.
Step 1: Grab Send N Bank for their incredibly low, one-time price.
Step 2: Activate Send N Bank in minutes.
Step 3: Upload any list or send traffic to any page, and let Send N Bank generate potential commissions on autopilot.
It is said that Send N Bank instantly allows you to live a true laptop lifestyle, where you can finally get sales consistently and without any skills or experience required.
They say that you can work smarter by using their exact software that does it all for you, and that you can fire your boss, take back control of your life and enjoy complete freedom.
At this point in their sales jargon, they say that they guess you are thinking that Send N Bank is seriously expensive.
And, they claim that it would be fair to charge $197 per month for this, and that you would still be getting huge value even at that price.
But they state that you are not going to pay anywhere near that today.
In celebration of the Send N Bank opening launch, they say that they are discounting their price and removing the monthly fee for a limited time.
Apparently, this means that when you get Send N Bank right now, you are not going to pay $197 per month to access what they deem to be astonishing software; that in fact you are not going to have to pay monthly at all.
They say that by hitting their buy button right now, you get instant access to Send N Bank for a single, one-time investment. But wait… they claim that it gets much better.
Seemingly, when you act right now, you will also get 5 premium bonuses worth thousands, absolutely free.
Then it is said that you are to be assured that you will get everything you need with Profitmailrr but only if you grab at least 3 of their upgrades [upsells], [NOT A MISPRINT!] they will also give you full access to all of their incredible traffic and sales apps to get you started at 10 times the speed.
Which is said to be worth over $10,000 also, absolutely free.
You're shown screen prints of assumed income, while they say that you can see their details.
And, to make this a total no-brainer, they claim that you are fully protected by their no questions asked, 30-day money back guarantee, so there is absolutely zero risk for you.
They claim that this is how confident they are that you will love their Send N Bank software.
And, to totally blow your mind and further eliminate any worry or risk when you act now, apparently, you will also get their "Get Results or Get Triple Your Money-Back Guarantee".
They say that the only way you lose here is if you do not pick up Send N Bank today, and that you win either way, that you either walk away with results or you walk off with triple your money-back.
Which they claim isn't all that bad for simply taking their Send N Bank software for a test drive.
It is said for you to get instant access before their price increases.
They claim the price goes up every 60 minutes; so, if you wait, you will pay more.
You are then told to click their buy button now to lock in your discount, and they will see you on the inside.
---

How Send to Bank Actually Works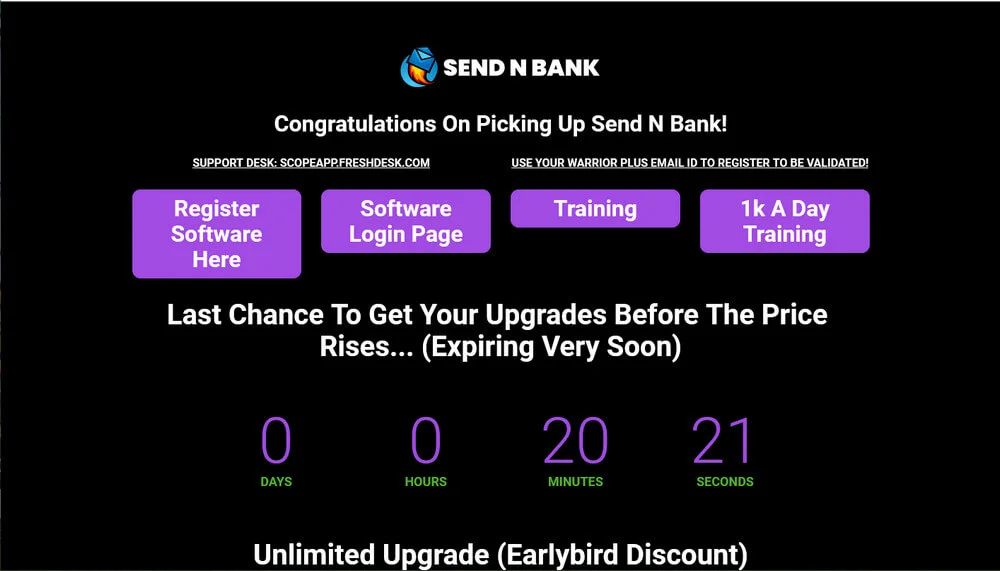 The first purple button on the far left (of the screen print above) "Register Software Here", when clicked, sends your browser to a website where you will need to register for Send to Bank.
Once completed, your browser will be sent inside their software.

At the very top of your Dashboard, you will need to note the following warning prompt:

Along the left-hand sidebar, you will discover the following:
Dashboard
Lists

Create List
View & Manage
Custom Fields
Bulk Update

Recipients

Add Recipients
View & Manage
Import Recipients

Campaigns

Create New
View & Manage
Schedules
Split Tests

Automation

Spin Tags
Segments
Drips
Triggers

Forms / Pages
Templates

Builder 1
Builder 2
CKEditor
View & Manage

Statistics
Tools
From the Dashboard, you receive a summary of each of the different areas within their software so that you can track how each of your campaigns are performing.
In the screen print above, the button displayed as "Software Login Page", when clicked on, literally takes your browser to the website that you just registered for, in order to access their autoresponder software.
The Training button, when clicked on, takes your browser to another website with 3 YouTube videos.
Video 1: Moneymailr1X (00:02:19 minutes) – goes over your options from your Dashboard.
Video 2: Moneymailrr2X (00:02:09 minutes) – shows you how you can upload your list, and emphasizes that you should only send people emails that you have received permission to do so.
Otherwise your messages will go straight to spam.
Video 3: Moneymailrr3X (00:02:31 minutes) – shows you how to make a campaign and how to send emails with their server with the list you have just created "and the contacts that have given you permission to email them".
The "1K A Day Training" button (an affiliate link), when clicked on, will take your browser to another vendor's website where you can register for what is most likely to be a webinar replay, titled: "How I Generated $80L – $150K Every Month Using a Simple "Rinse and Repeat" System", and that vendor offers you a free bonus: $100 /Day Checklist For All Attendees.
They also offer you a Support Desk link, and below the purple buttons, as shown in the screen print above, you will find links to 8 of their upsells.
PROS
Their one-time price.
CONS
Given the inconsistency of names for this software makes me wonder how long this autoreponder will be available online.
Does NOT come "with leads ready loaded" as promised.
Hitting the send button once you log in does NOT get you instant commissions.
Once you go through the training you will learn that your emails will NOT necessarily get delivered to email inboxes.
If not setup your email campaigns properly, your emails will be found in Junk or Spam folders.
So, yes… perhaps delivered 100% of the time but NOT to your potential customer's inbox, as implied.
The warning prompt in their autoresponder CLEARLY states: "Do not send email to contacts without permission", making their initial claim "that no checks or approvals are needed" falsely stated.
Due to the lack of proper training, I do not agree with this autoresponder being newbie friendly.
---

My Take on Send to Bank

The main issue that stands out and raises a red flag for me as being odd about Send to Bank / Send N Bank is the inconsistency in the name of their autoresponder.
Then there is their claim that this software comes with "leads ready loaded", which it does NOT.
There are several different names used: Send to Bank, Send N Bank, Profitmailrr, and Moneymailrr, which leads me to believe this software will most likely not be available for very long.
Their competition offers an affiliate business owner a lot more stability in providing a proven platform than what their autoresponder software does.
And their competitions provide a lot more detailed training to ensure your success.
For these reason, I do NOT recommend Send to Bank / Send N Bank, or whatever other label this autoresponder software may be being sold under.
Below is my video review of Send to Bank / Send N Bank by Al Cheeseman and David Kirby.


Summary
Personally, I recommend the officially, well-established, autoresponders like AWeber and/or GetResponse.
Once you setup your campaigns, they will be there for you to continue using for years to come… as long as you continue to pay for the necessary fees for your membership access to their platform.
Get Started with AWeber
Get Great Tips on Marketing with GetResponse
These two platforms will not allow spammy marketers, those who refuse to abide by the law of only issuing emails to email addresses that you have received permission to use.
These platforms have many affiliate marketers as their clients who follow the rules and market properly.
Some spam marketers won't even provide an Unsubscribe link option, which is the law as a "must have" on EVERY automated marketing email issued.
Those are the types of affiliate marketers who will be removed from the above mentioned two platforms.

Do hope my review has helped you make your decision, and that I have answered the question: does Send N Bank / Send to Bank really take only 60 seconds.
Should you have any questions regarding Sent N Bank or Send to Bank, please, do leave them in a comment below so that we may discuss this further.
Market Properly and Prosper,