Matt Bacak is the vendor for Instant Swipe Files Refreshed, and he says that if you're sending emails or if you're considering starting to build a list, then what he just refreshed for you will be absolutely invaluable because you deserve to make more money, have more free time then you thought possible.
In fact, he asks… why an email swipe file?
Well, Matt says it's pretty simple, it's really quite simple, you can make a lot more money with your email list with emails that are proven to work.
In fact, he says you know this, and that you probably also know that coming up with an email is often the hardest part.
He claims that there are many million-dollar email marketers out there, all over the world who have a stash of emails to copy and use to rewrite, sitting right there at their finger tips, but they won't give you their private collections, but Matt says he will.
Then Matt asks if you know how much a copywriter actually charges per email, or maybe you're wondering that.
He claims that the truth is that you can find their rates all over the internet. He goes on to say that some people charge for email copy prices between $35 to $2,000 for an email.
Below is a screen print of what Matt offers as proof of his quoted copywriting costs for an email.
That's right, Matt exclaims, two thousand dollars per email.
He continues with, basically there is a tremendous return on investment for every forty-four dollars you spend, you're looking at a dollar return, and that's amazing.
My review of Instant Swipe Files Refreshed will cover the following:
See My #1 Recommended Way of Making Money Online:


What is Instant Swipe File Refreshed?
Program Name: Instant Swipe Files Refreshed
Website: https://internetmarketinginsider.com/ISFR/
Price: $12.46 US funds, PLUS 2 upsells
Recommended? YES
Rating:
---
Matt Bacak states that he will give you all 5,603 of his emails.
Email marketing is one of those profitable things you can do, according to Matt.
And, he repeats himself saying that you've read that correctly that thirty-five, a hundred dollars or even up to two-thousand dollars per email.
He says that here's the thing… they know the secret, they understand the secret of exactly what to do and how to write emails that actually drive results.
In fact, Matt adds, what makes an email business succeed while others fail miserably is:
it's not the product,
it's not how you advertise,
it's not the price.
The one thing that kills your results is the email you choose to send and nothing else is more important then am attention-grabbing, click-getting email. He says, that's where it all starts from.
You see, Matt explains, the email either pulls people in, prospects in, the customers in, or it pushes them away, and if your email doesn't do the job, then nothing else matters.
He claims that if you find a good email that works, then your business will soar to new heights because you will reach your list more than ever.
In fact, Matt says that if you use the same kind of email that everybody out there uses as most email marketers do, then you can easily go broke.
But here's the thing, he adds, you don't need to rack your brain, you don't need to test your creativity hoping to come up with a winner.
Doing it this way, Matt says it can give you a migraine if you really think about it, unless you're an experienced copywriter.
He goes on explaining that it is so much easier to model a previous success, and that's where he claims that his resource comes in very handy, and he says, it's actually really handy.
And Matt promises you that he is going to hand you every single email that he has ever sent since January 2004, on a silver platter.
These emails, he claims have made him millions upon millions, upon millions, upon millions of dollars that you can actually see in his screen print of a list of dollar values, and then he claims those incomes are not all of them.
Matt states that you're going to get all 5,603 emails that are already written, yours instantly ready to swipe and deploy.
Then he repeats himself saying that's 5.603 emails jam-packed, his most recent ones and that once you adapt these real-world winners for your campaigns, nothing is left to luck, you know, all you got to do is just click, send and let the money roll in.
Matt claims this is a mammoth swipe file, and that he sees right here, you could have it instantly, right there, at your finger tips right now, as soon as you get this.
Then he says to let him say something… you can legally steal ideas and you can get tons of ideas from this, but he warns you that this is a dime sale, that means the price is rising as people who are watching this, then he adds that the price has probably already risen.
Matt states that he just wants to warn you about that because it is a dime sell, and it is going to keep going up and up and up.
He then says that it is so easier to come up with your own variation of these sure-fire winners. In just the matter of minutes, Matt says, writing killer emails, where swiping doesn't get any easier than this.
If you want to try right now, Matt says to see for yourself.
He goes on to repeat that it is a dime sell, and that you can look at all of the stuff on his landing page, where one fella claims to have made over $31,000 just using a couple of Matt's emails.
And another fella apparently made over $500 using a couple of them, according to Matt, while yet another fella made over $4,000 using a handful or six of them.
Matt goes on to say that he's going to be handing these to you, right now, if you hurry up and go get them, plus he promises to give you one of his subject line split test data file, which he claims is over 299 pages, absolutely free.
Then he goes on to say that he's going to give you three special bonuses.
One of the keys, one of the most profitable, one of the most critical first steps, one of the things that's going to make a biggest difference in all your results, Matt says, is getting your emails open, right?
Just in case you didn't know that the subject line split testing is a way to work out which subject lines are the most effective and only those that encourage people to open emails you are sending, he says.
It's a way to learn what works and what doesn't work, Matt claims, so that you can potentially improve open conversion rates and sales.
Then Matt states that he split tests five radical variations almost every single day to find the opening rate, and that's why he says that he is going to give you his bonus #1, the data of his split test.
He goes on to say that he's going to give you every single split test that he has conducted, that he was able to find, so that you can look right inside and you can see which subject line won, and look at the four that didn't win.
Matt repeats that it is 299 pages of split test data, all yours for free.
And apparently, you will find 7 different split tests on each page, which is over 2,000 tests. He claims he tests a lot.
Then Matt goes on to talk about more of his testimonies from more of his users.
Followed by Matt's promise of a second bonus.
His bonus #2, apparently is his best subject lines where you won't have to look through all of his test data.
Matt claims to have put them in a text file to make it easy for you to be able to find his 214 top, most recent winning subject lines, so that you could just have them right in your hands
He says they're worth a small fortune to a smart marketer.
Plus, sometimes it is hard to see how you can take these and slant them so that they'll work for you in any business, any market that you are doing.
So Matt says that he is going to give you a practical, simple to duplicate tutorial that is called How To Edit The Emails For Any Niche, so it'll be so easy after you start watching.
He claims that when you're done, you'll be saying to yourself, I didn't think this was something for me but until I watched the video explanation, the spin is absolutely genius.
Matt claims that he is doing all of this for a very low price, and in fact he claims that he should be considered insane when you think of about it but if you're serious about succeeding online then this is honestly is one of the greatest chances you will ever get.
He continues with, he's got a 100%, 30-day money back guarantee, you can't go wrong.
If you don't like it, if you don't love it, don't need what you've got in your hands, just let us know and we'll fully refund you.
Matt reminds you that this is a dime sale and what that means is that you must order right now.
Because it is in your best interest to get it right now because the price will aggressively rise, as somebody grabs it the price will rise again, and when somebody else gets it, the price will rise again.
He claims that he has a lot of people that are climbing on board, promoting this, letting people know about this.
So, the price is going to keep on moving up from there, therefore its in your best interest to get this sooner rather than later because this is the only way you guarantee that you're going to get it at this ridiculously low price.
---

How Instant Swipe Files Refreshed Actually Works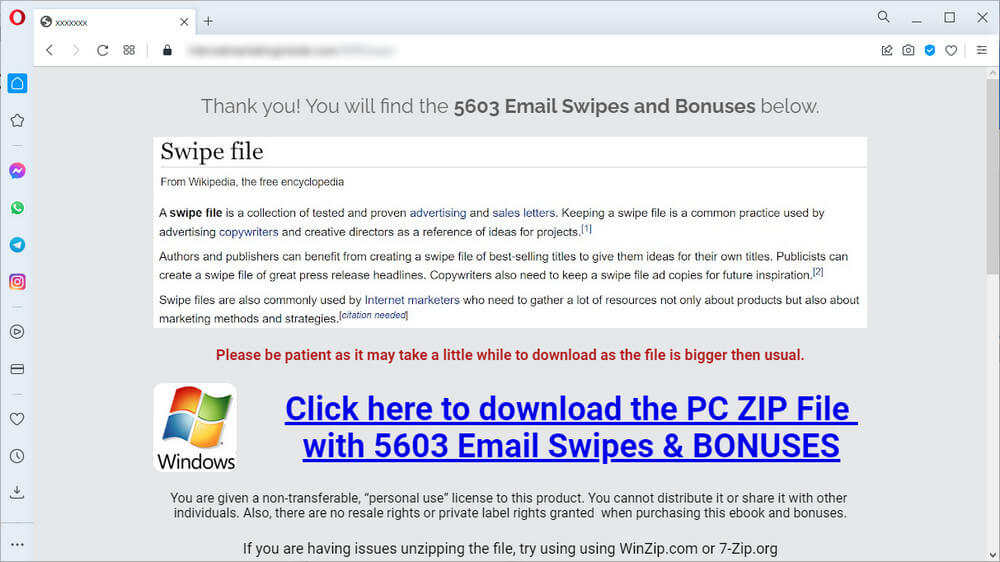 On Matt Bacak's product page is one zipped file to download.
Inside the download file are the following:
A folder titled 5603Emails that contains txt files (Notepad files), one for EACH of his many emails, as promised,
A text file titled 214BestSubjectLines,
A video titled HowToEditEmails (06:58 minutes),
A video titled QuickStartVideo – Watch Me First (07:39 minutes), and
A PDF file titled SplitTestData
Inside the folder titled 5603 Emails are the emails that Matt promised, with some showing how they were used.
Examples are as follows:
Affiliates (262) – email sets that were apparently sent out to his affiliates
Affiliate Alerts (9)
Alert (28)
Azon Blitz (5)
Bonus Webinar (1)
Live Webinar (3)
Webinar Replay (5)
Brand New (5)
Case Study (3)
Customers (9)
Internet Business Clients (14) – appear to have been emails sent to his internet customers
Mass Giveaway (11)
No subject line (5)
Private invitation (9)
Special (4)
JV Invitation (24)
Last Chance (4)
New Post (7)
Newsletter message test (40)
Promoting Tips (17)
There are more than just these, but I'm sure you get the idea of what types of emails that you can expect to get access to.
In the Quick Start Video, Matt explains how you can easily locate an email you want to check out on a topic you figure may be in those 5,603 emails.
It really is simple to find what you may be looking for, once you watch this video.
In this video, Matt even shows you how you can use his Split Test Data pdf document to your advantage.
His How To Edit Emails video is created by Tiffany, and she shares a great example on how you can use one of Matt's emails and tweak it for your own use.
PROS
Those two videos that Matt has included truly adds the priceless value to his swipe files.
CONS
Matt's upsells were unattractive for me, as he is pushing Solo Ads.
---

My Take on Instant Swipe Files Refreshed

YES, I definitely recommend Instant Swipe Files Refreshed.
The price-point of Matt Bacak's Instant Swipe Files Refreshed alone makes this a great buy, as it is a product for those of us who need help in wording winning emails. You know… the emails that actually get opened.
Having said that… I would advise against purchasing the upsells, as Solo Ads are being recommended
For those of you who have been following me for some time now, I'm sure you know all to well how professional internet marketers have warned me from ever wasting my money on those who recommend these ads.
Below is my video review of Instant Swipe Files Refreshed by Matt Bacak


Summary
Some have told me to not bother wasting my time purchasing and reviewing products that are listed below $100.
Yet somehow, I do not feel that would be fair to a LOT of budget minded individuals who are looking for those tiny nuggets of gold that will help push your online business into a profitable position.
Should you have any questions regarding Instant Swipe Files Refreshed, please be sure to leave them in a comment below so that we may discuss this further.
Hoping This Helped,