The male narrator in the landing page video states that if you have tried and failed again and again at making money online then you need to pay close attention to what he is about to tell you.
He goes on to say that if you have never tried to make money online but you want to, then you need to pay even closer attention.
He claims that the video isn't going to be a typical sales video where you are told that this is the greatest invention since sliced bread.
This gentleman says that the reality is that they want to share a hard truth, an inconvenient truth. Then he asks, "Are you ready to hear it?"
He then claims that even if you follow along exactly with most courses on how to make money online, you will fail.
"Why?", he asks.
Then he goes on to say that it is actually not hard to understand.
He claims that most courses are incomplete, and even if you try to build a list as the gurus all say you should do, it is harder and harder to get noticed and to build a high-quality list of buyers, as opposed to people who just want freebies and will never buy anything.
And, he goes on to add that if that wasn't enough, the gatekeepers are getting harder and harder to get through. This is followed by his question of, "Do you use Gmail?
He explains that even if you do not use Gmail, it is estimated that about 70% of all email today goes through Gmail.
Apparently, Gmail is very aggressive about putting marketing messages into the promotions tab, meaning most of the people on your list, if you even have one, will never see those emails.
My review of this product will cover the following:
What is Email Success Secrets?
How Email Success Secrets Actually Works
My Take on Email Success Secrets
Summary
See My #1 Recommended Way of Making Money Online:


What is Email Success Secrets?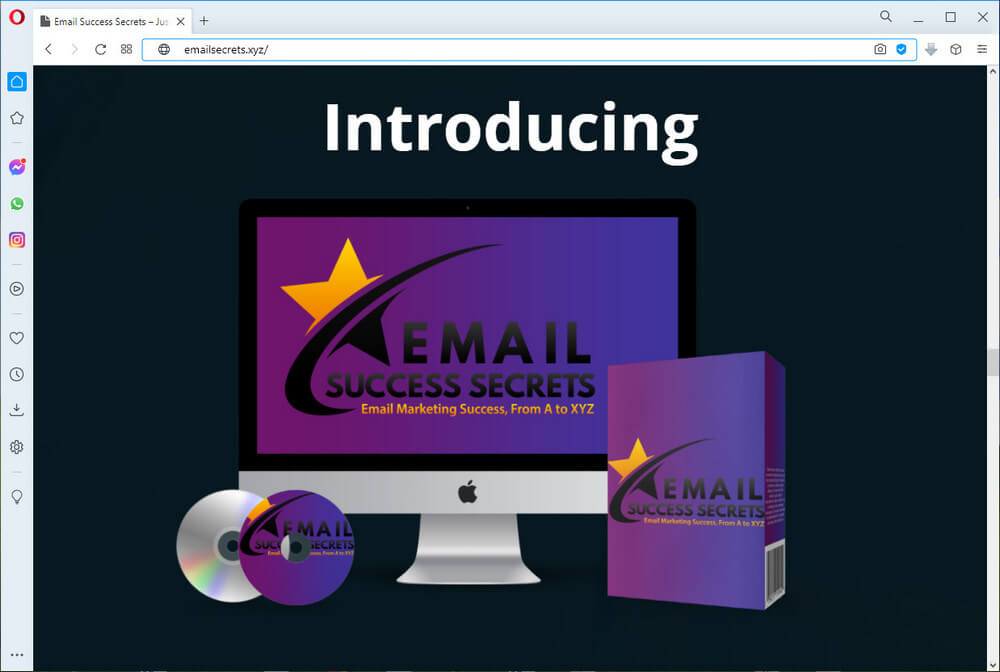 Program Name: Email Success Secrets
Website: https://emailsecrets.xyz/
Price: $19.99 (reduced to $17.99, if you try to leave without purchasing) + 3 Upsells
Recommended? YES
Rating:
---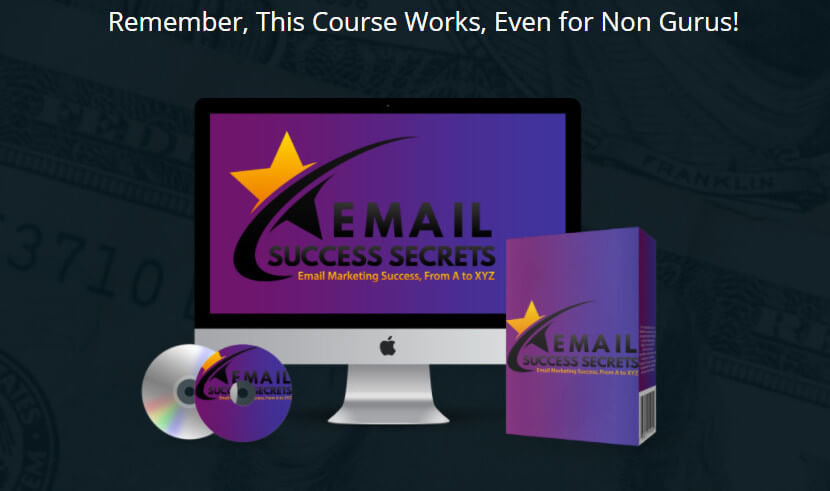 Eric Hammer has created this online video course in order to share his Email Success Secrets with you.
With all of the new restrictions that Gmail is putting on to incoming emails, the male narrator says that it can feel as if you are simply not able to break through.
He says, it's enough to make you wonder if that job at McDonald's is still available. At least that would be a paycheck, right?
He claims that they are here to tell you that all of that changes as of today. He says that Email Success Secrets is the result of months of hard work on how to crack the code of email marketing.
He goes on to say that Eric noticed the writing on the wall months ago and realized that he needed to make a change or his sales would start to decline.
Then claims are made that Eric spent a long time researching and thinking about how to make it through the noise and get into the inboxes of potential customers.
His solution is said to be presented here and nothing is taken for granted.
The narrator goes on to say that instead of just showing you one piece of the puzzle, Eric decided to take a step-by-step approach.
He says that Eric starts out with three completely free methods to build an email list and made sure they all worked by implementing them himself.
He says, then Eric decided to teach others on how to write winning emails, including the proven Triple S Strategy, gleaned from speaking to some of the top copywriters on the planet.
Apparently, Eric even took a step further and made sure his emails were getting in front of people who wanted to buy by using a secret strategy to ensure his emails were not landing in the promotions tab.
The narrator says that the results are that sales are soaring and that Eric has seen his name now topping leaderboards, along with some of the biggest names in the industry.
He says that you can get in on it too. It is possible and it is not hard. It just requires a new way of thinking about things.
---

How Email Success Secrets Actually Works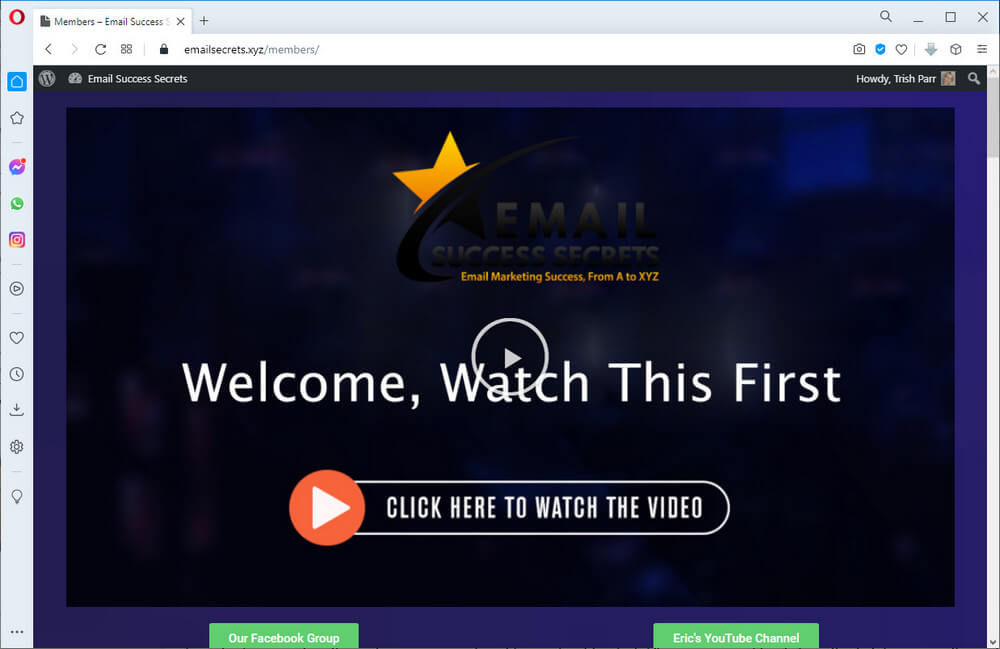 Inside the members area you will find the following video training, files, and links:
01 Welcome, Watch This First (12:3) – Eric is a bit long-winded in his introduction video. Links to his Facebook group and YouTube Channel are provided below this video.
02 Building a List Method 1 (15:48) – Eric shares with you his knowledge on who are the quality creators of PLR, plus… how to add Facebook buyer friends to a newly setup Facebook profile, and get those buyers to sign up to your squeeze page.
03 Building a List Method 2 (29:55) – Eric shares a second method that he says is more trusted.
Create a simple (literally basic) product in your own niche, which he shows you how, and he briefly discusses the price you should sell for and why.
He shows you a great way to come up with a name for your product, but the site he suggests, no longer exists.
However, I did find a replacement site simply by Google searching what the tool does for you.
Then Eric shows you how to setup your WarriorPlus Vendors page to sell your product. 21 minutes 18 seconds into this video, he shares a great tip with you on how you get your email list built using your new product.
A button link to join WarriorPlus is provided below this video.
04 Building a List Method 3 (9:44) – using his vendor stats panel in WarriorPlus, Eric shows you how to ask for bonuses from those launching new products.
A button link to Muncheye's website is offered below this video.
05 Writing Emails Part 1 (25:39) – Working inside his email autoresponder account, Eric talks about how emails can end up in spam or junk folders, and how to make them land into people's inboxes instead. Examples are provided.
Eric's affiliate link to Get Response is offered below this video.
06 Writing Emails Part 2 (20:13) – Eric discusses engaging those you send your emails to.
He talks about freebies and why offering them is not a good idea. He suggests that you be impartial and reliable by providing honest information about products you've tested.
Hints: First your hook, then your short story, and last of all, your offer… are some of his suggestions.
07 Writing Emails Part 3 (16:36) – Eric talks about subject lines (headlines) that get emails opened.
The most opened subject line is NO subject line, as it causes receivers to open the email… but you don't want to be using this, as it is not the most "responded to" headline.
Short subject lines tend to work best.
He suggests that you check out emojipedia.org which provides emojis that you can use in your subject lines… but you will want to know which ones to use. Eric shares with you, how many to use and where.
08 Writing Emails Part 4 (10:53) – The Triple S Strategy is discussed in this video by Eric (State the Problem, Stir the Pot, Solve the Problem) and he talks about why this works by providing great examples for you.
09 Inboxing Part 1 (9:55) – Eric shows you in Gmail what can happen to your emails issued to your lists, and why you do not want your emails landing in spam folders.
Eric discusses the NEW (during COVID-19) methods for getting your emails delivered to inboxes and NOT spam folders. He also shares more about using emojis too.
A button link to Gmass Inbox Checker is offered below this video, which tests the deliverability of email that you want to send to your list.
10 Inboxing Part 2 (16:13) – Back inside his autoresponder account, Eric discusses what some well-known autoresponders are now doing to affiliate marketer's emails that are set up for their lists to receive.
Eric then walks you through using his chosen autoresponder. You will soon see a great advantage for using his choice. He also shows you his test results using the Gmass Inbox Checker.
11 Inboxing Part 3 (14:10) – Eric continues discussing his chosen autoresponder regarding testing your emails, and shares with you how to "warm up" your email domain.
He also shows you how to use the Mail Tester website, as well as how to test your subject lines (he refers to as headlines) using Mizy's Subject Line Tester.
A button link to the Mail Tester website is offered below this video. You can test the 'spammyness' of your emails using their test form.
A second button link below this video is offered, of which is to Mizy's Free Email Subject Line Tester.
12 Bonus 1: Case Study (4:08) – Eric shows you actual test results he experienced using his chosen autoresponder.
Proof he practices what he preaches, so PLEASE listen to what he tells you… if you want to succeed at email marketing.
13 Bonus 2: Timing (10:00) – Eric discusses how to determine proper timing to issue your emails, and which times he found works best for sending his emails, and why.
Eric also discusses the timer that is offered by MotionMail autoresponder.

14 Bonus 3: One Tiny Change (4:55) – How to avoid this common mistake (using the wrong emoji).
A button link is offered below this video that you can use to request to promote Durable FREE and for permission to use with these squeeze pages (that are offered below the next video).
15 Bonus 4: DFY Squeeze Pages (12:05) – Eric shows you how to install the done for you squeeze pages, as well as how to use them.
You will need WordPress installed to use them. He uses WordPress's new Block Editor in case this is important to you.
A button link is provided for you to download the squeeze pages, which come in a zip file 9KB in size.
Another button link is provided, this time to Even More Bonuses, which offer you even MORE of Eric's awesome training.
Then 5 button links are offered to 5 different upsells.
---

My Take on Email Success Secrets

Having personally gone through Eric's training, I truly believe you will get more than your money's worth in great advice.
Eric does not appear to be holding back ANYthing that you will need to know in order to start your very own email marketing list, or simply improve upon your email marketing open rates.
And… if you thought email marketing is dead, you're wrong!
According to HubSpot: 78% of marketers have seen an increase in email engagement during 2019 (link opens in a new window).
And, according to OBERLO, in 2019, global email users amounted to 3.9 billion users. It is predicted by this same site that by 2023, this figure is set to grow to 4.3 billion users.
And… OBERLO also states that email delivers a strong return on investment. For every $1 you spend on email marketing, you can expect an average return of $42.
However, you should go through Eric Hammer's course before counting on THAT large a return when starting out.
You may find Eric's videos are not done professionally, and you will hear static in some videos, and background noises in others.
Personally, I prefer Eric's style of training, simple because he uses a show-and-tell approach.
And, I can relate to a real human sharing quality information with me. In other words, I could care less about background noises at times, because I just want to learn.
Eric's tips during his training truly are priceless.
So, you will want to pay close attention to his discussions throughout his videos, and do NOT zone out.
Be sure to go through the bonus videos too. There are some even more important tips shared there.
If you find yourself zoning out (not paying attention) while watching Eric's videos, then be sure to pause the video, or better still, back it up and start from where you can remember last paying attention.
His training will NOT make you a millionaire instantly, as this is NOT a get rich quick scheme.
But if you apply his techniques to your email marketing, you may skip all of the headaches Eric went through in trying to resolve his emails landing in the wrong Gmail folders.


Summary
Should you have any questions regarding Eric Hammer's Email Success Secrets reviewed here, please leave them in a comment below and I will respond in a timely manner.
My readers truly are important to me, and it is my intention to be honest with you by actually purchasing the products I review and following the training.
Looking forward to your success,