As Ira Warner clearly states this is HIS rinse and repeat system in which he CLAIMS to use in generating himself $1,306 plus, weekly.
Warner tells you that he is an experienced marketer, he knows how hard it is to get the ball rolling with your online affiliate marketing business. He claims that there are so many things to think about.
Squeeze page
Bridge page
Autoresponder
Writing emails
Uploading emails
Finding affiliate offers
Getting approved for those affiliate offers
Converting traffic
Finding traffic
Earnings per clicks (EPCs)
Split testing
He says that it is so much that it can be enough to make your head explode.
And, he goes on to say that it is no wonder why that 95% of people give up before they make their first dollar online.
Warner claims that every day he reads countless emails, Facebook messages and texts from struggling affiliate marketers, about just how hard it is to make their first commission online.
He says that he knows first-hand how that feels because he experienced this too.
He states that it would take him years of trying different methods, strategies and tools until he made his first commission online.
At the time that he started out, he says that he was sucked into the rabbit hole of useful but incomplete information in that he would pick up from all of the YouTube videos, blog articles, and guru webinars that he could get his hands on.
Warner says that he was desperate for a clue on how to make his first sale as an affiliate.
But before he got that first email, he claims that he had a long road to take with failures ahead of him.
He says that almost every so called Fast and Easy method that he found, it was anything BUT fast, and anything but easy.
He says that he would sit there on his affiliate account page frantically refreshing the stats after he sent some emails out, hoping to see his commission bars grow; But of course, they did not.
Warner says, then he found himself with some self-doubt starting to creep in, and he started asking himself:
"does affiliate marketing really work?"
"Is Facebook really the best place to advertise my affiliate links?"
"Maybe this strategy is sound. Maybe it works and the problem is me."
"What am I doing wrong?"
"Why isn't it working for me?"
You see, he says, the most frustrating thing about being an affiliate marketer is the not knowing:
if you are doing it right or wrong
if you should stop or persist
if you have selected the right product to promote
if you picked the right traffic strategy
if there is a better way that you don't know about
not knowing who to trust
Warner says that if you are feeling that way then he challenges you to STOP!
In my review here I will cover the following:
If You Don't Want to Waste Anymore of Your Time on Scams,
See My #1 Recommended Way of Making Money Online:


What is Affiliate Velocity?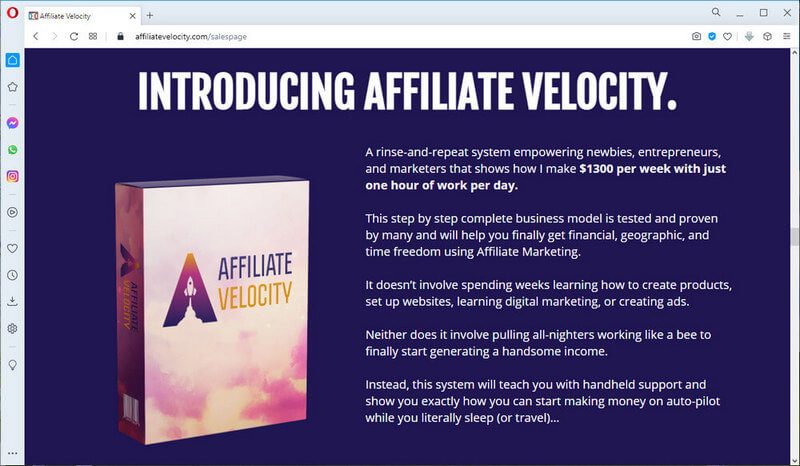 Program Name: Affiliate Velocity
Website: https://affiliatevelocity.com/salespage
Price: $12.95 US funds + 3 upsells
Recommended? NO
Rating:
---
Ira Warner says to take a breath, take a moment and realize that these thoughts as scary as they are, effect us all when we're starting out.
But, he says, if you want to stop struggling and start knowing how to amp up your velocity in the affiliate marketing game, then listen up.
He says that he is about to share with you what he discovered.
After analyzing what all of the super affiliates were doing, Warner claims that he discovered that they all followed a pattern… a repeating formula; One that they knew that they could rely on to produce results day in and day out, no matter what.
Warner says that he realized that is what he was missing.
The simple blueprint with a step-by-step formula that he could just follow to get him results, instead of jumping around from strategy to strategy trying different things without getting the results he wanted.
He then states that he took his time to stalk some super affiliates, broke down their differences, and distilled it all into a formula so simple that he could teach it to anyone else. This way, he claims that he knows that it would be fool-proof.
Warner says, if you are looking for a simple way to make a consistent one hundred dollars a day without a learning curve, or you just need a fast-track solution to help you pay some bills, then he says to allow him to share with you, his formula.
Affiliate Velocity, Warner claims is a complete step-by-step training course that takes years of trial and error that he faced and that you are potentially facing, and condenses it all into an easy to digest video series.
He claims that he designed this course to be so simple that even if you are an absolute beginner in the affiliate marketing game, you will have everything you need to start running a profitable campaign.
Warner says that if you have 30 minutes a day, then in just 30 days Affiliate Velocity will teach you how to go from zero to your first affiliate success, even if you just started affiliate marketing last night.
Warner goes on to say that if you follow each module inside the course to a "T" then he guarantees that you will walk away with a profitable affiliate marketing business and a responsive email list of your own, in as little as 30-days.
He claims that you will know exactly:
where to get profitable affiliate offers to promote,
how to get approved to promote them,
how to setup a high-converting affiliate site,
without getting too technical, without coding anything,
without getting stuck.
He claims that you will:
create multiple streams of income from day 1,
set yourself up for maximum profit even before you start driving traffic;
start building your own email list fast, putting hundreds of quality subscribers on your email list from day one,
to create a long-lasting income that you can build on.
Inside Affiliate Velocity, Warner promises that you will get:
Fill-in-the-blank email templates to use on any affiliate offer.


He will show you how to load these email templates into your autoresponder and how to automate the sending, so they make sales for you 24/7.


You will find out where to get traffic even if you are on a small budget, to consistently drive targeted visitors to your affiliate links.


And, convert your prospects quickly so that you can reinvest your profits to scale.
That's how, Warner says, in as little as 30 minutes a day Affiliate Velocity sets you up to start making some money as an affiliate marketer right away.
Warner also adds that he doesn't mean that you are going to make thousands right away but, he says, if you do implement what you learn inside Affiliate Velocity fast, then you will definitely see results fast quicker than you think.
He says that once he finalized Affiliate Velocity and saw the amazing results that he knew beta testers were getting, he claims that he wanted to keep this product as a high-ticket offer only with an agreed retail price of $197 [US funds] to keep it exclusive.
As a potential insider Affiliate Velocity, Warner claims, it could be literally harnessed by anyone.
However, Warner says that he decided to take a step back as he realized that not everyone can afford a one-hundred-ninety-seven-dollar price tag.
And, he claims that like you, he understands what it feels like to be broke and struggling.
This, Warner claims, is why he has made Affiliate Velocity as affordable as possible to everyone.
He goes on to say that the process is 100% idiot-proof, and that he explains every step that you need to take, and that he even provides you with fill-in-the-blanks templates for web pages and emails, so that you don't have to do any thinking at all.
Warner says that you just copy and paste. He also provides you with a 30-day money back guarantee. If after 30-days that you do not make any money implementing Affiliate Velocity method, he says to simply shoot him an email and he will refund your purchase, no questions asked.
---

How Affiliate Velocity Actually Works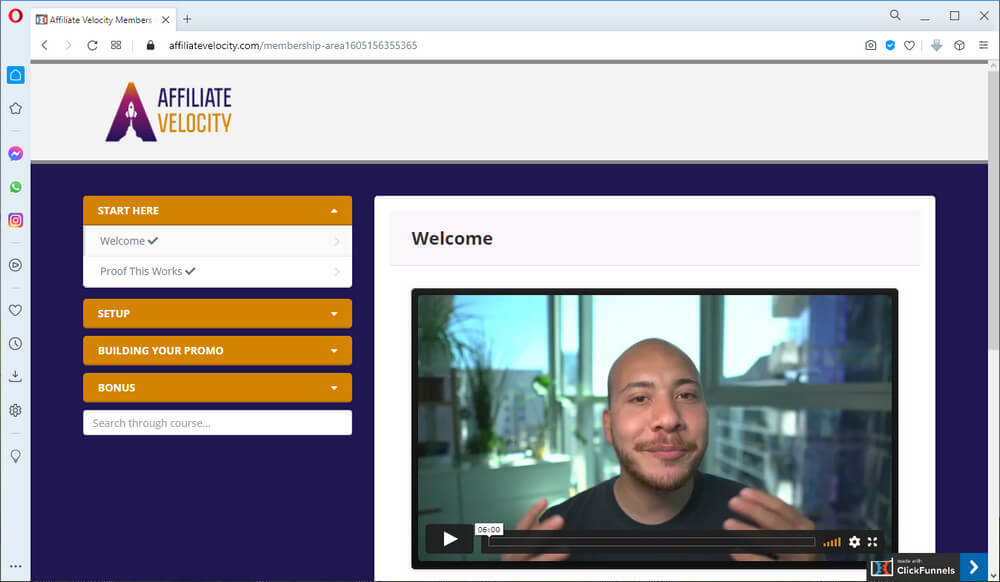 In the member's area of Affiliate Velocity, you will first be greeted by Ira Warner's Welcome video (6:00:00 minutes) along with links to his YouTube channel and a link to what appears to be an affiliate linked, training webinar registration form.
The Welcome video is listed under START HERE, along with Proof This Works (3:38:00 minutes).
Under SETUP, you will find the following:
Method Overview (16:33:00 minutes)
Setting Up Your Website (15:38:00 minutes) – along with links to 2 of his favourite sites: Rakuten and Fiverr
Building Your Squeeze Page (15:12:00 minutes) – accompanied by a Thrive landing page builder, landing page template zip file
GetResponse Setup (13:00:00 minutes) – along with what appears to be an affiliate link, to a Free 30-Day Trial to this autoresponder
Affiliate Marketing Basics (12:31:00 minutes) – along with links to 3 of the top affiliate marketing platforms
The Instant Offer (17:34:00 minutes)
Setup Click Tracker (15:12:00 minutes) – along with a link to his preferred website that offers paid-for tracking
Under BUILDING YOUR PROMO you will find the following:
How To Ethically Borrow Content From The Vendor (19:56:00 minutes) – along with his example Angle Doc
How To Ethically Steal Images From The Sales Page (8:42:00 minutes) – along with a Windows and a MAC link to his favourite pay-for screen capture software
Building Your Bridge Page (56:27:00 minutes) – along with a Thrive landing page builder, bridge page template zip file
Boost Your Conversions With Bonuses (31.21:00 minutes) – along with a link to his favourite PLR website
Writing Your Value and Offer Emails (30:48:00 minutes) – along with email templates in PDF format which shares 4 different emails, but they only provide you with different subject lines and NOT the body of the email itself
Uploading Emails To GetResponse (14:04:00 minutes)
Connect Your Squeeze Page To GetResponse (5:57:00 minutes)
Sending Traffic To Your Funnel (20:37:00 minutes) – where Warner recommends that you use Solo Ads
And last of all under BONUS
BONUS: Build Your Buyer's List + High Ticket Products (14:11:00 minutes)
PROS
30-Day money back guarantee.
You are provided with a template for a landing page and another template for using in creating a bridge page, as promised.
CONS
The email templates that you are promised, consist of choices you can use for your subject lines and NOTHING else. In other words, no body text. So, how is that a template?
The 2 templates… one for a landing page and the other for your bridge page… you MUST own and have Thrive landing page builder installed on your website. Have you seen the COST of that page builder?
Have been trained that whenever any vendor recommends Solo Ads, especially for affiliate marketers, to RUN.
Below is a video that explains WHY you need to rethink using Solo Ads, depending on your chosen niche.
The way Warner teaches you to do affiliate marketing, your reputation will be stained to the point that you would need to pay to improve your online marketing reputation should you ever want to make REAL money online.
---
My Take on Affiliate Velocity

To answer the opening question, "Is Affiliate Velocity worth buying – is it truly revealing?", my answer is NO it is not.
Having found NOTHING really new or revealing within the training, like was promised by Warner in his landing page video, I do NOT recommend Affiliate Velocity.
I'm sure you can find YouTube videos, written tutorials, or even eBooks explaining all that is offered in the training provided by Affiliate Velocity.
The other major issue with Warner's training is how he encourages his students to sell any product… even bad products (though he never calls them bad products), and to only focus on getting paid as an affiliate.
Never mind serving your potential customers as you would want to be treated.
To be in business only for the money, is a great way to FAIL as a business owner. People can "SMELL" when a vendor is only in business for the sake of money.
Instead, offer sincere and helpful advice. This way may take you longer to build a great business, but you will be building a great reputation online due to your honesty, as you are growing your business.
Repairing a damaged reputation for selling junk, and then trying to recover from that will take you a lot longer to build a real, long lasting online business.
My advice is this: only do affiliate marketing if you are planning on being in this business for the long-term. Those who think they can make lots of money in the short-term are the ones wasting their time, money and their reputation.
Below is my video showing you a walk through of the training inside Affiliate Velocity.
---
Summary
For those seeking a great landing page builder, here's a great alternative: Great Landing Pages Don't Need Expensive Page Builders Anymore!
If you truly want to learn how to:
create a website,
build a website for FREE as you learn,
have access to the necessary tools in building your new, online business, as well as
having FREE access to 10 completely updated training videos lessons for 7 days,
…then simply click the button below to my guide, and read all about what you will get inside a platform that offers you EVERYTHING that I've already mentioned (and more) for FREE.
You won't even be asked for a credit card.
All you need to do is complete your starter membership profile, upload an image of you so that all members will know who we are speaking with… and then get going at those FREE lessons.
Yes, it IS as easy as that. Hope to see you inside.
You can find out what this online business is about and how it all works in my free guide here:

Should you have any questions regarding is Affiliate Velocity worth buying, you have only to ask in a comment below and I will respond to your question(s) in a timely manner.
Helping you decide is why I write reviews like this one, on a regular basis.
Your Turn to Succeed!