Having been presented with this form (shown above), I signed up for their free report.
That's when I found my browser being pushed to another landing page where I was presented with a video that started off with several video clips of what was made to look like news reports done by different TV station within the United States… followed by a man who identified himself only as Bobby.
Bobby then goes on to promise you an offer to personally partner with him and start making money immediately… all for free.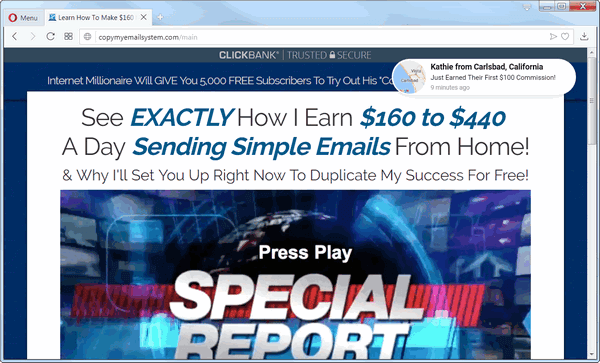 He then asks you, what if he told you that he has made millions online using email marketing; that he has literally made one million four hundred and twenty-six thousand two-hundred and forty-two dollars and nine cents this year alone.
And, what if he told you that he would not only show you exactly how he did it but partner with you and give you everything you need and get started and get you making money… all for free.
Then he asks if you would be at least be open to what he has been doing every day.
Bobby goes on to claim that he has been working online for 19 years now and that he was still making money during times when others were afraid to even buy anything online.
He goes on to inform you that he lives in a ridiculously huge new house and he drives a new Range Rover and several other name brand vehicles. He even claims he won a Bentley Continental GT that he won for free in an email marketing contest.
Bobby goes on to inform us that these emails are being sent out to people who have specifically requested the information be sent to them; to people who are looking for informational ways to make more money, or want to lose weight, or further their education, etc.
Almost everything you can think of can be advertised by email every single day, and he claims that he has earned tens of millions of dollars from this over the years.
However, no matter how much email his company can personally send or how good they do, apparently is just a tip of the iceberg, so Bobby says.
Then Bobby goes on to ask if you knew that over one hundred and fifty-five million searches for diets and weight loss every month were being done on Google alone.
Now, he says, just imagine how many people are looking to learn how to make more money… he claims there are literally hundreds of millions of potential new customers who are all looking for information or products that you could advertise.
Bobby says that no matter how big his company gets or how much email his company can send they simply cannot possibly reach everyone in the world that is looking for more information. He says they cannot even come close by themselves.
He goes on to explain why…
Saying that email service provider accounts are limited by bandwidth and how many people that you can have on your list; basically they do not want one account paying them to take up all of their bandwidth and disc space sending out billions of emails every month.
What those email service providers want claims Bobby, are hundreds or thousands of smaller accounts sending out smaller amounts of emails.
Due to Bobby's company being full because he has millions of email records in multiple companies and accounts and even though he would love to, he claims he just cannot do any more.
He gets thousands and thousands of new email subscribers every day… and he's struggling to be able to advertise to them.
Then he says he would love to be able to put all of these potential customers into one huge account and email them all but the email service providers just won't let him, no matter what he offers to pay them.
This review will be covered in the following topics:
See My #1 Recommended Way of Making Money Online:


What is Instant Email Empire is all About?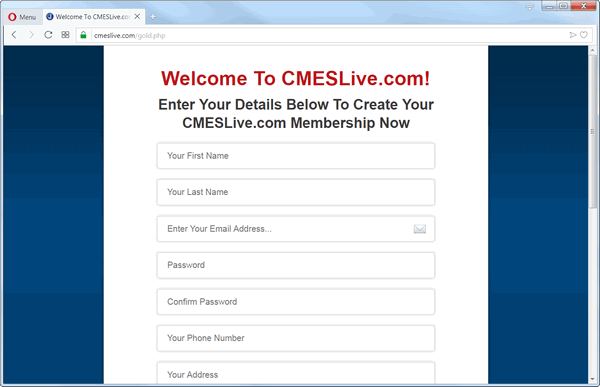 Program Name: Instant Email Empire
Website: https://copymyemailsystem.com/free and https://copymyemailsystem.com/ have been used
Price: Free(?)
Recommended? NO
Rating:
---
In chatting with his friend who said he wished he could clone Bobby and that is when Bobby claims he got this bright idea.
Bobby then went to work helping his friend set up his own email account for free, and he started adding some email subscribers directly to his list… also for free.
Bobby claims that afterwards, he taught his friend exactly how to send the emails so he could start making money immediately… and, only after he started making money would they start splitting the profits.
Apparently, within 60 days Bobby's friend was making over twelve hundred dollars per month and he still runs his emails and makes money every single day.
The best part Bobby claims was because he had set his friend up and taught him everything that he too made more money too. That's when he says he had a real sense that he had cloned himself.
Now Bobby says he is ready to clone himself over and over again, as there really is no limit except for the fact that he can only work with a limited number of people. He claims that he personally teaches each new person and that there is only so much time in his day.
This is where your partnering with Bobby comes in. He says you will never pay him a single dime ever that in fact he will pay you, as he will make money once you make money.
Bobby says he will set you up your very own email marketing account for free… you will not pay a dime for the account and he will load new email subscribers directly into your account every day.
He says he will give you the emails and the offers to promote, and teach you exactly how to put it all together so that you make money.
Then only after you start making money will you need to split your profits with Bobby.
This way, Bobby says you won't ever be out any money.
He claims he is only doing this in order to clone himself, and every time he does this his partners make money. Then when his partners make money so does he… because you are his partner.
---

How Instant Email Empire Actually Works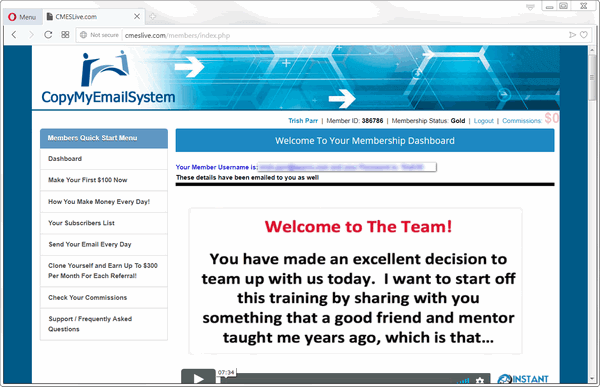 Once inside the membership area, the first thing I did, of course, was to listen to the Welcome to The Team video, which claims they have based their entire company off the following slogan: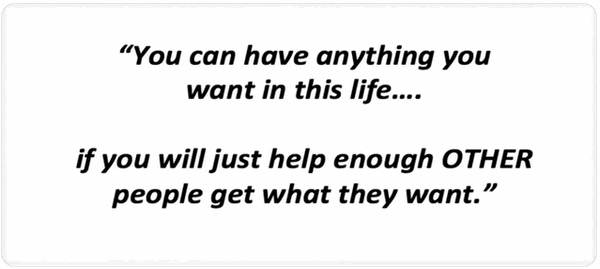 First, the narrator informs you that they are a 100% partner driven system meaning that you and them make money together every single day.
They need you to be successful simply because the more money you make the more money they make.
You will send out emails every day directly from their system to people who have requested more information on a product and every time someone clicks on a link in one of your emails, they claim that you will get paid.
Their payment to you, the narrator claims, happens whether a sale is made or not… you will still get paid for EVERY click.
There is no list building that needs to be done as their system does this for you. The narrator claims that every month they generate hundreds of thousands of subscribers added to their email lists.
Apparently, their problem is that they are too good and their lists is too big, and because it is too big, it would take up to 13 hours for them to send out just one email to their entire list.
By breaking their big list into several smaller lists then the entire list could be emailed in less than an hour, even multiple times a day.
Make Your First $100 Now – this option will cost you $34 US funds to get started even though their video claims are made that all you need to do is log into the members area each day, click on Send Your Email Every Day option (on the left-hand sidebar of the membership dashboard), push a few button and send out email to your list.
Then, every time someone clicks on a link in one of your emails you get paid. This is called Cost Per Click advertising or CPC for short.
Your Subscribers List – button stays gray until you pay!
Send Your Email Every Day – Unless you have paid the $34 US funds requested, you will see a large warning stating: "URGENT: You need to update your payment information to keep your account active!"
Clone Yourself and Earn Up To $300 Per Month For Each Referral – this option offers you the option to clone yourself in order to bring business to them.
Check Your Commissions – this option apparently offers you tracking ability on your stats.
When I did not jump in on paying $34 US funds to learn what they claimed they would teach me for free, I then started receiving emails from someone calling themselves Brian.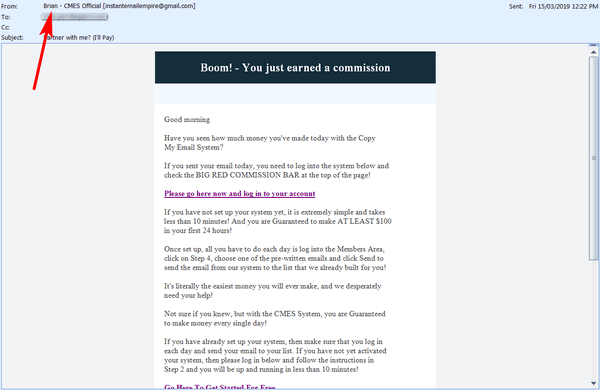 Both links in the body of this email were cleverly masked with a link that when clicked on, lead my browser to their option for me to pay their requested $34 US funds.
And for the rest of that day, my inbox was bombarded by emails so I unsubscribed, and when that did not work, I marked these emails as Junk Mail.
---

Is Instant Email Empire for Real?

Given my experience, I do not believe that their offer is free at all. Free to join their membership area in order to sell you full access to their system for $34 US funds, "Yes!"… but that is hardly free.
In good conscience, I therefore do NOT recommend Instant Email Empire.
---

How to Make More Money the Right Way
There is no system in the world that can honestly offer you with a means of making more money with no effort put forth on your part.
If you truly want to earn more money you really do need to learn how to make money the right way so that you will be in business long term, and happily operating your online business.
The best method of making more money that I have discovered you will NEVER have to split your profits with because your profits will belong to you and you alone, to do with as you see fit.
The platform that I would like to introduce you too, I have been a member of for close to three years now.
This platform can teach you how to create your very own online business… one where your customers will come to you rather than you having to chase after them.
That's right, your business will become like a magnet, drawing potential customers to you on a regular basis so that you will have no need of spending money on advertising.
And, if creating an email list really is your forté, you will find training on this topic there too!
Oh… and you can sign up as a starter member for FREE too… and, you will NOT be asked for a credit card either.
You will have 7 whole days to take the first 10 lessons to see if this platform is for you… or not.
You won't have to stay either, if you don't want to, and there would be no hard feelings.
The whole idea is that you can come in, join as a member and take the lessons for a test drive to see for yourself just how valuable this platform truly is.

This is NOT a "get rich quick scheme" either, so if you are only looking for your "pie in the sky" this is NOT it at all. This will require your patience and dedication to build your very own online business.
However, if you are willing to follow the instructions provided in the lessons offered on this platform than you will learn how to make a steady income, long-term.
As a member, you will be provided with all of the business tools you will need to create your online business, as these are all part of your membership, though as a premium member you will be offered even more tools.
So, what are you waiting for? Click here to get my FREE guide.

Before I forget, there is one other goodie I have to offer you that is spelled out in detail to you in my free guide and that is how you can have me as your premium coach.
Should you have any questions on is Instant Email Empire for Real or not, I hope you will feel free to leave a comment below… even if you only want to add to the conversation.
I will be sure to respond to your comment in a timely manner.
Stop Wasting Your Money,