Jenny Lewis offers this product, claiming it is great if you want to diversify your income from multiple sources. She claims she is sure you will make a ton of money with her strategies guiding you.
Lewis makes perfect sense when saying that depending on one source of income has its disadvantages if you cannot perform your duties due to ill health.
She claims that she has invested in 20 different things and discovered only 7 that were money making opportunities that generate sizable amounts of income for little effort or time.
Lewis' VO Genesis is such a great product that I just had to know if this product would be as great… or not.
Here are the points of discussion that I will cover off in my review:
See My #1 Recommended Way of Making Money Online:


What is Multiple Streams of Income?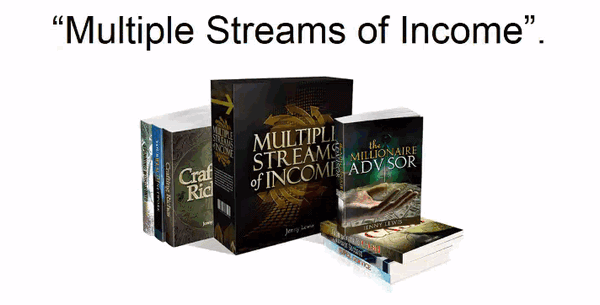 Program Name: Multiple Streams of Income
Website: https://vogenesis.com/msoi/oto2no.php
Price: $47 US funds + 1 upsell
Recommended? NO
Rating:
---
Lewis explains that she spent thousands of dollars researching, investigating and creating seven different income streams in 12 months. And, that these income streams each generated hundreds of dollars of income for her every month, totaling several thousands of dollars.
A couple of them, Lewis claims each generated over $2,000, in addition to her voiceover work. She goes on to say that she has created her money making empire so that she would never have to worry about a lack of money again.
Lewis also claims that she believes these are the best, most lucrative ways for someone who wants to work from home either part time or full time.
During her researching these income streams, she used 4 different criteria.
1.) The income had to be significant, making it worth her time.
2.) The income didn't require any technical skills.
3.) The income had to have total flexibility so she could be with her family and friends whenever she wanted to be.
4.) It had to be 100% legitimate.
Lewis says that these income streams are not like jobs that tie you to a time and place, and you won't have a boss to answer to either. There will be nobody telling you what to do or how to do it, and these income streams, she says are fun and exciting… and best of all the income is good.
---

How Multiple Streams of Income Really Works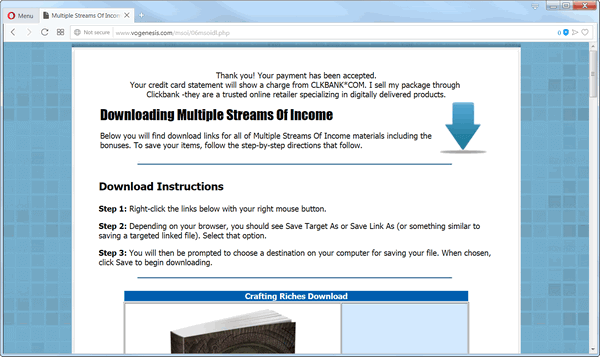 Multiple Streams of Income consists of 7 reports, each one in PDF format, and each one discussing a different idea for producing an income working from home.
1.) A report titled, Crafting Riches by Jenny Lewis, published in 2015 and containing 34 pages which discusses the potential for creating a business around your craft.
On page 12, Lewis introduces Etsy (USA based) as "the internet's non-stop craft fair" where you can sell your unique and original crafts at all hours of the day (and night).
Then, on page 15, she introduces Ezebee as "the international crafting community" which can be used by artisans selling their wares from outside the United States.
On page 16, Bonanza for Americans is briefly mentioned, while on the bottom of page 16 Lewis introduces Zibbet and Madeit which apparently caters to the Australian market… and the top of page 17, she mentions iCraft for Canadians who wish to sell within their own country.
With that, Lewis goes on to offer great tips on how to setup a web store that just might prove profitable for the artisan in you. She even provides a full on story about a woman who has been very successful selling her handmade items, followed by a newly married couple who created unique cutting boards that buyers love.
This report sounds like great advice offered to those who create unique crafts that they could sell on a regular basis.
——-
2.) A report titled, From Clutter to Cash by Jenny Lewis, also published in 2015 and has 28 pages and talks about dealing with your clutter. Near the end of page 12 she starts talking about how to liquidate your unnecessary items back into cash.
Lewis talks about several people and how they succeeded selling other's clutter in garage sales; The 'dos and don'ts' at making garage sales profitable are discussed in detail.
——-
3.) A report titled, Snapshot Success by Jenny Lewis, published in 2015, comes with 33 pages which examines photograph as a means of making money.
——-
4.) A report titled, Spinning Words Into Gold, by Jenny Lewis, published in 2015, and includes 27 pages on different types of blogging for money.
——-
5.) A report titled, Super Service by Jenny Lewis, published in 2015 and consists of 30 pages offering tips and advice on pet sitting as a means of making money.
——-
6.) A report titled, The Millionaire Advisor by Jenny Lewis, published in 2015 and contains 27 pages providing readers with suggestions on taking up coaching as a business idea.
——-
7.) A report titled, Your Wealth Network by Jenny Lewis, published in 2015 and comes with 29 pages of information about network marketing.
PROS
These reports are very professionally created and do offer some great tips and advice.
CONS
Most of the information contained in these reports can be freely retrieved from the internet. These reports are now 4 years-old, making me wonder how much longer the information will be viable.
---

Is Multiple Streams of Income a Scam?

No, I do not believe that Multiple Streams of Income is a scam. However, I think they would more appropriately be offered freely for signing up to an email list rather than asking the price Lewis has set for these reports.
Due to the issues mentioned, I cannot recommend Multiple Streams of Income.
---

The Best Strategy for Producing an Income Long Term
The best strategy that I have found for producing a real income long term… the one that I would like to share with you here… I have been a member of now for over 2 years now.
This training platform has so many great business tools to help you succeed with your new business, if you are interested. You will be able to learn how to create your very own online business… one that visitors will soon see you as an authority in your niche.
You will be able to learn how to attract customers too, this way you won't need to go out there chasing them. This is better known as gaining organic traffic, which is free. You can learn how to become an organic traffic magnet.
This technique is exactly the same one that brought you to my website right here; all without my having to spend even one red cent on advertising. Nice, huh?
Why not take a couple of minutes now, and find out exactly what this training platform is all about.

In case you are wondering, this is NOT a 'get rich quick scheme' either. You will need to learn patience and you will need to be diligent at working at your business on a regular basis. No business ever became successful by simply 'setting it and forgetting it'. To tell you otherwise would be to out and out lie to you.
Should you decide to give the training platform a try, you can sign up for FREE… and… you won't be even asked for your credit card! No siree you won't.
You will have days to check out the quality of training, to see if it meets with your expectations. Then if you like it as much as I do, you will be free to join the community as a premium member. So, now if you are ready to stop chasing that proverbial pot of gold, check out my free guide.

Before I forget, there is another bonus that you can discover right inside my free guide. It has to do with how YOU can get ME as your premium coach.
Should you have any questions as to whether Multiple Streams of Income is a scam or if you simply want to join in on the conversation about this topic, I hope you will leave a comment below. I will be responding to you in a timely manner.
Money Earned from Learning,