The vendor of Money Magnets Kneller Fernandes asks you, what if you start something that would bring in money over and over again, without you're having to worry about things like:
where do you start,
writing blog posts,
dealing with SEO (search engine optimization),
creating product,
being technically sound,
having to so YouTube videos,
speaking on camera or on a podcast
having to network
…and having the time to do it all.
He claims that Money Magnets solves all these problems and is a whole business in a box.
Fernandes says it gets even better, as they have included traffic sources that are free and that you can start using today, to generate a flood of visitors to your system.
He continues by saying that in fact these are the same as me and many seasoned marketers are using to make money online.
In 3 quick easy, simple steps, you can start living the life of your dreams.
Step 1: Pick your niche
Step 2: Add in your money links
Step 3: Activate your traffic streams and start earning
And then, Fernandes goes on to say that you simply rinse and repeat. He says it is that simple.
He explains that you are not to worry about being technically sound, or how you're going to set it all up, or having to spend endless hours.
He claims that it is super easy and quick to setup.
Fernandes says that for a system like this, they could easily charge $97 per month, but you wouldn't even have to pay $67 per month, because during their launch special it's available for a small fee.
However, he warns you that the price will be going up every hour. So, he says to get it before it goes up.
For it to be a no-brainer, Fernandes adds that they have also included a money back guarantee; if you do not see results or value in this system within a month, just message them and they will refund your complete small investment.
My review on Money Magnets will cover the following:
If You Don't Want to Waste Anymore of Your Time on Scams,
See My #1 Recommended Way of Making Money Online:


What is Money Magnets?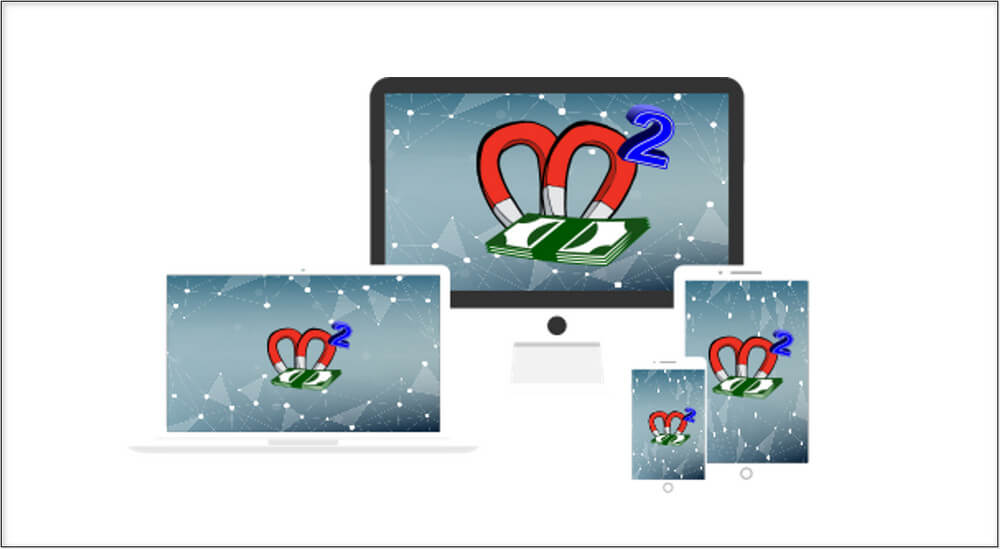 Program Name: Money Magnets
Website: https://knellerfernandes.com/courses-moneymagnetssp232sfdf/
Price: $7.95 US funds, PLUS 4 Upsells and 3 Downsells
Recommended? NO
Rating:
---
The two on page testimonials state that Money Magnets is apparently complete training for anyone who wants to get started in online marketing, right from the first step to the last step.
Fernandes' landing page states that anyone can benefit from his system including:
Newbies
Stay-at-home moms or dads
Full-time employees that don't have a lot of time
Retired people
People just looking for little side income
People looking to make a full-time income with part-time effort
The following is what all is said to be included in Money Magnets.
Bonus #1 – Exclusive Promotion Rights – claims you can earn 50% commissions throughout his sales funnel
Bonus #2 – Free Webinar
Bonus #3 – Using the Courses as Your Lead Magnets – exclusive for the members of Money Magnets, allows you to use their previous courses as your lead magnets.
He claims these bonuses are worth $1,000, and he says he'll see you on the inside.
---

How Money Magnets Actually Works
First off, I was instructed as follows "Please close this tab, if you do not want this, and wait for a receipt from Warrior Plus with further details…".
And, when I received both of my receipts, one from Warrior Plus and one from Kneller Fernandes'… his "Welcome" email, there was no instructions or link provided to the product that I just purchased.
So, I then logged into my Warrior Plus account to gain access through the link offered under my "purchase history".
Once I located Money Magnets from the list, I click on that name and my browser went to the page with a button link to "Access Your Purchase".
Not a very nice way to treat paying customers, and I told Fernandes so in an email. However, each vendor to their own way of doing things.
Below is a screen print of where that button link inside my Warrior Plus account sent my browser to.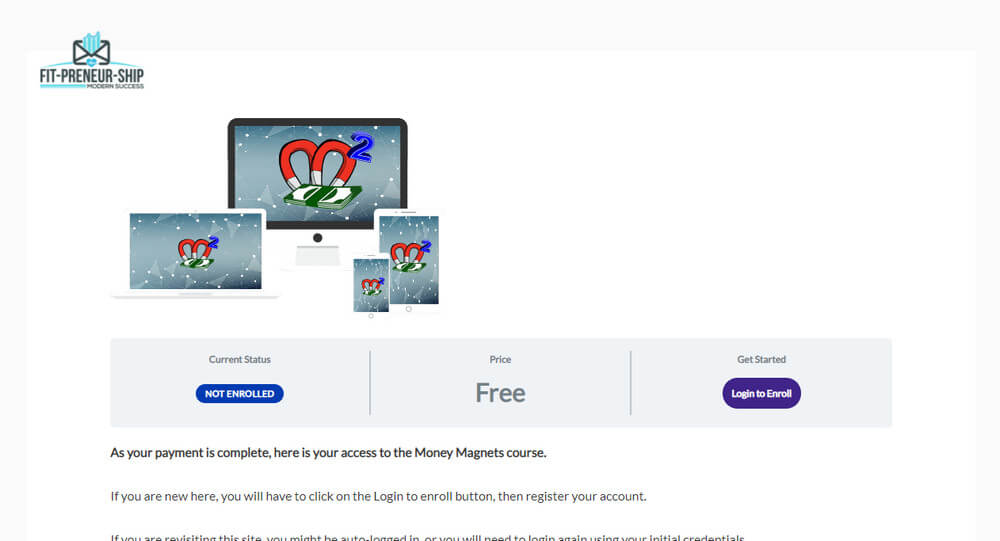 Instructions are as follows:
If you are new here, you will have to click on the Login to enroll button, then register your account.

If you are revisiting this site, you might be auto-logged in, or you will need to login again using your initial credentials.

Once logged in you can begin the course by clicking on the Intro section below… To your Success…
That's the Get Started button that is on the right, and labeled: "Login to Enroll".
When I clicked on that button, a popup form appeared, allowing me to either login or register.
So, be sure to keep the URL that you will need to retrieve from your Warrior Plus account, to use when returning to complete any training you've missed.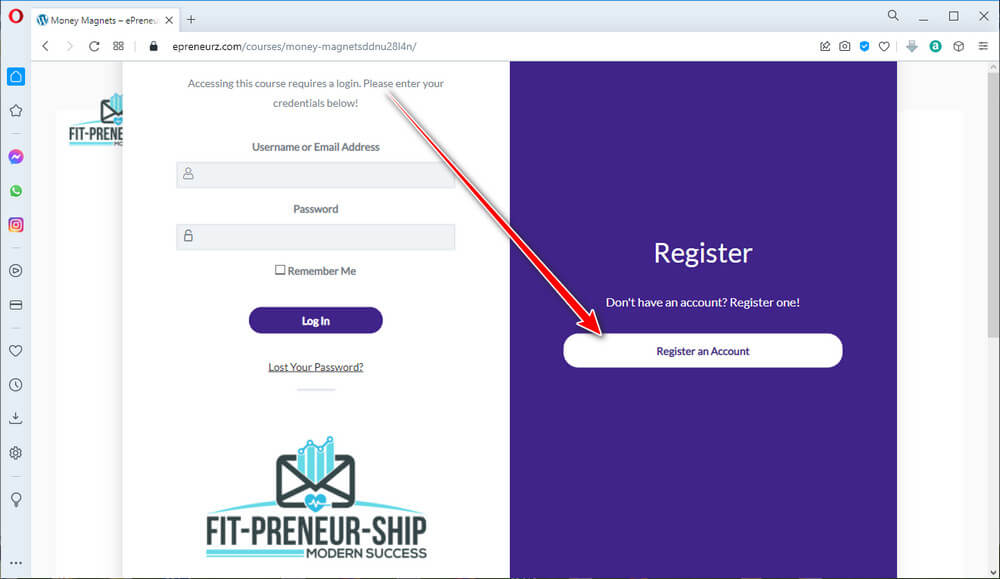 This registration form is NOT responsive, so you may have difficulty getting registered unless you use a desktop or laptop computer and make sure your browser is maximized, in order to display the fields you will need to complete.
Username
Email
First Name
Last Name
Password
Confirm Password
And… once completed, there is text at the bottom of this form stating "Registration confirmation will be emailed to you."
And, once you've completed filling in the Registration form, you will need to scroll down the form in order to find and click on the "Register" button.
On the next browser window, I noticed that I needed to check my email to "set your password"..?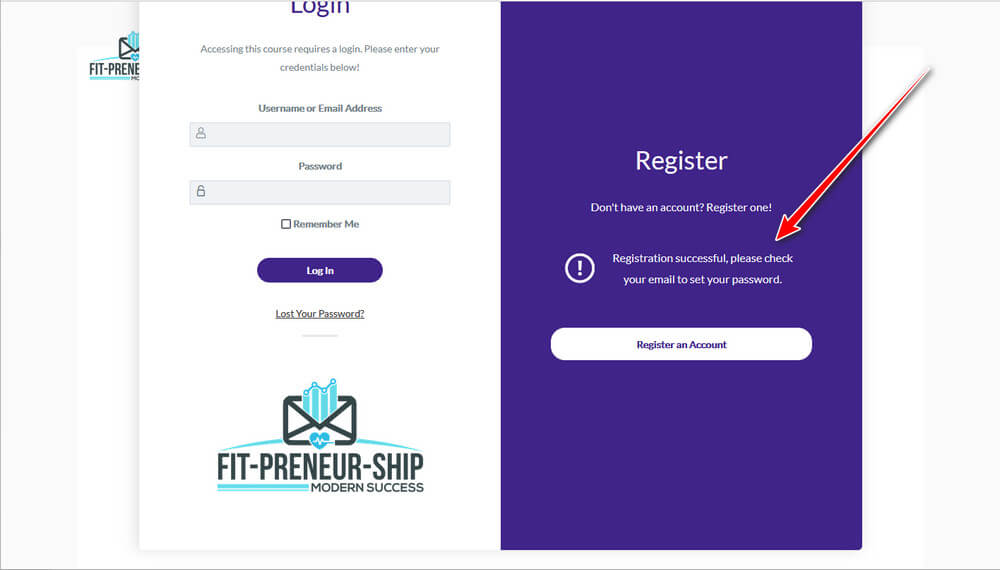 I was left wondering why I needed to create a password on his form and confirm it on the registration form, when I now understand that I need to re-create my password.
Checking my email, sure enough… the screen print below tells all.
Once I clicked on the first link, my browser was issued to a WordPress login screen showing a new password generated by WordPress that I need to use instead of the one I was forced to come up with on his registration form.
Then, back on his login screen… I entered my email address and this newly created password, then I clicked on Log In.
Below is a screen print of where my browser was taken in order for me to start the training.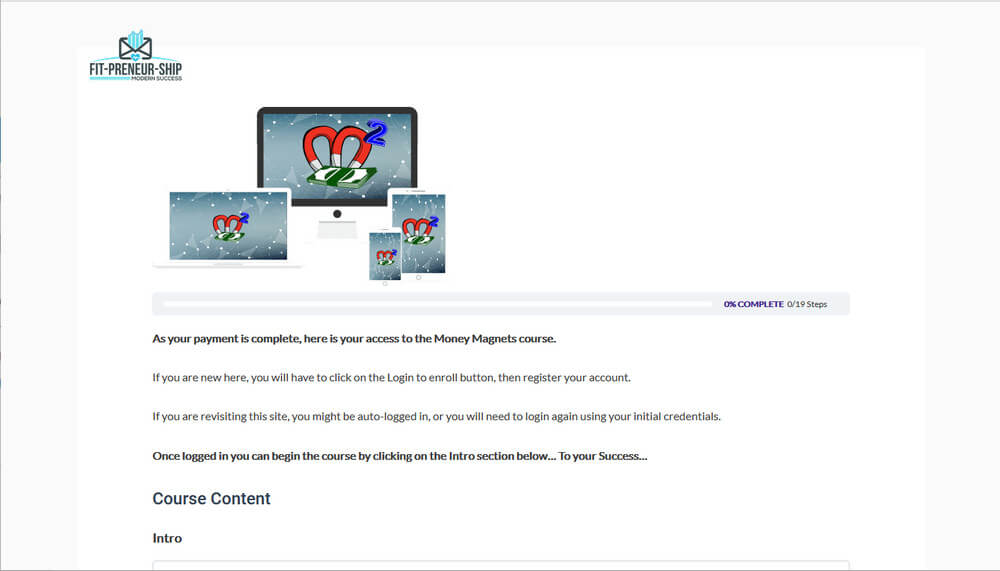 The Course Content lists all of the training sections, with radio buttons below the sections, for you to click on, whenever and wherever you want to start your training.
Once you click on the radio button (as shown in the screen print below)…

…your browser will go to the introduction or Intro area of the training, where you can begin.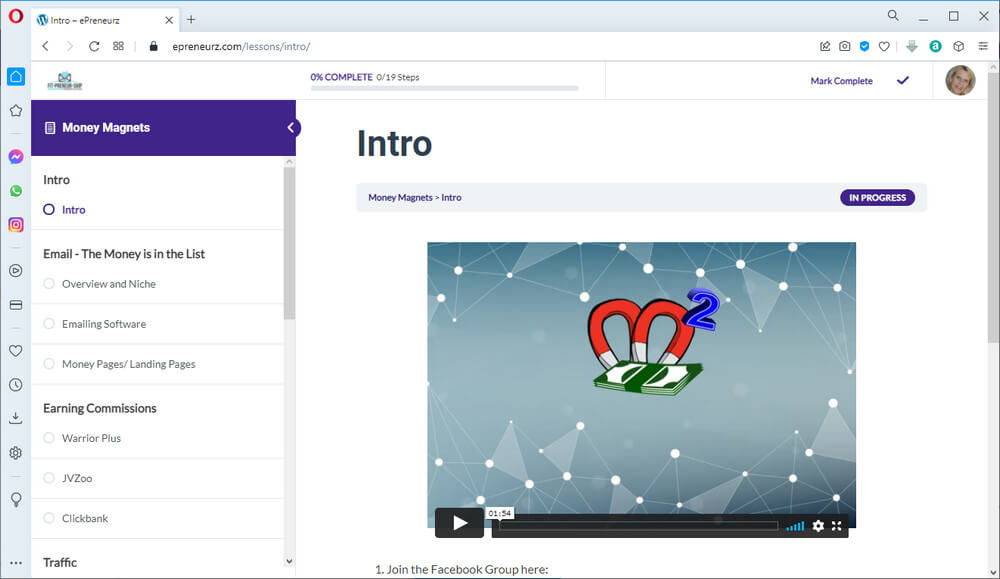 Intro – a welcome video (00:01:53 minutes) in which Kneller Fernandes introduces himself to you, and tells you what you need to do next.
Join the Facebook Group
Join the Webinar on How to Make A Consistent $5k/Month From Home In The Next 22 Days
Subscribe to their YouTube Channel to get updates of the latest goodies in the market.
At the bottom of this page, you will find a button that shows "Mark Complete" that you will need to click on to show you that you've completed this level, and then click the "Next Lesson" button to continue with the training.
Email – The Money is in the List
Overview and Niche video (00:09:11 minutes) – Fernandes reviews what you can expect in his training, and then talks about his thoughts about how to find a niche.
Below this is a LARGE BUTTON titled "VERY IMPORTANT Please check your email for a message from me with the subject – [Monee Magnets] Welcome – Check in your spam folder if you do not see it." [NOT A TYPO on my part] [already received this email, right after payment of this course].
Emailing Software video (00:05:34 minutes) – Fernandes recommends Aweber and shows you how to setup your new account on that platform.
Below this, he offers a button link titled, Set up your Aweber account, which is his affiliate link.
Money Pages / Landing Pages video (00:09:36 minutes) – Fernandes provides an overview as to how to setup Landing Pages on your Aweber account.
Below this video, you will find 3 separate links to:
pixabay.com
unsplash.com
freeimages.com
Earning Commissions
Warrior Plus video (00:10:12 minutes) – Fernandes walks you through the steps in signing up for a Warrior Plus account, and briefly shows you how to find products that you can become an affiliate of and promote.
Below this video there is a button link titled, Sign up for Warrior Pus.
JVZoo video (00:06:04 minutes) – Fernandes goes through setting up your new account and briefly demonstrates how to become an affiliate on this platform and find products to promote.
Below this video is a button link titled, Sign up for JVZoo.
Clickbank (00:07:26 minutes) – Fernandes shows you how to set up your brand-new account on this platform, and again, reveals how to find affiliate links to products to promote.
Below this video is a button link titled, Clickbank Sign Up.
Traffic
Free Traffic 1 video (00:06:37 minutes) – Fernandes recommends you to sign up for an account on Quora and answer with quality information to questions asked on this platform.
He also suggests that you check out questions asked on Facebook groups and only to respond to those if you can find the necessary helpful information.
Below this video is a button link titled, Sign up for Quora.
Free Traffic – Free Buyer Traffic [3 videos, as follows]
Video 1 – Overview of the system (00:03:54 minutes) – Fernandes explains what buyer traffic is and why this is important, as well as how to get this traffic.
Video 2 – Buyer Traffic From Facebook (00:04:44 minutes) – Fernandes shows you how to find Facebook groups to become a member of, and how to check on the members of these groups, and how to start "friending" those members. Then, how to create a post to attract them.
Video 3 – The Setup (00:04:16 minutes) – Fernandes takes you back to Aweber and creates a landing page for you to watch "over the shoulder" as he creates one.
Below these videos you are provided with the links mentioned in each video, along with a short note instructing you about these links changing on a regular basis.
Quick Paid Traffic video (00:07:48 minutes) – Fernandes introduces you to the Udimi platform, which is known as a platform for buying Solo Ads, and he explains why you should pick certain Sellers to gain visitors from.
Below this video are TWO button links: Sign up for Udimi and My Recommended Udimi Sellers, which appears to be affiliate links.
Paid Traffic 2 – Facebook Groups video (00:02:17 minutes) – Fernandes goes over another option for you to find Solo Ads, which is finding groups within Facebook that list Solo Ad sellers.
Bonus 1 – Exclusive Promotion Rights – text that explains that as a member of Money Magnets, you get exclusive promotion rights as long as you stay a member, and there are 2 rules you must abide by when requesting access to promote Money Magnets.
Below the details is a button link titled, Click here to request approval, which when clicked will take you to his Warrior Plus vendor account for Money Magnet, where you can find the means of asking his approval to promote this product.
Bonus 2 – Free Webinar 10k in 22 Days – provides a button link titled, "Register for the free workshop", which when clicked on takes your browser to a form where you can sign up for this webinar that is a replay. I'm betting this is an affiliate link.
Bonus 3 – Using my Courses as a Lead Magnets – See Free Traffic 2 – Free Buyer Traffic for details. Exclusively for members of Money Magnet.
Upgrades
Done for You Funnels in 3 Niches
Done for You Funnel in 1 Niche
Licensing rights
Coaching
Unannounced Bonuses – you're provided with 5 different affiliate links to other vendor's products.
Support – you are provided with an email address to use should you need assistance.
PROS
Fernandes does instruct his students to NOT promote products that are substandard. Of this I am impressed, as a good reputation for recommending only good products is hard to maintain if you promote crap.
Creating real value when helping others on the Quora platform by providing accurate information was also stressed in his training.
Fernandes warns his students that the tips he shares takes time, that this is not about to work instantly. Again, honest advice like this is nice to hear.
CONS
Nearly every video in the training has a 14 second introduction that I found annoying, as I prefer the no-fluff type of training videos.
The training only briefly covers each topic.
When compared to free training that I have had the pleasure to review, the paid training offered inside Money Magnets is far too brief. And, I believe that most newbies will be left wondering why they cannot get this to work.
Over the years now, I've been led by seasoned marketers to believe that quality, buyers leads are few and far between that would be gained when using Solo Ads.
---

My Take on Money Magnets
In my opinion, Kneller Fernandes should have offered this training course for FREE, as other vendors are doing with more inclusive training.
Then using his affiliate links would be totally acceptable and expected… and, more apt to be honoured.

Due to my having already seen better training than what is provided inside Money Magnets, I do not believe that a newbie could have Money Magnets build passive income streams.
Below is my video review of Money Magnets by Kneller Fernandes.


Summary
If you are serious about wanting to create a business online, then I have a learning platform that I would like to share with you that I have been a member of since 2016.
This learning platform offers FREE training for the first 10 lessons for 7 whole days.
All you need to do is:
sign up as a starter member,
complete a short introduction on that profile for the community to get to know you,
up load a recent image of yourself so we will know who we are speaking with, and then
get started with the FREE lessons.
And… the best part is… you WON'T even be asked for a credit card!
PLUS, you will be able to create your very own website, FREE.
And… that FREE WEBSITE… you can turn on a SSL certificate so that your visitor's devices will be safe.
Not only that… you will have an entire community of like-minded members anxiously awaiting to assist you, should you need any help.
All you need to do is post a question, and I'm certain you will gain several helpful suggestions.
Bets you won't find THIS kind of offer anywhere else online.
This learning platform provides their members with world-class training.
And the owners of this platform want you to learn for yourself just how great these lessons are, so that you will want to stay and become a full-time member.
Want to know more about this platform?
Click here to get my FREE guide.

Should you have any question regarding do Money Magnets build passive income streams, please leave them in a comment below.
I value my website visitors and look forward to providing quality information in my responses too, whenever a question is asked.
Learning Is Fun,