In the landing page video, Chris is pictured with his wife Cathy, (I noticed that he did NOT offer a surname) and he claims that his system is built to take care of everything, including every repetitive task that is required to make you money. Apparently, his system is now 100% automated.
Like many landing page videos these days, there are live testimonies offered but these too appear not to be genuine video clips. Many of the 4 people used as a "customers claim" even state what "this" is that they are referring too as generating them money.
Many of the testimonial claims are a little over stated but, let's see what this product is all about.
In my review here, I will be talking about the following key points:
See My #1 Recommended Way of Making Money Online:



What is Easy Retired Millionaire?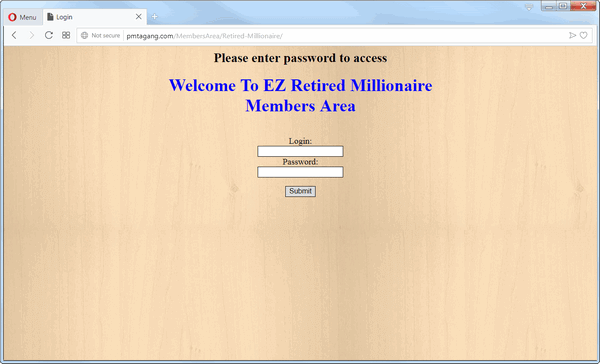 Program Name: Easy Retired Millionaire
Website: http://paytomail.trade/Retired-M/
Price: $47 US funds
Recommended? NO
Rating:
---
Chris explains that the internet and automation are 2 key factors that will provide you with endless cash to spend. He says you need to let automation work smart for you.
Apparently, they (am guessing him and his wife) will find opportunities and bring the commissions from those prospects directly to you. This way, he claims, you will put in less effort and grow potentially huge accounts.
Then a little bit of psychology is applied by telling you that only about 15 spots are available today and that these are going to go fast… so don't go anywhere. But don't let that kid you, this claim has been online for a few months now (if not more!).
Chris goes on to say that this is about helping ordinary people climb out of poverty and into the top 1%, or even the potentially 0.1%.
Then Chris launches into how he had to work night shift where he had a lack of sleep and felt like a zombie making little money on his job… and that it nearly tore apart his family… and apparently that is why "they" (again, am guessing he means his wife too) are here today.
This is followed by screen shots from some account he claims that he setup for you, and that it has made $120 in 3 minutes. A few minutes later another screen print is offered to you and Chris claims the account he setup for you just earned another $90.
On average, Chris claims, these accounts could generate up to $1,000 to $2,500 every day, 365 days a year, 24/7.
He goes on to state that; "…every day with one click you could watch your account grow. After 30 days, most people that sign up make more money than they do in a whole year at their previous jobs."
Then he continues with; "…you won't have to deal with: websites, advertising or marketing and sales. Or any of the endless tech jargon that is required to make money online."
---

How Easy Retired Millionaire Really Works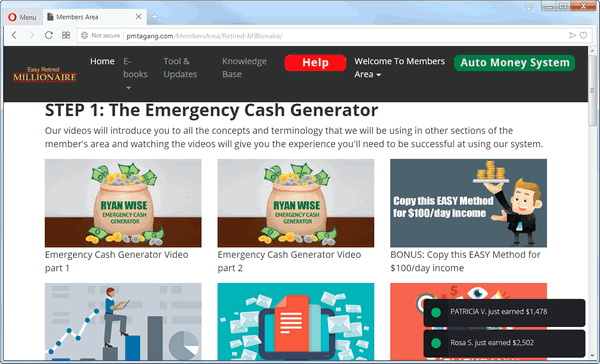 When clicked on, each of the images shown in the membership area offered a popup with a video explaining each part of this training.
Emergency Cash Generator Video part 1
A 10:36 minute YouTube video, stating that using cashcrate.com, a system that provides members with a number of offers, surveys, and volunteer forms that you just have to fill out using your personal details, and then you get paid from that.
Mike Dee tells you he has opened up an account just to show you… that apparently you need to earn $20 before taking any money from that account. He claims this is a legitimate company and that they do pay.
Following this, Dee walks you through his deciding on using "Offers" and he chooses a Wendy's gift card. Once he lands at nationalcommercenter.com's website, Dee immediately starts answering questions the site's form asks about Wendy's.
Dee suggests using a different email address than your regular email address in order to avoid being bombarded by email offers these sites will send to you. And he also warns you not to provide a real phone number to those who appear dubious. Once he completed answering his use of Wendy's, he then got credited a dollar.
He goes on to explain that some of the offers are for a lot more money, and briefly touches on surveys, with promises made for more detail in the second video.
Emergency Cash Generator Video part 2
A 6:38 minute YouTube video, where Mike Dee continues explaining this option, which he claims that you could earn between $1 to up to $10 for 10 minutes of your time, if you are going really slow; then he outlines the possibilities as he sees them at this cash crate website.
He goes back to the "Offers" tab at the cash crate website, and then states:
"Let's assume just for example say that these average offer amount that you do is about $5, okay? So $5 and it takes about roughly, let's say if you're going really slow, 10 minutes, just to… you know, go through that entire offer… 10 to 15 minutes, okay. And so, you know if you let's say work 4 to 5 hours a day that's roughly, you know, $5 let's say times 20, okay. You'd probably do that in about 5 hours easily… and that would be about a 100 a day."
And so this is how Dee claims you can generate up to 500 a week. Dee does recommend using "Offers" as opposed to "Surveys" as surveys tend to ask you to qualify, where "Offers", he says, are "just there".
Then Dee goes on to say how you can go past 500 a week. He claims the "Referrals" is the secret to doing that. This is where he shows you how you can invite others you know into doing exactly what he has taught you that you can do here so far.
Dee admits you will run out of friends to refer so he suggests going to Craigslist and publish your referral offer under Job postings, in major cities, keeping potential income to about $25 per job. Then he shows you a title he used: "$500 PER WEKK START TODAY, NO EXPERIENCE NEEDED" under Craigslist, Los Angeles.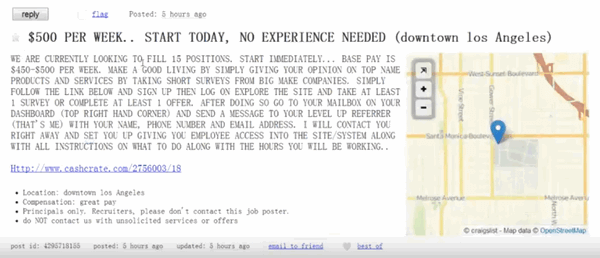 He even states that you can copy this example ad (though I'm not sure why anyone would want to) being sure to use your unique referral link. This he suggests, could be your sole focus on earning money by leading people to signing up for and using cash crates.
Dee even suggests sharing his videos with those you direct to cash crate, providing you stay in touch with those you refer to this site. He claims this is how the people get the big money.
BONUS: Copy this EASY Method for $100/day income
A 11:11 minute YouTube video, where Mike Dee starts off talking about Craigslist, recommending it as a way to generate traffic to make money, claiming he made $500 a day over and over again with this method. He sets out showing you how to make a passive, hands-free method of skirting Craigslist for stopping spammers.
Wait a minute… Dee explains that Craigslist won't allow sharing links anymore, especially an affiliate link. Isn't that referral link shown above in his part 2 training, an affiliate link?
He teaches you how to falsely place ads for vehicles shared on auction sites, by claiming you are the owner of a vehicle. He suggests that you could post as a dealer that you would pay a little fee that ensures your ad stays up as long as you pay that fee so no one can flag your ads.
Dee goes on to say that when someone emails you for more details that you can use a stock reply, stating that this vehicle is being auctioned off… and then make sure you provide your affiliate link.
Forgotten Traffic Plans
Offers a 32:28 minute YouTube video, with Lucas Adamski showing you 5 different traffic generation methods, and using these methods, he claims that you can generate over 1000 targeted visitors in a month, guaranteed.
Effective List Building Blueprint
A 1:16:11 minute YouTube video, the male voiceover does not identify himself, and the voice is different from either of the previous two narrators who offered their advice in the training detailed above. Among the topics talked about in this video training are as follows:
Solo ads,
Ad swaps,
Click banking,
Free WSO's,
PPV/CPV listbuilding,
Bartering for leads,
Your own affiliate program,
Exit popups,
Reverse opt-in forms,
Buying ad space direct from webmasters,
Nested squeeze pages on blog,
Tell a friend script,
Integrated cross promotions,
Viral PDF reports,
Affiliate list cross promotions
Clickbank Takeover Part 1
A 3:39 minute YouTube video, discussing how to make money with Clickbank, again, by an unidentified narrator.
STEP 2: Facebook Article Sharing
Here you are instructed to share posts with your Clickbank affiliate links on your Facebook account.
E-books
Three web pages with the titles shown are claimed to be ebooks.
Tools & Updates
Three compressed files, 2 are RAR files and 1 is a zip file.
Business Vitality – claims to be vital skills that you need to develop to become a business owner. A RAR file 5,146 KB in size.
Extreme List Building – claims to be a copy and paste system that gets 100+ subscribers daily for free. A RAR file 8,083 KB in size.
Video Marketing Kit – claims to offer easy ways to market with video. A zip file 26,948 KB in size.

Knowledge Base

Two questions and answers offered to members.

PROS

At least Mike Dee warned viewers to NOT use their regular email address, to use a factious phone number (so you won't be charged for businesses/companies calling you), and to always clear your browser cookies; Though his advice warning about providing companies with your credit card information is NOT auditable, even upon several replays.

CONS

Easy Retired Millionaire provides NO MONEY BACK GUARANTEE!

The first thing I found rather alarming is that when I clicked on their buy button to sign up for this training, my browser NEVER saw Clickbank for my receipt nor did I receive an email from Clickbank regarding my payment, though I did receive a receipt from PayPal.

Because the landing page clearly displays Clickbank tested as security, I tended to believe I would be dealing with a Clickbank registered product. But alas, this vendor's product is NOT a Clickbank product, so the 100% satisfaction guarantee does NOT apply. How they are able to use the Clickbank symbol, I do not know.

BEWARE: PayPal allowed this vendor to refuse a full refund to an unsatisfied customer even though I provided a detailed explanation to PayPal.

In part 1, having to be warned about dubious companies when providing personal information to companies you would be doing business with, I would definitely say is not a good business idea for anyone.

In part 2, teaching anyone to use all CAPS in any advertisement is silly considering all CAPS are considered yelling.

Teaching how to get around Craigslist's ruling of no longer being able to provide a link… especially an affiliate link by deliberately listing a fraudulent ad is not a wise move. I'm sure Craigslist won't be long stopping this "technique" too.

And… sharing any affiliate links on one's personal Facebook account is a great way to find your Facebook account being blocked by most (if not all) of your "friends".

 

---

 


Is Easy Retired Millionaire a Scam?

No, I do not believe that Easy Retired Millionaire is a scam but a poorly constructed training series of videos of which two of the different narrators (or voiceovers) did not even identify themselves.

Most of this video training can be easily accessed through a YouTube video search.

Due to this, I can NOT recommend Easy Retired Millionaire to anyone.

 

---

 


A REAL Method for Making Money

The real method for making money that I would like to share with you here, offers superior training along with great business tools, and the type of quality support that is the envy of any online business anywhere.

Blackhat techniques are NEVER used in any of this training platform's teachings. In fact, members are warned NOT to use any blackhat technique as that would be a quick way to get a business banned.

This training platform, I have been a member of for over 2 years now and I have spent a lot of wasted time and money searching, so you can take it from me, "This training platform really does work".

However, you do need to know that this is NOT a 'get rich quick scheme'. No, it is NOT!

Any business done right takes time to develop. Making thousands instantly is nothing more than a pipe-dream, so don't you be fooled by those kinds of promises.

If you have a few minutes, it may be time for you to take a look at what this online training platform is all about.


This platform is so sure that you will enjoy the training that you can sign up for a FREE membership… one where you will NOT be asked for a credit card either. Try and find that sort of quality offer elsewhere. I'm sure you cannot.

You will be able to learn how to create your very own online business where your visitors will see you as an authority on your chosen niche. The training will teach you how you can get people to visit your business without your having to spend anything on advertising.

That technique is the same as I am doing here with this post. You see, I have you visiting me here and I have not spent even a penny's worth on advertising. This is done so that you can have people coming to your business and not having to go chasing after them.

If you are ready to see my free guide, please do so.


There is another BONUS for you to discover inside my free guide… one where you can learn how to have ME as YOUR very own premium coach.

Should you have any question about whether Easy Retired Millionaire is a scam, or even if you just want to talk about your thoughts on this topic, I do hope you will feel free to leave me a comment below. I make it a habit to respond to all comments here.

Ready to Learn,