The 500 free tools and resources sounds pretty intriguing, I must admit, and I am as curious as anyone might be at learning how Christine Clayfield was able to such a hefty income as she did… OH! But wait a minute.
Can you see the screen print from her landing page below here, the one that clearly shows that she banked over $1.800.00 per year?

The punctuation used are NOT commas either folks… and, that looks more like $1 DOLLAR, wouldn't you agree?
Though, down lower on her landing page, Christine claims the following:

So… yes, a very high income claimed here too.
The vendor's site is not only, NOT secure it is also NOT responsive… so you will NOT want to be visiting it using any mobile device, as you could find your device in trouble security wise. And, you may also find the site difficult to read, without constantly zooming in and out and/or scrolling from side-to-side.
My review will be covering the following:
If You Don't Want to Waste Anymore of Your Time on Scams,
See My #1 Recommended Way of Making Money Online:


What is From Newbie to Millionaire?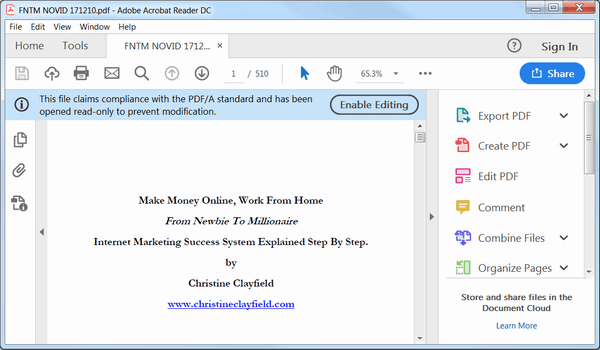 Program Name: From Newbie to Millionaire
Website: http://www.fromnewbietomillionaire.com/
Price: $47 US funds + 1 upsell
Recommended? NO
Rating:
---
This is an eBook containing 510 pages, and the author is quick to inform her readers that this book is also available in hard copy from Amazon. At the time of writing this review, I checked Amazon.com and sure enough… it is being offered not once but twice, each book for a different price.
After talking a lot about how important your health is when working on a computer, warning her readers as to the importance of learning to sit properly at a computer… on page 52, Christine refers to software she claims to have developed.
She proudly shows breakremindersoftware.com as the website for this software. Then I Google searched "break reminder software" (without the quotation marks, of course), click the link and see for yourself what my search results were: break reminder software search results.
Nowhere to be found on Google's page one. So, then I checked by typing the domain address into my browser's address bar and, VOILA! Yes… the site exists.
For a book offering tips on becoming a millionaire by offering to teach me internet marketing, wouldn't you think that author might be following her own advice?
Christine claims she owns 83 websites. She goes on to say that she has staff and outsources and that they are now looking after these for her. In this eBook, Christine's focus is mainly on WordPress. She goes on to say that it will cost you money to setup a website.
However, her quote of "about $20" is a tad under quoted, especially given that SSL certificates are a MUST HAVE for any website wishing to gain targeted traffic today. This cost is on top of any hosting fees, domain registration, and a premium theme, never mind any outsourcing you might be giving serious consideration of hiring.
I will say that Christine finally admits that at the very least, you will need a domain registration, website hosting and a keyword tool, all for about $116 US funds. Yet, when checking the price for her recommended keyword tool, as well as hosting and domain registration, the price is now more like $184.63 US funds.
So, you will need to understand and remember when reading this eBook that it was originally published in 2011 and only updated in 2014, and nothing since.
Later Christine mentions the necessity of other great and some necessary computer tools which cost even more.
On page 67, she even claims that she will show you how to rank in Google… and, remembering how her break reminder software did NOT rank. This doesn't leave a lot of room for being confident with her techniques.
---

How From Newbie to Millionaire Really Works
This eBook was updated in 2014, so it tends to be a bit outdated given that the internet is ever changing. Some very valuable information is missing from Christine's tips, like making sure your website has a SSL certificate so you can gain mobile users as potential customers too.
In this eBook, Christine starts off warning her readers as to the importance of sitting in front of a computer and the importance of good health.
Then, several useful basic tips are included for those who are newbies offering explanations regarding the terminology used on the internet and in affiliate marketing… pages 68 to 119, to be more precise.
This is followed by general advice on:
picking a niche, pages 120 to 129;
keyword researching, pages 130 to 173;
creating your website, pages 174 to 197;
SEO optimization, pages 198 to 222;
creating content, page 223 to 259;
monetizing your website, pages 260 to 300;
things you need to do before getting traffic, pages 301 to 310;
free traffic, pages 311 to 378;
paid traffic, pages 319 to 410;
ways to make money with no website, pages 411 to 420;
ways to make money with a website, pages 421 to 437;
drop shipping and eCommerce, pages 438 to 461;
success formula, page 462 to 494;
conclusion from pages 495 to 502;
make money with her products, page 503 to 504;
final words and training videos available, pages 505 to 508;
blank pages 509 and 510.
Christine covers not only affiliate marketing but she also talks about creating your very own product and other ways of making money online (such as writing articles for others).
---

Is From Newbie to Millionaire a Scam?

No, I do not believe that From Newbie to Millionaire is a scam, though this eBook is becoming more and more outdated with each passing year. This is a major disadvantage with purchasing printed books on topics such as the internet where changes tend to happen so quickly.
You are left on your own to not only read but also follow the author's instructions. If and when something goes wrong, you will have no one to consult with or ask questions of. Therefore, I must conclude that I do not recommend From Newbie to Millionaire.
---

A Proven Method to Make Money Online
A proven method to make money online that I found offers a well maintained training platform, which I joined over 2 years ago. This platform has taught me how to create an online business with all of the important elements necessary in making money online.
You too can learn how to make your very own online business from this platform. You can even learn to create a website with authority in your chosen niche. Then your website would gain a lot of trust from your visitors, making them feel more comfortable purchasing through your website.
Not only is this platform offering up to date, world class information but you will also have lots of support 24/7.
This platform can also teach you how to gain lots and lots of targeted traffic for FREE! That's right, free. You will have people seeking you out instead of you ever feeling though you have to chase them.
How, you ask?
Well, the very same way you have come to my review post right here and now… without my having spent a single penny on ads or any other costly form of advertising.
If you are ready to discover the training I am referring to, simply click the button below.

What was that you asked?
No way is this a get rich quick scheme!
So, if you might be thinking that then this is NOT for you. You will need to learn patience and to become dedicated to building your online business. It takes time to build a real business; success does not happen overnight.
Once you are ready to venture forward, you will soon discover that the owners of this platform are so sure that you will enjoy the quality of training and the help offered here that you can sign up as a member for FREE and check out the training for 7 whole days, WITHOUT even being asked for a credit card.
So, if you are tired of wasting your money on shiny objects, and you're ready to start building your very own online business, then…
It's time you checked out my free guide here:

Have a question concerning if From Newbie to Millionaire is a scam? Simply want to leave your thoughts on this topic with me? Then please feel free to leave me a comment below and I will get back to you quickly.
Time for Your Success!