Amit Gaikwad and Anirudh Baavra are the vendors of LifeSites, and their landing page video asks you if you would like to have access to a state-of-the-art platform that creates automated high-converting websites.
Claims are made that you can do this in just 30 seconds and that you can sell these sites for top dollar in the hottest niches.
Promises are made for you to imagine if in minutes from now you could get:
Sophisticated yet incredibly easy AI powered website creator
Fully hosted, SEO optimized and mobile responsive
A choice of 100+ Done-For-You (DFY) stunning templates to create high-converting websites within seconds
Unlimited hosting of sites and domains at the tiniest one-time cost
Complete data protection with free end-to-end SSL encryption
One-click creation and hosting of websites
Increase your income in a big way by strengthening your online business profile
Sell the most in-demand digital service to become a force to be reckoned with
Unlimited bandwidth at no extra or monthly cost, and
They say, all this and more for a one-time low fee. You only pay once and enjoy all the benefits of this breakthrough software forever.
They go on saying that you can say good-bye to heavy monthly fees, expensive tools and experts, exorbitant hosting costs, unhappy customers, work overload, security breaches and threats, unending wait time, debt, unnecessary hassles.
Apparently, LifeSites is the futuristic AI technology that automatically creates stunning websites that will help you skyrocket your profits at the lowest on-time cost.
Claims are made that in just 3 steps, you will start saving and making huge amounts of profits.
Step 1 – Grab LifeSites at an unbeatable cost today and simply login from any browser.
Step 2 – Fill in some quick details like business name, colour scheme and contact details.
Step 3 – Voila… your website is ready to be published and sold on top platforms instantly and effortlessly.
My review here will cover the following:
If You Don't Want to Waste Anymore of Your Time on Scams,
See My #1 Recommended Way of Making Money Online:


What is LifeSites?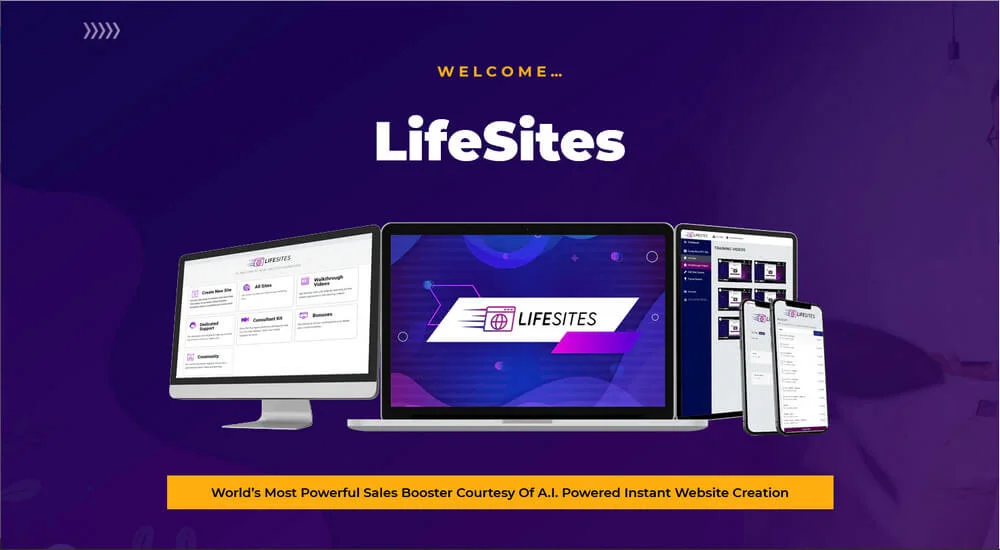 Program Name: LifeSites
Website: https://getlifesites.com/vip
Price: $27 US funds + 6 Upsells
Recommended? YES …but with reservation, explained below
Rating:
---
The following are what they claim is what you can use LIfeSites for:
Create unlimited websites by niches using their built-in templates… or from scratch in a few clicks
Set up your website in under 30 seconds
Access extremely reliable lifetime hosting at no additional cost
Choose from their 100+ DFY stunning design templates and countless themes
All websites are optimized to rank high across search engines
Pull in endless smartphone traffic with fully mobile-responsive websites
Create your very own domain or hosting on LifeSites subdomain
Your websites are 100% protected and secure
You can add pop-ups to prompt your visitors to instant action
Measure your ROI and other visitor statics using Google Analytics integration from within your dashboard
Embed forms, scripts, videos and lots more without being a tech genius
24/7 support and training included to help you ace the tool from day #1
Sell these money-magnets on popular platforms instantly for big commissions
They go on to say that LifeSites is prefect for you if you:
own a business, service or are a marketer
want to survive in this new-age digital world
would like to build local business or personal websites with a click of a few buttons
would like to setup websites in record time and begin attracting a huge amount of visitors
don't want to ever pay a penny for hosting your websites until the end of time
would like to sit back and relax because your data and website is absolutely secure
would like to give up the stress of handling web designers or paying for ineffective and complicated designing platforms
would like to dominate trending niches without any prior experience
would like to witness higher conversion rates, sales and profits
would like to create your digital identity and add every-lasting credibility to your brand
After which, they claim that it's a true win-win but only available until the timer on their landing page hits zero, so they say you should hurry and take action now.
---

How LifeSites Actually Works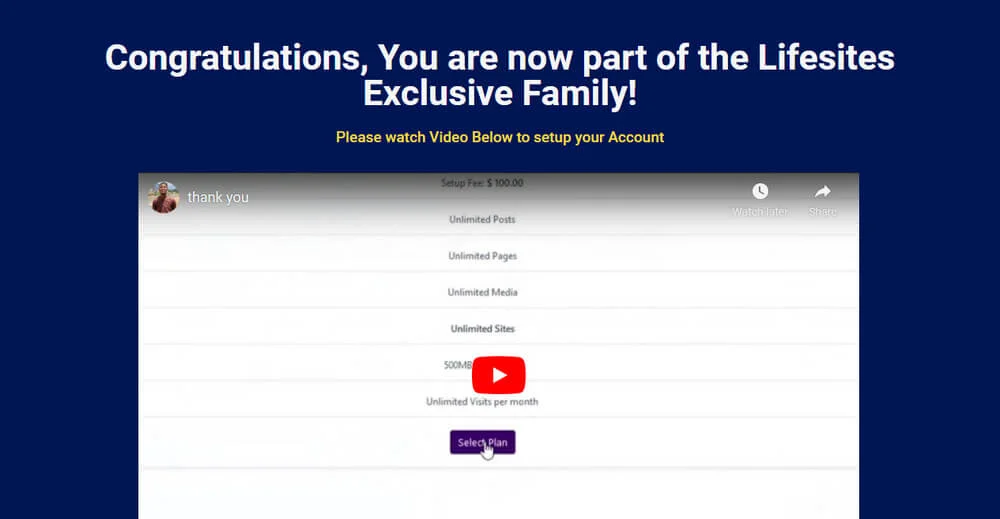 You are greeted with a Thank You video (00:01:51 minutes) in which Henry Kemakolam shows you how to create your account, below which is the button you will need to click on in order to start creating your account.
Below this again, is a link to their login that you can use once you have created your account, and below that again is a link to their support staff email address.
Once I clicked on their CLICK HERE TO CREATE YOUR ACCOUNT button, this took me to a web page with yet another button that I needed to click on. This button was titled "Select Plan". See screen print below.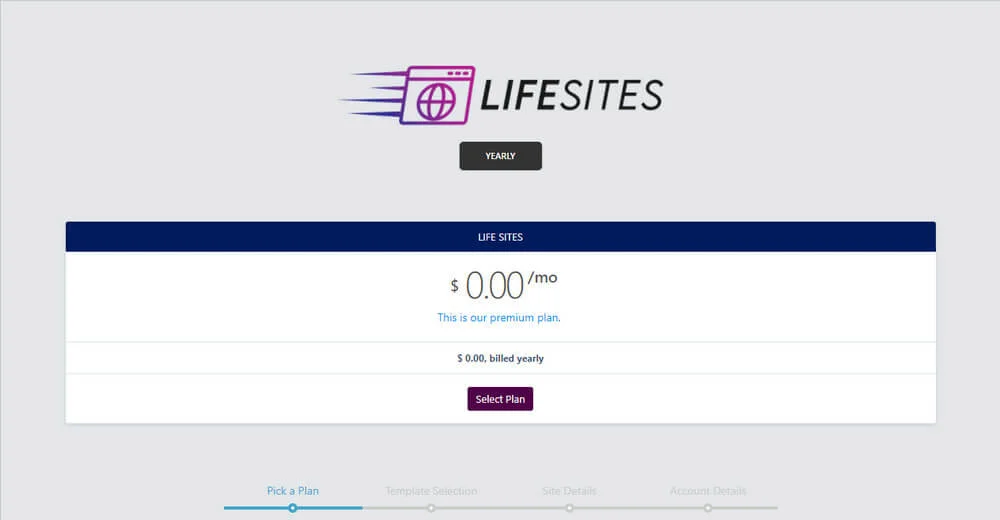 Once that button was clicked on, my browser was taken to a web page with 120 different templates to choose from. See screen print below.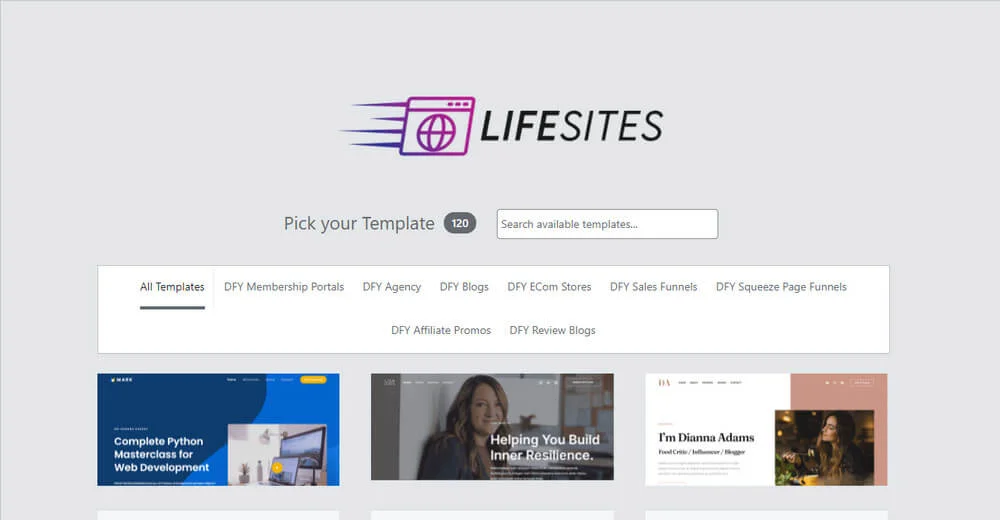 120 Templates to choose from

Online Programming Course
Online Portal Op+A41:A80tin
Multimed Clinic
Business Coaching & Consulting
Video Tours 360
Kindergarten
Food Blogger & Influencer
Postley
Gym & Fitness
Travel Blogger & Influencer
Video App Suite
Conference Event
Tarot Card Reader
ViralReel
Five Days Website
Home Stay
Upreacher
Freelancer
Fashion Influencer
DFY Review Blog 1
Home Décor
Wine Bar & Restaurant
DFY Review Blog 2
Agency – Stunning Business Website
Online Courses
DFY Review Blog 3
Dental Clinic
Best Selling Author
Pet Care
Gardening & Landscaping
Moving Services
Custom Printing
Car Repair
Painter
School & Kindergarten
Outdoor Adventure
Nutritionist
Cake Shop
Brandstore
Fitness Trainer
Law Firm
Simply Natural
Yoga Studio
Fly Movers
Deeplight Restaurant
Disk Jockey
Tow Services
Courier & Delivery Services
Construction
Manufacturing
Co-working Space
Florist
Financial Advisors
Travel Agency
Cleaning Services
Barber Shop
Personal Trainer
Sierra Nature
Plumber
BBQ Restaurant
Interior Design Firm
Sierra Industry
Plant Shop
Psychiatrist
eCourse – Learn Photoshop
Yoga Instructor
Hotel
Author
Church
Kids Charity
theAgency
Life Guide
Motivational Speaker
Brandstore Pro
Winery
Agency
Charity
Personal Fitness Trainer
Sweet Shop
Lawyer
Artist
Wedding Invitation M&S
Wedding Invitation
Personal Dietitian
Spa
Architecture Firm
Massage Therapist
Construction BV
Wedding Organizer
Garden Maintenance
Makeup Artist
Pet Services
Photography Portfolio
Cleaning Services
Pool Services
Italian Restaurant
Hotel and Bnb
Accountant
University
Online Training
Cleaning Agency
Ayurveda
Fit Fire
Home Remodelling
Jewellery
Creative
Car Wash
Wedding Planner
eBook
Transport Services
Coach
Introduce a Product
Pearson College
Artist CJ
Multipurpose Optin
Growth Marketer
Electrician
Product Release
A/C Technician
Personal Trainer
The template I chose to use for my review was Growth Marketer, as shown in the screen print below.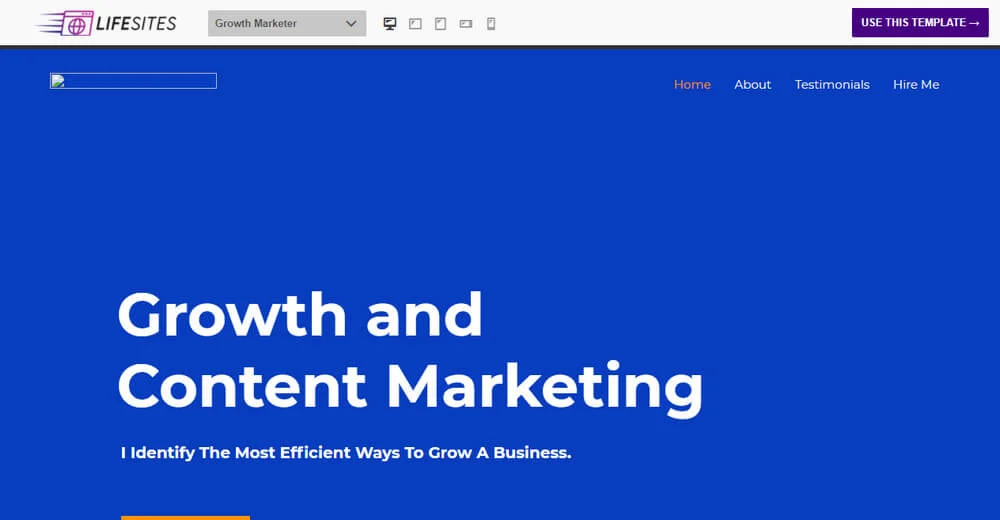 When clicking the Use This Template button as shown in the top, right-hand corner of the above screen print, this took my browser to the next page, as shown in the screen print below.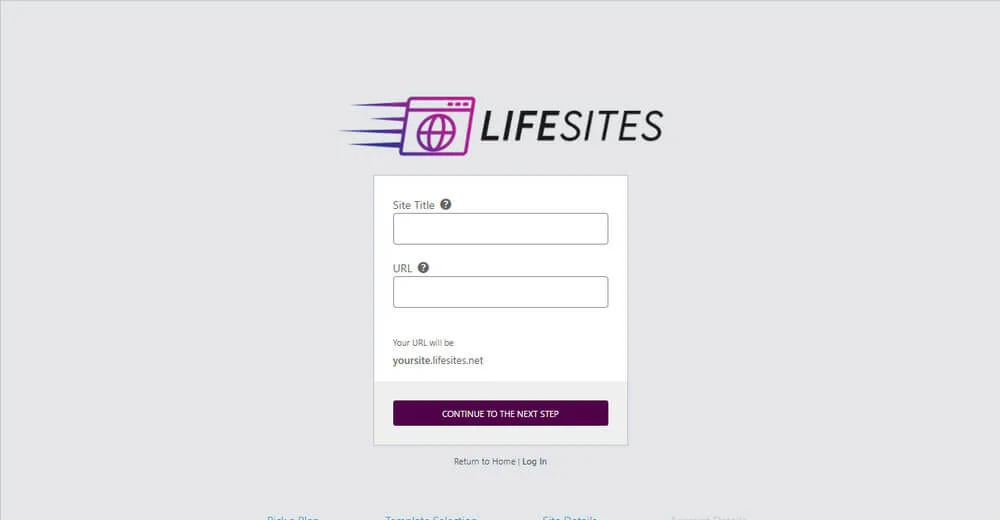 Created my Site Title and URL, which is shown to be yoursite.lifesites.net until you type in what you want the "yoursite" portion of your URL to read as. Site URL name can ONLY contain lowercase letters and numbers.
So, you will be creating a subdomain to the LifeSites domain which will be hosted on the LifeSites server.
Once your Site Title and URL are typed in, simply click the CONTINUE TO THE NEXT STEP button, which will take your browser to another web page where you will need to create the following:
Username
Email
Password
Confirm Password
As seen in the screen print below.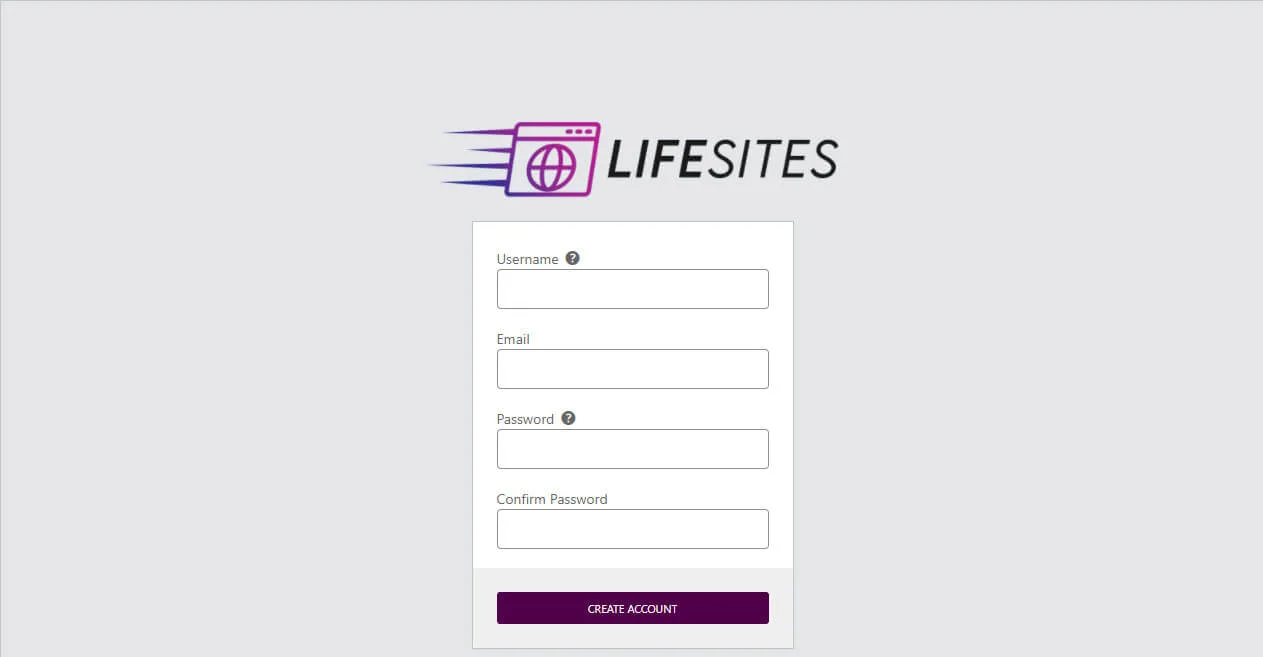 Usernames can ONLY contain lowercase letters and numbers. Once those fields have been completed, you will need to click on the CREATE ACCOUNT button.
After several minutes… poof! You're inside a WordPress Dashboard, ready to begin creating your website. See screen print below.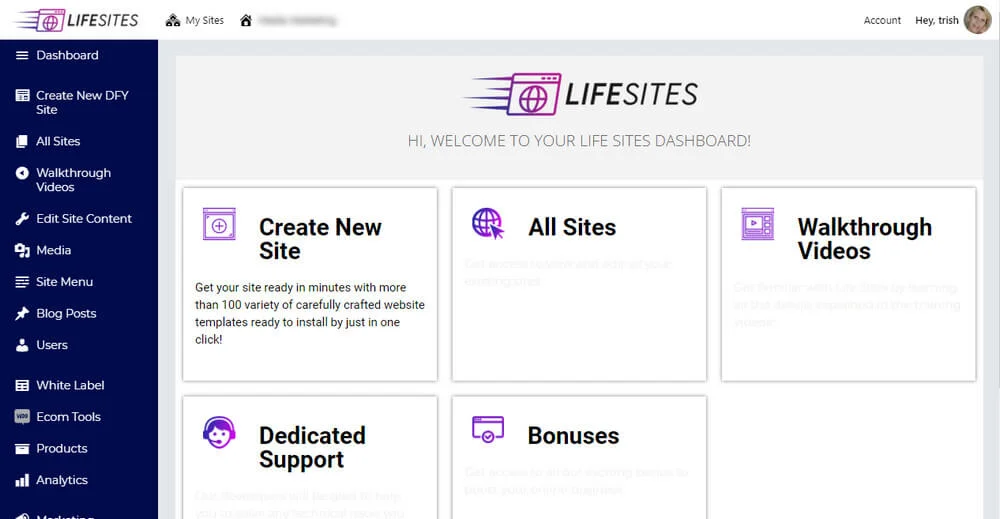 When you click on the Create New DFY Site from the left-hand sidebar, or the Create New Site button on the WordPress Dashboard, your browser will be taken to 121 templates for you to choose from, and will display the template you chose when creating this site, as the template that is now ready to be used.
You could change your choice of template here, if you wanted to.
All Sites – that appears on the left-hand sidebar appears to be the method in which you will have full access to ALL of the sites you create, should you want more than one.
Walkthrough Videos – by Joshua Johnson
Welcome video (00:03:17 minutes)
How to add a new site video (00:03:08 minutes)
Editing Your Website Content Using Life Builder video (00:10:17 minutes)
Setting Up Your Custom Domain Name LifeSites video (00:04:52 minutes)
How To Add A New User video (00:03:03 minutes)
Add Page Menu video (00:06:25 minutes)
Edit Site Content – pages preloaded for you as:
About
Cart – Cart Page
Checkout – Checkout Page
Hire Me
Home – Front Page
My account – My Account Page
Sample Page
Shop – Shop Page
Testimonials
Media – provides you with your Media Library, just like a regular WordPress website.
Site Menu – is where you can add pages to your navigation or website menu bar.
Blog Posts – again, this is the same as a regular WordPress installation.
Users – is exactly the same as a regular WordPress site.
The WooCommerce options appears to be the following list of options found in the left-hand sidebar of your newly installed website
White Label

Ecom Tools
Products
Analytics
Marketing
Account – shows you the Plan you have paid for when using LifeSites, your Custom Domain setup, your Account Status, Billing History, Account Actions, and Site List.
Post SMTP – appears to be an option where you can send 55 emails, and keeps a log of all issues, but you will need to set this up using the LifeSites Wizard from inside your newly created website.
PROS
Simple to use


You can build unlimited websites (according to their landing page promise)


WooCommerce ready


120 templates to choose from (121 from inside your website)


No plugins to install and/or setup


Templates appear to be simple enough to load quickly


You can use a custom domain (but costs extra to register one) for your subdomains


The main server of LifeSites is protected by a SSL certificate, so all subdomains that you create are automatically protected with the same security for your visitors' devices
CONS
This NOT newbie friendly, as you will need to have at least a basic understanding of using the WordPress Block Editor.
There is no explanation as to how your websites are secured, other than the SSL certificate, which only serves to protect your visitor's devices, not the website itself.
No explanation as to how your site is SEO ready, as I could see NO evidence of this in the dashboard of my trial website.
With all of your subdomains using the LifeSites domain, your entire business will be at the owner of LifeSites discretion.
If they were to desert using LifeSites for any reason in the future, your entire business would be gone overnight.
You're given no optoin to back up your website so that should worse come to worse, you wouldn't lose your entire business should anything happen to the LifeSites hosting server.
And yes, web servers have been known to fail from time to time. After all, they are simply another type of hard drive.
---

My Take on LifeSites

Amit Gaikwad and Anirudh Baavra are seemingly, sincerely providing a great way for budget-stressed users to get started with their very own online business.
Thus my 3-star rating.
However, with your entire business relying strictly on the LifeSites domain remaining active and live online, I do NOT believe this to be a safe, long-term method for staying in business, as I explained in my list of CONS above.
Not being able to backup ANY website is a far cry from a safe way to operate an online business.
Below is my video review of LifeSites by Amit Gaikwad and Anirudh Baavra
AND… in case you're wondering, YES, subdomain sites CAN get traffic… (my affiliate link) BOY, can they get traffic!


Summary
If you are looking to seriously start an online business for the long-term, one that you want full control over, then I have news about a great training platform to share with you. This platform provides world-class training, and I have been a member there since 2016.
The owners of this platform are so sure that you will agree with the quality of training that they offer, they provide you with a FREE starter membership… and you WON'T be asked for a credit card to start, either.
With the FREE starter membership, you will be allowed to create a FREE website, and you can turn on a SSL certificate FREE of charge for that FREE website too.
And more importantly, you will have full access to the first 10 lessons for 7 whole days, FREE of charge.
Try to match that offer ANYWHERE else online, I dare you!
Should you decide that you want to continue with the training, as there are far more lessons to learn… then you will soon discover an offer sent to you by the owners for a REDUCED first monthly payment.
This will make it possible for you to continue with the training.

Should you be fortunate enough to be a member in November, the owners offer all members a substantially reduced cost of a YEARLY membership to the platform as their Black Friday special.
If you are fortunate enough to take them up on THAT offer, you will receive the same low priced membership renewal the following year.
So yes, you will qualify for all future Black Friday special prices.
The best part of this training platform is the help you will receive from the like-minded members whenever you have a technical question that you need help with.
You will soon find out that this type of camaraderie or fellowship is truly priceless.
As premium members, we all enjoy helping other members on this platform so that we can all succeed.
If you would like to know more about this platform, check out my free guide.

Should you have ANY question regarding can LifeSites create automated high-converting websites, please leave them in a comment below so that we may discuss this further.
All comments are promptly responded to, as I value your input as priceless.
Success is But a Step Away,