Kurt Chrisler is the vendor of AffiliFlash and he asks, how would you like to be able to create complete, monetized affiliate sites using any content you want, without having to find a single image, and without having to worry about how to monetize the site.
The best part, he claims is that you can do it all in just a matter of minutes, because that's exactly what you can do with the new AffiliFlash software.
Kurt claims that AffiliFlash software is the easiest way and fastest way to create affiliate sites with the least amount of work.
Apparently, you can create a complete affiliate site in just a matter of minutes.
Kurt says that he knows that this might be hard to believe, so what he is going to do is work with the software right in front of you, so that you can see exactly how it works.
Then he takes you to a demo site he created for this demonstration, where he refreshes the page to prove to you that there is Nothing Found, so that you can see that it is a completely new site; There is absolutely no content currently on it.
Kurt then tells you that he is going to turn this into a complete affiliate site in just a matter of minutes.
From inside his WordPress website, he goes to his software's Settings page, where Kurt proceeds to show you how he uploads some content into a textbox on that page.
My review of AffiliFlash will cover the following:
If You Don't Want to Waste Anymore of Your Time on Scams,
See My #1 Recommended Way of Making Money Online:


What is AffiliFlash?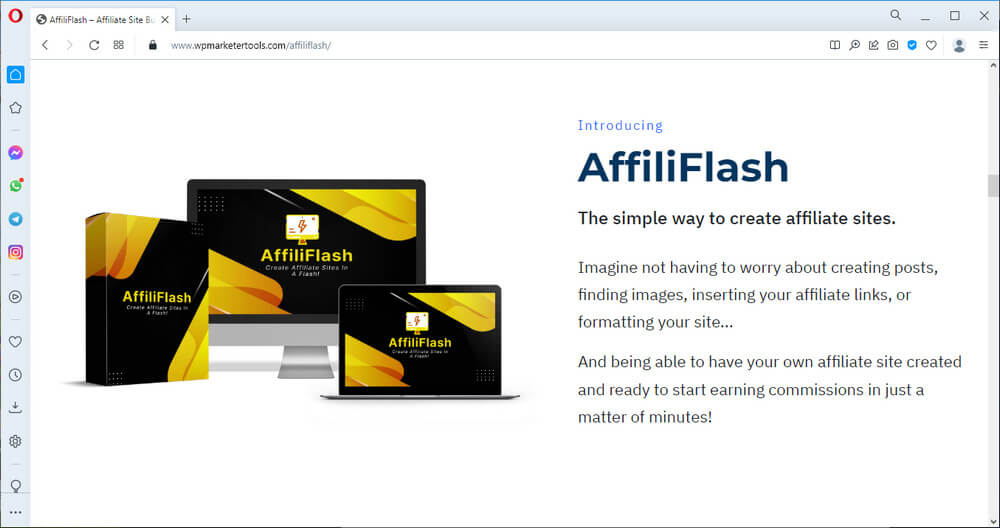 Program Name: AffiliFlash
Website: https://www.wpmarketertools.com/affiliflash/
Price: $17.24 US funds + 4 Upsells and 3 Downsell popups
Recommended? NO
Rating:
---
Kurt Chrisler is offering AffiliFlash, which is a WordPress plugin, for a discounted price during his initial launch.
He continues with his demonstration on how to setup his software, by claiming that you can use any content that you want.
Kurt says that most people he talks to have thousands of articles of PLR content that you could use, or content that you've written, content that you've purchased.
Any type of content you want, he states that you simply need to drag it into the software, and the software will take that content and automatically create a site for you with that content.
Kurt assures you that you don't have to create a single post or do any of the tedious work that you would do normally when creating a site.
He then proceeds to drop in some content, explaining that he dropped in four pieces of content.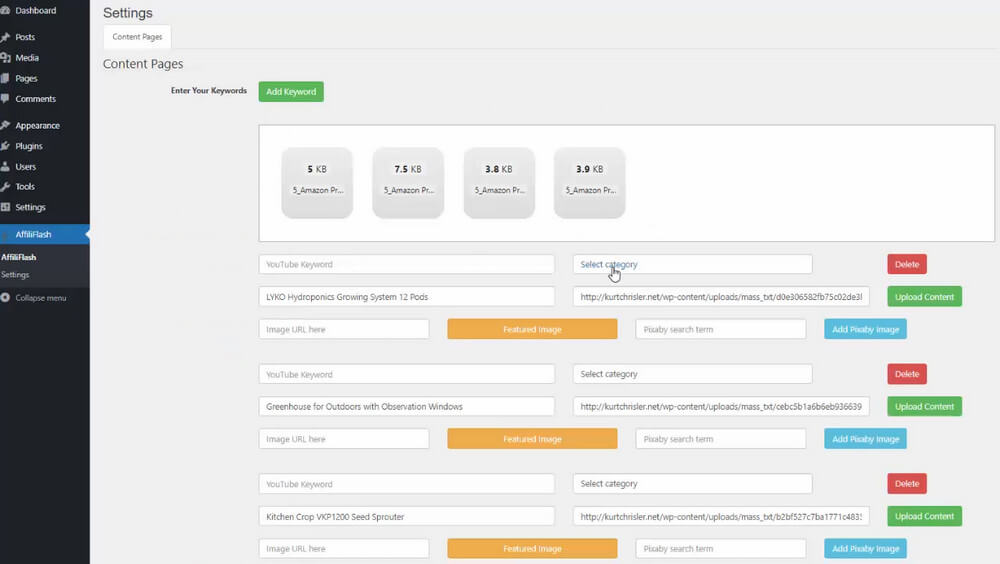 Kurt goes on to explain that the software went and created some settings for each and every one of those pieces of content.
He says that first off, you have a YouTube keyword, so the software automatically goes to add a YouTube video to each and every post it creates and that's great for SEO.
Kurt then explains that of course Google owns YouTube and they love to see YouTube on the site.
He then goes on to say that he can select a keyword, or that he can leave it blank and the software will actually take the title of the article, and find that YouTube video for him.
Then Kurt goes on to say that he can select a category… and if he has a featured image that he wants to use he would enter it in the "Image URL" textbox, or he can use Pixabay.
He then explains that his first article is about hydroponics, and so he uses "hydroponics" as his Pixabay search field, and then he clicks the "Add Pixaby Image" button and several images appear [7 images displayed horizontally, numerous rows to scroll through if you wish] in which he selects to use the first image that appeared in the first row.
Then Kurt states that now that post is done and the software will do the rest of the work.
He then says that he simply repeats that for each of the other 3 pieces of content that he uploaded, while starting on showing you how he setup his second piece of content with images, and category, and he could change the type of YouTube video if he would like, and then he would just repeat that process.
Kurt's demo jumps to where all four pieces of content have now been all setup and he then moves on to the next settings.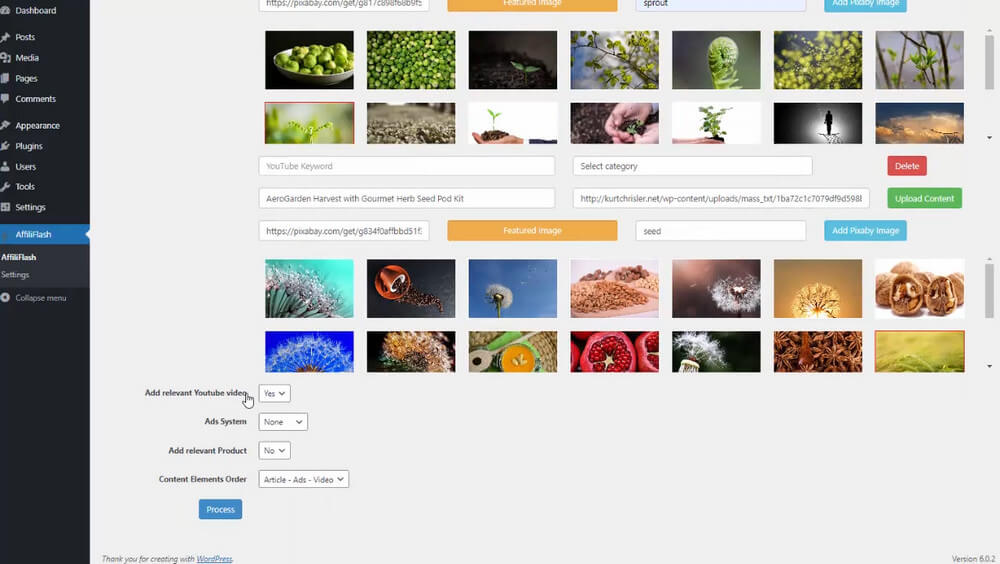 He explains that he can have the software "Add relevant Youtube video" by leaving that option as "Yes".
The "Ads System" option he leaves set as "None",
the "Add relevant Product" option at "No", and the
"Content Elements Order" option at "Article – Ads – Video"
And then he clicks the "Process" button.
Kurt explains that what the software is going to do is going to take this random content that he just had sitting on his computer, and creates a complete affiliate site, monetized and ready to go.
Once he clicked the button, he claims that the software has done its magic, and he takes you over to his website's public view, while explaining that he's now going to hit refresh.
And, just like that, Kurt says, his site has been created.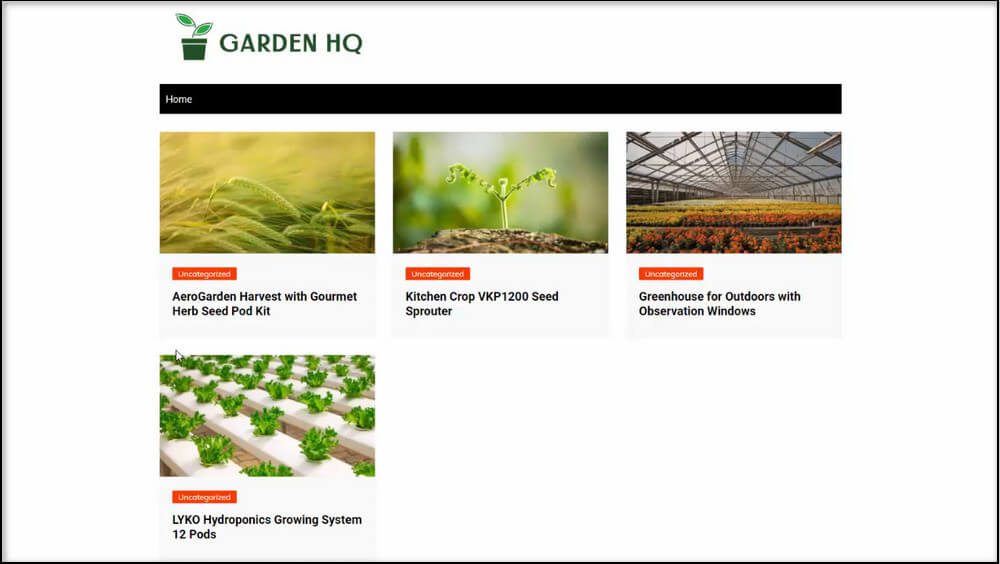 Kurt claims that now, with each and every one of these posts [as he clicks on the first one to show you the individual post], you can see that it brought in the:
title,
an image to use from Pixabay,
he has some ads which he'll show you in a second, and then he has
the content, and
it brought in a YouTube video.
He points out that the software searched for the video by the title of the article, so that it brought in a relevant video for him, as he points out the title of the embedded YouTube video.
And just like that, Kurt claims that his site is ready to go and start earning him commissions.
He goes on to explain that he can go back into the software's Settings page and drop in even more content if he wants and he can just keep building the site like that.
Kurt states that no longer does he need to:
get content,
paste it into a post,
go find an image,
put some ads on it,
publish it, and all of that.
He goes on to explain that you would simply drop it into the Settings textbox titled "Drop files here to upload", and let the software do the rest for you.
Now, inside the "Settings" here [as he goes to the left-hand sidebar under the plugin options and clicks on "Settings"], Kurt continues explaining that you can see that they have "Amazon Settings", so that if you currently have the Amazon API, which is totally not required but if you do have that, they have made that option available for you.
Apparently, that option will automatically put Amazon ads on your site for you.
Kurt then points out that they have "Youtube Settings", which is simply adding a YouTube video to every post.
They have their "Pixabay Settings", so you can get images.
The "Content Spinning" option, Kurt explains is with the "Best Spinner" and "Spin Rewriter", so if you want the software to spin that content before it puts on your site, you can do that as well.
Then he explains that their "Custom Ads" is for most people who cannot get the Amazon API, because you have to make a couple of sales before you get access to it, so what you can do is that you can paste in your own Amazon ads in this option.
Kurt then takes you back to that first post he had published, and shows you the amazon ads that his software added to his post.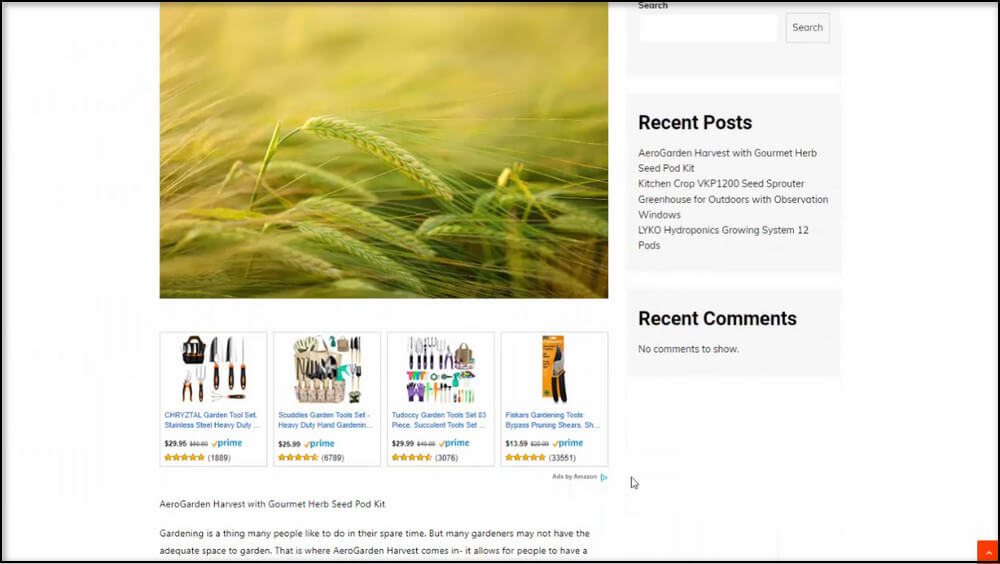 He then explains that's a great way to start making Amazon sales on your site as well.
So then again, Kurt says, the software takes care of all the stuff for you… that you can upload any type of content you want – so almost all of us have content sitting around on our computer whether it be:
PLR,
articles we've purchased in the past,
articles we got for free,
articles we've written.
Any of those, he says, you simply upload them into the software and it'll take that unused content that you have sitting around, and build you a complete affiliate site.
Kurt repeats that you have your:
Featured images,
The content,
Your Amazon ads.
And, everything, he says, is ready to go, and again it only takes a matter of minutes to create your site.
Kurt claims that he can now keep uploading as much new content as he wants over and over again and continue to build out this demo site that he shared with you.
The AffiliFlash software, he claims is the fastest way to start creating affiliate sites and that you're going to absolutely love the plugin, so go ahead and grab your copy now.
---

How AffiliFlash Actually Works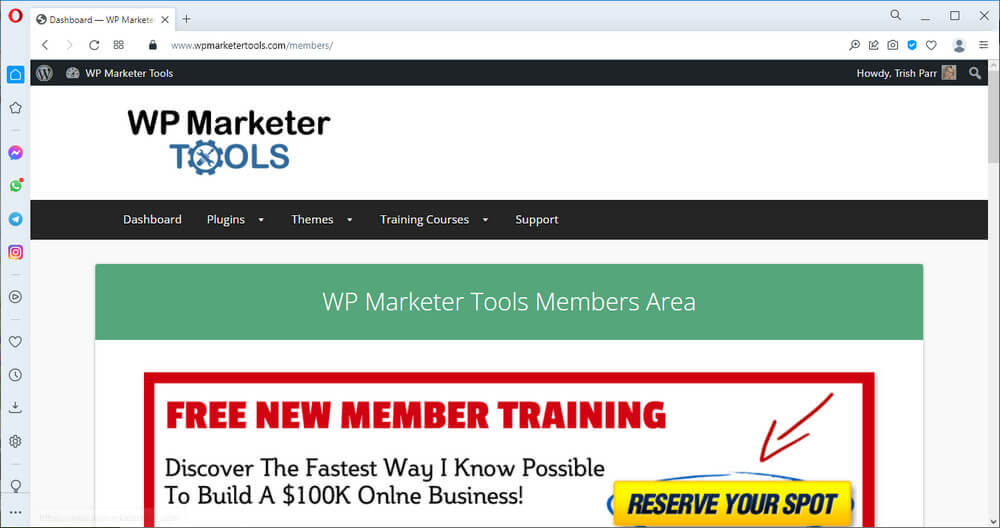 From inside the members area, you are invited to Discover The Fastest Way I Know Possible To Build A $100K Online Business, which was formerly a webinar replay that appears to be no longer available, once you sign up for it.
Below this is a 2 minute 2 second video of Kurt Chrisler explaining what you need to do if you are unable to access a purchase you've made from him now or in the past.
Below that is a service made available to you should you need it, labeled as "Use Our Free Setup Service" if you "Need Helping Setting Up Up Your Plugin" [seems like typos but it is NOT my typo.].
Below this, Kurt has made the products you've purchased from him, listed under "Available Courses".
Clicking on AffiliFlash, takes your browser to another web page where you will find an Installation Instructions video (06:50 minutes), with Kurt explaining how to setup and use the AffiliFlash plugin.
Below that is his "Resources", where you will find his Google YouTube API Instructions offered as a link to yet another web page, with what appears to be detailed instructions.
Back on the AffiliFlash instructional page…
Below this is another video, titled Getting Your Pixabay.com API (01:23 minutes).
And below that are the 2 Downloads listed as follows:
AffiliFlash Plugin
AffiliFlash PRO (an upsell)
Beside the Downloads is a link to yet another offer of Kurt's that is titled as Authority Site Blueprint – Learn How To Create A Full Time Income with Authority Sites.
PROS
This plugin does upload and publish the content when it is in TXT format.
CONS
The members area needs tending, given the link to the first "FREE NEW MEMBER TRAINING" being a dead link.
After signing up for the webinar replay, I received an automated email from Kurt's autoresponder that offered me a link to log into iMarketers Coaching that also appears to have been deserted in that the formatting of the page has been lost.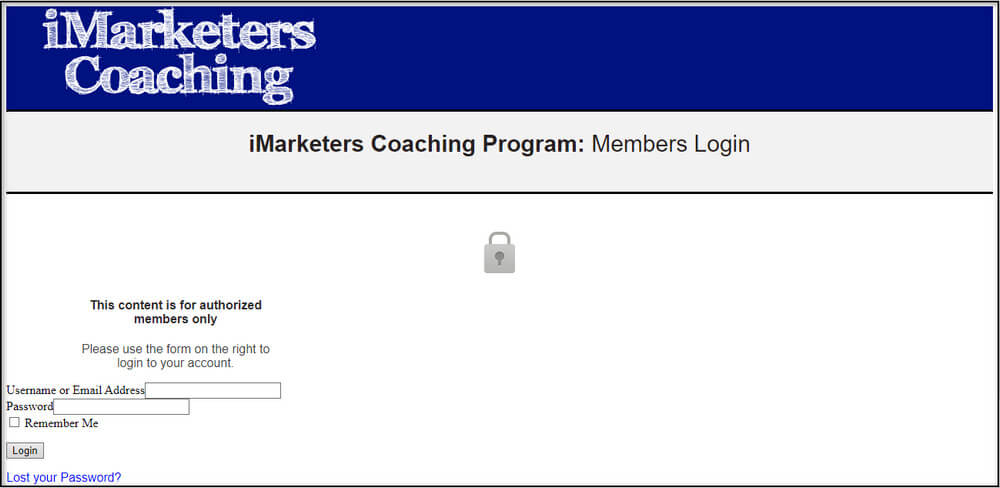 Having focused on internet marketing since 2016, I have to admit that I do NOT have extra content of ANY sort just sitting around on my computer to use in creating affiliate sites in minutes. Therefore, creating content will add to the time it will take me to create my first affiliate site using this plugin.
The Content Spinning options: Best Spinner and Spin Rewriter, are NOT available to those who purchase only the basic AffiliFlash plugin. However, I would recommend that you NEVER use a content spinner due to the quality that most spinners submit for your use.
On his landing page, Kurt tells you that you can use ANY type of content in his software but in the instructions on using AffiliFlash, he clearly shows you that you are to use ONLY TXT files (Notepad for Windows makes txt files).
The screen print below comes from the video instructions from INSIDE the members area.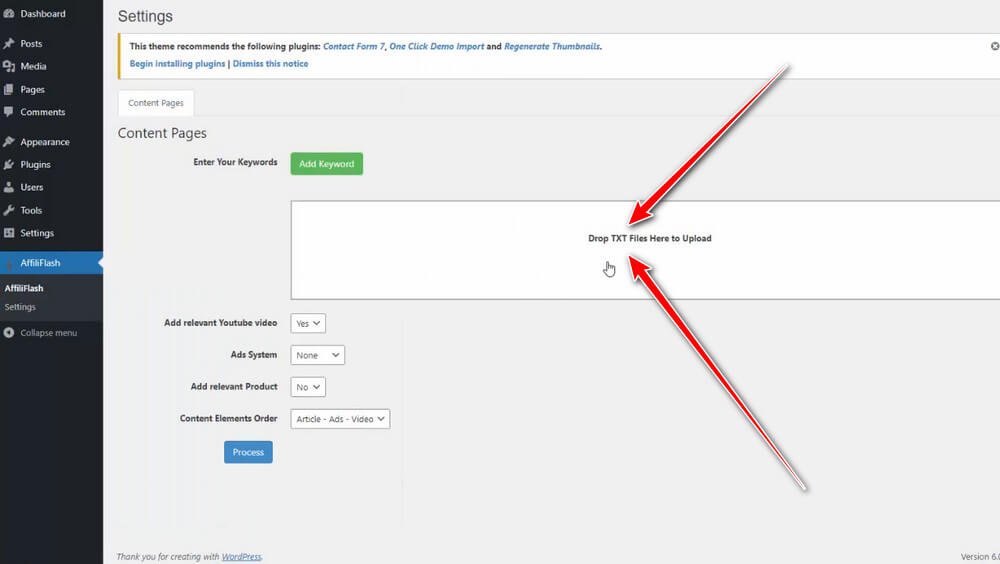 A screen print of this same scene but from Kurt's landing page video is below this.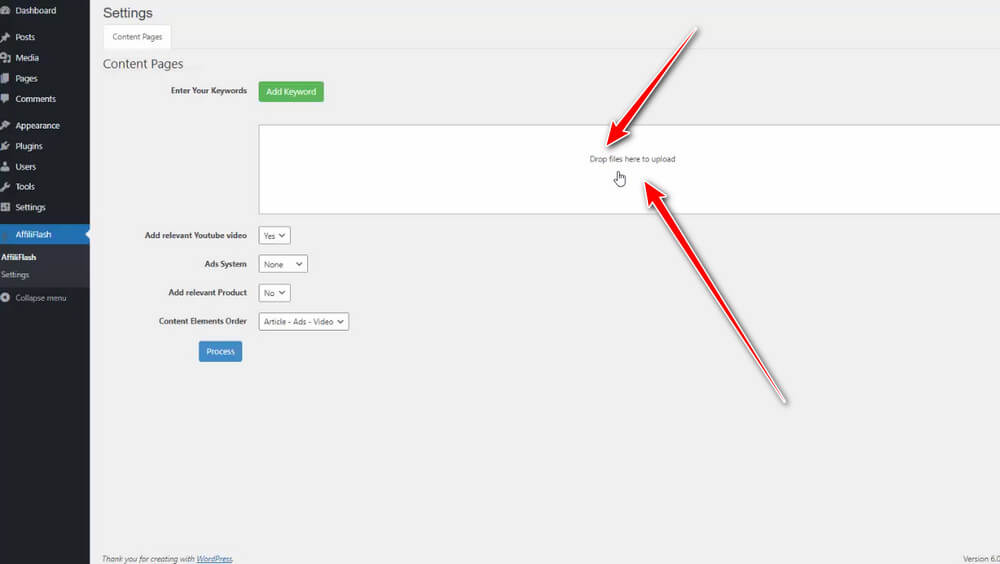 Kurt fails to mention that you will need to open EACH and EVERY article that you have his AffiliFlash software add to your affiliate website, and remove the file name that I discovered gets repeated in the body, and add the necessary H2 tags to your subtitles.
Also, you should ALWAYS double-check any automatic adding of ANY content in case there are any problems with the content.
The YouTube videos did NOT get added to my content, as promised with or without my adding a keyword (I had to run my test from scratch 3 times before getting a usable review of this plugin, due to the main failed attempts).
Newbies who use this plugin need to be aware of Kurt's WARNING found inside his plugin Settings page, which is as follows:
"Please Do Not attempt to submit an unfinished website for an Amazon Account. This will likely cause your application to be rejected."
It is true that you will need a site with anywhere from 30 to 60 unique, good quality articles on your site BEFORE submitting your application to become an affiliate to Amazon.
I was able to apply and receive an Amazon API key without numerous sales, but that was years ago. So, I have no way to very that statement regarding that issue.
Kurt states that you do not need to do any formatting to your site [articles], which is misleading at best.
If you are setting up a brand-new site, you will need to do the necessary formatting of that site, and then format EACH article once published by AffiliFlash in order to do the necessary editing… which there will be.
The Custom Ads option does NOT allow you to do ANY correcting of the Amazon Native Ads that the software adds to your articles, which I feel makes this plugin totally unusable by me.
I would sooner install my Amazon Native Ads manually, using an HTML Custom block so that I could edit what is listed on my ads, whenever I want to.
---

My Take on AffiliFlash

I found that the AffiliFlash software really does NOT create complete monetized affiliate sites in just minutes.
Due to the many issues that I experienced when trying to initially setup my test site using this plugin, I cannot in good conscience even give this plugin an extra star rating.
Also, with the Custom Ads installation of Native Ads NOT allowing for editing, I feel it would be much easier to simply add my Native Ads manually to EACH post, during the formatting stage.
Below is my video review of AffiliFlash by Kurt Chrisler


Summary
If you really like Kurt's idea of adding Amazon Native Ads to your posts, but you don't know or understand how to format WordPress, then I have a training platform to share with you that offers their members world-class training for using WordPress to create your online business.
Creating affiliate sites is NOT hard work… when you know how… and it is far from complicated, once you've learned how.
And, the great thing about this training platform is that you can become a member for FREE!
Yes, that's right… you can start for FREE …and, you won't even be asked for a credit card.
Once you've gone through the training offered by this platform, you will be able to create affiliate sites even EASIER than using the AffiliFlash plugin… and, it will be easier to edit whenever YOU need to.
Having been a member of this training platform since 2016, I am not recommending something that I do not believe in whole-heartedly.
If you want to know more about this training platform, click here to get my FREE guide!
Should you have any question(s) regarding, is AffiliFlash really software that creates complete, monetized affiliate sites in just minutes, then please DO leave them in a comment below so that I may be able to assist you.
I value my website visitors and I respond to all comments in a timely manner.
Wishing you well,