Kurt Chrisler is the vendor of Comparison Engine and he asks you if you know that that price comparison market is worth over two billion dollars.
He claims that sites like Price Grabber, Shopping dot com, Shopzilla are absolutely making a killing in this market.
Kurt says that it makes sense when you think about it because if someone is searching for price comparisons on a product, they are obviously at the buying stage, and ready to make a purchase and they're going to earn that website a commission.
In addition to that, he states that Google absolutely loves these types of websites.
In their most recent product review update that absolutely devastated a ton of affiliate sites, Kurt states that Google mentioned that on affiliate sites they'd actually prioritize reviews that offer links to multiple vendors in order to give the readers options to chose to purchase from.
Kurt quickly adds that Google is actively searching for sites that give price comparison because it benefits the shopper.
He says that all of that is great but how do YOU cash in on that?
You could try to go out and make a price comparison site, Kurt suggests, but it would probably take you hours and hours of work and even more hours of frustration, trying to figure out how to put one of these types of sites together.
Then Kurt asks you if you would like to have your very own affiliate price comparison website, without:
having to manually setup your site,
figuring out how to format it,
and, WITH do it all in a matter of minutes.
Because apparently that's exactly what their new Comparison Engine does.
My review on Comparison Engine will cover the following:
If You Don't Want to Waste Anymore of Your Time on Scams,
See My #1 Recommended Way of Making Money Online:


What is Comparison Engine?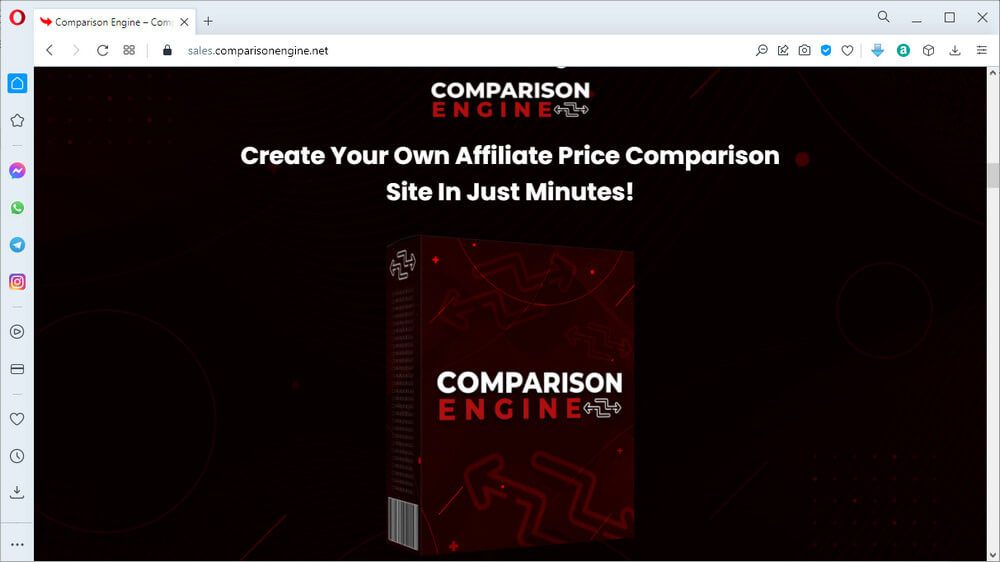 Program Name: Comparison Engine
Website: https://sales.comparisonengine.net
Price: $17.99 US funds + 4 Upsells
Recommended? NO
Rating:
---
Kurt Chrisler states that with the Comparison Engine software, in just minutes it will help you build your own price comparison site, fully setup and ready to go.
He goes on to say that it will allow you to use as many products and affiliate programs as you want to use as well.
And the best part, Kurt is quick to add, is that it is all completely hosted for you.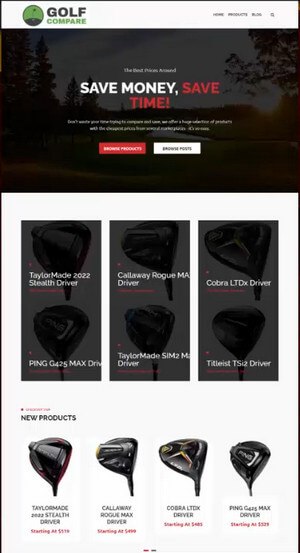 He goes on to say that it's the easiest way out there to cash in on the price comparison market by quickly and easily creating your own affiliate price comparison site.
Kurt says that with their software you can take a website that is totally empty of content with loads of work ahead of you, to a beautifully formatted, ready to go affiliate price comparison site [as shown is the screen print to the right].
He claims that their software will help you set that all up in just a matter of minutes.
Kurt explains that with the price comparison software, you get:
Done for you site creation
Fully formatted and ready to go
Fully hosted for you
Add unlimited products – you can promote ANY products that you want to on your website
Promote any affiliate program that you want to, as there is no limitations to platforms like Amazon, eBay, or just a single site.
He assures you that it really is the easy route to cashing in on the price comparison market, and finally start generating some affiliate commissions.
Kurt says, here's how easy it is to use, all you need to do is simply:
Log into the software
Choose a name and title for your site, and
Click "Create Website"
And then the software will go out and do all of the framework for you.
From there, he claims that you just fill in a few details for any product that you want to promote, and you are "off to the races".
In just a matter of minutes, Kurt promises that you will have a price comparison site ready to start earning you commissions.
In fact, he says that it is so easy to do, if you have a little bit of time today you can have your first site set up by later today.
So, if you're ready to cash in on this huge price comparison market and you're ready to give Google exactly what they're asking for, and finally start making some affiliate commissions, then Kurt states that you need to go ahead and grab your copy and get started today.
Again, Kurt says, with the Comparison Engine software it is as easy as possible to setup and build your own price comparison website that promotes as many products as you want, use which ever affiliate program that you want to use, without having to do any type of:
coding,
formatting,
going out and looking for themes,
finding additional software to create your price comparisons.
It is all built into one easy to use software, Kurt says, and you can have your own price comparison site up later today and ready to start bringing you affiliate commissions.
So, Kurt suggests that you go ahead and get started, and you can start building your site and have it up by later today.
---

How Comparison Engine Actually Works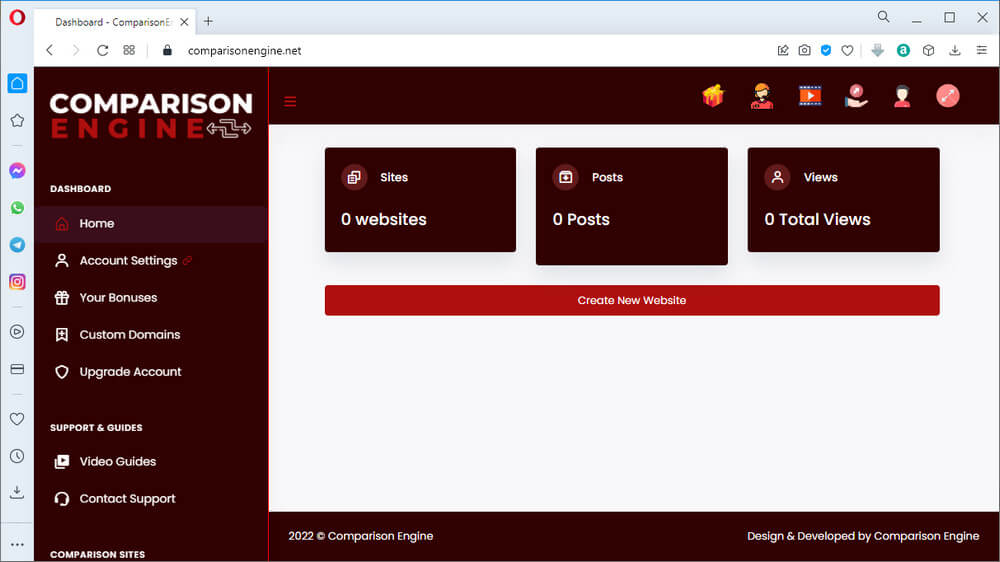 Inside the Comparison Engine Dashboard, you will find the following:
Down the left-hand sidebar are the following sections:
DASHBOARD
Home – where you will find the number of sites you have built, the number of posts you have created, and the total views, each in their own sections. Below these is the "Create New Website" button.
Account Settings – is where you can change your email address and password for your access to Comparison Engine.
Your Bonuses – is where you will find links to gain access to four different types of software.
NOTE: Be sure to click on their DOWNLOAD button so that you get a sign-up form, else if you click on the actual URLs shared, you will see their landing pages where you can only BUY access.
Custom Domains – is where you can "Host your site on another domain" and a Tutorial for cPanel.
Upgrade Account – offers links to the 4 upsells.
SUPPORT & GUIDES
Video Guides – 6 videos as follows:
Comparison Engine Initial Setup video (02:35 minutes)
How To Add Products video (04:40 minutes)
Using the Blog Feature video (04:49 minutes)
Using A Custom Domain video (01:47 minutes)
Using the Content Spinner video (01:46 minutes)
Using the Mailing Suite video (04:26 minutes)
Below these is a button titled "Need more help?", which when clicked will take you to a Support Site.
Contact Support – which offers you a large button titled "Contact Support" and when clicked will take you to the same support site as the "Need more help" button mentioned previously.
COMPARISON SITES
Create New Site – is where you begin by using the "Create new site" form.
The TOP navigation bar has icons.
gift box – which when clicked on takes your browser to the four software Bonuses.
profile – will take your browser to their support site.
video – this will take your browser to their Video Guides
hand with an arrow – takes your browser to their upsells
another but different profile – takes your browser to your Account Settings
The Two-way arrow allows you to go between using the Dashboard full screen or browser size.
Beside that you will see the email address you used to sign up for access to Comparison Engine, and when clicked on, you will get a drop-down list showing: Settings, Support, Guides and Logout.
PROS
Setting up websites on their server would definitely be a lot easier for newbies, though for how long the server will exist is anyone's guess.
CONS
Your websites are hosted on the vendor's servers, so if he decides to no longer offer access, what will happen to your websites?
This you will need to take serious consideration of before moving forward, investing all of your websites to this vendor's software.
When having to upload your own website banner, it would be nice to have the recommended optimum dimensions that our image should be BEFORE we upload, but those dimensions were only provided AFTER I uploaded my banner image.
It should be easier to delete a site that is no longer needed, or incorrectly named. Instead, if you make a mistake naming your website or you simply no longer want a particular website, you will need to click on Settings of the site you want to delete, from the Dashboard > Home page.
Then once the site is opened in Basic Information, you need to scroll to the bottom, and click on the Delete Site link.
When creating a website, you need to understand that this will be a SUB-domain and NOT a main domain, thus it may be a bit more difficult to rank in search engine results pages, depending on the reputation of the vendor's web hosting server.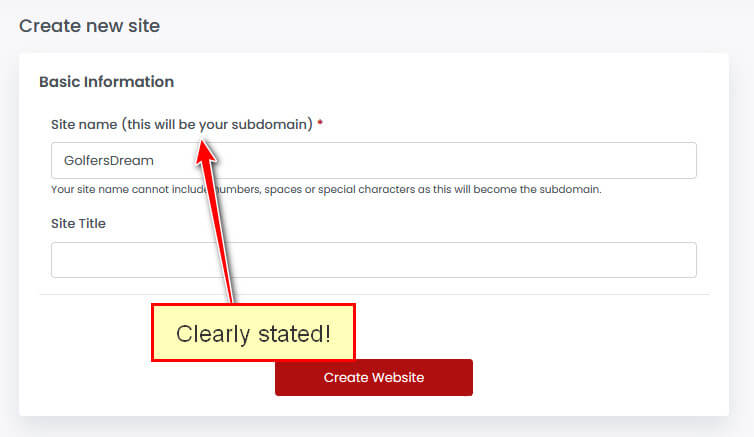 In the How To Add Products training, newbies need to be aware that if you follow the instructions provided on using Amazon like is shown in the training, you could be in trouble with Amazon.
You would definitely need to reach out to the Amazon Associate support staff and verify the suggested method of sharing Amazon image on your sites on Commission Engine BEFORE you do anything.
The support for this software appears to be none-existing.
I sent in a ticket that I've NEVER received help for, so I know there is no point with my going any further than the one site that I created in order to do my review.
Once I have completed my video review, I will be deleting that site, as it has my affiliate links in it, and I'm sure that site will go nowhere in SERPs any way.
UPDATE: Finally heard back from their support forum (it may be because I deleted the site I had created) and here's what was stated: "The text color control of "Privacy / Terms Page Text Color " only changes the color of the text on the Privacy and Terms pages." …which REALLY does NOT make sense, as that colour selector was CLEARLY for the product Description textbox.
---

My Take on Comparison Engine

No, I do NOT recommend Comparison Engine software for anyone's use.
Due to a lack of support, the site I built looks NOTHING like the site SHOULD look due to my inability to change the colour of the text from gray to black.
Click here to see what the site looks like (opens in a new tab), and you can see for yourself that it NEEDS to have the text made darker.
After several failed attempts to change the default colour of the text, I submitted a ticket, and have never heard back from their support site.
Yet, I have received Kurt's emailed affiliate offer that was issued from his support site's email address the day after issuing my ticket.

You might find it easier searching for a product comparison plugin (a Google search result), if you're using WordPress, then to invest in this software platform that provides no support, and a platform that COULD vanish tomorrow, taking your websites with it.
Below you will find my video review on Comparison Engine by Kurt Chrisler


Summary
At first, I was hopeful that Comparison Engine would provide what was promised, and they might have been able to do that IF they had of invested more in supporting and tweaking their online software.
Sadly, the lack of support and care for their paying customers will only serve to destroy their new software business, quicker.
Should you have any question(s) on, is Comparison Engine push button software affiliate comparison sites in minutes, please do leave them in a comment below so that you and I can discuss this further.
Looking to Serve You,