Paul Snelleksz greets you straight away in his landing page video, and he asks you if the thought of working online or starting a digital business leaves you paralyzed because you don't know where to start?
He goes on to say that so many people are looking to protect and diversify their income and upscale during these current economical conditions.
But what he is seeing as the biggest frustration is that most just simply don't know where to start.
As an affiliate marketer Paul continues by saying that he knows how hard it can be to get the ball rolling in your online business.
websites,
squeeze pages,
API integrations,
Follow-up emails,
codes,
funnels,
traffic,
split testing…
Paul claims that it's enough to drive newbies crazy. He says that it is no wonder that 95% of people simply give up.
Which is why Paul says that he is doing to share a solution that will not only help you understand your online options, but also give you sufficient value so that you can confidently move forward into the digital economy, and start making money online as soon as today.
My review will involve the following:
What is The Instant Affiliate System FE?
How The Instant Affiliate System FE Actually Works
My Take on The Instant Affiliate System FE
Summary
See My #1 Recommended Way of Making Money Online:


What is The Instant Affiliate System FE?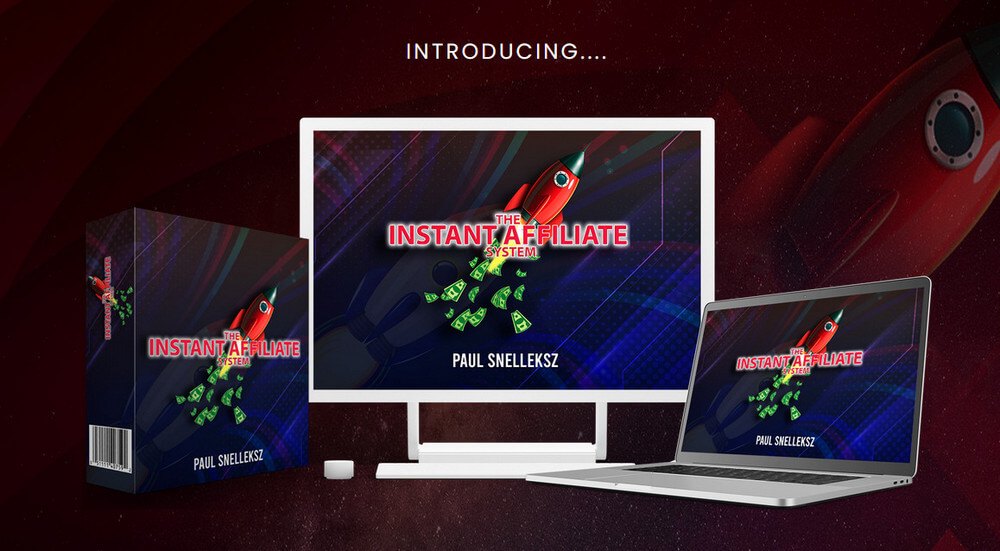 Program Name: The Instant Affiliate System FE
Website: https://theinstantaffiliatesystem.com/live
Price: $9.95 US funds + 4 upsells
Recommended? YES
Rating:
---
Paul Snelleksz states that he is providing you with a 7-module video training course with 4 or more elements contained within each module.
He says that The Instant Affiliate System has been broken down into easy to follow, over the shoulder, step-by-step training, to allow a complete beginner to go from zero knowledge to having an operational online business, creating an alternative income stream through the system revealed in this course.
Now, Paul says, if you are looking to verify your income, create a passive income stream, and secure your financial freedom within the digital economy, then The Instant Affiliate System is for you.
This step-by-step blueprint to start your own online business he claims is completely newbie-friendly, with no real technical skills required, as the over the shoulder training and format of this course, will take you from turning your computer on, and show you an operational business model where you could be making money in as little as 24 hours.
The system and blueprint revealed in this training Paul says is tried tested and proven to allow you the financial freedom you deserve.
And all of this, Paul goes on to say, is presented at absolutely no risk to you, as The Instant Affiliate System offers you a 14-day, full money back guarantee.
Courses of this type, Paul explains, usually retail for hundreds of dollars, but for a limited time during the launch of his product, he is offering this course to you for a drastically reduced price as to create an affordable entry for everyone to benefit from this training.
So, before the price increases, Paul suggests you click on the buy button, in order to secure your access to what he claims is one of the easiest ways to make money online today.
---

How The Instant Affiliate System FE Actually Works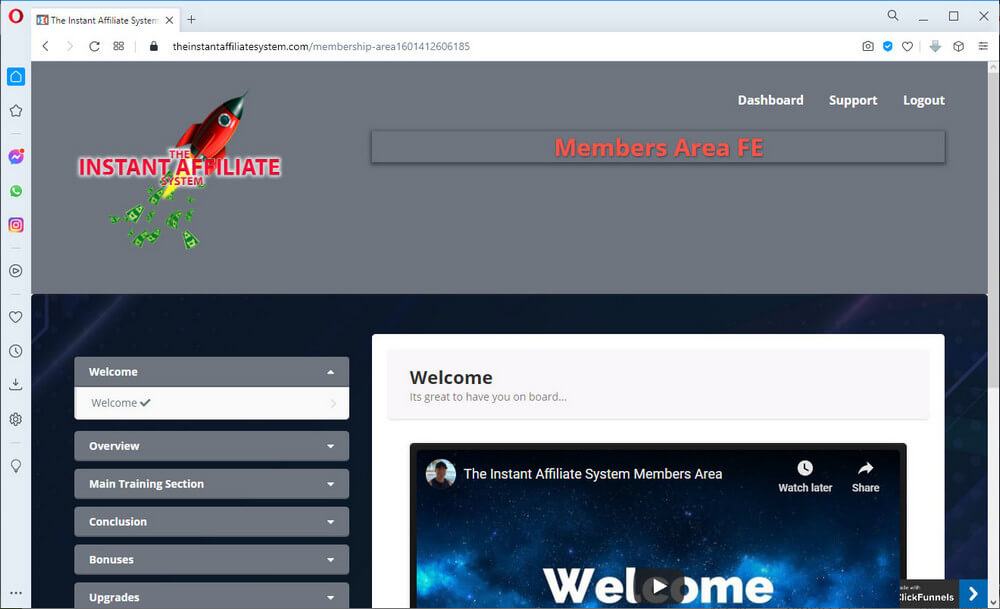 Once signed in as a member, you are greeted by Paul's Welcome video (1:52).
To the left, you will see each of the sections that are setup to guide you through this course.
Overview (5:59) – Using a tiny white board, Paul briefly walks you through what his course will be offering you.
Main Training Section – contains the 7 modules of video training that Paul promised you in his landing page video.
1.) Setting Foundations (7:20) – Paul shows you how to find, signup for and create your own account with:
Warrior Plus (as his training is based with this platform),
JVZoo,
Cickbank, and
you will need to sign up for and create a YouTube channel of your own.
Lastly, he shows you to find, download and install free software to be used in creating your video recordings.
SIDE NOTE: Be sure to choose the version for your own operating system.
I found the installer impossible to download, so I downloaded the zip file instead.
2.) Understanding Offers & Promotions (8:22) – Paul introduces you to the Mucheye website, and he walks you through their website, explaining the importance of this website.
Using vendor's landing pages, Paul shows you how you can sign up as an affiliate to your chosen product, when you are already logged into your Warrior Plus account.
3.) Product Research (6:00) – Paul shows you how to do your researching on the product you have chosen to become an affiliate of.
4.) Files, Folders and Keeping Order (12:13) – Paul provides you with a very organized method for maintaining your affiliate product projects, explaining that many affiliates fail to organize so they can keep proper track of their projects.
He even shares a template with you, suggesting that you pause this video while you create your template.
Paul emphasis that when using these templates, you will need to make sure to change the product name and key areas according to the name of your chosen product.
5.) Review Video Preparation (13:57) – Paul shows you the best way to get a description of your chosen product from the vendor's sales page, and how to gain details to use in your video review.
He also touches on creating your bonus page, as well as creating a thumbnail for your review video.
NOTE: In this video, Paul failed to show you how to create your thumbnail. But don't worry, as he DOES provide his promise in his video 7 training.
6.) Recording Video (10:54) – Paul shares how you can record yourself in the corner of a screen capture type video review, though you don't have to be in your videos if you don't want to.
He then guides you to the appropriate website where you can download the free software that you can use on your computer's particular operating system.
Once you have this software downloaded and install, Paul walks you through the basic setup of this software.
He shares some very useful shortcuts to save your having to edit your review videos, so you will want to pay close attention to his training.
7.) Uploading & Optimizing in YouTube (19:37) – Paul shows you how you can upload your review video to YouTube, but first you will want to compress it.
He then shows you another free software, one that will compress your video without hurting the quality of it.
This he claims, will make your videos quicker to upload to YouTube.
Once you have installed this new software, Paul shows you how to use it to compress your videos.
The reason Paul recommends doing this is that he says a 15-minute review video would normally take up to an hour and a half to upload to YouTube.
Whereas, once you compress your video it would take you less than 10 minutes to upload.
Paul then shows you how to upload your review video to YouTube, and how to fill in your title and description for your review video.
He then goes on to show you how to upload your thumbnail, and admits that he forgot to show you how to create your thumbnail that was promised in video 5.
Then he proceeds to go back into the software he uses to make his thumbnails and shows you how.
Back inside his YouTube channel, he shows you how to upload your thumbnail, and how to obtain the link to your review video so that you can add that information to your video description, in the appropriate place.
Conclusion (1:02) – After a brief summary, Paul says, "cheers."
Bonuses – The first bonus is a link that is provided to free training on How to Build Your List Using Bing by Jono Armstrong.
The second bonus is a link to free training on How to Build a Website for Dummies Course by Jono Armstrong.
And a third bonus is a Free Traffic Frenzy, a 32-page PDF file, 1.73 MB in size.
Upgrades – There are 4 upsells that are made accessible if you failed to purchase these when buying this course.
---

My Take on The Instant Affiliate System FE

In my opinion, this affordable sneak preview of this product truly is worth the price asked, providing it is still the price noted above.
As impressive as this bird's eye view of Paul's product is, I do believe that if you are a newbie who is serious about following his course, then you will need to also purchase his pro version of this course.
As you will notice, during this sneak preview version, Paul mentions how much MORE detail he provides in his pro version.
In fact, Paul tends to constantly refer to how much MORE information he has provide in his PRO version, within the last few modules of this version of his training.
Paul's videos tend to be quite different in volume, from one video training to the next, as the volume may be up for one then down for the next one.
However, he does jam-pack information within this course, so that a technically trained student could definitely run with this version all by itself.
However, if you think you will become rich following Paul's course, you may want to think again.
There is NO magical course that will make you millions of dollars over night.
Though if you follow the training without deviation, you may find you can earn a tidy sum of money.


Summary
I do hope you found The Instant Affiliate System FE reviewed here to be most helpful in your decision as to whether to sign up for the course, or to simply move on to another type of make money online course.
Either way, you do need to understand that whatever you decide to do to earn an income online, it will require work, as there is NO magic bullet to riches by doing nothing.
Should you have any questions regarding The Instant Affiliate System FE review, I do hope that you will ask them in a comment below.
I do enjoy conversing with my readers as that helps me to know what types of reviews to continue offering here.
Thanks for dropping by,