The landing page video provides you with an unidentified male who claims that 62 percent of people are interested in a product after seeing it on Facebook, and a whooping 83 percent of marketers say that video gives them a fantastic return on investment.
He goes on to say that running profitable video ad campaigns, you must create a video, the ad copy… along with all of the landing pages.
Then he asks you if you would like to know exactly what is needed to run successful video ads, and be able to identify amazingly well converting videos, ad copy and landing pages.
This man goes on to suggest that rather than pull your hair out trying to come up with winning ad copy, videos and landing pages all from scratch that you should use Funnel Snoop.
He claims that Funnel Snoop shares highly successful video ads allowing you to simply copy what works.
Uncover successful video ads in 12 different niches, and apply these insights to your own marketing strategy and then watch as your campaigns improve immediately.
He states that it is the perfect tool for any affiliate who are trying to get an accurate layout of the affiliate landscape.
He claims that Funnel Snoop provides you with the information that a regular spider will charge hundreds of dollars for and simply mimicking successful ads will get you more affiliate sales, email subscribers, eCommerce sales, and huge brand exposure.
Finally, the man claims that until the timer runs out that Funnel Snoop is available at a huge discount.
This review will cover the following:
See My #1 Recommended Way of Making Money Online:


What is Funnel Snoop?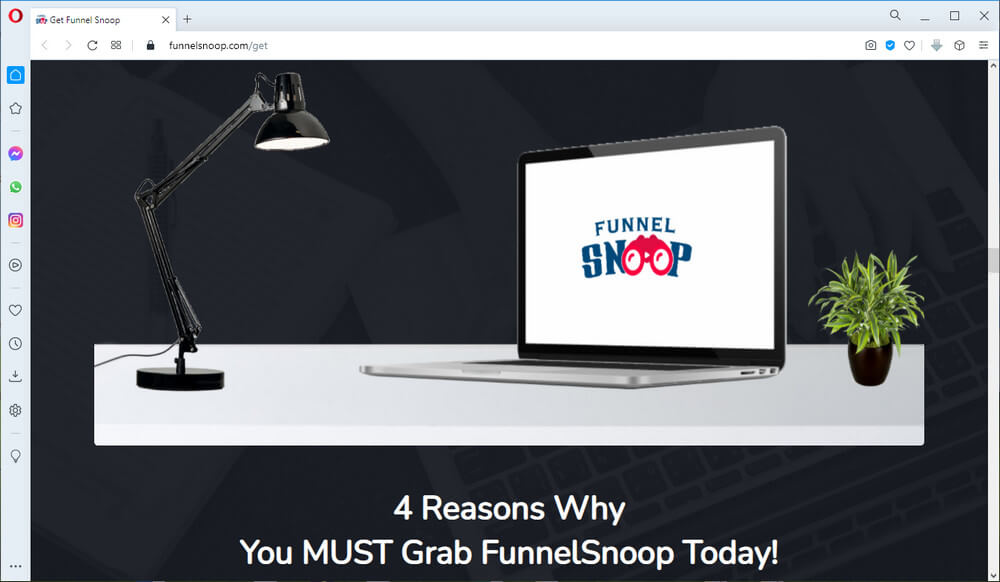 Program Name: Funnel Snoop
Website: https://funnelsnoop.com/get
Price: $27 US funds + 3 upsells + downsell
Recommended? YES
Rating:
---
Funnel Snoop is said to be a set of 12 high-converting, proven lead-generating Facebook video ad funnels that you can mimic.
This apparently include videos, ad copy, and landing pages that are supported by training courses and software to make everything easy for you.
Adam Payne explains that he has been scammed out of five thousand dollars trying to discover the information he is offering you.
He claims that he signed up for courses on video but that the tools and resources were apparently all over the place. He referred to the training as piecemeal.
Payne claims that video is the best way to sell, period.
You are offered the following video stats:
One hundred million hours of video are watched on Facebook per day.
53 percent of consumers engage with a brand after viewing a video on social media.
62 percent of viewers said they were more interested in a product after seeing it on the Facebook platform.
According to Payne, unless you know what kind of Facebook video ads actually convert, you will simply be wasting your money with Facebook ads.
Once you understand the indirect tones between an ad that reads well yet does not convert and an ad that really drives sales, can you then get your prospects to buy when clicking on your link.
It is said that you are told myths about Facebook ads like the following:
You need special software… when Facebook has everything you need in setting up your ad. In other words, there is no extra software needed.
You need a big budget. Payne says that he setup 2 ads with a budget of twenty dollars and sold $239, giving him a 600 percent return and a targeted audience of 698,800.
You have to be in an "insider's club", but apparently anyone can run a successful Facebook video ad campaign and get great returns on your investment (ROI). Payne says you only need to figure out the right way.
Apparently, you get 12 profitable and tested video ads that you can use to create your own campaigns without any experience necessary.
Claims are that you get the following:
12 funnels that convert by grabbing attention and attracting buyers
Winning ad copy at your disposal
Claims are made that targeting is made easy by the following 12 different high-converting funnels:
Shopify Secrets Masterclass
Real Estate – Generating Appointments
2-Day Event Funnel (Audience Monetization)
7-Figure Copywriting Funnel (Mystery Behind Neil Patel, Lewis Howes, PayPal & Others)
Pest Control – Physical Offer
Network Marketing Lead Gen Funnel (Recruitment Mastery)
Live Forex Funnel (Find & Evaluate Trades)
Mind Control Book Offer
Amazing Dog Training Funnel (Recall Secrets)
Spiritual Funnel (8 Psychic Senses)
Health Niche (Plantar Fasciitis)
Fit Mum 15-Minute Workouts
It is said that you will gain a massive advantage with:
videos, ad copy, and landing pages.
private support, should you have questions need answering
over-the-shoulder training that will take you through the lessons one step at a time on how to create a square video exclusively to use on Facebook.
Also, bonus PDFs on how to create video ad copy that works to get you the results you want.
And… there are 2 bonus offers:
Video Creation for Introverts – for those of you who do not feel good about being on camera, have trouble expressing yourself easily even behind the screen, Payne says that's why he used his experience and advice of his friends in creating this bonus for his introverted friends.
Video Script Mastery – said to be advice in advance on scaling your business.
Payne even informs you that your purchase is NON-REFUNDABLE.
---

How Funnel Snoop Actually Works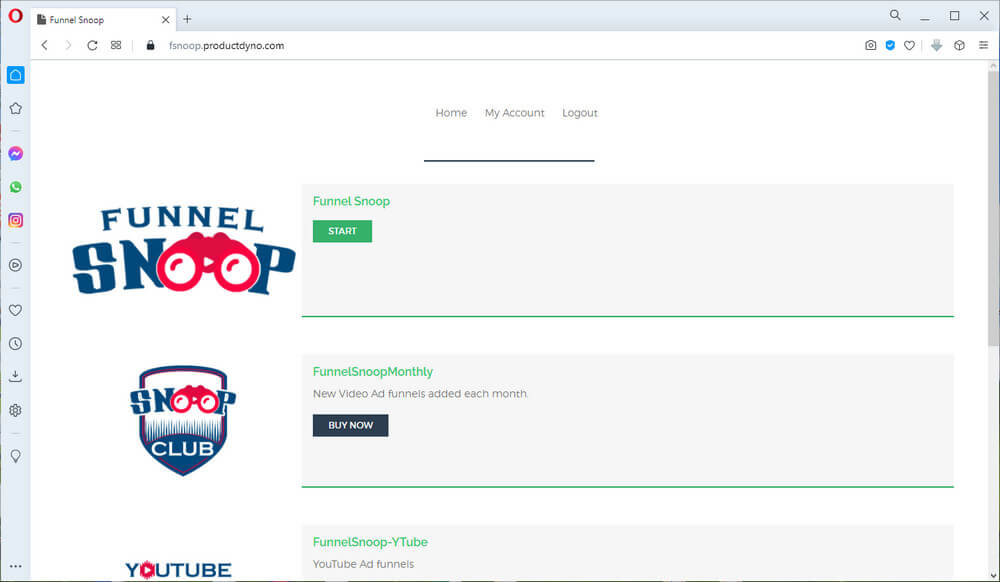 Once logged in, you will find no extra fluff inside the dashboard area, but what you will find is a Welcome & Introduction area where you will find a video where Adam Payne will walk you through exactly what you have access to.
Please LISTEN to what Payne tells you regarding the 12 different, high-converting funnels, as most newbies may not realize the value of having access to winning script within a large variety of niches as great examples for you to mimic.
When starting out in print or video advertising, students have always been advised to seek quality examples for you to mimic.
That means from magazine and newspaper ads (print) to TV commercials.
The next area to check out is The Video Ad Funnels, and this is where you will find the 12 different funnels promised to you that were detailed on Payne's landing pages.
Adrain Morrisson – eCommerce Training Funnel
Real Estate Agents: Grant Wise – Getting Quality appointments. Not cold calling
Andy Harrington – Speaking Event
CopyWriting – Hugh Company
Pest Control – Get rid of cockroaches and their friends
MLM – Get more prospects
Forex – Live web class
Influential Mind – Book offer
Dog Niche [Absolute Dogs] – 21 days to stress free walks
Spiritual – Stay positive with negative people
Health [Foot Insoles] – Plantar fasciitis treatment
FitMum – Sharny & Julius – 15-minute workouts
And, I stress to you here… these are NOT to be copied. They are for your use in knowing what works and how to word your future ads so they are winners too.
Payne has clearly stated DO NOT copy on EVERY page, as shown in the screen print below.

The third area to be sure to review is titled How to set up a simple video ad funnel. This training is a must-have if you are new at creating videos and/or want perfect videos for the different social platforms.
This training has 13 modules.
Mindset – Before you Start – Audio Tips (02:44:00 minutes)
Social Video Media Specs (informational)
Creating the Square 'Talking Head' Video (04:18:00 minutes)
Extracting the Audio in Audacity (02:11:00 minutes)
Extracting the Audio in Camtasia (01:08:00 minutes)
Using Content Samurai to add the bars/branding (11:42:00 minutes)
Uploading to Facebook Fan Page (09:20:00 minutes)
Simple Ad Creation (11:27:00 minutes)
2nd Over the shoulder – Unique FB and YT Method (22:45:00 minutes)
Bonus on How to find targets (11:48:00 + 07:46:00 minutes)
Customize Columns (06:46:00 minutes)
Free Trial of CS (info + link)
InVideo (09:20:00 minutes)
Now, under those 3 different areas, you should be able to see the TWO Bonuses.
Video Script Mastery
Video Creation for Introverts
Inside Video Script Mastery, you will find 6 PDF guides.
Language Patterns That You Can Use in Your Videos (2 pages)
In Stream Ad Script Mastery (5 pages)
Calls to Action (5 pages)
List Building Scripts (6 pages)
Review Video Scripts (6 pages)
Structuring Your Video (8 pages)
Inside Video Creation for Introverts, you will find 7 videos.
PLR for Video – How to use PLR for video content ideas (03:14:00 minutes)
Outsourcing (09:06:00 minutes)
Images for videos (03:38:00 minutes)
Putting it all together (18:57:00 minutes)
Email for content (02:32:00 minutes)
Using Viral Content (07:05:00 minutes)
4 More Resources for Content Ideas (08:27:00 minutes)
---

My Take on Funnel Snoop

Funnel Snoop is THE training to have if you are serious about wanting to create high-converting ads on social media.
Knowing what works best straight away will save you time and frustration.


Summary
So, to answer the opening question… Does Funnel Snoop really offer high-converting video ad funnels?
Yes, it does… and a WHOLE lot more.
For those who are serious about learning to create awesome and high-converting video ads, Adam Payne's course Funnel Snoop is THE course to have.
Buying all of Payne's upsells will provide you with even MORE helpful tips and tricks to gain you a targeted audience.
Buying each of the upsells one at a time, will save you from feeling overwhelmed.
If you have any questions regarding whether Funnel Snoop or you simply want to share your thoughts about this course, please leave me a comment below.
I will respond in a timely manner. 🙂
High-Converting Ads Are Possible,