Vendor of AffiliNinja Kurt Chrisler asks you if you are struggling to make money with your affiliate sites.
He claims that affiliate marketing is a great way to generate passive income, but that it can often feel like an uphill battle, where you're simply spinning your wheels, and not getting anywhere.
Kurt goes on to explain that you spend your time creating your site, but then:
no traffic arrives,
you don't make any sales, and
you can't figure out why.
He says that the following are the likely reasons that you're struggling with your affiliate sites:
You have "thin content" – which is basically content that doesn't provide any real value to the user and basically just looks like everyone else's that are throwing up an affiliate site.


You likely have low conversions – even if you get people to your site, and they click your affiliate link, they still need to convert in order for you to make commissions.


Your poor design on your site – Nothing scares away visitors, and scares away search engines more then a poorly designed site, that looks like it was created in just a couple of minutes.
Kurt says that if you're struggling with these issues, let's end all of that today!
And, he assures you that you can do that by using his new product, AffiliNinja software.
My review of AffiliNinja will cover the following:
If You Don't Want to Waste Anymore of Your Time on Scams,
See My #1 Recommended Way of Making Money Online: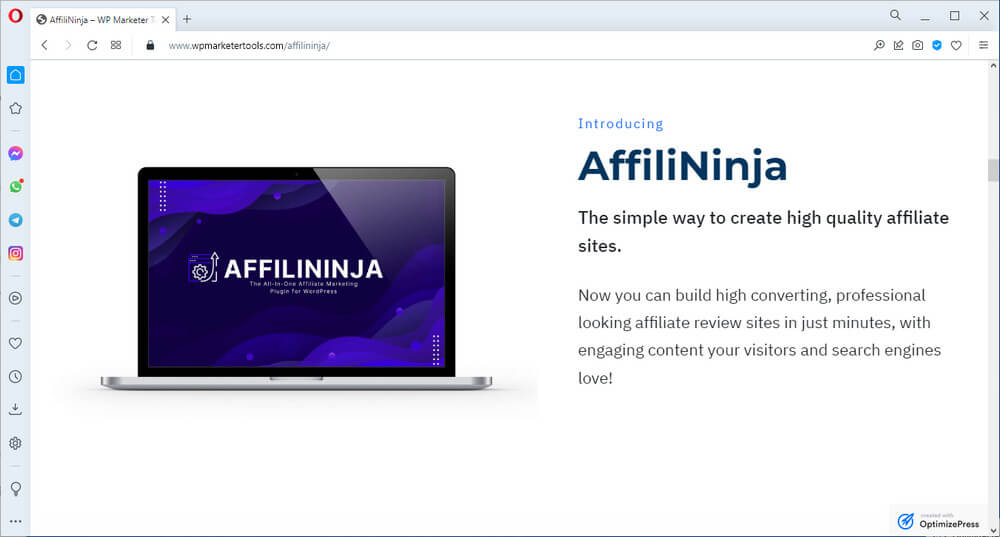 Program Name: AffiliNinja
Website: https://www.wpmarketertools.com/affilininja/
Price: Free
Recommended? NO
Rating:
---
Kurt Chrisler states that AffiliNinja software is an all-in-one affiliate marketing plugin for WordPress that's going to help you to start earning more commissions from your sites.
He claims that AffiliNinja eliminates all the struggles you have been having trying to be successful with affiliate marketing.
And, Kurt adds, with the AffiliNinja software, in just minutes you can take your:
boring,
thin,
low engaging,
low converting
…affiliate site, and turn it into a:
professional,
visually engaging, and
highly youthful site
…that Google wants to send visitors to, and that visitors want to use.
And, he claims that in the end, they're going to click your links and make you more commissions.
Kurt says that with the AffiliNinja plugin, you can have your own engaging, high converting affiliate review site created in just minutes.
He claims that the software takes all the work out of creating professional looking affiliate sites.
And, apparently it does that all with:
No APIs,
No coding, and best of all,
No more thin content.
Kurt says that you can get a professional style design that is point and click simple.
He goes on to say that the AffiliNinja software integrates with WordPress, and it uses the new Gutenberg Editor.
Kurt chimes in with… so, all you simply need to do is click their pre-made templates and "you're off to the races".
Then Kurt goes through some of the great templates that you're going to be able to use when using the software, and that they're going to instantly be available to you.
First off, they offer product boxes.
Kurt goes on to say that to make money on an affiliate site, you need to engage your visitors, highlight a product and get them to click that link and go purchase.
He says that they have several variations, and again, these are all completely setup for you.
Here's another version, a more horizontal one.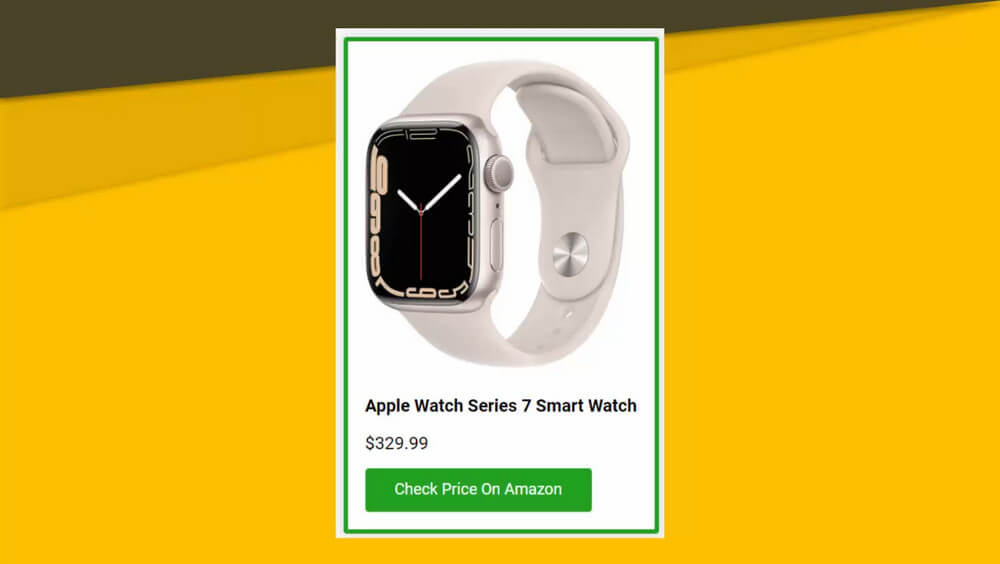 And, also another one where you can list some features.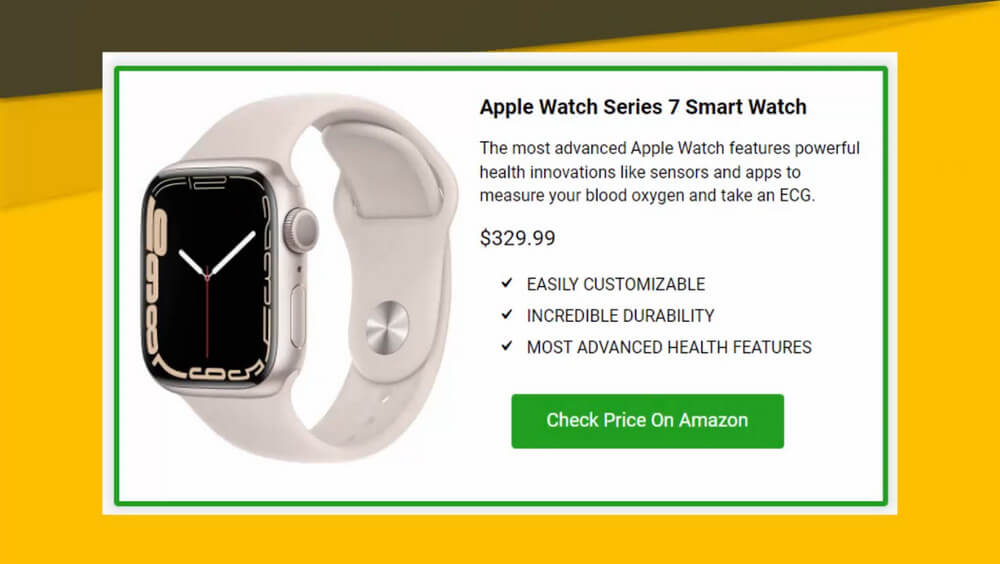 Kurt says next, we have high converting product recommendation boxes.
The following is one example, where you can highlight the Top Pick of your review, give some pros and cons, and you have a Buy Now link, as well.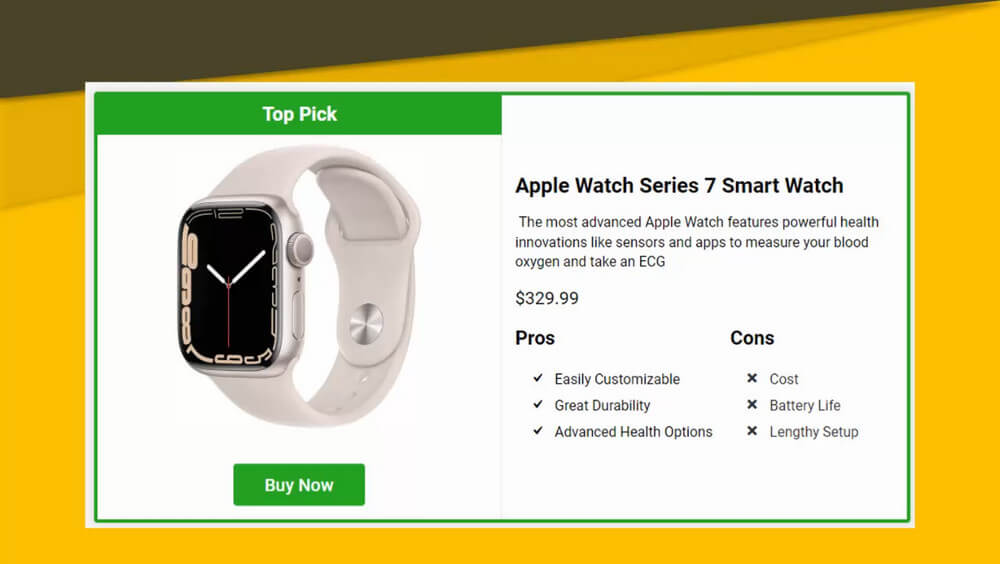 He then goes on to share with you what another version of Top Pick looks like, and then shares what their Best Seller being highlighted looks like.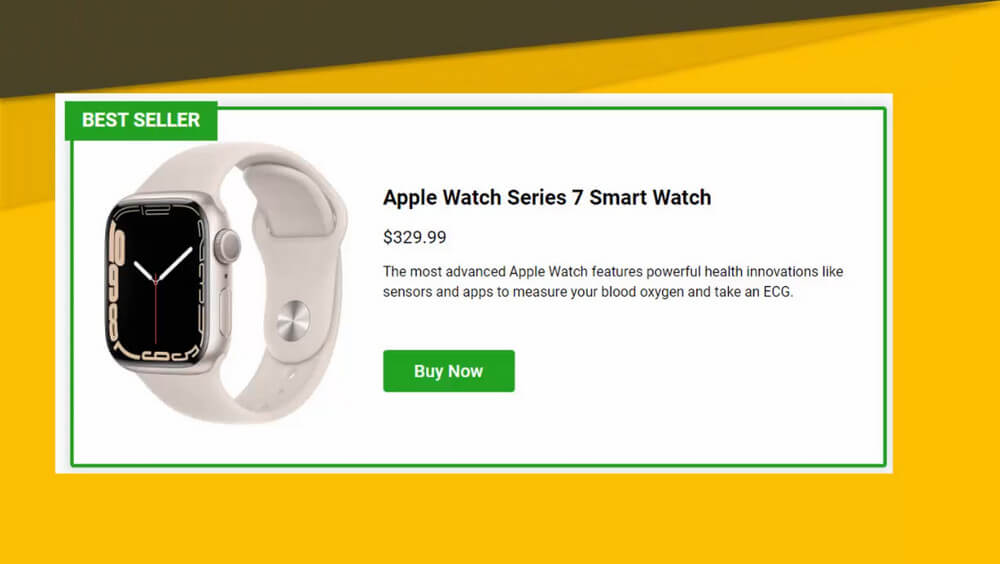 And then he says that you can see everything that is customizable, such as using a different colour scheme.
Then again, Kurt emphasises, that these make a product stand out on your site, get people to click on it, and earn you affiliate commissions.
Next, he says that they have completely done for you pros and cons boxes.
Example 1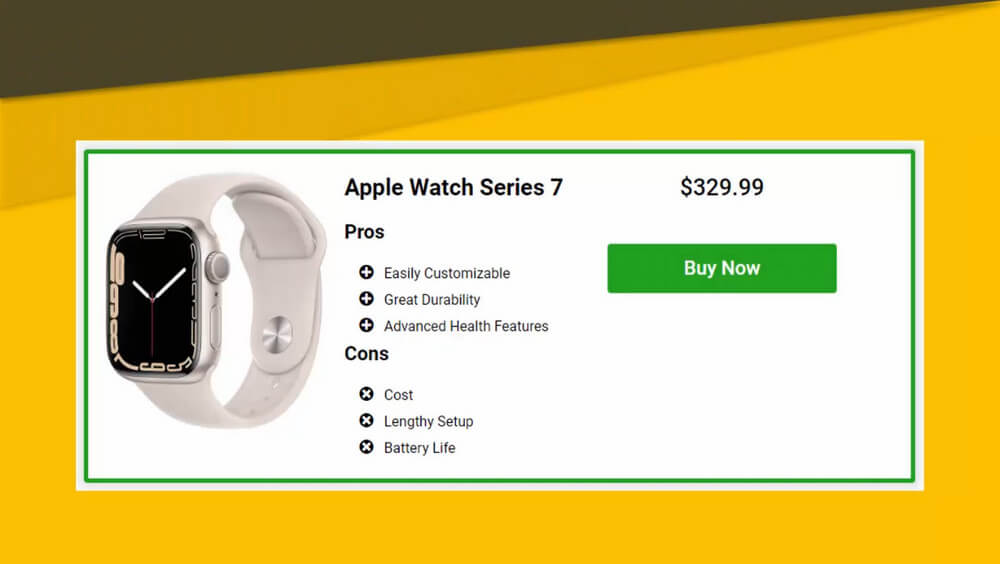 Example 2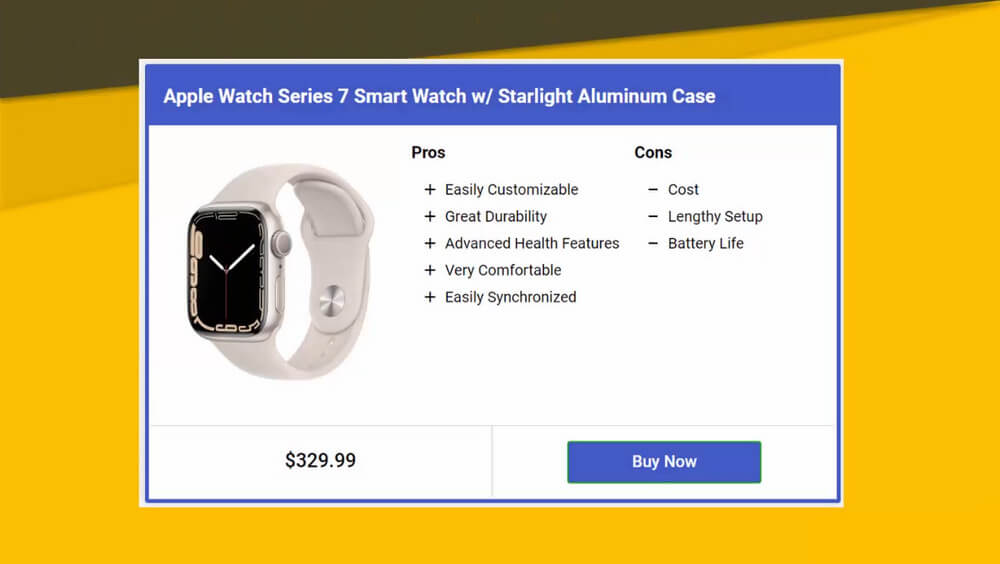 Kurt is quick to add that these are easy to view, the pros of the product, the cons of the product, you have a price, and of course that Buy Now button, to send them off, to earn you a commission.
And lastly, he says, they even have rating boxes.
Kurt claims that people love to see products rated, to see which one suits their needs best.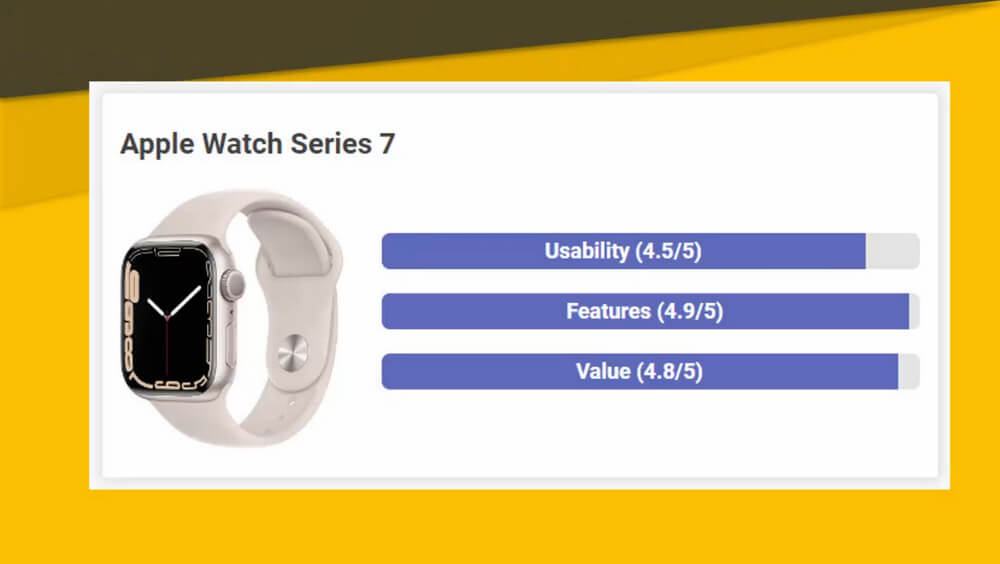 Apparently, they have several varieties of product rating boxes, all completely customizable.
Kurt goes on to say that you can use bars, stars, and that everything is at your disposable, to easily add them to your site.
Then Kurt shows you how easy it is to add a product box to your WordPress website when using the Block Editor > Search, by simply clicking on the box you want to add, either:
Product Box
Top Pick Box
Rating Box
…to add it to your post, and it will preload the template for you.
And then, you simply fill in your product information.
Kurt claims that on top of that it is fully customizable, that you can change the following:
General
Image Settings
Top Pick Highlighter
Title
Description
Price
Button
Wrapper
He says that everything is point and click simple, and that the best part is that you don't have to start from scratch.
Apparently, you can start from any of their pre-done templates and completely customize it for your needs.
Kurt is quick to add that no technical aspects are required as it is all point and click easy.
He claims that once you integrate AffiliNinja software onto your site, your site will provide:
Value,
Engage your visitors, and
Convert like crazy!
And Kurt says, that's what everyone wants.
You want to provide value, which will also increase your traffic, because you will no longer have thin content.


When you engage your visitors, they stay there longer [on your website], your bounce rate decreases, which also increases your search engine rankings.


And then of course, you will need to convert your visitors into buyers, to earn you commissions.
Kurt claims that you can do all of that with the AffiliNinja plugin.
He says, there's no more confusion, wasted time or false starts, and you can finally start generating some affiliate commissions, as easy as possible.
So, in just a matter of minutes, Kurt adds that you can turn your boring, low converting site into a commission generating machine, using the AffiliNinja software.
Kurt says that in fact, it is so easy to use, you can have your first high converting site up by later today, and you're off to the races.
He encourages you to go ahead and grab your copy and get started now.
In review, Kurt reiterates that the AffiliNinja software is:
the all-in-one affiliate marketing plugin for WordPress,
that it turns WordPress into your own commission generating machine, and
it makes it all point and click simple with their high converting, done for you templates

that are instantly added into your WordPress posts.
He claims that it really doesn't get any easier than this to create high converting, professional looking, affiliate sites.
So, Kurt says if you're:
Ready to get started,
Ready to start seeing your search engine rankings increase,
Your conversions increase, and more importantly
Start making more commissions,
…then, go ahead and grab a copy of AffiliNinja software today.
NOTICE
OTO1 (upsell 1) AffiliNinja PRO $37 US funds
OTO 2 AffiliNinja Unlimited $47 US funds
OTO 3 AffiliNinja DFY $67 US funds
OTO4 is a time limited, discounted offer with iMarketers Hosting, which is a recurring fee of $40 to $60 USD funds yearly. Regular prices are $107.40 to $143.40 US funds yearly.
Most of his upsells come with a discounted coupon at the time you purchase the BASIC plugin. The discount coupons disappear if you do not purchase each of his upsells at the time the coupons appear.
---

How AffiliNinja Actually Works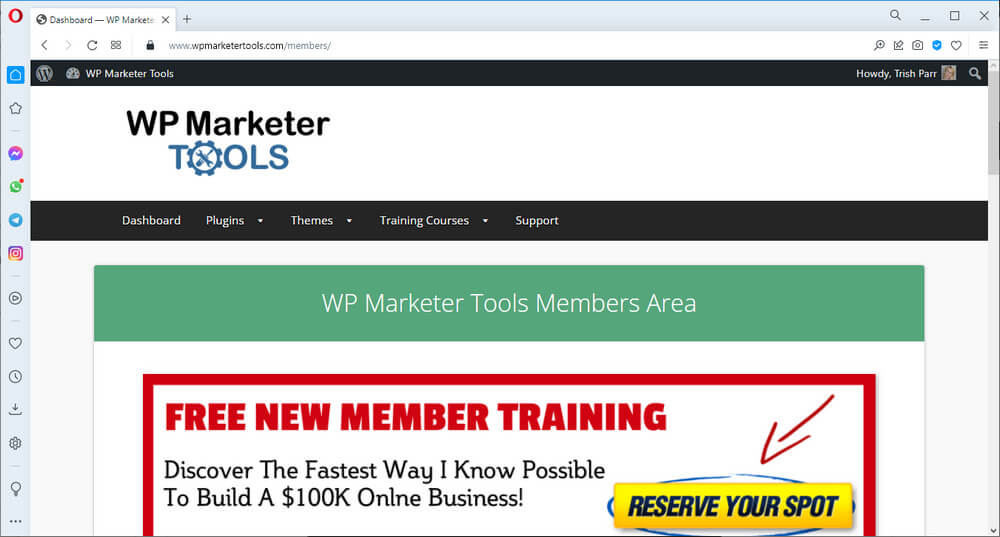 Having purchased the basic plugin, I was then led to the members area where a two minute and twenty second video shows you how to access the product you just purchased.
Below that is the following question.

…and, below this, is a list of Available Courses, where I found that I have access to a previously purchased and reviewed product called AffiliCreatr.
And then, AffiliNinja lists after that.
AffiliNinja was the middle option below the list I have access to…

And… when clicked on, the link took my browser to a web page with another video.
This one was titled Installation Instructions and is eight minutes and twenty seconds long.
Below the video is a link to download the AffiliNinja Plugin, which shows that it is registered to me.
And below this link is a link to the AffiliNinja PRO landing page, in case you want to purchase his upsells.
To the right of the download links, is a link to Authority Site Blueprint – Create a Full Time Income with Authority Sites, in which takes you to another website where Kurt informs you in the embedded video, that he is offering special training to his customers only.
Apparently, it is NOT affiliate sites.
The price is $47 US funds.
A link to his Support can be found in the top navigation or menu bar, far right.
PROS
You could even use the Product Boxes for your Amazon affiliate links. Just NEVER state a price inside the Product Box that you're using an Amazon affiliate link in. When displaying a price, that would be a clear violation of the Amazon Associate rules.
CONS
You cannot legally "Upload" Amazon's images to your Media Library, and continue being an Amazon Associate, as that would be a clear violation of their rules. So, you will need to get the necessary product images by other legal means
There should be an option to "Insert from URL" in each of the product boxes, so that you could legally use other's product images. That option allows you to simply import the images from the image owner's website and NOT take the images though you own them.
---

My Take on AffiliNinja

The question, "does AffiliNinja really create commission generating affiliate sites?", is clearly answered in the screen print of my search results, shown below.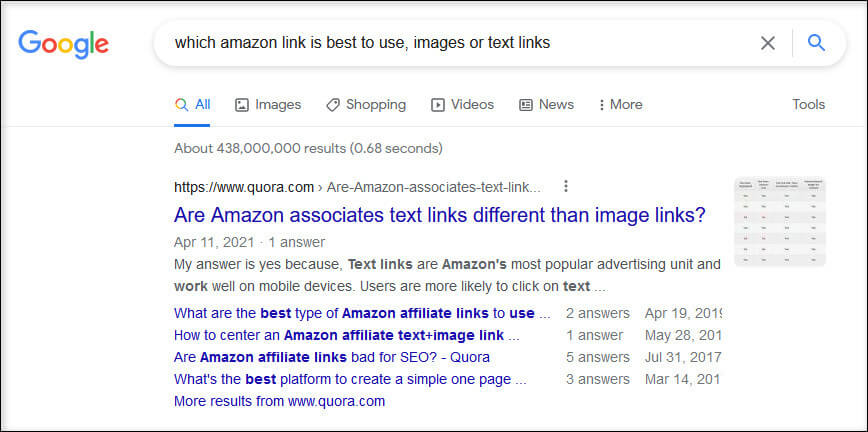 It is STILL being claimed that Amazon affiliate TEXT LINKS are still the most popular form of advertising, and works well on mobile devices.
And that with clearly visible text links offered, apparently, users are still more apt to click on them then any other type of link.
Given this information, I can NOT recommend the AffiliNinja plugin, as this is NOT a necessary plugin for affiliate marketers who need to minimize the number of plugins used on a WordPress website, in order to have their website load faster, in all devices.
It is abundantly clear that reducing a website's loading time is more important than pretty product boxes, when seeking to gain more website traffic in order to make money from your affiliate links.
Below this is my video review of the AffiliNinja plugin by Kurt Chrisler


Summary
I truly enjoyed reviewing the cute product boxes this plugin allows users to create.
But having recently gone over this very website and removed all unnecessary plugins AGAIN, I dare NOT install and use any unnecessary plugins again.
Creating a simple layout that offers content that is easy to read, and making a website load faster, especially when using lots of images, is a lot more important to those seeking information, then adding product boxes will ever be able to offer you.
If you're serious about wanting to gain more traffic from your affiliate links, then you need to find ways in which to entice those searching for the products you present to potential buyers.
Proper training in setting up your very own, successful online business is important if you really want to make money online.
You need to learn how to make a website that loads quickly, and is easy to navigate, is pleasing to the human eye… and, how to create content to attract visitors to your website.
The training center that I have been a member of since 2016, offers world-renowned training on setting up your very own online business, and therefore, I recommend them.
You can actually start right now… for FREE!
You won't even be asked for a credit card.
Bets you've never heard that sort of offer before.

You get to build your very own website as you are going through the training.
If you stick to the training, and follow the instructions, you will surely build a winning website for the long term.
When starting for FREE you get the following:
You can build ONE FREE website


You get a SSL certificate (makes your website secure for all devices) for that website for FREE


You get server-side caching FREE, so that your site will load in devices faster then when using a cache plugin


You'll have FREE access to the first 10 lessons, so that you can see for yourself how jam-packed with helpful advice the training is


You'll also have access to other necessary tools to build your very own online business
Once you've completed or neared the end of the 10 FREE lessons, you will receive an offer of a reduced monthly cost of a paid membership so that you can complete ALL of the lessons!
If you follow ALL of the training to the letter, you will have all of the vital information you need to succeed.
If you want to learn more about this training platform then simply click here to get my free guide.

Plus, you can quit your membership at any time you want to.
But I'm betting you won't want to!
Here's why… the community inside this training platform is so incredible, you won't want to leave.
We are a group of like-minded individuals who enjoy working to help each other succeed with our individual online businesses by sharing helpful information that we discover.
It's like having a room full of people encouraging each other when things get a bit too much for individuals to handle when working all alone.
Should you have any question as to whether AfiliNinja really does create commission generating affiliate sites or not, then please do leave them in a comment below.
It is my mission to help others, and I make it a habit to respond to my commenters in a timely manner.
No More Wasting Time,