Adeel Chowdhry is the vendor of Prezentar, and he says that he's going to reveal brand new, revolutionary software technology that will help you build your business faster then ever, get more sales, and make profits online as fast as possible.
But first, he says there's a massive secret that he wants to tell you about.
Adeel claims that presentations are essential for everyone doing business online.
Whether you want to create presentations for your:
online business,
webinars,
digital courses,
content videos,
sales videos,
educational tutorials,
students,
clients,
pitches,
affiliate reviews,
demonstrations,
staff training slides for classrooms,
seminars and meetings online or offline around the world,
…nothing beats a powerful presentation.
Presentations:
attract people,
grab attention,
engage,
influence,
convey your message, and
sell to anyone
…1000% faster and more effectively then any other medium, and is responsible for generating billions of dollars.
Fact 1: 30 million presentations are given every day by 500 million users worldwide.
Fact 2: 15 million hours per day are spent viewing presentations, which equates to 252 million dollars, in terms of productivity.
Fact 3: Outdated software like PowerPoint, Cheesy Doodle, Whiteboard, and other gimmicky fad video styles don't work anymore.
Adeel says to just think about this for a second… there's a reason why:
the legendary Steve Jobs used presentations for all his keynote speeches at Apple launches.


Gary Vaynerchuck has 36 presentations on SlideShare right now.


one of the riches guys on the planet Bill Gates constantly uses presentations for his product launches at Microsoft.


billionaire Elon Musk uses presentations at his Tesla, SpaceX and other companies.


Tony Robbins' thousands of TEDx talks all use professional presentations, which effectively communicate their message worldwide.


Internet marketers like Frank Kern use presentations to sell their offers to you.
However, Adeel claims that they're hard, time consuming, and a pain to create.
All that planning, designing, writing, formatting, audio recording, and video editing using complicated tools, typically you will:
Route 1: Do it yourself, and it could take days, weeks, or even months to create, design and produce a presentation that will engage, educate and sell your audience.
Plus, Adeel claims that if you want to convert them into high quality videos to share online, you'll have to buy and learn further multiple, complicated software programs to edit and export them.
And, he states that no one has the time, money or technical skills for that, unless you're Einstein, of course.
Route 2: You could outsource the work done for you.
Then Adeel says that if you were to outsource it through sites like Freelancer, it would cost you anywhere from $300 to $1,000 for someone to create just 20 slides in prehistoric PowerPoint software that send people to sleep… and, are more outdated than a 1990's Girl Band.
Route 3: Stock templates – a search online will find you modern presentations templates that would cost you $40 and $150 each.
But if you're looking to create a few presentations a year, that cost adds up fast and you'll still need to hire someone or learn and use complicated software yourself to edit them, record audio and export to video.
According to Adeel, the good news is that there is now a better way.
Adeel claims that's why they spent twelve months in their lab like mad scientists, and invested a lot of money to finally create an all-in-one solution to solve this very problem for them and you.
Then he Introduces Prezentar!
My review of Prezentar will entail the following:
If You Don't Want to Waste Anymore of Your Time on Scams,
See My #1 Recommended Way of Making Money Online:


What is Prezentar?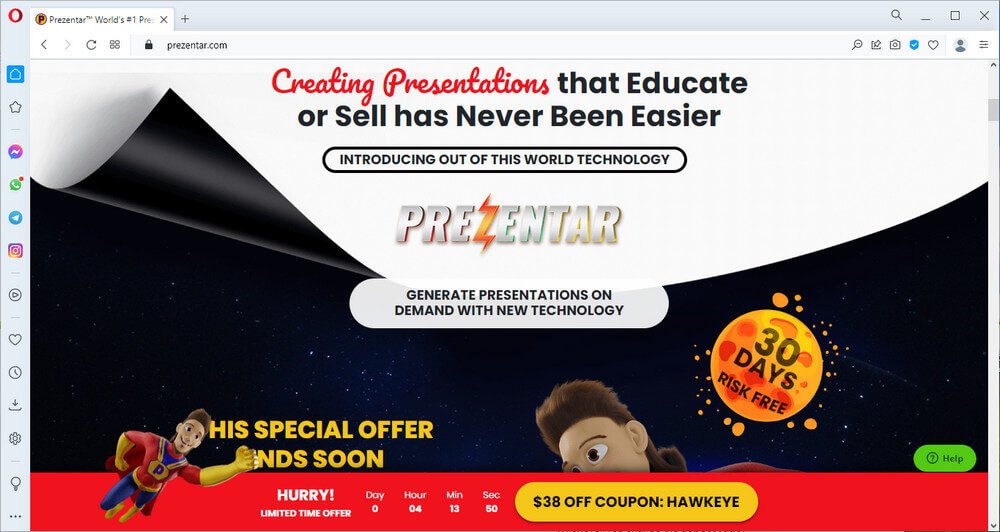 Program Name: Prezentar
Website: https://prezentar.com/
Price: $97 US funds, plus 5 upsells
Recommended? YES, but only if you do not own PowerPoint
Rating:
---
Adeel Chowdhry claims that Prezentar is the world's first easy, point-and-click presentation creator that makes you stunning, interactive presentations with animation effects and in-built audio recording and music capability, in minutes not hours, days or weeks.
He says that you can then embed your presentations on your website, share it publicly worldwide with 1-click button or convert it into video, HTML, or PDF automatically.
Adeel says to just imagine that in minutes, being able to create highly engaging, professional presentations that educate, persuade and sell your audience instantly without:
hours of writing, coding or designing,
spending thousands of dollars on freelancers, and
juggling tons of complicated software programs, saving you time and money.
He claims that you'll never have to pull your hair out again.
Step 1: Simply click to select from a huge library of 50 professional templates across a huge variety of niches, including:
Business
Finance
Arts & Entertainment
Education
Computers
Marketing
Fiction
Games
Home
Food
Health
Fitness
Parenting
Sports
Spirituality
and, a lot more.
Adeel says that you can preview any template, and then click "USE TO GET STARTED".
Step 2: Just point and click to add your content, text and images into the pre-designed slides and templates.
Change the backgrounds from a huge collection provided or upload them from your computer.
Format fonts, styles and colours.
Add your logo watermark for a professional touch.
Animate text, shapes and images with amazing effects.
Add unlimited slides, and customize them the way you want.
Add stunning images and crop them with a few clicks.
Insert your call-to-action buttons or links.
Embed videos directly into the slides to create an interactive experience.
Record and edit audio of each slide, or the entire presentation, directly through your browser in seconds.
Add music to spice up the presentations.
and, so much more.
Step 3: Review, save, and export your presentation in multiple formats, including:
…for immediate use.
And that's it, in less time than it takes to make a cappuccino, you've just created a professional presentation that gets you the results you want, in minutes, not days or weeks.
Adeel asks you if you're ready to publish your presentation online.
If so, he claims that's easy too.
Just tap a button, share a public link with anyone to your website, Facebook, Twitter, Pinterest, Linkedin or anywhere else for instant viewing, traffic, leads and sales.
Adeel states that his amazing templates have been hand crafted by his top graphic designers, and are apparently worth thousands of dollars.
He says that each template comes with 10 pre-designed slides, giving you a total of 500.
He claims that you also get hundreds of Google fonts, images, animations, effects, backgrounds, and music tracks to use with a click of a button.
Adeel says whether you want to create impactful presentations that captivate, educate, sell, demonstrate, or inspire, it's vital to look the part with modern, interactive and high-quality slides that pack a punch.
He claims that people will trust you more and be willing to spend money with you.
And, he quickly adds that Prezentar is your all-in-one solution, so you're to get it at the lowest price today.
Instantly transform outdated and cheap looking presentations that send people to sleep, into stunning, modern, jaw dropping presentations, and through away outdated complicated and expensive software tools, because Prezentar does it all, Adeel says.
Get instant access to:
Prezentar all-in-on software
Amazing 50 template library
Create unlimited presentations
15 niche categories
Easy drag and drop editor
500 slide layouts
Built-in voice recorder
Easy audio editor
Easy music studio
8,000+ stock image collection

250+ HD slide backgrounds
Upload image and crop tool
Add videos and slides
Hot animation effects
500+ Google fonts
Unlimited customization
Personal storage vault
1-click presentation sharing
Multiple embed options
Save and export to video, HTML, and PDF
There is nothing to install, and everything you need to quickly make killer presentations is inside the Prezentar dashboard.
---

How Presentar Actually Works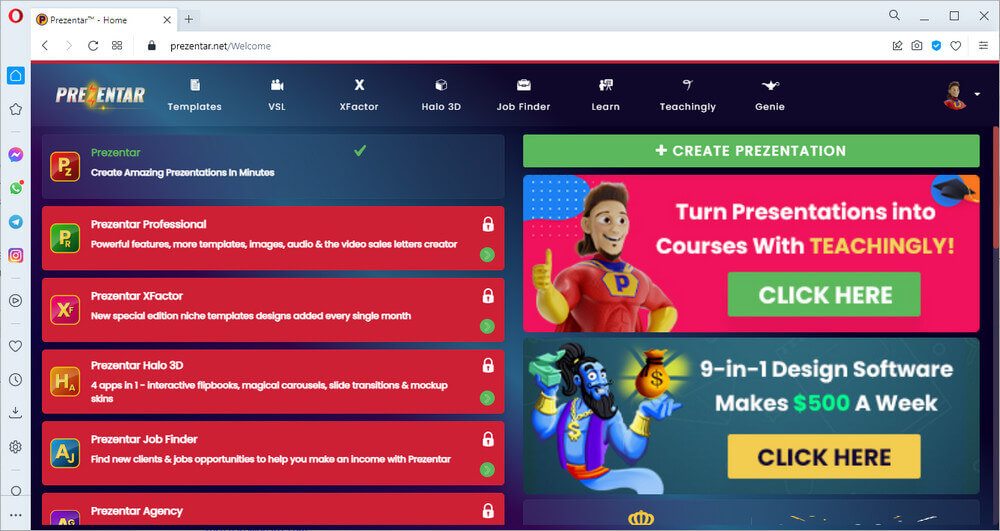 First thing you see when you log in is a popup window titled: Prezentar You're missing a few products… Would you like to complete your suite? (Final Chance), in which you will be offered any of the upsells that you did not purchase.
From the top, navigation or menu bar, you will find links to the following
Templates – takes you to 70 templates, where you can get started creating your presentation.
VSL – Upsell
XFactor – Upsell
Halo 3D – Upsell
Job Finder – Upsell
Learn – Join the Prezentar Affiliate Program
Teachingly – Upsell
Genie – Upsell
Adeel Chowdhry greets you with his upsell sales video (02:30 minutes) that appears in the center of your dashboard.
Below this, you will find your Projects, Videos and Clients listed.
On the right, you will find links to the following:
Create Prezention
Turn Presentations into Courses with Teachingly (an upsell)
9-in-1 Design Software Makes $500 A Week (link to a webinar replay and another offer)
Rewards Points Earned – Get Paid
GET T-Shirt – Claim
On the left of your dashboard, you will find the following upsells linked:
Prezentar Professional – Powerful features, more templates, images, audio & the video sales letters creator
Prezentar XFactor – New special edition niche templates designs added every single month
Prezentar Halo 3D – 4 apps in 1 – interactive flipbooks, magical carousels, slide transitions & mockup skins.
Prezentar Job Finder – Find new clients & jobs opportunities to help you make an income with Prezentar.
Prezentar Agency – Collaborate with 25 additional team members & maximise your productivity.
Agency Website – Download Your Own Professional Agency Website With Professional Portfolio
VIP Support
To start your first presentation using Prezentar, you will need to look to the right-hand side bar, and click on the +Create Prezentation button, and that will take your browser to the list of templates that you can choose from in getting started.
Once inside, then, directly above the templates, you will see another navigation or menu bar. This time, offering the following:
Templates (70)
XFactor (15) – you get these only once you've created a testimonial for Prezentar
Projects (0) – is where you will find your projects, once you start creating them.
More Template (14) – you get these only once you've created a testimonial for Prezentar
Once you have selected our chosen a presentation, you will learn that Prezentar does an autosave every 5 minutes.
PROS
The basic price of Prezentar is less than the most recent version of PowerPoint.
70 interesting templates are included, whereas PowerPoint is still using the same set of templates that have been offered for years now.
CONS
Prezentar is every bit as "complicated" to learn to use, as is PowerPoint.
Without basic training (there is none that I could find on my dashboard) inside the Prezentar dashboard, I found it difficult to add a simple image… at first.
First, I tried drag and drop, like I've done millions of times with PowerPoint.


Then I tried, using the image icon on the right-hand toolbar, but my image was installed as a background image, which was NOT what I wanted.


When Google searching "how to add a simple image to a Prezentar slide" (without the quotation marks, of course), I found many different instructions for inserting images into PowerPoint only, and that is simply dragging and dropping.


I even tried copying and pasting and that too did NOT work. So, I had to reach out to Support and WAIT for instructions.


FINALLY, four hours of working with Prezentar and not having heard back from Support yet, I found an option that sits over top of the bottom of every slide.

That option is called "Add Element", and when clicked on, allows users to "Select Element", such as Text, Image, Media, and Shape.


Prezentar has a definite learning curve too, and I'm a FAR CRY from being a newbie to computers.
When editing the text, if I touched the textbox the wrong way (still not sure how this is happening) the textboxes jump, and I have to realign them.
Most times, text that I wanted to use from an old PowerPoint slideshow, had to be copied and pasted into a Notepad file first, and then copied out of Notepad and pasted into my Prezentar slide.
It's far too easy to accidentally close the browser you have your Prezentar presentation open in, when Google searching for images and/or information, as I do when creating a PowerPoint slideshow.
Prezentar projects interrupted (like accidentally closing the browser) are NOT easily retrieved in order to continue creating, as it takes a LONG time to regain access to the actual presentation, as opposed to opening a PowerPoint slideshow file, that is stored on your computer.
The images that you can import from the "Web" option, from inside Prezentar, are stated to come from "Flickr API" only, and are CLEARLY labeled as "NOT endorsed or certified by SmugMug Inc.".

I recommend that you do NOT use ANY image found in the "Web" search, if you do not want the permissibility of being held libel for a copyright infringement.
Uploaded images are limited to 2MB, which means that many images that you can find on free image platforms will need to be edited before uploading, unlike PowerPoint which does NOT have that issue.
There is no UNDO in Prezentar.
If you delete an image or a textbox, you will need to click on "Add Element" and start over again, unlike PowerPoint which offers users an option to UNDO.
You cannot use two different sizes of text within the same textbox in Prezentar.
Found no drag and drop or cropping of image options that were promised to users on Adeel's landing page.
Could find no method for adding bullet points to text within the slides.
Could not find a method for rotating an image, like you can in PowerPoint.
Cannot move images as a group (example: bullet point icon images).
---

My Take on Prezentar

Having found several websites offering FREE PowerPoint slideshow templates, I'm not so sure that I would be so quick to:
have to go digging up my login details just so I could access Prezentar, and then
waiting for the template to load, and
perhaps having to deal with accidentally closing the browser in the middle of creating a new project, again, the next time I need to create a presentation.
Below is my video review of Prezentar by Adeel Chowdhry


Summary
I've always preferred software that is installed on my computer rather than on a "cloud" or offsite server, as internet access can be far too easily interrupted in the middle of a project.
Having recreate 41 slides of a recent PowerPoint slideshow, I've already spent as much time recreating these slides in Prezentar as I did when creating my original PowerPoint presentation. And the original slideshow had to be RESEARCHED at the same time as setting up the slides. Thus, PowerPoint is faster, and easier for me to use.
Have not even begun to add audio or animations, so Prezentar is not quite as fast as Adeel boasts it to be.
In order to make my images look even better on the Prezentar slides, I found that I needed to copy the background image of many of the different slides, and then open them in Photoshop so that images I wanted to use on a particular slide could be inserted as part of the background of the slide.
This allowed me to keep with the overall design of the slides, and make my slides look more professional that simply using blank slides.
Doing this would not be so an easy option for newbies.
Time to Decide,